If you want to study journalism and mass communication but don't want to do a full-time course, you can choose to take a Journalism Diploma Course. It is possible to get a diploma or a master's degree in journalism and mass communication from a lot of different universities and colleges.
Depending on what the university has to offer, students can take the diploma course in Journalism full or part-time, or they can do it from home, as well. Another thing to keep in mind is that diplomas train people to specialize in a certain field, so students can choose from a wide range of courses in journalism and mass communication to study. Check more details on this guide of diploma in journalism.
What Does Journalism Diploma Course Have In Store For You?
A diploma in journalism is an undergraduate course in journalism that teaches you how to be an expert in that field. The diploma is given to people who finish the course. Students who want to take the course must make sure that their college is either approved by the UGC. The minimum requirement to get a diploma in journalism is to pass your 10+2. The length of time it takes to get a diploma in journalism varies from college to college. The length of the course can be extended up to two years.
The students learn how to write news for newspapers, TV, digital media, and radio, as well as for radio and TV. Students also learn how to anchor and report during the course. There are many jobs for people who have a diploma in journalism, like news presenter, news producer, production assistant, reporter, news editor, video journalist, content writer, proofreader, and many more.
Journalism is based on truth, editorial independence, and the open and honest sharing of relevant information. With the spread of media and technology, the reach of Radio, TV, mobile phones, social media, and the Internet also grows. Journalists cover a lot of different topics, like Business, Culture, Politics, Arts, Economics, History, Entertainment, and Sports.
Sub-Editors, Reporters, and Journalists who have taken the Diploma in Journalism Courses should be able to do these things:
Respond to events and developments in the best interest of the whole society, not just you.
Reflect critically on how society has changed.
Find out how elements have played a role in history and today's society.
Journalism Diploma Course Eligibility
There are a lot of universities and colleges that have certain requirements for students to meet to get into the course they want to take. The Diploma in Journalism eligibility rules are as follows:
Diploma:
The candidate must have passed their 12th grade from a school that is recognized. They must also have a minimum grade point average of at least 50%.
PG Diploma:
The candidate must have earned a bachelor's degree in any field or discipline from a university that is recognized. They must also have a grade point average of at least 55 percent.
Why choose Journalism Course in Diploma?
A job in journalism is a good option for people who want to make money and move up in their careers. Here are some of the reasons why a diploma in journalism is a good choice for people who want to work in the field.
The Journalism Diploma Course lets people work in the media and entertainment industry. Also, there is a lot of growth in the Digital Media field, which means a lot of jobs for people who have a diploma.
Indian media and entertainment will grow by 13.5 percent between 2014 and 2024, the IBEF website says. This huge growth will open up job and career opportunities for students who have a Diploma in Journalism.
Journalists in India get paid well and have the chance to work for some of the biggest media companies in the country, such as the Times of India, ABP News, ZEE Network, NDTV, and so on.
As a journalist, you have to travel a lot and deal with difficult situations, like when you cover drug busts, natural disasters, sting operations, and so on. However, when someone brings a good report, they feel a little bit better.
In this course, students learn how to improve their communication and creative skills. This helps them find jobs in the field of writing and improve their communication skills.
People who want to get a diploma in journalism online course learn how to improve their interpersonal skills and think outside of the box, which can help them when they get an interview.
What Skills Required for Diploma Journalism Course?
Ideal candidates for a Journalism Diploma course would usually have these things:
Good communication skills, both spoken and written
Sharpness
A person who likes to look into things
Strength in difficult situations
A sense of alertness and desire
Awareness of cultural and social issues
Diploma in Journalism Subject/Syllabus
A Journalism Diploma Course has a lot of subjects in store for its students. Below is the list of what you could learn and study if you choose a Diploma in Journalism.
The basics of journalism and the media
Reporting on the news
Writing for the editorial.
Writing Styles
Communication with other countries
Good communication skills
Advertising
Laws and ethics for the media
Literature
The basics of communication in the world of today.
Communication with the company
Literature in English
The translation
Proofreading and editing are two jobs.
Skills and Creativity.
The basics of how computers work
The basics of how the Internet works
If you looked at the list above, you should be able to figure out what kind of class it is and how it's organized. When it comes to Journalism, a lot has changed in that field for a long time now.
As a first step, traditional print media forms like the New York Times and Circulars were around. For a while, radio and TV broadcasting came out.
There are now more Digital Media forms in journalism and mass communication because of the Internet. These include E-Papers, blogs, and social media outlets, which are all forms of Digital Media.
| | |
| --- | --- |
| First Semester | Second Semester |
| Communication Concepts, History, Law, and Ethics | Radio and TV Journalism |
| Reporting | Emerging and Social Media |
| Editing | Public relations, Advertising, and Media Management |
Journalism Diploma Course Admission Process 2022
Candidates who want to apply for the Journalism Diploma Course can do the following while they apply.
The candidates have to pick the college where they want to study for the course. They should try to find out about the costs of the college and where it is placed, the curriculum, and so on.
Before applying to a college, students need to find out what they need to do to be eligible and how they can get in (Entrance or merit-based). Candidates then need to fill out the application form for the college or testing agency that they want to go to. Candidates then have to send in their documents in the correct format.
Applicants must pay the application fee in the way that the authorities say they should, and must do so by the due date set by them.
Colleges that accept people based on merit will put up a list of people who are qualified based on their 12th-grade grades. Candidates who get into a school based on an entrance exam often have to go through a round of interviews where their general aptitude for the course is tested.
After this, the colleges or the agencies put out the final list of candidates for the university or college.
Depending on which college they choose, they have to pay a fee to get in.
1 Year Diploma in Journalism Colleges & Universities
Top colleges and universities in India that offer journalism diploma courses after 12th are shown in this list:
University of Delhi
Indian Institute of Mass Communication
Guru Gobind Singh Indraprastha University, GGSIPU, Delhi
Symbiosis Institute of Media and Communications, Pune
St. Xavier's Institute, Mumbai
Asian College of Journalism, Chennai
Xavier Institute of Communication, Mumbai
Indian Institute of Journalism and New Media, Bangalore
Take a look at this list of the best universities in the world to study journalism after you finish high school:
The University of South Wales
Griffith University.
The Middlesex University
University of Pennsylvania
Bangor University
Birmingham City University
The London Metropolitan University
Cardiff University
The University of Derby
The University of Kent
University of Solent
Rey Juan Carlos University
Also Check: 
Career Options After Diploma in Journalism Online Course
The job opportunities after completing a Diploma in Journalism are huge with a vast scope of high pay as well. Below are some of the leading career options in the Journalism field:
Editors
An editor is in charge of the content and quality of the articles that are put into print. They make sure that the stories are interesting and informative.
Journalists
Some people are trained to be journalists. These people make sure that information in the form of text, audio, or pictures is collected in the right way to make it interesting for people to read.
News Reporter
A Reporter is in charge of giving the news to news channels or newspaper agencies. They use radio, TV, online news sites, and printed newspapers and magazines to make stories and report on new events.
Correspondent
In most cases, correspondents work for news channels. They report live on events that are important both nationally and internationally, as well as in their communities.
Proofreader
A proofreader checks all documents for mistakes and fixes them if necessary. They also make sure that the text is free of mistakes when it is written down.
Content Creator
Content developers are mostly in charge of making, developing, and editing content for things like online marketing and front-end web development.
Public Relation Officer
They plan, make PR strategies, write press releases, and do research. Public Relations Officers do all of this. He or she writes press releases, answers questions from the press, and sometimes manages crises.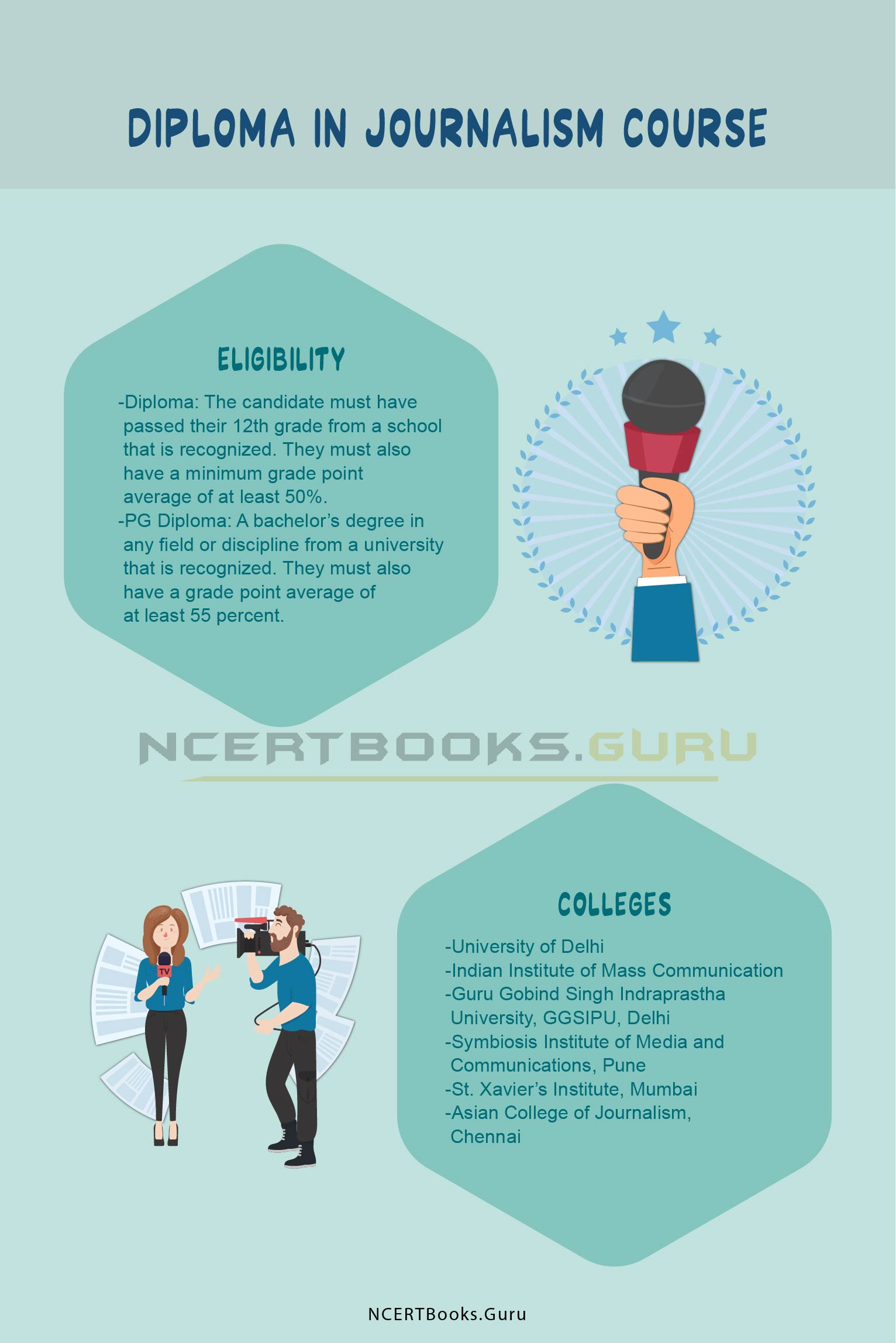 Top Recruiters for Diploma Course in Journalism
Below is a list of the best places to work for people who have a diploma in journalism.
India today
Zee Media
The BBC
The CNN
IBN7
Bennett and Coleman
Hindustan Times
The Indian Express
News18
Expected Salary After Diploma Journalism Course
Graduates with a degree in journalism or mass communication can expect to earn between 2 Lakhs and 4 Lakhs per year in India. With more experience, you can look for higher-level jobs in the media and earn more than 5 Lakhs per year. Also, the salary differs based on one's skills and experience. Check the below table for knowing the experienced candidate's pay scale.
| | |
| --- | --- |
| Experience | Salary (per annum) |
| 1-3 years | Rs. 308,756 |
| 5-9 years | Rs. 317000 |
| 10-19 years | Rs. 400,00 |
Q1- What is the average diploma in journalism fees?
A Journalism Diploma course has a lot of potential as it is an expanding sector. The average fee ranges from Rs. 10,000 to Rs. 500,000 for the entire course of a diploma in journalism.
Q2- What are the best career options after the Journalism Diploma course?
The best career options after a Journalism Diploma course are reporter, journalist, proofreader, content writer, editor, correspondent, and public relations officer.
Q3- Which colleges are the best for Journalism Diploma Course in India?
The best colleges for pursuing a Journalism Diploma course in India are the University of Delhi, St Xavier's Institute, Symbiosis Institute of Media & communications, Asian college of Journalism, Indian Institute of Journalism, and news media.
Q4- What are the minimum requirements of getting into the Journalism Diploma course?
A student who wishes to get into a Journalism Diploma Course must have completed his/her 12th grade with a minimum score of at least 50%.
Conclusion
Journalism Diploma Course has a wide range of prospective growth options for aspiring students. If you have the right skill set, aptitude, and interest, you must enroll yourselves in the Journalism course. For other ultimate guides on course details, kindly visit our website Ncertbooks. guru without any fail.