Informal Letters are the Letters written to Close Acquaintances of the Writer, Friends, and Family. As they are informal and written to close ones they have a personal tone and casual language. They are used mainly for personal communication and thus need no specific format, pattern, or conventions. You can write them depending on the requirement and as per the situation.
However, for your convenience, we listed a general pattern in which most of the Informal Letters are written in the below modules. You can know about Informal Letter Writing Styles and Examples, How to Write one on your own. Follow the Guidelines and Tips to Draft effective and attractive letters.
Choose from Letter Writing Topics belonging to formal and informal writing styles and learn how to draft various letters as per your requirement.
Informal Letter Format
There is no standard formal for Informal Letter Writing as it is written to friends or relatives. In general, it is written in a casual tone and is not to make a complaint or inquiry. However, you need to keep certain points in mind while drafting an Informal Letter and the most common ones are given here.
Address
Date
Greeting
Introduction Paragraph
Body of the Letter
Conclusion
Signature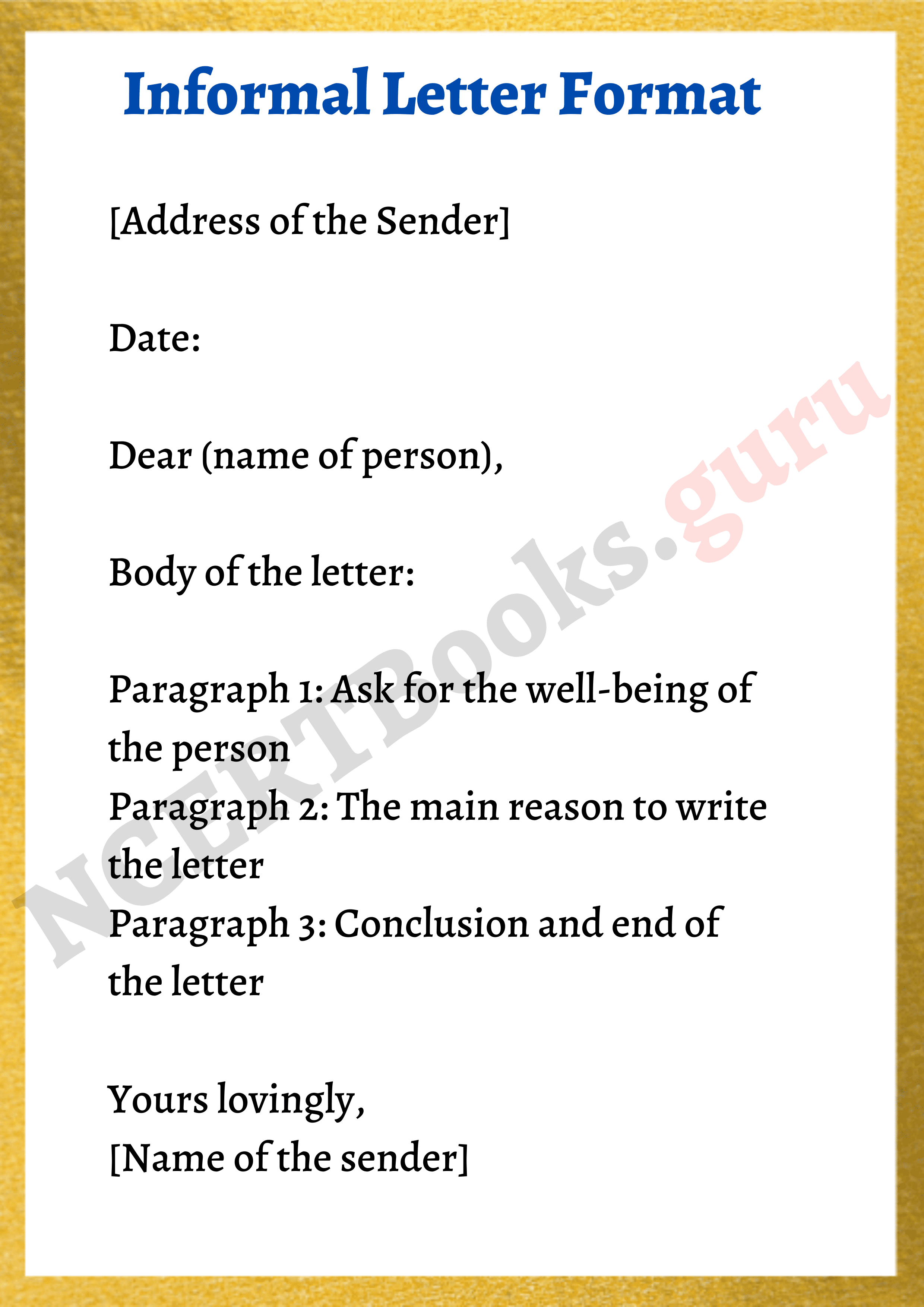 Informal Letter Writing Topics
There can be plenty of Informal Letter Writing Topics and we have curated some of the topics as below.
Inviting a friend for a ceremony say for a birthday
Asking sorry or apologizing to someone for mistakes you have done
Informing about someone's demise in family or friends
Calling a friend for a trip or holiday
Congratulating a friend for his success or achievement
Invitation for a marriage
Asking help from someone
Writing just to ask for the well-being of a person
How to write an Informal Letter?
There is no set format when writing an informal letter. However, there are certain guidelines to keep in mind while drafting an Informal Letter and you can check them below. They aren't hard rules so have a glance at them.
Address: The first thing you need to write in an Informal Letter is the Address of the Sender. However, this is to be written at the leftmost corner top and should be accurate and complete. Though, you write to your close ones make sure you write the right address so that they can reply back to you easily.
Date: Next below the address mention the date on which you are sending the letter.
Greeting: Since you know the person you are writing greeting can be casual.
Introductory Paragraph: Introductory Para sets the tone for the entire letter and it should be casual and comforting. It can be asking about their health, or you can express in the letter that you hope to find them in good spirits, etc.
Body of the Paragraph: Overall letter should be in a friendly tone. Do remember to whom you are writing and adjust the wordings and language as per it. It is all about how you talk to the person in a conversation and applying the same syntax and sentiments to the letter.
Conclusion: At last sum up the reason for writing the letter. Say a Meaningful and affectionate goodbye to the reader. Ask them to write back to you and express an intent to keep the conversation going.
Signature: There is no one way to sign off and it's up to you whether or not to sign. Pick a common phrase that suits you and simply sign your name below the greeting.
Tips for Informal Letter Writing
Make sure you double-check for spelling mistakes and grammatical errors.
Leave an adequate number of lines between paragraphs so that it's easy to understand.
Presentation is also equally important so try to make it appear neat.
Read plenty of letters to get ideas on what to include and how to create one on your own.
Informal Letters Samples
If you want to know what must be included in the Informal Letters you can check out the samples listed below. Use them to get ideas and write an informal letter easily when you need one. They are along the lines
Informal Letter Writing Sample for Congratulating Friend on their Success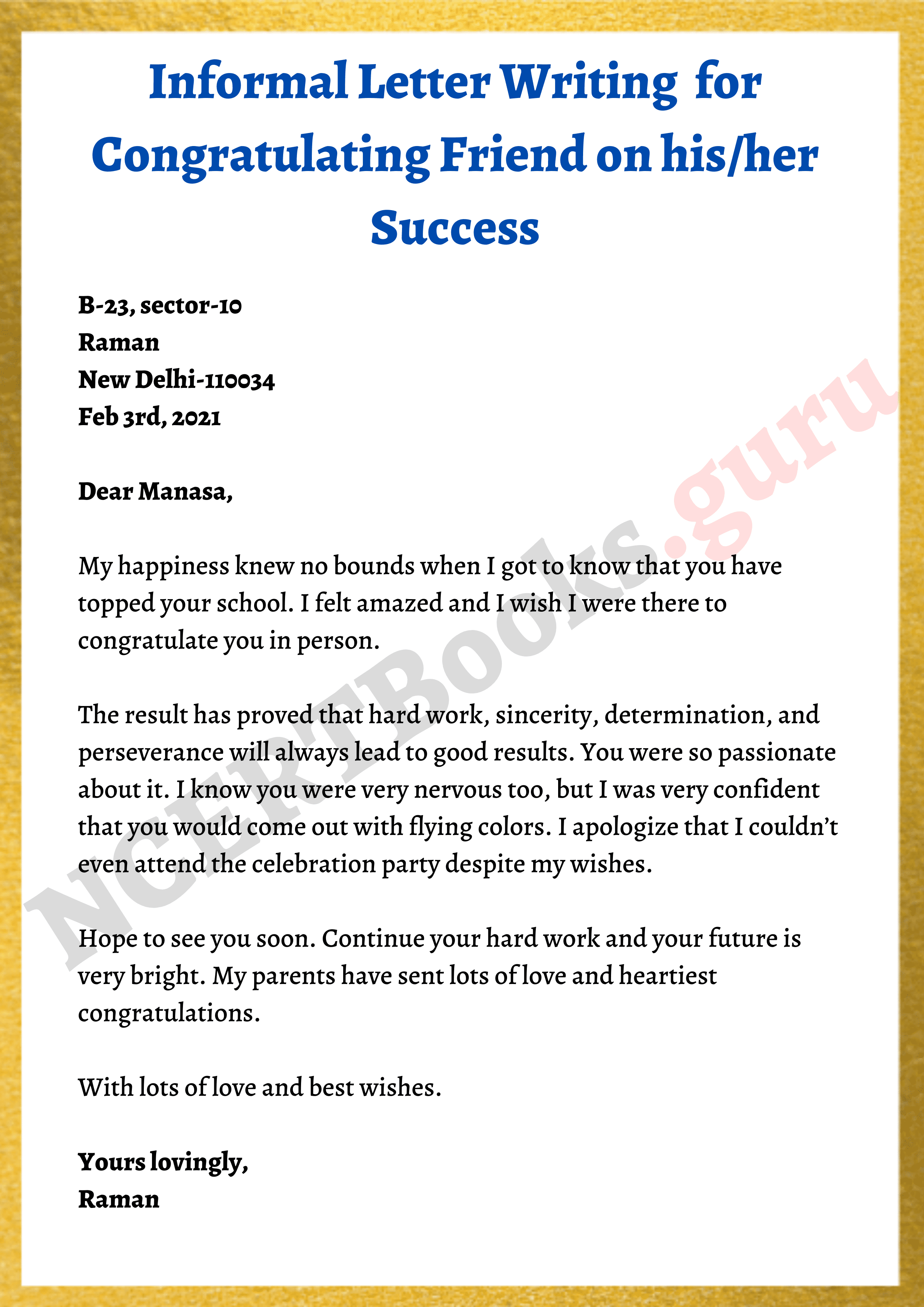 Sample Informal Letter just to ask for the well-being of a person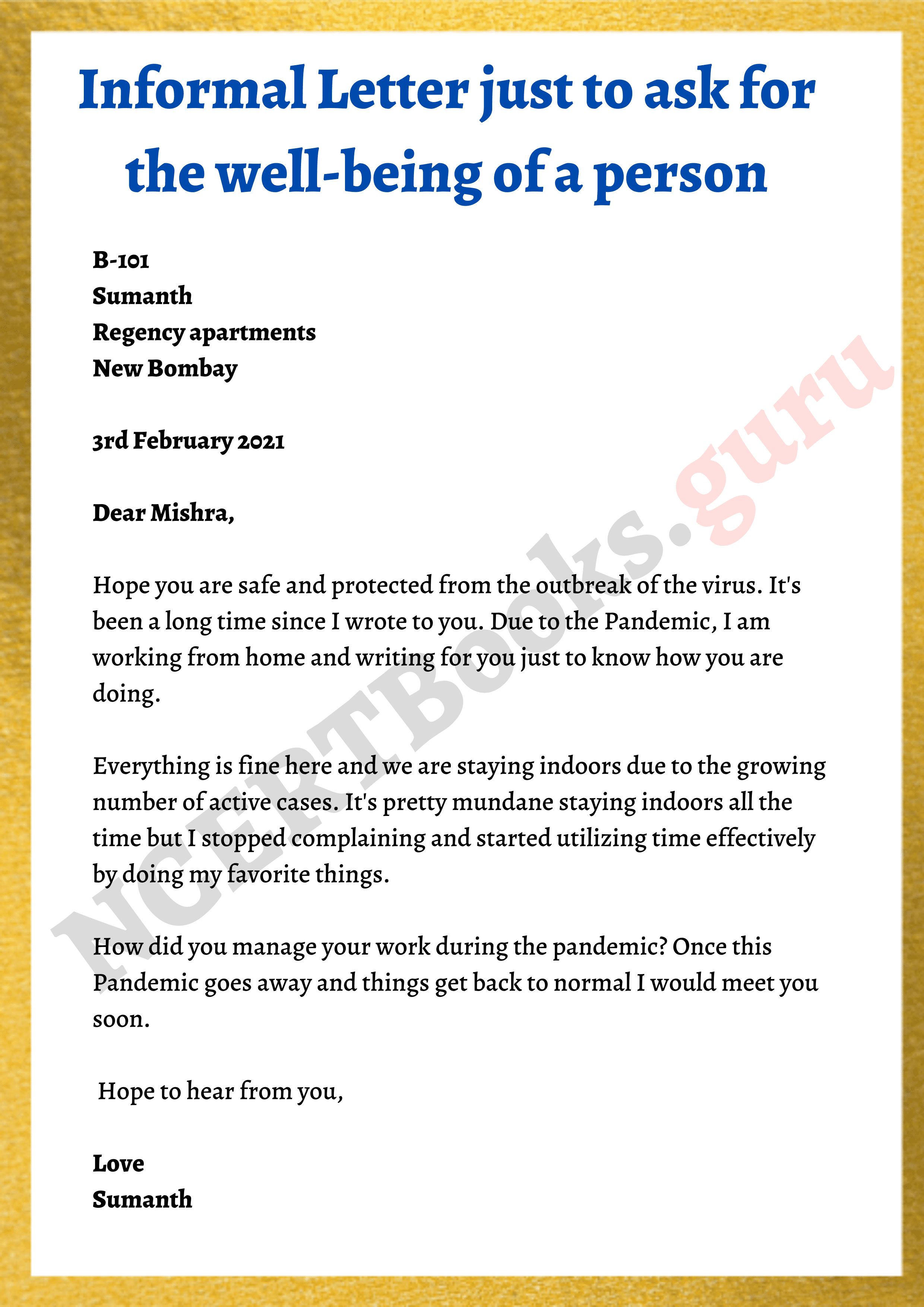 Informal Letter Inviting Friend to come to their Place Example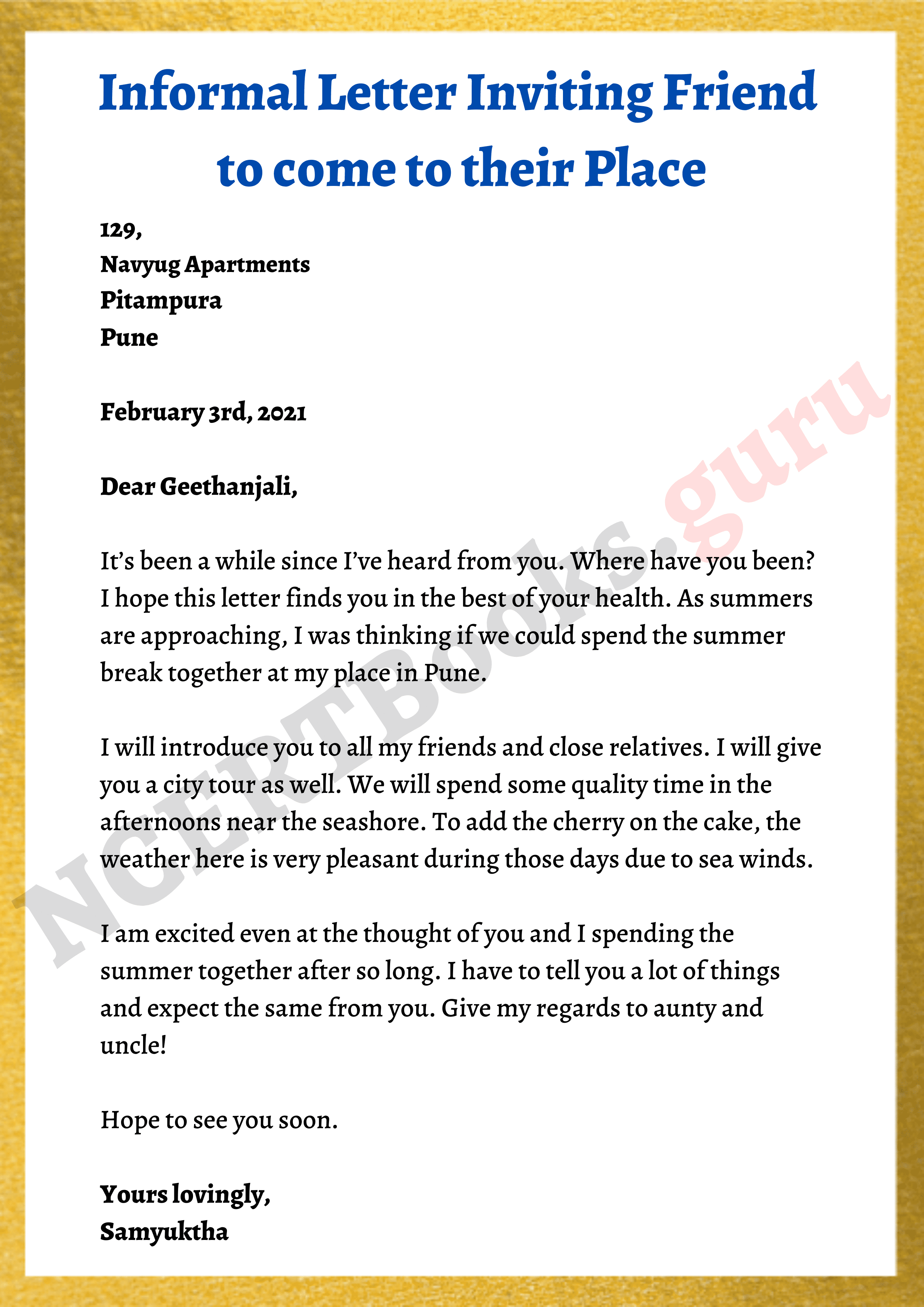 FAQs on Informal Letter
1. How do you start an Informal Letter?
An Informal Letter should start with a Greeting. If you are not sure of the name of the person start with Dear Sir/ Madam.
2. What are the Parts of an Informal Letter?
An Informal Letter should include all the elements listed below. Get acquainted with what and what not to include in it. They are as under
Address
Date
Greeting
Introduction Paragraph
Body of the Letter
Conclusion
Signature
3. What makes a letter informal?
Informal letters are written to friends and relatives. The purpose of the letter is not to make a complaint or inquiry and the tone should not be casual.