Increment Letter is a formal letter that states the increase in the salary of an employee. In general, Increment Letters are given whenever an employee performs well, or at the beginning of the financial year or as per the company's policy. In fact, you can Request a Salary Increment if you haven't received it for a long time. If you request a hike in salary the letter should include details on the efforts put by you in the organization.
If the Salary Increment Letter is given by an Employer to the Employer the letter should congratulate the employee. The Letter must be framed in a polite tone and to know on How to write an Increment Letter refer to the further modules. Check out Increment Letter Samples, When to Use a Salary Increment Letter.
Avail Letter Writing Topics for all kinds of categories in one place and be aware of different writing styles.
When to Use a Salary Increment Letter?
The first and foremost thing you need to understand about Salary Increment or Pay raise is when to use them. If at all you feel like you are putting in extra efforts and feel like you are not compensated enough writing a Salary Increment Letter is a good idea.
Remember this type of letter is not about complaining and you need to be formal and polite while addressing so that the employer can send it to the HR Department.
Increment Letter Samples
Have a look at the Salary Increment Letter Samples attached for your reference. You can use these examples to understand on what details to entail in it. They are in the following fashion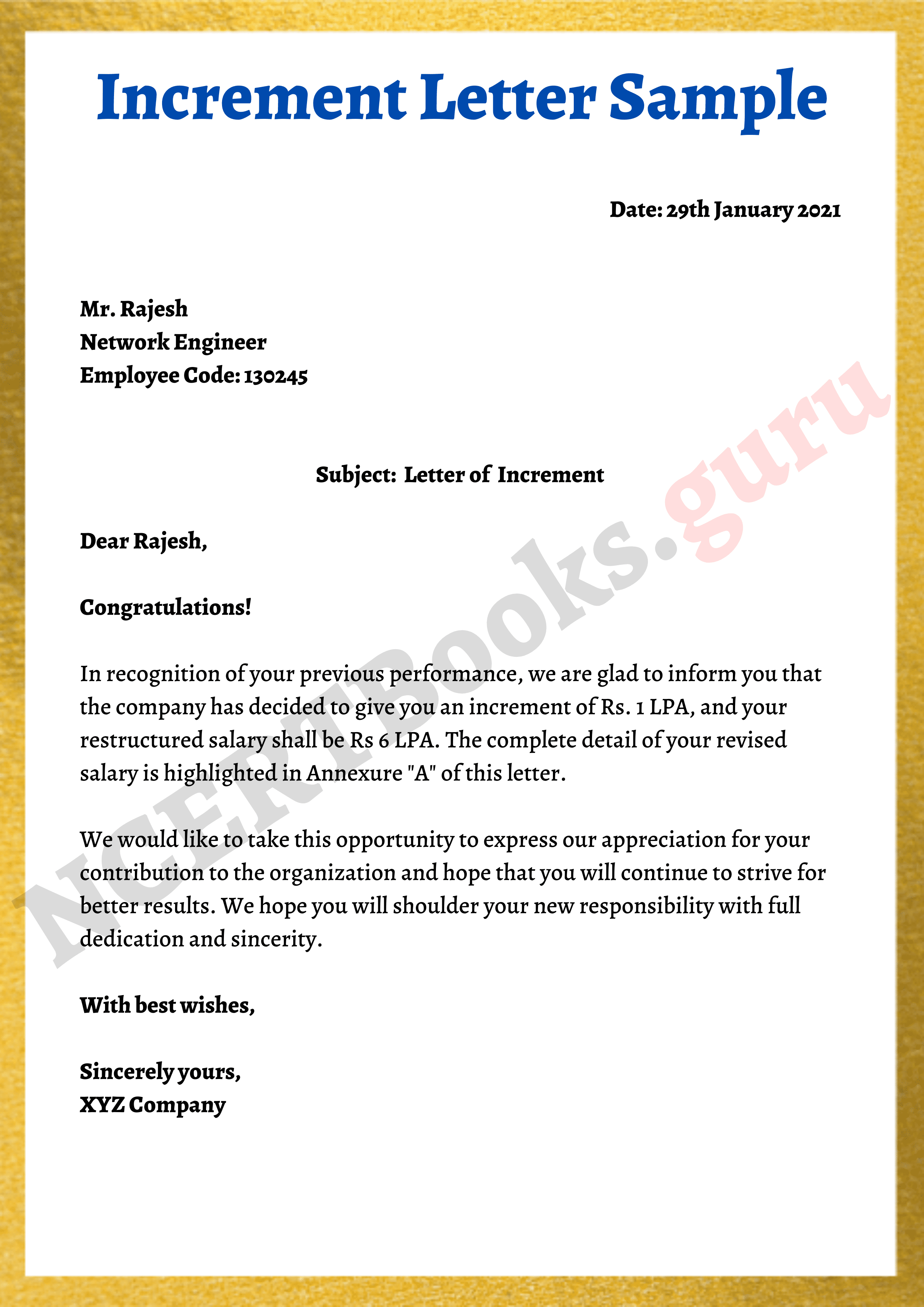 Salary Increment Letter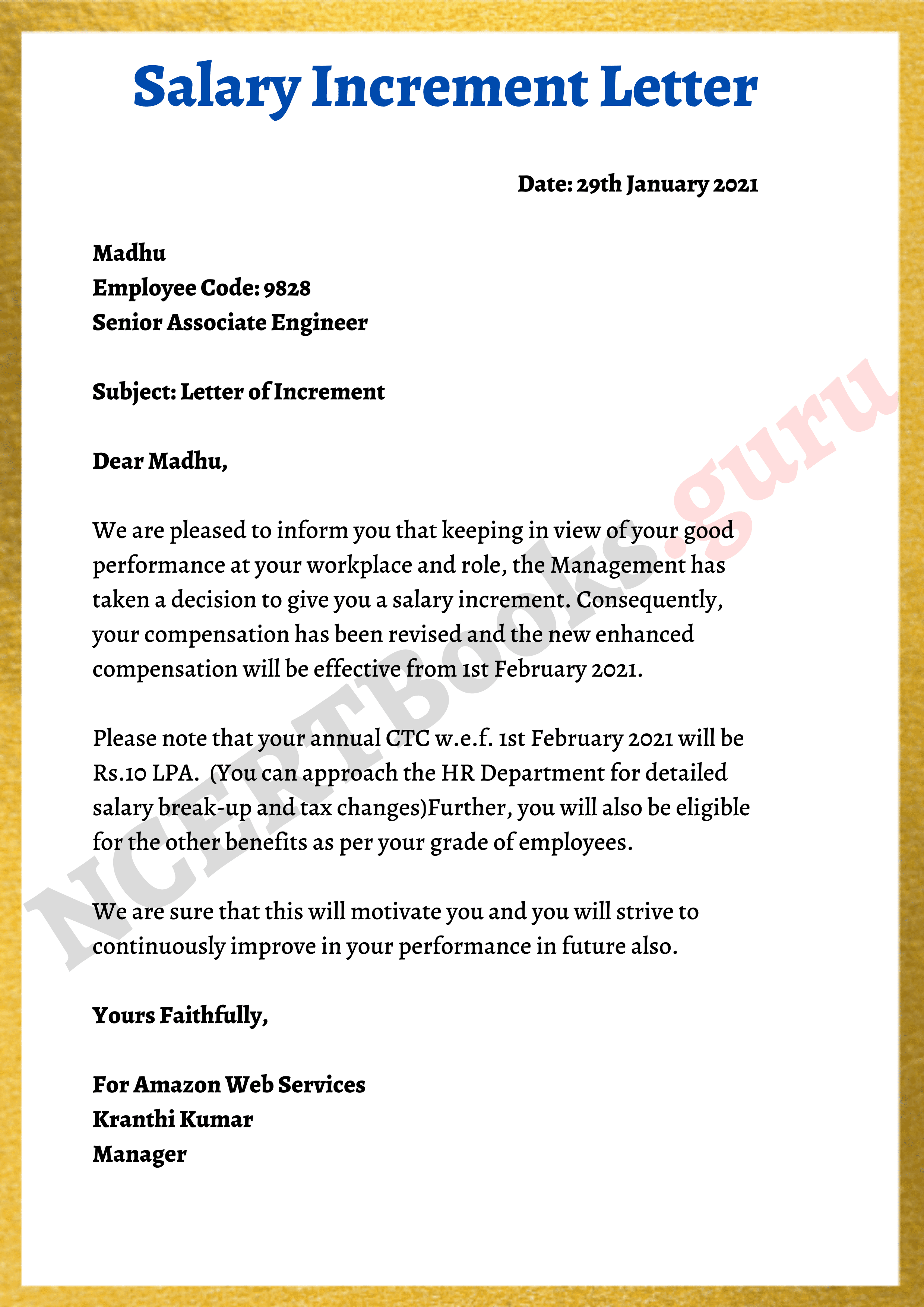 Increment Letter Example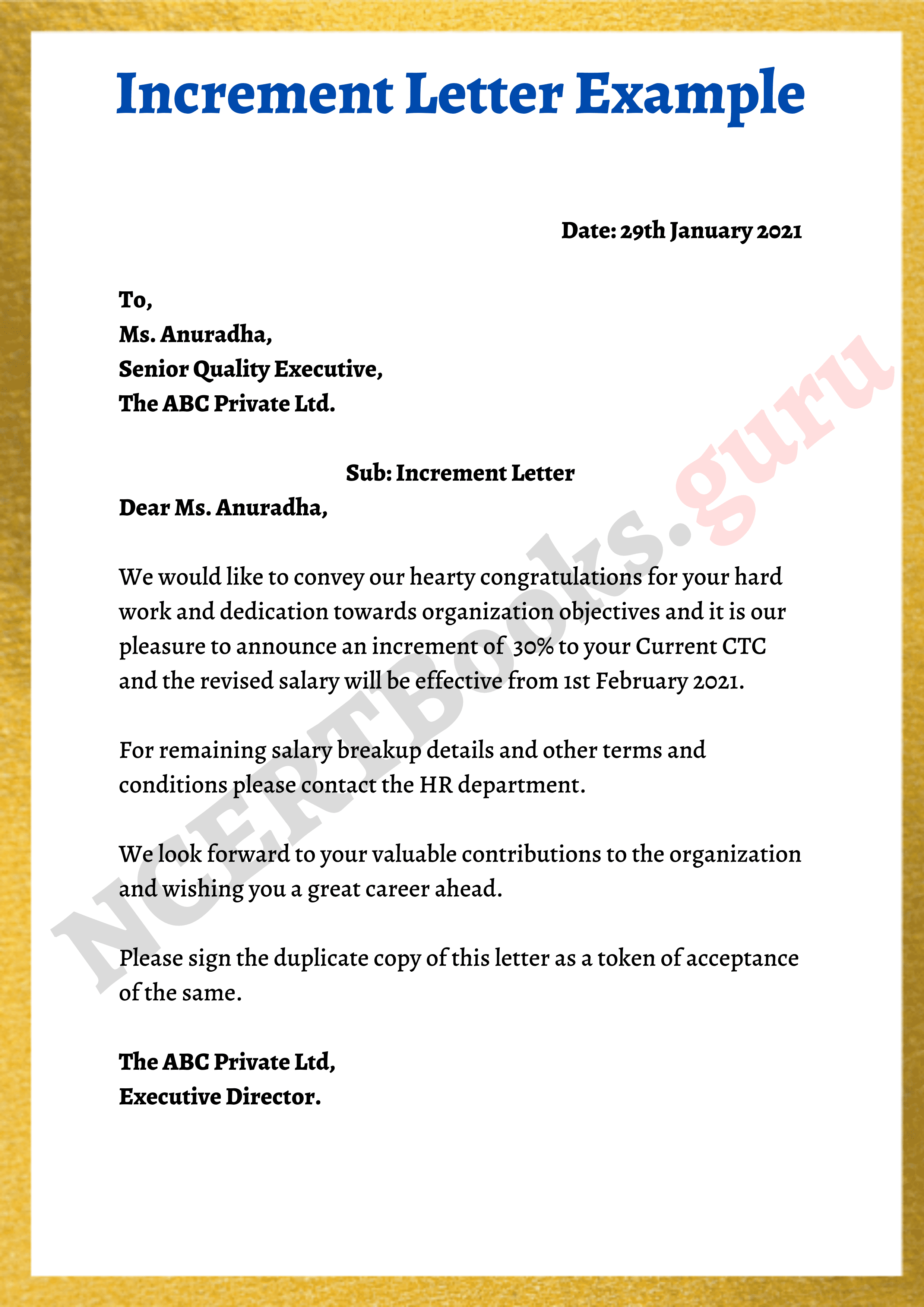 FAQs on Increment Letter
1. What is an Increment Letter?
Increment Letter is also known as Appraisal Letter and is a document stating the salary increment given by the employer to the employee.
2. How do I write an Increment Letter?
Keep the following points in mind before drafting an Increment Letter. They are along the lines
Name and Designation.
Address.
Date.
Name and designation of the person to whom the letter is addressed.
Company/Organization Name.
Salutation [Dear, Mr./Ms/Mrs.]
Mention the purpose of writing the letter.
Your achievements or accomplishments.
3. How do I request an Increment?
Before you request for an Increment keep the points and ask for an Increment at the right time.
Start on a positive note. The first 2-3 lines of your salary increment request letter should express how much you have enjoyed working on the project/department/with the team.
State the reason.
Present some facts.
Talk about the amount.
End on a positive note.