How to Become a Navy Officer in India?: Indian Navy is one of the most respectable branches of the IAF and an essential part of the armed forces. Navy officers are leaders of the army who are specially trained and skilled professionals. They manage the ships, the aircraft, and also the weapon system. The Indian Navy has officers of prime ranks like Rear Admiral, Vice Admiral, chief personnel, and other high-ranking officers. The navy officers are the ones that manage the weapon system too. If you are looking for an elite job, join the Indian Navy.
Refer to Course Details to know more about related courses and find details like Admission Process, Eligibility Criteria, etc.
Did you know that the Indian army is the 7th most powerful Navy in the world? Even during natural disasters, the army personnel take good care of the citizens and offer them the treatment and help they need. A navy officer plays a vital role in safeguarding the citizens and the country from enemies. Their roles vary from military to diplomatic to constabulary roles, making them responsible and strong in every way.
Thinking Of Becoming A Navy Officer?
If you are amongst those, who are thinking of becoming a navy officer after doing your graduation. Then let me tell you that you will not only serve your country but will be liable for earning many perks and a good salary. To be a navy officer, you need to be highly educated and a science student if appearing after 10+2. Further, if you are a 10+2 student, you need to score at least 60 % and above. After that, you need to appear for an exam conducted by the NDA. All those who manage to clear the exam will have to go for training at the National Defense Academy for three years, and one year they will have to spend at the Indian Military Academy.
All those who want to join the Navy after college will have to give a written examination conducted by the Service Selection Board. This board helps candidates to get selected for the Indian Navy and armed forces. All those who get selected will have to spend three years training at the Army Cadet College. Plus, they have to go through training for a year at the IMA.
What are the Skills and Qualities Required to become an Indian Navy officer?
To become an Indian Navy Officer is a matter of prestige in itself. But there are a few qualities that are a must to become a Navy officer.
Communication skills: one of the essential skills that a navy officer must possess is communication skills. Effective communication is essential with multiple teams, especially when going off-shore. To convey the message across is very important. Thus, the ability to communicate and understand the message is essential.
Leadership qualities: A navy officer must be a team leader; thus, he must possess good leadership qualities. He will be given multiple responsibilities that he will have to carry. They need to be honest, confident and must have a positive attitude towards their job.
Teamwork: to accomplish a given goal working in a team is essential. Thus, a navy officer must have the capability of working in a team. Officers must always consider the team first and then think about themselves. Shipping the cargo and achieving the set goal cannot be possible without working as a team.
Critical thinking: thinking out of the box is essential. Problems can arise without even you noticing them. Thus being ready to face any circumstances requires critical thinking. Thinking rationally about the team, the goal and applying logical ideas to overcome hurdles that come in the way requires critical thinking.
Patience and self-control: these two qualities are essential for a navy officer. Sailing is a tough job, and it requires a lot of patience and persistence. Thus, having the good self-control to make good decisions is essential. Being emotionally strong is very, very crucial. This will help to maintain patience and stay safe while sailing.
Decision making: A navy officer must be strong enough to make essential decisions for the team and oneself. Making correct and prompt decisions is critical. One must be ready for the worst circumstances. Thus, it is necessary to be strong from within to make good decisions.
Mentally strong and confident: both are skills that are a must for a navy officer. One needs to be physically fit to become strong and secure. When you are sailing for a long time, it is natural to get irritated and disappointed. But staging calm is and mentally strong is essential. The passion for serving the nation and for living for mother India must stay in the hearts forever.
See More:
Do you want to Qualify as a Navy Medical Officer?
All those who want to be recruited as a Navy officer then the candidate must at least have an MBBS degree. You can do MBBS from a government-recognized college, or it will be best if they pursue their MBBS from the Army medical college. Becoming a medical officer in the Navy itself is a matter of great pride.
You can be recruited if and only if you score at least 50 % marks doing MBBS. After giving the SSC selection test, all those individuals who get selected must have a degree with a one-year internship with the medical council of India. This degree will help you become a doctor with a permanent commission. If you have this certificate, you can be given a dental, common section, or veterinary of a medical wing.
What Are The Positions That A Navy Officer Can Attain In His Career?
After joining the Navy, a navy officer gets the junior-most position of aSub-Lieutenant. It is the position of a junior officer of the navigation team who is responsible for keeping the ship safe. To clear out the shipping traffic and follow the navigation chart is a Sub-lieutenant's principal work.
Lieutenant: from the position of a sub-lieutenant, the officer is promoted to a lieutenant position. The officer can work in two positions, one as a navigational officer and a medical officer in a ship.
Lieutenant Commander: an officer who is a Lieutenant commander looks after the ship's cargo and crew members. He can be appointed as ahead of safety and head of cargo. Operational head and environmental head are two more areas that a lieutenant commander can handle.
Commander: an officer in command has the power to restrict visitors to keep the members of the ship safe. The higher the post of the commander, the larger is the ship and the larger are the responsibilities given to him. A commander needs to be very alert as there can be foreign agents that can enter the vessel.
Captain: then comes the position of a captain. As we know, an overall in charge of a ship is the captain. He is in charge of operating the sonics, radars, communication equipment, and sonar signals. The captain is an essential part of naval operations. Thus he gets to participate in a lot of other activities.
Commodore: Commodore is a high-ranked official who commands the squadron of the ship. He is an essential part of the naval fleet and commands the ship. As opposed to the admiral flag, a commodore's ship is mainly designed by an admiral.
Rear Admiral: A naval flag officer is known as Rear Admiral. His position is equal to the major general and is also the same post as the vice admiral. The vice admiral usually assists the Admiral officer. The post and the powers of the rear admiral depend on the division given to him. A few rear admirals are selected by the war college and become professionals there. It takes almost 17 years to reach the position of a Rear Admiral.
Vice Admiral: Vice Admiral is the second-highest post in the Navy. They are the deputy of chief of the Navy. His job is to command the regional fleet during war or while in serious operations. If anything goes wrong, they are answerable to the admiral's fleet or the president of the United States.
Equivalent and the Vice Admiral: he is a three-star officer and equal rank with the Indian Army Lieutenant general, the marshal from the Indian Air Force. He operates directly from the naval headquarters and the naval commands.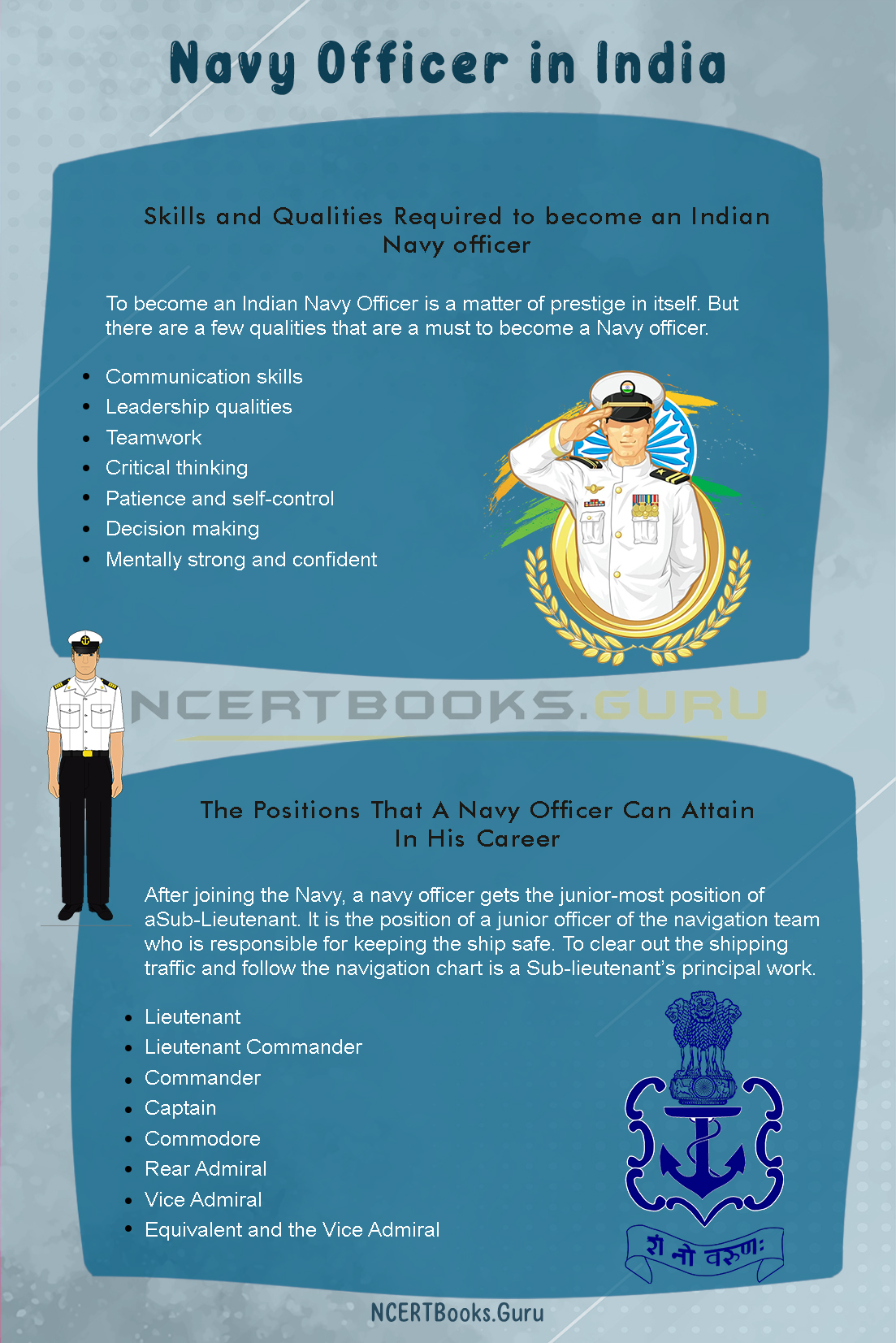 What Are The Benefits Of Becoming A Navy Officer?
Being a navy office is a matter of pride and has multiple benefits attached to it. They get full dental and medical coverage. Discounts while traveling anywhere in India and abroad. A navy officer gets 30 days of paid vacation every year. He gets life insurance up to $400,000 by paying $25 per month. A navy officer can use clubs and other recreation facilities with his family.
Did you know the monthly salary of a sub-lieutenant is approx 56000 rupees? On the other hand, the highest salary that a vice admiral and equivalent withdraws is around 200,000 rupees annually.
Conclusion
Opting for a career as a Navy officer is a tough decision, but it is worth it. Living your life for your country and making India proud with your services is one job that every Indian would love to do. But not all are fit for this job, nor do people have the confidence. I hope the article mentioned above will help you understand the job and responsibilities of a Navy officer. Thus, choosing this career will become convenient for you after reading the above content.