How to Become a CID Officer in India?: CID is the abbreviation of Crime Investigation Department which is a part of the law enforcing agency made by the government. It is an essential part of the police force. If you want to become a CID officer, then you will be known as a detective. A CID officer carries out an investigation and solves murder mysteries and cases related to sexual assault, fraud, and other serious crimes. CID officer is an expert in gathering facts and detailed information about crimes. They find evidence and then make the criminal present in the court to give them legal punishment. If you want to become a CID officer, you need to be courageous, intellectual to think out of the box.
Read the article further to understand the ways how you can become a CID officer. What qualities you must possess, and what are the educational qualifications that you must have.
Refer to Course Details to know more about related courses and find details like Admission Process, Eligibility Criteria, etc.
What is the Procedure for Becoming a CID Officer?
In India, you need to pursue graduation in criminology to become a CID officer. It would help if you cleared the CSE exams. This will help you clear the UPSC exam, and it is then that you can join the CID team as a sub-inspector. You can also join the police force as a Hawaldar or assistant police officer and then qualify for an exam to become a CID officer. Anyone qualified as a CID officer needs to be physically fit and needs to be ready to take risks in any situation. He needs to be fit to stay in any condition and be mentally very strong to face circumstances.
If you are sitting for the exam, let me tell you the UPSC conducts the test can be given in two parts. Let me explain to you the paper 1 and 2 in details.
Part 1 is a 200 marks paper with a 2-hour time limit. This paper also has negative marking, and for every wrong question, 0.25 marks will be deducted. The questions about general knowledge, aptitude, English grammar, and comprehension will be judged. There will be general awareness and reasoning in one section. The other section will be about quantitative and numerical questions, and the other section will be about your understanding of English.
The questions are divided into three parts. The second part is 4 hours paper with a 4-hour time limit. The second part is a 4 hours paper with a 4-hour time limit. With every wrong answer, you will get a negative marking of 0.50 marks. Thus think and answer. The first 100 marks are for arithmetic ability, the next 200 marks are for English, and the last 100 marks will be for an interview.
After clearing the exam, you need to pass the physical test then you will be chosen for an interview. The supervisor in the physical examination will call you, and height, chest, and eyesight will be measured.
In the interview, you will again be asked 100 questions about reasoning, general knowledge, and intelligence, consisting of 100 marks.
Eligibility to become a CID Officer
An individual who wants to join CID must have A class results which are above 50% grades. It is the minimum requirement for joining CID and for the post of Assistant Inspector.
For becoming a sub-inspector, you need to be a graduate. If you have done graduation in criminology, then it can act as an added advantage for you. Many universities in India offer these courses.
The most important criteria for becoming a CID officer is you need to have Indian Citizenship.
Both males and females can apply for this position.
The only criteria are the candidate needs to be pass with A-class marks in standard 12th.
If you have done graduation, it needs to be from a good and recognized institution.
If the candidate is between 20 to 27 years of age, they are eligible to become a CID officer.
If the candidate is from an SC/ST category, the age limit is 20 years to 32 years.
If an individual comes from an OBC category, the age limit automatically falls between 20 to 30 years.
The height of men needs to be around 165 cm, and women need to be about 150 cm.
Eyesight is another essential thing. Distant vision needs to be 6/6 and 6/9 in either eye. Near vision needs to be 0.6 and 0.8 in either eye.
Individuals coming from the general category can try for four attempts. The OBC category can try seven times, and SC/ST can try unlimited times within the given age limit.
Check Similar:
Skills Required to Become a CID officer
Communication skills: a CID officer needs to be a strong man/woman who has fluency in the native, English, and Hindi languages. He needs to be soft as well as strong according to the situation they are in. Understanding the language is a must so that the cases they take are easy to understand and they can deliver.
Muscular physic and sharp mind: An officer with a sharp mind and a strong body must enter the CID department. A strong body will help to withstand any situation they are put into. A sharp mind will help to think differently and in a broad manner. Thinking like a criminal and what one can do, one needs to think in that manner. Thinking about the do's and don't is essential. Critical reasoning is one quality that is essential in a CID officer.
Problem-solving skills: Given any situation, one needs to act as a problem solver. One needs to look out for different ways to get out of a situation to solve the case as early as possible. Thinking out of the box is one quality that will help in problem-solving.
Ability to understand people: understanding people is an essential part of the CID. They are known for doing investigations until they find the culprit or the murderer. Thus the ability to understand people needs to be very strong. Not everyone is a criminal, and not every situation that you see is correct. Therefore, finding out the real cause is essential.
Loyalty and Generous: a CID officer needs to be both loyal and generous. But, maintaining the balance between both is essential. Loyalty towards the job is one quality that is essential in a CID officer. Generous or generosity is another quality that is essential as not everyone is a murderer and not everyone is bad, sometimes it is the situation that makes you do many things that you should not do. Thus, understanding someone and the situation is essential.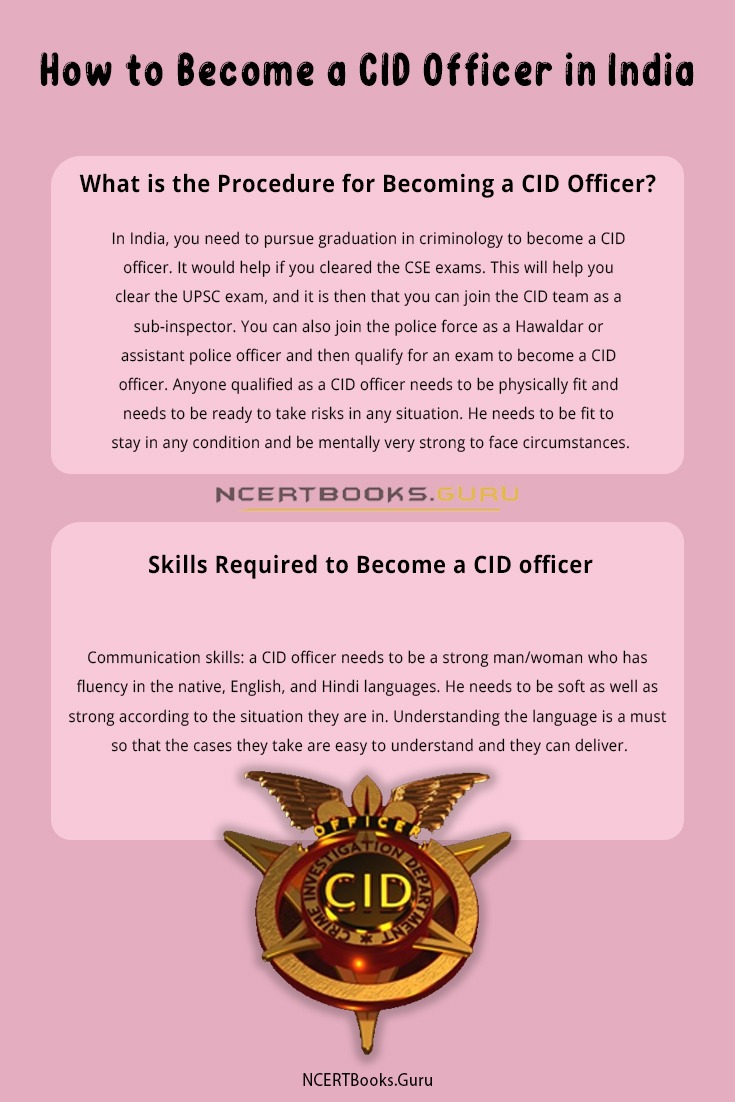 How is a CID Officer Selected?
Three different tests and interviews select a CID officer. If you clear the Civil service exam, then it can act as a direct ticket to the CID team. But then too physical tests are compulsory. Otherwise, there is a written test or exam that tells about the educational qualification. Then a physical examination reveals the height, eyesight, and strength of the individual. Finally comes the round of interviews.
What Kind Of Job Is Of A CID Officer, And How Much Does The Government Pay?
Working as a Crime investigating officer is in itself rewarding. It is equal to other criminal justice jobs. Keeping the public safe from criminals and reducing crime in society is the primary job of a CID officer. A CID officer is a person who has supervisory skills and can work as a team. Thus, you can say it is a respectable job, the same as other criminal justice jobs.
Did you know the highest paid salary of a CID officer is around 32,000 rupees per month? Though the amount is not that great, working for the police department is in its way prestigious. As the experience of an officer increases, the pay scale also increases. There are different profiles of a CID officer, and all of them have different pay. The starting pay of a fraud investigator is 2,56,781 rupees, and it can increase up to 11 lakhs. Police officers starting salary is 1,76,231 that can reach up to 7 lakhs when one reaches a senior level. A paralegal officer's starting salary is 2,82,885, and it reaches up to 7 lakhs when he reaches the senior level. There are Narcotics officers with a salary of 1,65,655, which is their starting salary that increases up to 6 lakhs.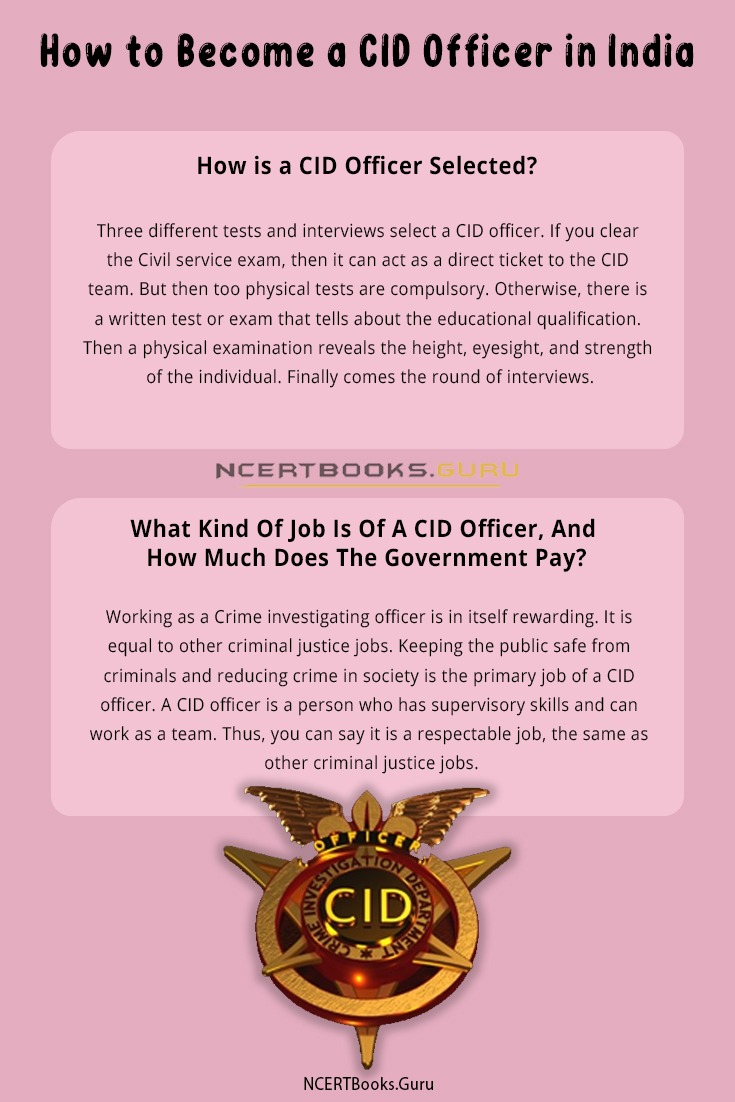 Conclusion on How to Become a CID Officer in India?
CID Officers have a certain set of responsibilities on them. These responsibilities include investigating complicated cases involving frauds, conspiracies, assassinations, murders, riots, and even rape.
This was all about becoming a CID Officer in India. You can follow the guidelines shared by us, and it will help you make a career in the field. There are some other variations to the job role, and you can choose them according to your interest. You can go through the best colleges list, eligibility criteria and other things covered in this article. There are different departments in CID itself, and you will also get to work in one such department. During the investigation process, you will also have to work with the police department and other agencies. In such a case, you should not only have good interpersonal skills, but you must also have developed the right channel for such communications.