A Formal Letter is a letter written in formal language and follows a predefined format. These are written in general for official purposes to colleagues, seniors, and not to friends or family.  You need to keep several points in mind while drafting a formal letter and you can even find Formal Letter Examples and Format here. Try to write it as simple and as clear as possible. The language of the Letter should be quite professional and you need to present the letter in a formal way.
Refer to the Tips for Formal Letter Writing and Guidelines on How to write a Formal Letter in the later modules. You can get ideas by referring to the Samples over here and write one on your own as per the requirement.
Find Letter Writing Topics for formal and informal topics and learn different letter writing styles all in one place.
Types of Formal Letters
There are many types of letters depending on the scenario and we have jotted some of them. They are along the lines
Letter of Enquiry
Order Letter
Letter of Complaint
Reply to a Letter of Complaint
Promotion Letter
Sales Letter
Recovery Letters
Formal Letter Structure and Format
While drafting a Formal Letter you need to follow certain guidelines and points in mind. The standard format to keep in mind is as under. You need to include all the details provided below while drafting a formal letter.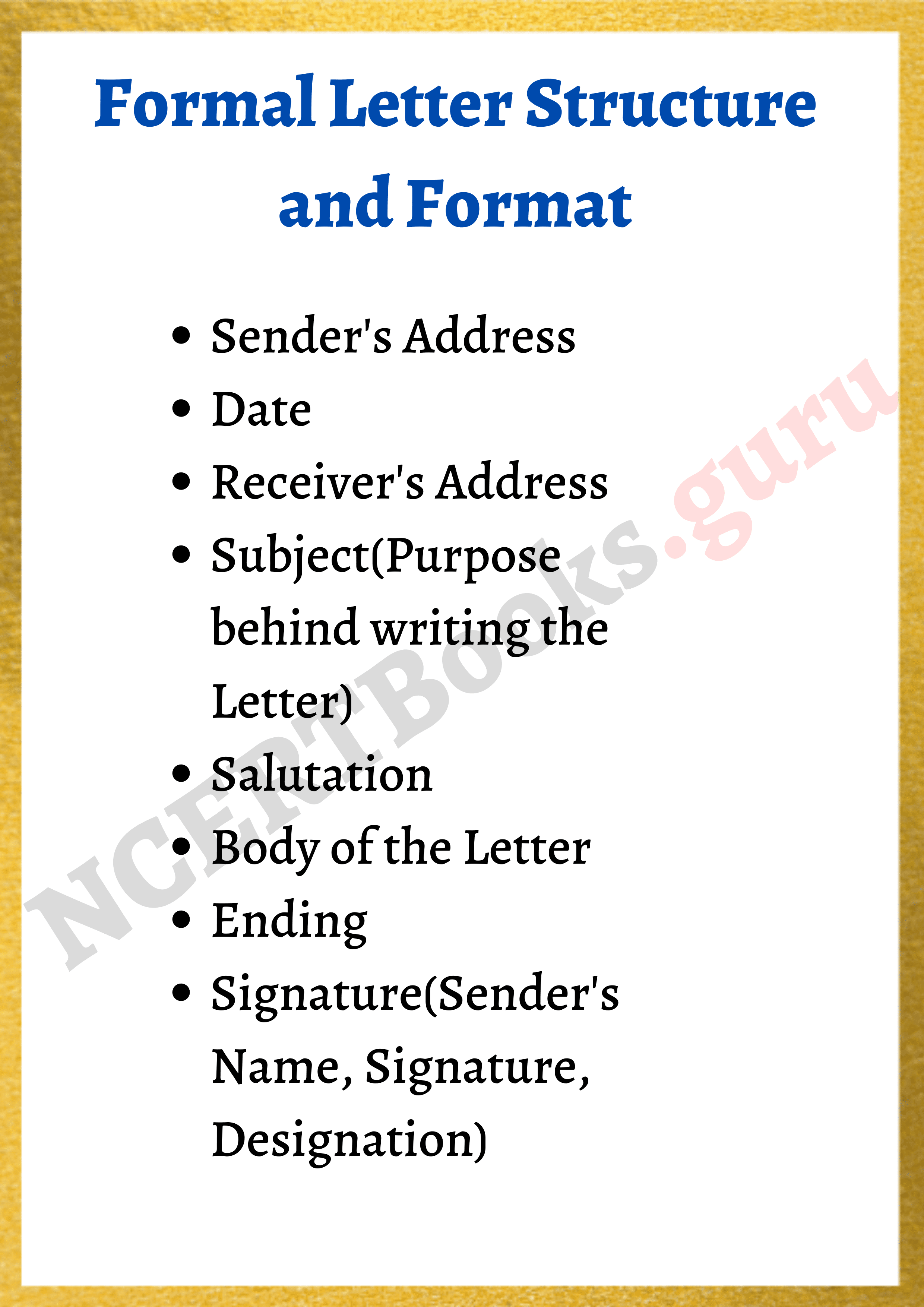 How to Write a Formal Letter? | What must be included in a Formal Letter?
A Formal Letter should follow certain rules and guidelines while drafting it. Following them will help you keep it in a Professional way. There are many formats that can be followed while writing a formal letter. For the sake of your convenience, we even jotted a common format to communicate these days. They are as follows
Sender's Address: The Sender's Address should be noted on the top left corner of the page. The address should be accurate and complete so that the recipient can get in touch with you further.
Date: Just below the address do note the date on which the letter is drafted. It is important as the formal letters are kept in records.
Salutation: Skip one line after the date and chose your salutation whether you know the recipient or not. If you know the name of the person use the salutation Dear followed by name of the person. If you aren't aware of the name of the recipient you can use Dear Sir/ Madam.
Body: Next to the salutation leave one line and begin the body of the letter. Use Short, Clear, logical paragraphs to state your business.
Signature: This is the end of the letter. Skip one line after writing the last paragraph in the body of the letter. Type the closing followed by a comma. Mention a handwritten signature if it is an offline letter and type your name simply if it is an online letter.
Formal Letter Writing Samples
You can avail the samples for formal letter writing over here and download them free of cost. Use these ideas and create one as per your requirement. Referring to the Formal Letter Examples helps you have an idea of what and what not to include.
Sample Formal Letter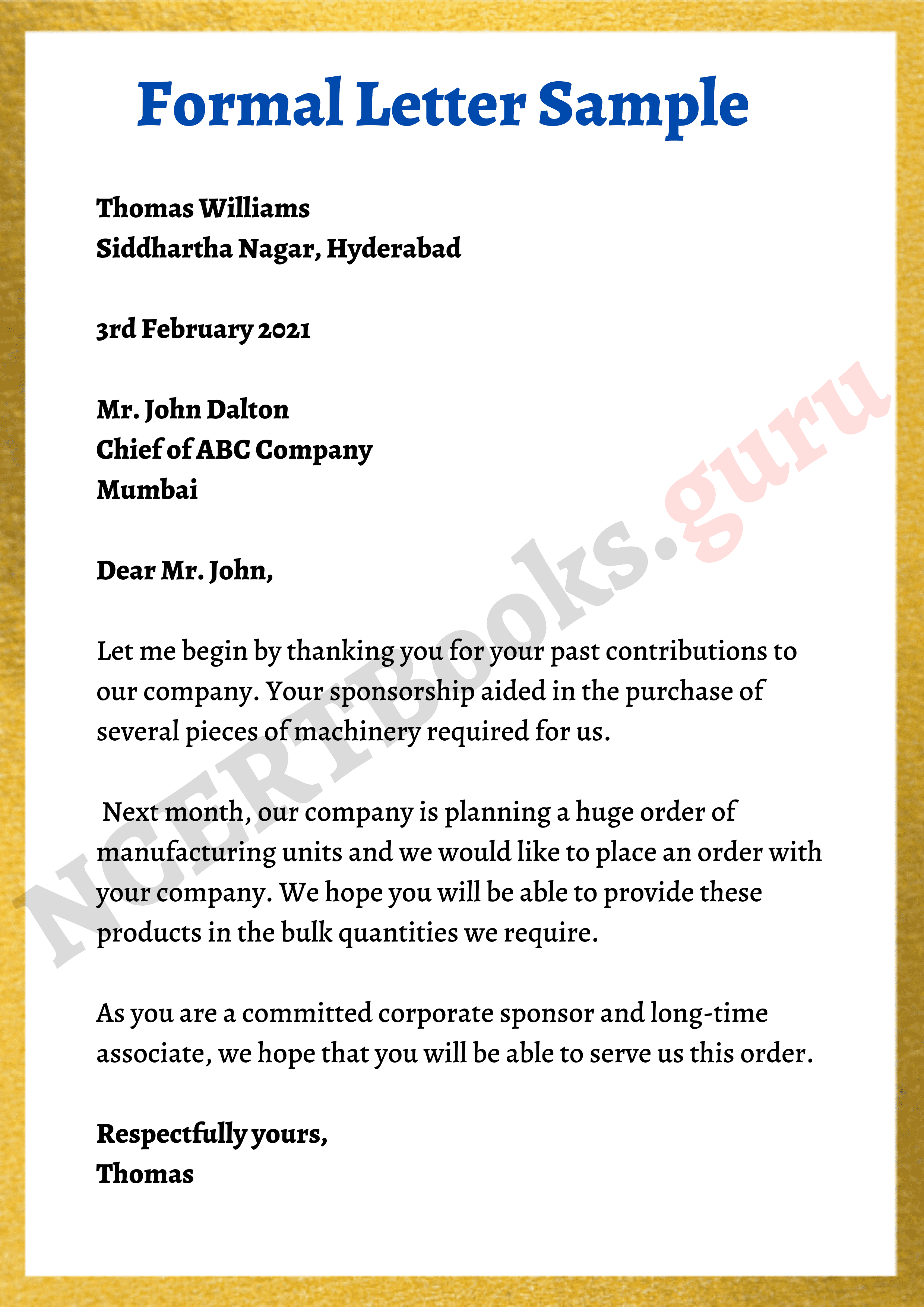 Formal Invitation Letter Example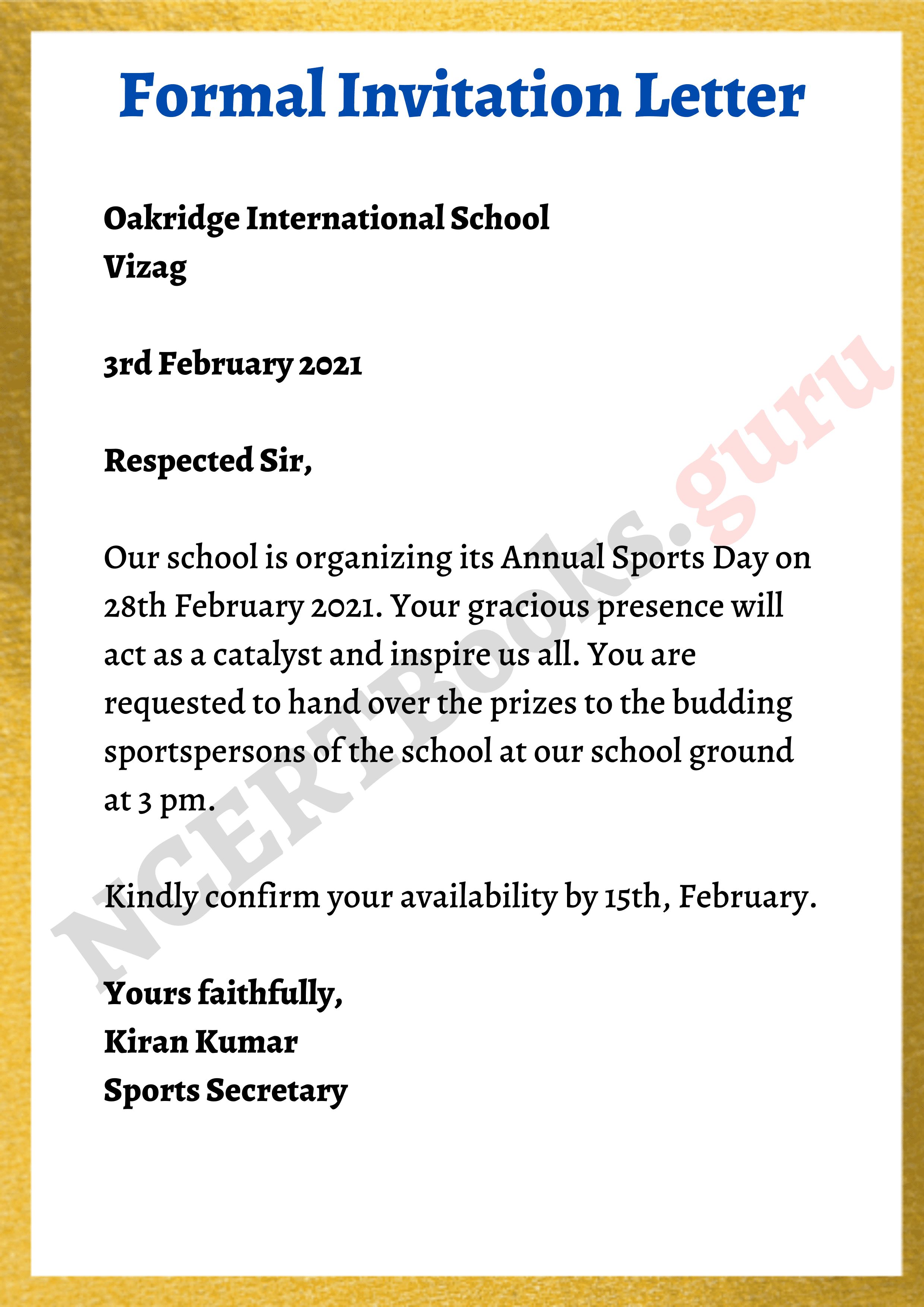 Resignation Letter Sample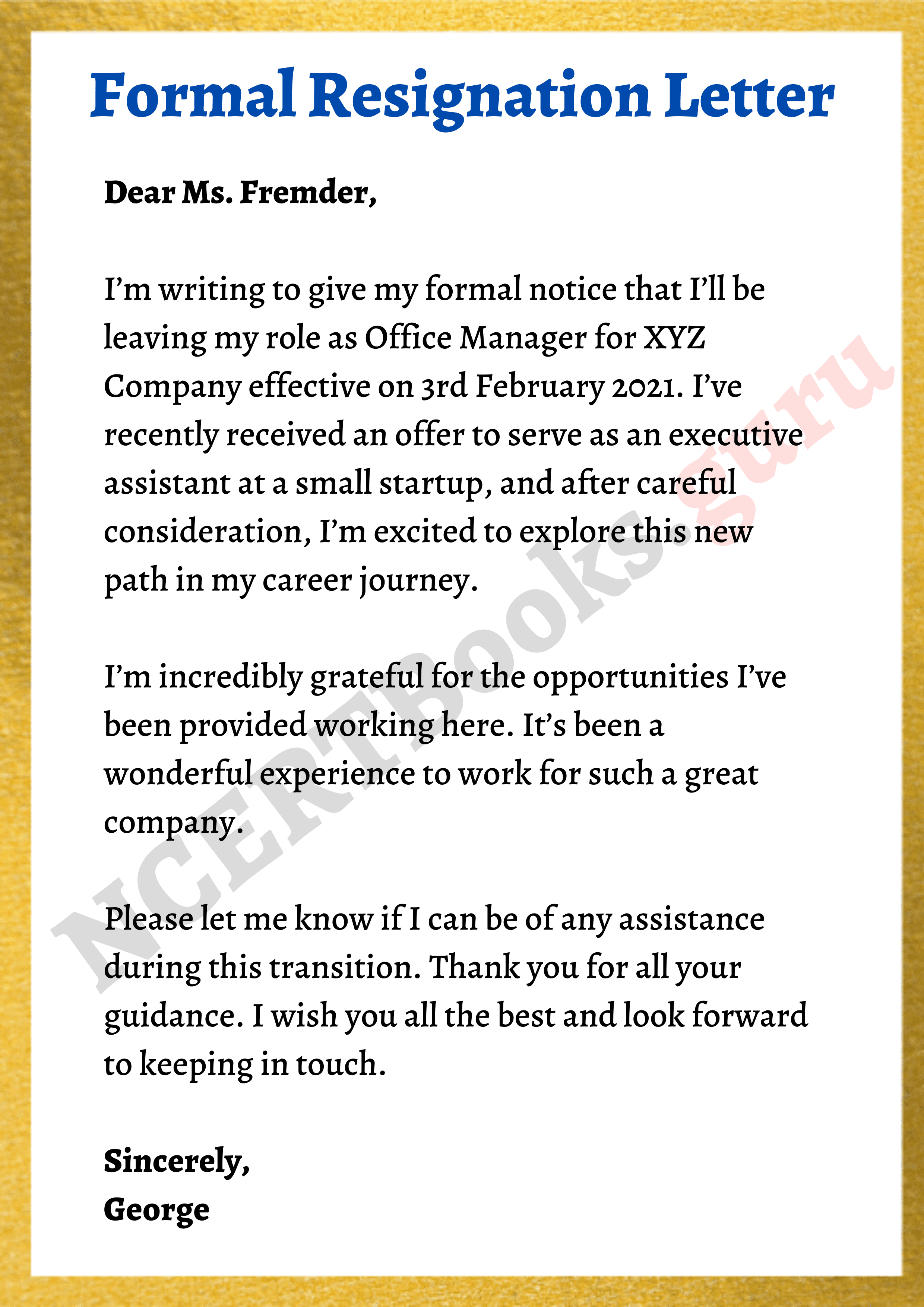 Tips for Writing a Formal Letter
You might need to write a formal letter at some point or the other rarely. It is still necessary to write a format letter and express your opinion in a coherent and effective manner. To help you create an effective formal letter we have jotted some of the tips for Formal Letter Writing. They are along the lines
Be Concise: State the Purpose of you writing the letter and don't deviate from the subject. Keep the Letter Short and straight to the point. Avoid using flowery language or long words.
Use an Appropriate Tone: Since it is a formal or business letter try to use slightly formal than regular language that you use. Be Polite and Respectful even if you are complaining.
Proofread: Proofreading is important and cross-check for any grammatical or spelling mistakes. Check whether the sentences are grammatically correct or not and do complete them. Since it is a formal letter, take time while writing and don't rush to finish it.
Use Proper Format and Presentation: Remember the first impression lasts and do use a proper format and presentation. Do address the receiver properly and don't forget to sign at the end of the letter.
FAQs on Formal Letter
1. What is a Formal Letter?
A formal letter is a letter written in a formal language, in the stipulated format, for official purposes. It is used for official or professional communication.
2. What are the Tips for Formal Letter Writing?
Tips for Formal Letter Writing are as follows.
Be Concise
Use an Appropriate Tone
Proofread
Use Proper Format and Presentation
3. What is the Format of a Formal Letter?
The Format to keep in mind while drafting a formal letter is as such. They are along the lines
Sender's Address
Date
Receiver's Address
Subject(Purpose behind writing the Letter)
Salutation
Body of the Letter
Ending
Signature(Sender's Name, Signature, Designation)