Diploma Optometry Course: A Diploma in Optometry is a three-year in-depth study in the field of optometry. The goal of this course is to educate students about many aspects of eye health, disorders, diagnosis, and therapy. Psychology, patient management, and optometric retail management are among the subjects covered in the course.
What is the purpose of a Diploma in Optometry?
Applicants for a Diploma in Optometry are experienced with inspecting and assessing a variety of refractive disorders, as well as supervising Optical guides such as Optical Glasses, Contact lenses, and other Remedial guides.
The program offers various opportunities for candidates in both the commercial and public sectors.
The training is effective in producing highly qualified optometrists to cater to the high demand.
Students will acquire the knowledge and abilities to contribute effectively to the optical or healthcare industries after completing the program.
Quality opticians are in great demand due to the high prevalence of myopia in youngsters and a rapidly aging population.
You will have the knowledge and ability to contribute successfully to the optical or healthcare industry.
The course introduces students to basic biomedical, behavioral, and clinical sciences, with a focus on vision and the eye.
Diploma in Optometry Eligibility
10+2 education or equivalent examination in Science stream including Physics, Chemistry, Biology, and/or Mathematics from a recognized board is the essential qualifying condition for pursuing Diploma Optometry Course. Admission to the Diploma in Optometry program is based on merit or admission. Colleges and institutions compile the merit list. AIIMS Admission Exams, AMU EE, BU EE, BFUHS EE, and others are examples of recognized entrance exams.
Students who want to study a Diploma for Optometry courses should have the following qualifications.
Candidates must have completed Class 12 or have an equivalent qualification from a renowned institute affiliated with the Indian government.
Candidates must have completed the 12th grade with Physics, Chemistry, Biology, and Mathematics as their primary courses.
Candidates must pass the qualifying examination with a rating of at least 50%.
Read More: B.Sc Optometry
Optometry Diploma Admission Process
The candidate has to go through a medical entrance examination for securing admission.
Many universities and colleges provide admission based on national or state-level tests such as NEET (National Eligibility Cum Entrance Test), AIIMS (All India Institute of Medical Science), and others.
Other institutions hold entrance tests as part of their enrolment procedures like the AMU Entrance Exam, AIMSRC Entrance Exam, BFUHS Entrance Exam, and Bangalore University Entrance Exam.
Diploma in Optometry Fees
The tuition expense for this diploma course program is between INR 10,000- 2,00,00 per year. The course is an opportunity to look into careers that aren't related to health care. Off-campus classes and apprenticeships allow students to learn from industry experts first-hand.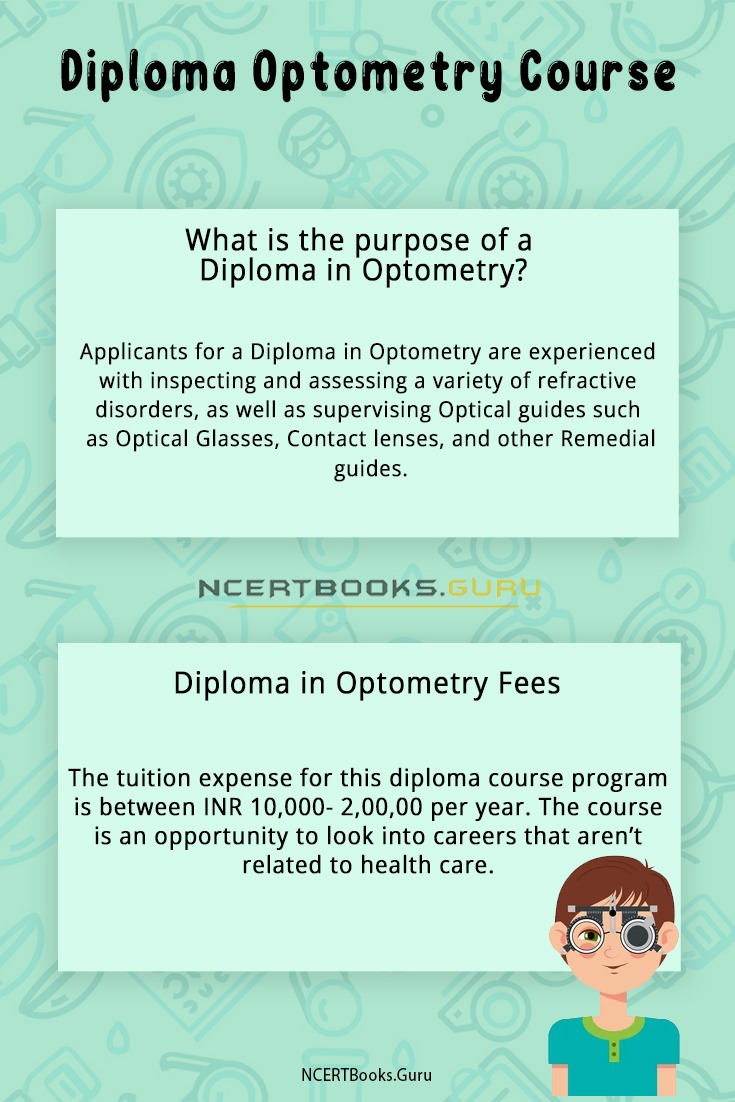 Optometry Diploma Course Duration
Diploma in Optometry Course Duration is about 3 Years and this can vary from institute to institute. Check other medical courses.
Diploma Optometry Course offering Colleges List
Below is the list of popular colleges that offer the Diploma in Optometry Course. Choose the one as per your requirements and study. They are as under
GTU
ITM, Vadodara
Parul University
SU
VNSGU
Go through the course details belonging to different streams all under one roof and resolve your queries.
Diploma in Optometry Course Syllabus
If you are in search of a Diploma in Optometry Subjects then refer to the below sections. Each Year Syllabus is present under the respective section so that you can prepare accordingly. Keep a track of these subjects and prepare in advance and score good grades in exams.
| | | |
| --- | --- | --- |
| Diploma in Optometry First Year Syllabus | Optometry Diploma Second Year Syllabus | Diploma in Optometry Technology Third Year Syllabus |
| General anatomy, Physiology, and Pathology | Clinical Optometry – General Examination 1 | Business Management for Optometry Practice |
| Ophthalmic Optics | Contact Lens Fitting | Ophthalmic Dispensing |
| Biochemistry | Clinical Optometry – Instrumentation | Clinical Practice 1 |
| General Optics | Ocular Pharmacology | Contact Lens Clinical Practice 1 |
| Ocular Anatomy | Assessment and Management of Binocular Vision | Clinical Practice 2 |
| Ocular Physiology | Clinical Optometry – General Examination 2 | Contact Lens Clinical Practice 2 |
| General and Ocular Microbiology | Clinical Methodology and Statistics | Community Health Optometry |
| Physiological and Visual Optics | Contact Lens Care and Complications | Research Project |
| Introduction to Academic Writing | Ocular Pathology | Basic Psychology and Communication |
| Fundamentals of Contact Lens | – | – |
Diploma in Optometry Salary
Graduates work in positions such as Customer Service Associate, Private Practitioner, Professor, Trainee Optometrist, Vision Consultant, Optometry Researcher, Nutrition Officer/Data Assistant, Junior Medical Coder, Optometrist Assistant, Asst. Lens Consultant, Office Assistant, Optometry Technician, and others.
As a fresher, optometry might make INR 4 to 5 lacs per year. An optometrist's salary varies based on where they work, what talents they have, and where they live. In India, an optometrist's annual salary lies between Rs. 9 to 10 lacs.
Refer to the table below to find out the college fee and Salary of Diploma Optometry for different colleges:
| | | | |
| --- | --- | --- | --- |
| Institution Name | City | Fees(Annually) | Salary(Average Annual Package) |
| All India Institute Of Medical Science | Delhi | INR 743 | INR 4,80,000 |
| Sri Ram Chandra University | Chennai | INR 1,00,000 | INR 4,00,000-INR 6,00,000 |
| SRM University | Kanchipuram | INR 76.250 | INR 4,00,000 |
| Sharda University | Greater Noida | INR 1,30,000 | INR 2,84,736 |
| NIMS University | Jaipur | INR 74,000 | INR 4,00,000 |
| Manipal University | Manipal | INR 1,26,000 | INR 3,00,000-INR 5,00,000 |
| Amity University | Gurgaon | INR 1,01,000 | INR 2,00,000 |
Future Prospects of Optometry Diploma
Candidates who complete the Diploma in Optometry have a great scope for a variety of occupations such as listed below:
They can set up an eye facility, optical shop, lens manufacturing unit, and so on on a free premise.
They can also collaborate with Optician showrooms, eye physicians, the contact lens and ophthalmic lens industries, hospital eye departments, and other organizations.
Optometrists can also work as expert service executives for any MNC that sells eye care products, or they can educate as a vocation.
They might pursue advanced study or continue their research in the field of optometry.
Occupational health professionals can be replaced by optometrists in the vision care of industrial specialists.
Within the vision care industry, optometry specialists can also work in marketing jobs. They may sell lenses, ophthalmic instruments, and other ophthalmic products.
FAQs on Diploma in Optometry Courses
1. Can Diploma Optometrist open clinics in India?
Yes, the candidate who pursued Diploma Optometry can open a clinic in India.
2. What is study after Diploma in Optometry?
After pursuing a Diploma in Optometry one can go for a B.Sc in Optometry.
3. What is the difference between Optometry Diploma and Bachelor of Optometry?
The difference between Diploma Optometry and Bachelor of Optometry is the kind of subjects they offer.