The Diploma in Acting is a common course for people who want to be good actors and entertainers. The program takes a methodical method, encompassing a wide range of courses that educate the actor in essential areas such as emotional, vocal, body language, creativity, characterization, auditioning skills, etc.
There is a high demand for a good and enthusiastic actor, who can give life to the character they play. If you have the skill and talent of a good actor, then this industry will welcome you with open hands. Career prospect, fame, money is very high in this industry. If you are skillful and have a passion to be an actor you can be a part of it by joining the Course of Diploma in Acting After 10th or 12th or graduation.
To help you join this course we are here with all the required details regarding the Diploma Acting Courses in India. In this article, we have covered all the minor details regarding this course that will give you a brief idea about the acting diploma course fees, colleges, syllabus, required skills, etc.
About Diploma in Acting and Course Duration
Wondering Diploma in Acting how many years to learn? It is a three-year full-time program in acting, theatre, and dance; however, the period of the course may vary from 1 to 3 years depending on the institution and the type of acting course you will apply for.
The program in acting, dancing, and theatre is called a diploma in Acting. It is a time-consuming process that demands inquiry, boldness, and dedication. Your hard work, patience, skill, and ability to be patient will be your assets in clearing this course.
It teaches you how to plan a rehearsal, how to rehearse, and how to make the most of your time on stage and screen by being proactive and independent. Screen acting and film projects prepare you for the contemporary world of recorded media by exploring the unique and individual processes of acting for the camera.
List of Skills Required for Actors After Diploma Course
Skills are one of the basic things that we must have to be an expert in this field. People seeking a Diploma in Acting must acquire several skill sets to expand their expertise and improve their day-to-day learning.
However, skills are also learned during the course and if you are really into this field, they can be developed within a couple of months.  Below are some of the skills that are required to be a supple actor.
Communication Abilities
Observing skills
Attention to Detail
Organizational abilities
Articulate skills
Stage Skills
Should be Confident
Innovation and talented
Top Diploma in Acting Colleges and Fees
To start your career as an actor you need proper training and guidance, for that there is a need for a professional and renowned college that can prepare you as a future artist.
We have listed some of the popular institutions/universities with a total diploma in acting fees which will guide you to select the best college/university/acting schools.
Institution/Universities
Total fees
Indian Academy Of Dramatic Arts – [IADA], New Delhi
INR 1.23 Lakhs
Principal V.Malhotra's Film Acting School, Mumbai
INR 1,25,000-2,00,000
Shri Ram Centre for Performing Arts, Delhi
INR 1,05,000-2,00,000
Charlie Media Institute

Bhawani Peth, Pune

INR 1.00 Lakh

Anupam Kher's Actor Prepares the School for Actors
INR 2,25,000-3,50,000

National Academy of Media and Events, Kolkata

Minto Park, Kolkata

INR  65,000

Venkateshwara Open University

Itanagar

· INR 16,000
Diploma Program in Acting Eligibility Criteria
Students who have a flair for acting and are creative and innovative are ideal for the Diploma in Acting course. Candidates can take this program after clearing their 10+2 or 12th final year examinations in any stream from an accredited university. You can refer below for the eligibility requirements for the Diploma in Acting course: –
Passed the final year of a 10+2 or a 12th-grade examination.
The candidate must receive at least 45 percent of the total marks from any recognized institution.
To succeed in the entrance examinations, candidates must be creative.
Candidates must also do well in the Personal Interview stage.
Diploma in Acting and Drama Admission 2022
To be considered for admission to a Diploma in Acting program, applicants must pass the specific entrance exams administered by acting colleges. The following are the essentials of the admissions process: –
Admission Based on Entrance Test:
The admission for the Diploma in Acting is determined by the applicant's merit and performance abilities in the relevant entrance examinations held by the National School of Drama (NSD), FTII Admission test, SRFTI Entrance examination, etc.
Annually, the online registration applications for these entrance tests are made available by the end of January.
Applicants must enroll their names by entering their email addresses, mobile phone numbers, and passwords.
After passing the entrance examinations, an applicant will be invited for counseling and the personal interview stage.
Merit-Based or Offline Admission:
Merit-based or offline admissions procedures are used in several universities. You can check the details below for Merit List Admission:
After the registration form is released,   you can visit the institution and pick up the form as well as the college brochure.
Fill admission form with the required details and make the payment for the application fees
You need to submit the form and application fees before the last date.
You can check your name on the cut-off list 2 days before admission to learn how likely you are to be admitted.
Acting Diploma Courses Entrance Exams – How to Prepare for it?
There is various Entrance Exam that is offered by various institutions and universities you can opt for any one of these entrance tests and prepare accordingly. Names of some of the entrance examinations are NSD, AISF, SRFTI, etc. We are here with some of the basic tips and tricks on how to prepare for these entrance tests:
Obtain the most recent syllabus and work hard in each unit. Attempt to gather the prior year's cut-off marks. This will assist you to prepare in accord with the cut-off points.
In the entrance test do not attempt the question if you don't know the answer.
Concentrate on actual abilities rather than theoretical subjects.
Try to cover the full curriculum.
Research thoroughly for the Personal Interview and Constructive Debate rounds.
Diploma in Acting Syllabus
The academic syllabus of the Diploma in Acting degree may differ according to the institute and universities. Below we have provided some of the common syllabi which are taught in Diploma courses in Acting:
| | | |
| --- | --- | --- |
| Skills | Cultural history and heritage | Languages |
| Yoga and meditation | Acting (specialization) – part III | Acting (production-oriented) – Part IV |
| Drama & Acting specialization – production of the play (practical )- part V | Production of play before the audience | Yoga Acting |
| Acting – part I | Cultural heritage | Computer application |
| Language – English language course | Appreciation courses | Acting – Part II |
| Internship and final project | | |
Career Scope for Diploma in Acting in India
Upon completion of the Diploma in Acting curriculum, artists have a plethora of options for future opportunities. It is entirely up to the individual to decide what they want to do after finishing the course. Following completion of the Diploma in Acting program, you will be able to pursue the opportunities listed below.
One can earn a Master's degree in acting with a single specialty. Students in this course study acting programs in greater depth, with extensive details.
Students can also travel abroad to study to act in stages and for audiences of various genres, thereby improving their acting skills.
Besides the Diploma in Acting, students can choose from other relevant courses such as Diploma in Film Direction and Diploma in Cinematography, which is a full-time study for professionally turning a basic notion into a big screen for the public.
Do Check: 
Job opportunities for diploma courses in Acting & Film industry
 A Diploma in Acting is a degree that demands more practical expertise than theoretical information; upon completing this course, an artist must participate in various auditions and tests to achieve the ideal desired employment. One can even get a master's degree in the same profession or relocate to another country to study at globally renowned institutes.
Some of the Job Profile that is offered to the artist after completion of a Diploma in acting are as follows:
Teacher/Lecturer
Producer
Assist. Event Manager
Theatre Writer
Performing Arts Critic
Community Practitioner
Acting Consultant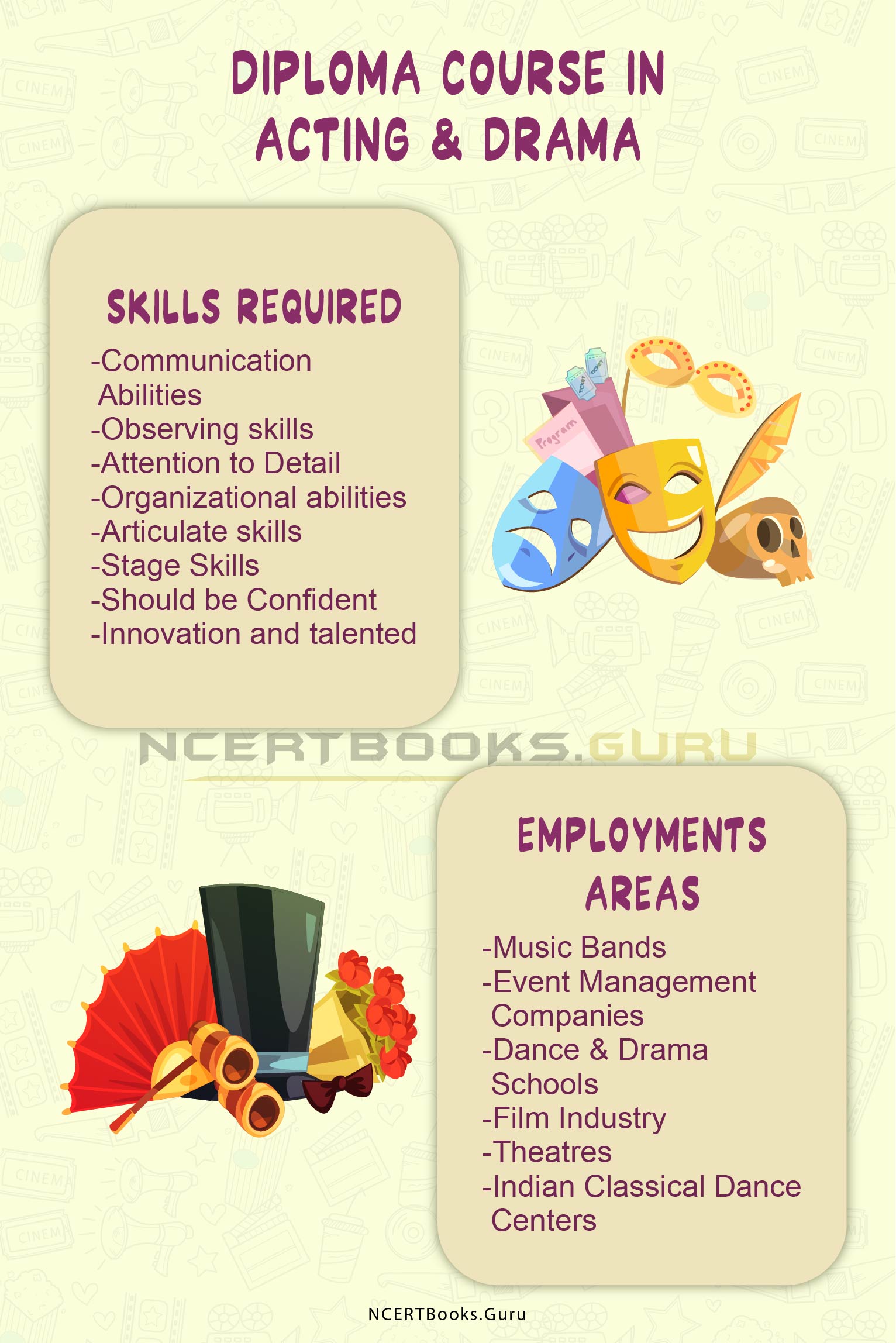 Employments Areas for Diploma Acting Holders
There are various fields that are in continuous search of fresh and new talent for their new venture or projects. Some of the areas that employ a Diploma holder in Acting are as follows:
Music Bands
Event Management Companies
Dance & Drama Schools
Film Industry
Theatres
Indian Classical Dance Centers
Must See: 
Average or Highest Paying Salary After Diploma in Acting Program
For graduates of Diploma in Acting, the average starting salary ranges from INR 4,000,000 to 7,500,000. However, the income granted to Diploma in Acting students differs according to their skills and expertise. The remuneration is also affected by the role that is assigned to them. When it comes to the acting industry, cinema actors are paid significantly high than TV actors. Likewise, television performers are paid significantly more than theatre artists.
Below we have listed some of the Job Profiles along with their salary so that you can have an idea of the salaries received in different job types.
Assistant Event Manager Average Salary = INR 4,00,000-6,00,000
Acting Consultant Average Salary = INR 4,00,000-5,00,000
Teacher Average Salary = INR 4,25,000-5,00,000
Theatre Writer Average Salary = INR I 4,00,000-5,50,000
FAQs Related to Diploma in Acting and Drama in India
1. Is it expensive to pursue a Diploma in Acting course?
Yes, this course is somewhat pricey. The usual course expenses for this program range between INR 1,00,000 and 6,00,000 throughout three years, based on universities and institutions.
2. What are the career options for diploma in acting graduates?
People with a Diploma in Acting may find several options in production studios or theatre productions after completing a Diploma in Acting course. They must hone their abilities and attend auditions for a film, television series, or drama.
3. What are the documents required for the Diploma Acting course admission?
The documents that will be needed for admission in Diploma in Acting are as follows:
10th Class MARK SHEET
School Leaving Certificate (SLC)
CASTE CERTIFICATE (FOR RESERVED CATEGORY)
DOMICILE CERTIFICATE / BIRTH CERTIFICATE
Aadhar Card
10 Passport-Size Photographs
4. What is an Acting diploma course?
A Diploma Course in drama focuses on acquiring the skills required to become a trained actor. Typically, learners will explore theater, voice, dance, and cultural studies in this course.
5. Is there any age limit for an acting career?
If you have experience and acting chops, there are still a lot of opportunities for older actors in theater, television, film, and commercials." In other words, there's no age limit for acting.
Conclusion
Many people aspire to be actors or artists in theatres or on television, and they work hard to make their dreams a reality. We have tried to assist you in this article by giving you all of the details and information essential to get admission to the Diploma in Acting course, which will serve as the foundation stone of your ambition.
This course might be a turning point in your life since it will teach you the skills and techniques required to be a professional actor or artist. So make use of the details provided and explore the world of the acting industry.
Having said that, you should also remember that "Good Things Comes To Those Who Waits" so be patient and give full dedication Success will be Yours! For more career updates and other course details, visit our comprehensive website @ncertbooksguru.com