Difference Between Written and Unwritten Constitution: Constitution is an aggregate of the fundamental principles and laws of a social group or nation or a state that act as a basis for governance in a country.
A constitution is crucial as it determines the control and distribution of powers, primary organs of the state, functions and organisations of the government, and the citizens' duties and rights.
You can also find differences between articles on various topics that you need to know. Just tap on the quick link available and get to know the basic differences between them.
What is the Difference Between Written and Unwritten Constitution
There are two fundamental types of Constitution- Written Constitution and the Unwritten Constitution. A Written Constitution is defined as the Constitution that has been meticulously and systematically embodied and written in a single document. An Unwritten Constitution is defined as the Constitution devoid of laws or provisions set in writing but is documented despite not being incorporated in a single book.
To get a comprehensive understanding of the two types of Constitution and their roles in both the government and citizens' lives, let us understand the differences between the Constitution's two wings.
Definition of Written Constitution
Written Constitution is the type of Constitution where there is a formal and legal book or a sequence of documents bound together as a book comprising the duties and rights of the governments and the citizens, nature of the constitutional arrangement, and the laws that govern the entire system.
Written Constitution is perfectly framed and duly passed, and the main purpose of a written constitution is for its enactment. Written Constitution is assigned to a specialised body that formulates and adopts the Constitution and explicitly lays down the government's primary organs and bodies.
Definition of Unwritten Constitution
The Unwritten Constitution is defined as the Constitution where the legal decisions,  fundamental laws, and the rules that govern the nation are not written down or embodied in a single document systematically.
Unwritten Constitution is defined by the usage, formal and legal enactments, customs, precedents, and instruments such as a writ, will, bonds, process, certificates, deeds, acts, and more that are manifested in decisions and statutes undertaken by the Judiciary.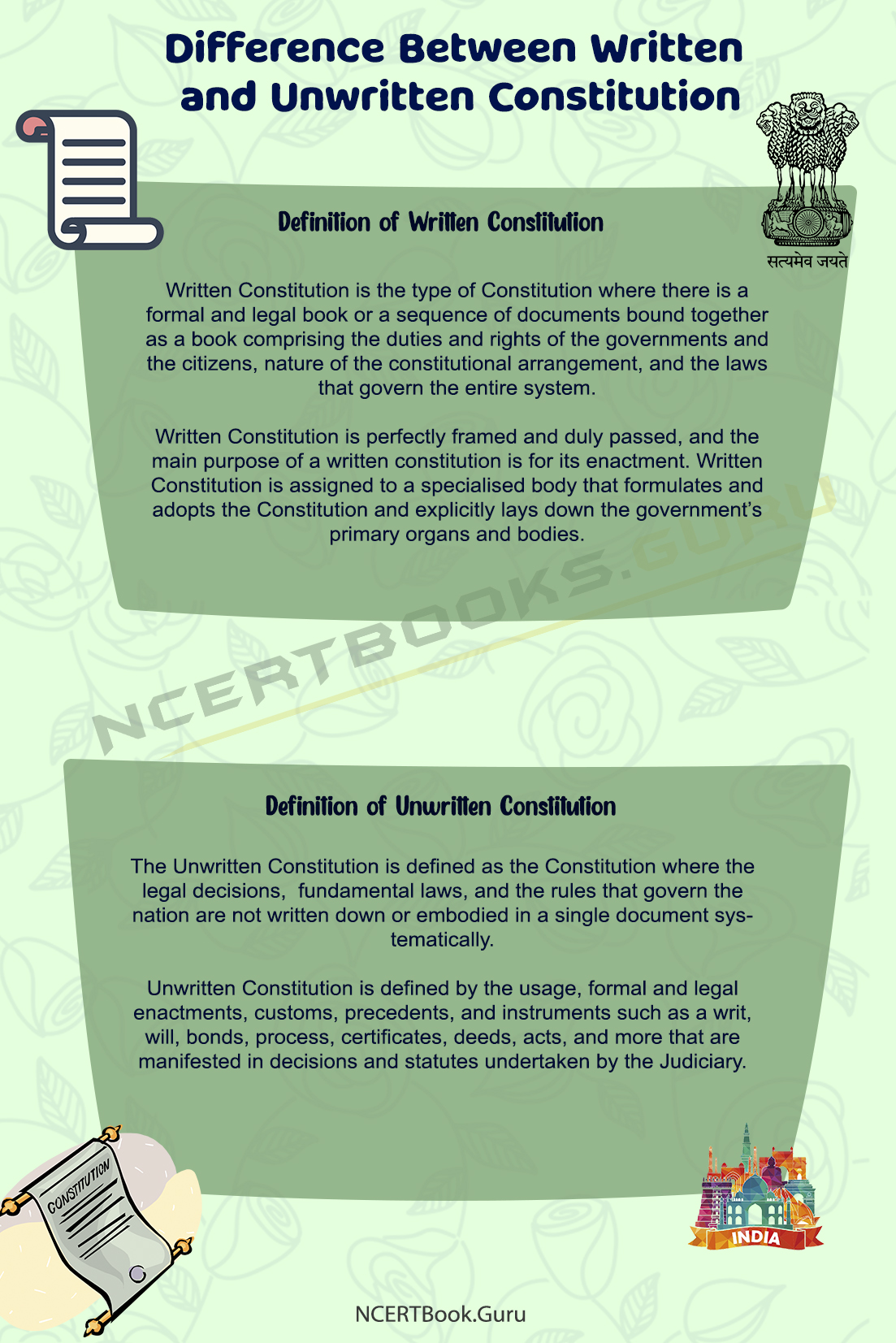 Difference Between Written and Unwritten Constitution
| | |
| --- | --- |
| Written Constitution | Unwritten Constitution |
| Written Constitution is defined as the Constitution that is compiled and systemised in a structured and cohesive manner. | Unwritten Constitution is defined as the Constitution, which is not systemised in a structured manner. |
| Written Constitution is supreme. | The Parliament is considered as the supreme in the country where there is an unwritten constitution. |
| Written constitutions are perfectly framed, arranged in a gradual matter with any subsequent changes that can be added almost instantaneously and duly passed. | The Unwritten Constitution evolves eventually, with a newly established set of guidelines and laws being added overtime over a long period. |
| In countries that have the written Constitution, the Judiciary has more power to ensure constitutional supremacy. | The Judiciary holds limited powers in a country that has an unwritten Constitution. |
| Written Constitution is flexible. | Unwritten Constitution can be rigid, flexible or both. |
| The best example of a written constitution is The Constitution of the United States of America, which is considered the oldest written Constitution in force. The Constitution of the United States of America was drafted on September 17, 1787. It was ratified on June 21, 1788, and came into effect on March 4, 1789. | The best example of a written constitution is The Magna Carta, which is considered the earliest form of the unwritten Constitution. The Magna Carta was known as the charter of rights, which King John of England signed on June 15, 1215, as a promise to protect the nobility's rights from the interference of the crown. |