Difference Between Economic Survey and the Union Budget: Union budget and the economic survey of India are both presented in front of the parliament. They are presented before both the houses of parliament. Drafting the Union budget and presenting it is mandatory every year whereas the government can skip the drafting of an economic survey.
You can also find differences between articles on various topics that you need to know. Just tap on the quick link available and get to know the basic differences between them.
What is the Difference Between the Economic Survey and the Union Budget?
According to Article 112 of the Indian Constitution, the union budget, which is also termed as the annual financial statement of a year, shows and specifies the government's receipts and expenditures in that particular year. Claims that are made through the union budget if got approved by the parliament become effective from April 1st and are valid till March 31st of the next year. This duration is known as the financial year.
An economic survey is a report on the economy of India. This report includes data regarding the growth and fall of the economy.
The Union Budget
The union budget is termed as the annual budget of India. It gets presented before the parliament in the house of Lok sabha every year by the Finance Minister of India. It is considered as a statement that contains the data about the expenditures and receipts of the government for a particular financial year (April 1st – March 31st). This report gets presented before the parliament on the February month of every year.
The claims that have been made in the union budget can come to effect only if gets approved by the Lok Sabha. The budget gets divided into two types – Revenue budget and Capital budget. This budget also includes the reports and data of different government funds of India such as consolidated fund, contingency fund, etc.
Economic Survey
The Department of Economic Affairs, Ministry of Finance are responsible for presenting the economic survey of India before the parliament every year. This report gets presented just before the Union Budget. This report is submitted to both the houses of parliament ( Lok Sabha and Rajya Sabha ).
The economic survey gives the report and data regarding the developments of the economy of India in the last 12 months. It shows the initiatives that are taken by the government to boost the Indian economy. It shows the present condition of different development programs started by the government in the past. It is also responsible for showing the growth prospects of the economy.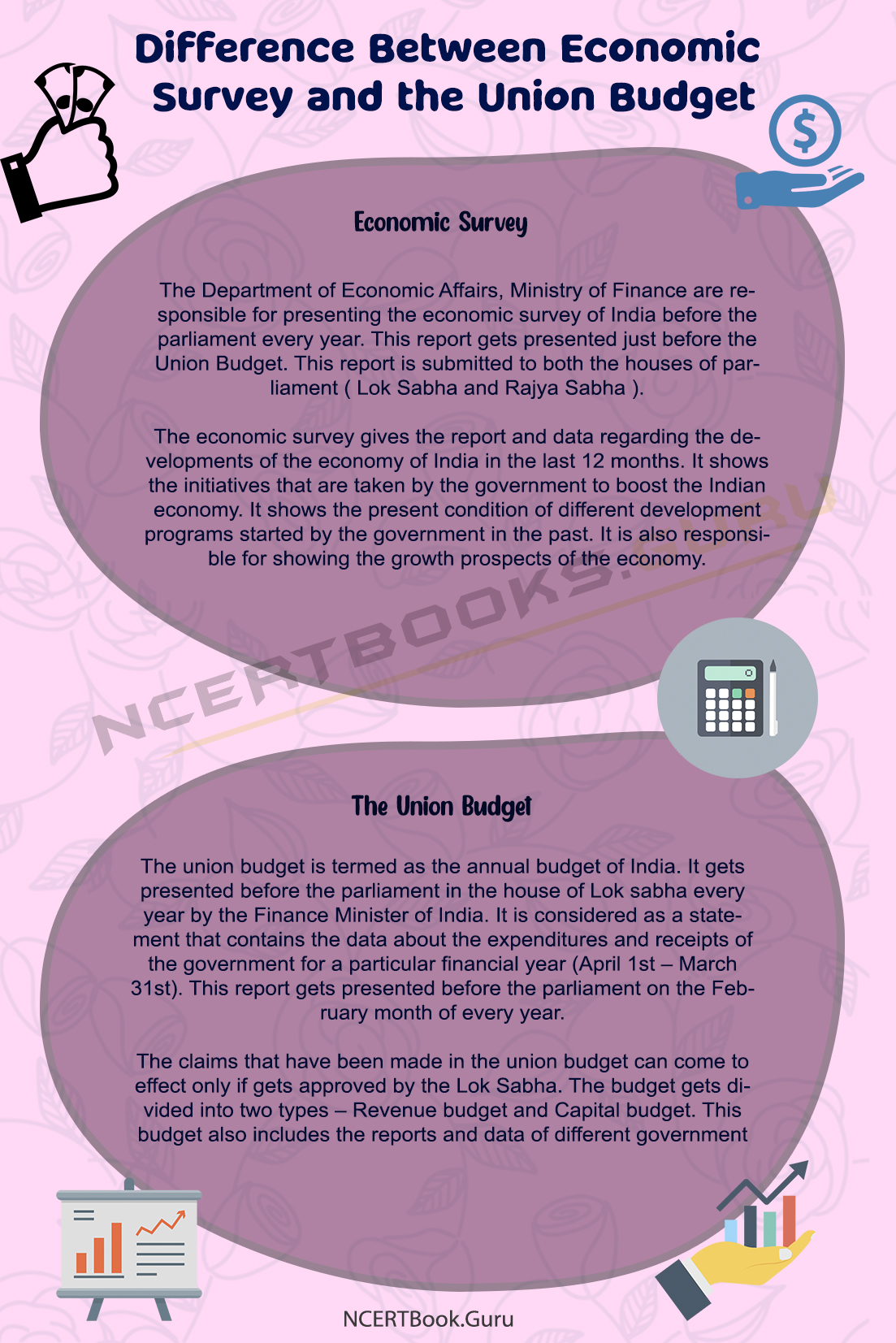 Difference Between Economic Survey and the Union Budget
| | |
| --- | --- |
| Economic Survey | Union Budget |
| India's first economic survey was first drafted and presented before both the houses of parliament in the year 1950-51. | The first union budget of India was drafted and presented before the parliament on November 26th, 1947. At that time, it was presented by RK Shanmukham Chetty. In this budget, the economy of the country got reviewed, and there were no new taxes that got introduced. |
| Since the year 1964, the economic survey report is always presented one day before the presentation of the union budget. | The union budget always gets presented one day after the presentation of the economic survey. |
| The economic survey reports about the developments in the Indian economy in the last financial year. It also talks about the policies made by the government, aiming to boost the economy. It informs the parliament about economic prospects. | In a union budget, the ministry of finance presents a report on the estimation of receipts and expenses for the forthcoming financial year. |