De Jure
De Jure is a Latin word that means lawful, legitimate, or abided by the law. In general parameters, De Jure can be any position, power, or possession authorised by law. De Jure, is a legal recognition, it is a permanent recognition and cannot be withdrawn. De Jure is an acknowledgement provided after following proper procedure of law.
The elections held to run the state affairs are one of the best examples of De Jure as they are stored as per the law, and those electing through it and coming in power via a proper channel or legal means form the De Jure government. A government that is legally set through an adequate channel, not by the force or any purge.
People are well aware of De Facto and De Jure's terms since the American Civil War as the governments were distinguished as lawful (De Jure), unlawful or by power (De Facto).
De Facto
De facto describes practices in reality in law and government, even though laws do not officially recognise them. It is generally used to refer to what happens in practice. It can be considered something factual that is different from what it seems in a wider prospect. In the political scenario, it usually means getting hold of the house or position that too by force.
You can also find differences between articles on various topics that you need to know. Just tap on the quick link available and get to know the basic differences between them.
What is the Difference Between De Facto and De Jure
The standard that has gained a commanding position by enforcement, tradition or market dominance is a De facto standard. It has not significantly received formal permission by way of a standardisation method, and may not have an approved standards document. In social sciences, a deliberate standard that is also a de facto standard is a particular explanation to a coordination quandary.
De Facto also relates to something factual, contrary to what it seems. Example: The officer holding the office through legal means is our official leader, though the actual man or power behind him is the De Facto power.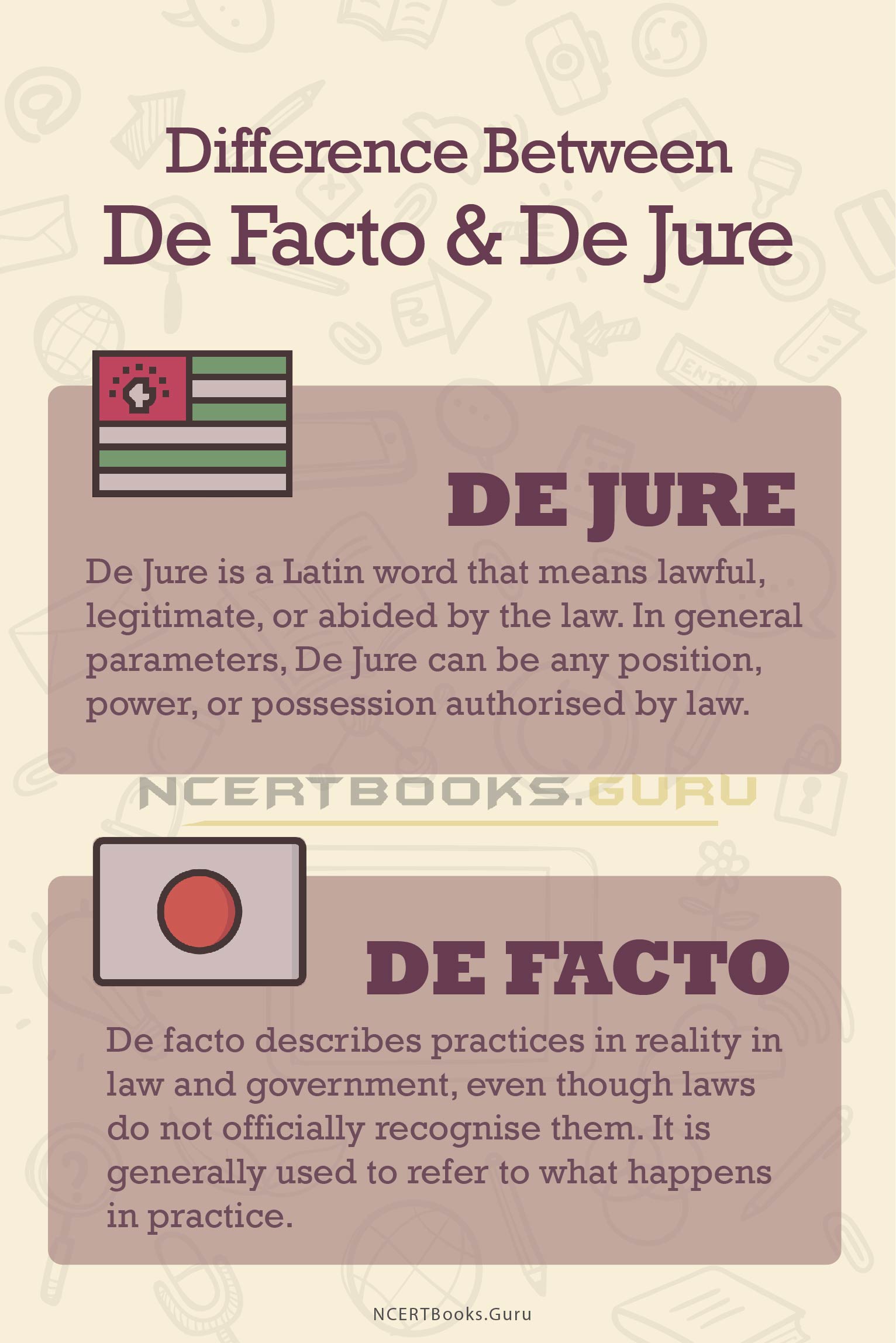 Difference between De Facto and De Jure
| | |
| --- | --- |
| De Facto  | De Jure |
| De Facto is  Factual Recognition | De Jure is Legal Recognition |
| De Facto is temporary.  It is a temporary identification which can be withdrawn. | De Jure, a legal recognition, is a permanent recognition and cannot be withdrawn. |
| The acknowledgement that is presented by De Facto is based on a genuine situation and is not a method of law. | De Jure is an acknowledgement provided after following proper procedure of law. |
| A state asset or public debt cannot be recovered by a De Facto Government. | A state asset or public debt can only be recovered by the de jure government. |
| If there is a de facto acknowledgement by most states membership to the United Nations is impossible. | A state can get United Nations membership if the majority of the nation offers de jure recognition. |
| In de facto the state succession rules do not apply | Under De Jure, state succession rules are applied. |
| The State which accepts De facto recognition will have 2 opposing governments | The State which takes De Jure recognition has only 1 Government. |