Difference Between Computer Virus and Worm: We often come across Computer Virus and Worm, but do we know the meaning and the difference between the two terms. This article helps you comprehend the meaning and key differences between Computer Virus and Worm terms. One of the things common between a computer virus and worm is that it can equally harm a computer device. Another common aspect of the two concepts is that they are both computer programs.
You can also find differences between articles on various topics that you need to know. Just tap on the quick link available and get to know the basic differences between them.
What Is The Difference Between a Virus And a Worm
A computer virus is a concept which can be defined as a malicious computer program that, when executed, starts to replicate itself and inserts its code. One of the main problems that a computer virus creates is that it can easily spread from one software to another or from one device to another.
A computer worm is a concept which can be defined as a stand-alone malicious program. This malicious and harmful program can spread itself in all the parts of a computer or any other software device.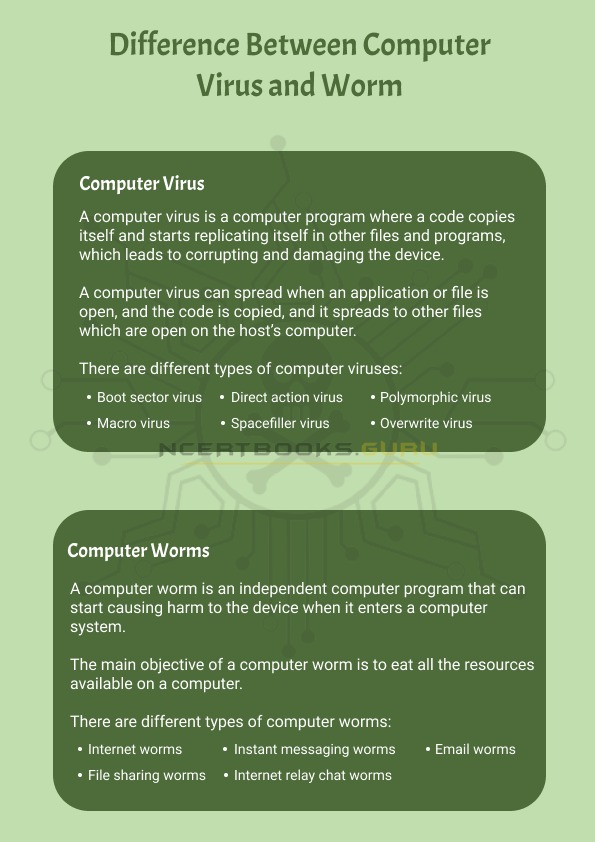 Difference Between Computer Virus and Worm
The key differences between Computer Virus and worm are as follows:
Computer Virus
Computer Worm
A computer virus is a computer program where a code copies itself and starts replicating itself in other files and programs, which leads to corrupting and damaging the device.

A computer virus requires execution by the host, which means a virus can spread when an infected program is executed on the device.

The main objective of a computer virus is to modify the information available on the device's files.

There are different types of computer viruses:

Boot sector virus
Direct action virus
Polymorphic virus
Macro virus
Spacefiller virus
Overwrite virus
File Infector Virus

A computer virus can spread when an application or file is open, and the code is copied, and it spreads to other files which are open on the host's computer.

The spread of a computer virus is slower in comparison to a computer worm.

A computer virus can corrupt all the files or automatically delete all the files on a computer.

Here are some of the examples of computer viruses:

A computer worm is an independent computer program that can start causing harm to the device when it enters a computer system.

A computer worm can enter the device and can affect all the other files and programs. There is no need for an execution required.

The main objective of a computer worm is to eat all the resources available on a computer.

There are different types of computer worms:

Internet worms
Instant messaging worms
Email worms
File sharing worms
Internet relay chat worms

A computer worm requires a medium or application through which it can enter the device. This medium can be the internet, email, online messaging application, or others.

The spread of a computer worm in a device is quick.

A computer worm can affect the network and bandwidth network connections of a device.

Here are some examples of computer worms: