Democracy in India Essay: The vision expressed in the above lines stems from a deep desire to build a fair, just, progressive and inclusive society; A vision to transform the vast potential of a nation into opportunities for all.
'Where the mind is without fear and head held high.
Into that heaven, my father let my country awake'.
It was not a utopian imagination or wild wish, rather a pragmatic assessment of unlimited potential which a newly independent nation can unleash. With a rich and detailed constitution as the guiding light, a democratic India was poised for glory and greatness.
Students can find more English Essay Writing Topics, Ideas, Easy Tips to Write Essay Writing and many more.
Long and Short Essays on Democracy in India for Students and Kids in English
A Long Essay on the topic of Essay on Democracy in India is provided; it is of 450-500 words. A Short Essay of 100-150 words is also given below. The extended articles are popular among students of classes 7, 8, 9, and 10. On the other hand, students in Classes 1, 2, 3, 4, 5, and 6 can refer to short essays.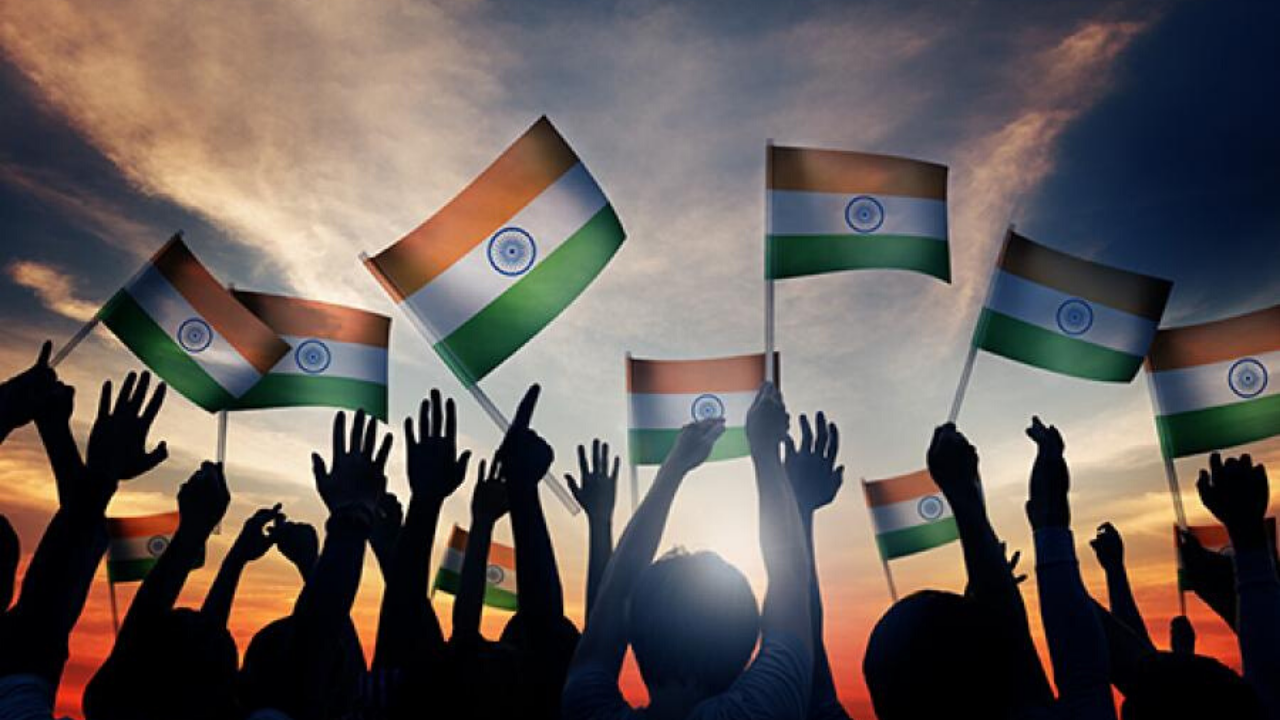 Long Essay on Democracy in India 600 Words in English
In the small journey as an independent nation, democracy has been the cornerstone of Indian success saga. From the time when doubts were cast on the ability of our survival as a nation to an era when powers across the global look for our guidance, India has travelled miles. The firm foundations of the largest functioning democracy in world have shown myriad results in an effort to create an empowered society.
The representative democracy of India draws strength from a rich constitution, institutions of integrity and a vibrant society. Though it may appear as a simplistic procedure of electing your representative through votes, the ethos it entails on the society is much richer and deeper. It strengthens and empowers 'we the people' and acknowledges the importance of each individual of society.
The smooth transition of governments witnessed by independent India on basis of power of ballots has been a testimony to the real functioning democracy. While our neighbors have struggled with political instability, Indian democracy has risen to become a role model at the global platform. In spite of multitude of problems like illiteracy, poverty, malnourishment and infrastructural deficit India has managed to ensure that political masters remain committed to the right cause.
The entitlement of universal adult franchise has been the base for our democratic success. With reduction of voting age from 21 to 18, Indian democracy was further strengthened as it recognized role of youth in nation building process. Irrespective of a stratified society, people of all caste, colour, creed, language religion, region queue up in a single line to express their choice on the Election Day. This equitous approach has been the strength of Indian democracy.
The functioning of our democracy has ensured that people judge the working of their representatives every five years. With votes, people attach expectations and aspirations. The anti-incumbency rates have many times justified the 'real' power of people. Democracy, as a means, ensures that the political position remains an instrument to serve needs of one and all in society.
Indian democracy has gone from strength to strength. With passing of 73rd and 74th Amendment Acts, democratic decentralization percolated to the grassroots. The Municipalities and Panchayati Raj Institutions have brought governance closer to people. They have empowered the people by giving an elected forum to bring about local level development. Democracy brought new vibrancy through local governance to enable rapid socio-economic progress in the villages.
The rise of coalition polities also marks an indication that regional aspirations of the people are finding a legitimate forum. Political parties have become a medium for expression in an increasingly aware and demanding society. The synergy of several institutions has enabled the democracy to survive multiple onslaughts from different quarters. The judiciary continues to carry impeccable faith and trust of people for protecting their rights. Democratization of judiciary has brought it closer to people through the concept of Public Interest litigation(PIL).
Democracy is an empowering value. It multiplies the individual's choice and opens plethora of opportunities for every person in society. Democracy believes in rule of law and our judiciaiy has thwarted every attempt by authoritative individuals or institutions to encroach upon personal rights of citizens. Through various landmark judgments, it has upheld the democratic flavour in the society. The election commission has functioned as the lifeline of Indian democracy with daunting challenges posed by each successive election. The institution has stood as a bulwark against any nefarious attempt to belittle the voice of people. With effective deployment of security machinery, polling related violence incidents have witnessed a decreasing trend.
The introduction of Election Voting Machines (EVM) is yet another effort to translate wish of people into genuine representation. It eliminates the mass scale bogus voting or invalidity of votes due to improper stamping. Indian democracy manages to exhibit strength of facing and overcoming any challenge to its survival.
The era of liberal markets and a vibrant civil society have increased the liberty of individual. It has brought an era when voice of people can no longer be drowned by the powerful and oppressive. Media Campaigns and NGOs take up issues of arbitrariness and injustice to any segment of society. The growing strength of media and civil society has been a vital influence to further Indian democracy. Rights of people in obscure villages or tribal belts were often neglected or trampled upon by insensitive apathy. Media campaigns have given voice to people to demand accountability from their representatives.
Right to Information has been a landmark change with potential to revolutionize the entire framework of secretive and inefficient governance. It furthers democratic ethos by arming individuals with right to demand accountability and transparency from the administration. The increasing use of e-governance and Information Technology platforms for delivery of services strengthens democratic access to values. The melting of interface eliminates the discretion of officials, which was a stumbling block in the democratic distribution of valfljes in society.
Though the journey in making democracy a way of life has seen glowing success, several challenges still raise their heads. The distribution of values in the society has been skewed and gaps multiplied post liberalization. It is here that that state needs to step up and play a leading role. State must channelize the resources towards building an inclusive society by creative use of energies of various players.
Media must maintain the standards and values expected from it as a repository of people's hopes and aspirations. With sufficient self regulation to curb paid news and sensationalism, it must emerge as the voice of aam aadmi and enrich Indian democracy. The proactive work of civil society either through social audit of government programmes or highlighting administrative excesses must continue. A vital component of democratic ethos is the access to the resources for the benefit of community. The State has to uphold the rights of people, especially the marginalized and disempowered, to prevent vaporization of trust. The twist and governance deficit has already generated enough tensions for the nation to handle. Deepening the reach of democracy can be a crucial element of the strategy to handle the menace of Naxalism.
Education has to play a key role in furthering the reach of Indian democracy not only by encouraging the people to participate in the electoral process, but also by asking them to vote for growth and development. The highly stratified Indian society has given birth to casteism as a key distortion in the true reach of democracy. People often end up voting a caste, rather than casting their votes. Even political parties have built upon this divide to create vote-banks. This development militates against the spirit of democracy. While politics gets biased and blindfolded, the holistic development fails to materialize.
Education can raise awareness about the profile of candidate and the development orientation exhibited in his previous stay. Election Commission has to play a proactive role in this arena. It must also ensure that transparency in funding procedure and distribution of tickets becomes sine qua-non for contesting elections. The civil influence of money and criminalization has to be wiped off as a stain from the fabric of Indian democracy. The executive carries the deep responsibility of maintaining the vitality and richness of Indian democracy. Healthy parliamentary discussion and debates, inclusive policies and programmes and bringing transparency in functioning of administration are the essentials of a demanding society.
Short Essay on Democracy in India 150 Words in English
Legislations like Right to Education also restore the trust of citizens in the functioning of democracy. The need to bring in the culture of viewing politics as a medium to serve is imminent. The fruits of a growing India must reach all sections of society to maintain trust in this participative process. The planning has to ensure that people remain central in any plan and their voice is recognized in both planning and execution. The democratic decentralization of Panchayati Raj Institutions has to be empowered by autonomy of functions, functionaries and finances bestowed upon them.
Indian democracy has managed to survive challenges from several quarters over the years. With changing time of growing complexities and demands, the attitudinal change of respecting individuality and choice has to be evolved in every quarter. Democracy, as a value, should become the norm of daily functioning of individuals and institutions. Assertive citizens, empowered with information, cannot be denied with this fundamental virtue and any such attempt would only increase impatience and liberalism in the society. The progress of democracy, in spirit and functioning, has been a journey in India. The journey must continue as democracy can only enrich itself progressively. Obstacles, which challenge Indian democracy as a myth will vaporize, as the commitment of Indians is resolute. India democracy will continue to guide the progress of nation to a position of strength in global arena and in delivering an 'inclusive' society.