Check out the CUTN Courses & Syllabus 2022. Candidates who have got the admission in CUTN are searching for the CUTN Courses & Syllabus details 2022. ( CUTN पाठ्यक्रम और पाठ्यक्रम विवरण)So, in this article, I am going to give detailed information about the CUTN Courses & Syllabus. Here you can also check the Syllabus for all the courses semester wise. The details of various academic programs offered by the CUTN are also mentioned in this article. The Syllabus for UG, PG, PhD courses is also provided on our website.
The Central University of Tamil Nadu was abbreviated as CUTN. The university currently offers Integrated Masters programmes in Physics, Chemistry, Mathematics, Life Sciences and Economics; Masters Programme in English, Tamil, Social Work, Media & Communication and Chemistry; PhD Programme in Physics, Chemistry, Tamil, English, Mathematics, Life Science and Economics.
About University
Central University of Tamil Nadu (CUTN) is an institution of higher education established by an Act of Parliament in 2009. The University aims at the fashioning of an enlightened society founded on a relentless pursuit of excellence through innovation in teaching-learning process, interdisciplinary studies and research. Tucked away 8 km. off the headquarters of Thiruvarur District, which is both in the heart of the Cauvery Delta and in the centre of the Great Chola Empire, CUTN has thanks to the generosity of the state government, a sprawling 520 acre campus, divided by a tributary of the Cauvery, spanning across two revenue villages.
Having constructed its buildings as per the GRIHA norms, CUTN moved to the new campus in 2013-14. With a view to ensuring a green campus, the university has registered for a green rating. With a host of the diversified integrated postgraduate, postgraduate, doctoral programmes and diploma and certificate courses of community college both already rolled out and on the anvil, the University has been keen to stay abreast of the ever-expanding academic frontiers. The University is also participating in the MHRD initiative of Direct Admission of Students Abroad (DASA).
CUTN Courses & Syllabus 2022
| | |
| --- | --- |
| University | Central University of Tamil Nadu (CUTN) |
| Location | Thiruvarur, Tamil Nadu, India |
| Offered Courses | UG, PG, Integrated and PhD Courses |
| Website | cutn.ac.in |
| CUTN Courses and Syllabus | Available Now |
Courses Offered by Central University
Integrated M.Sc & MA Programmes (Five Years)
Integrated M.Sc. CHEMISTRY
Integrated M.Sc. LIFE SCIENCES
Integrated M.Sc. MATHEMATICS
Integrated M.Sc. PHYSICS
Integrated MA ECONOMICS*
PG Programmes (Two Years)
MA CLASSICAL TAMIL STUDIES
MA ECONOMICS
MA ENGLISH
MA HINDI
MA HISTORY
MA MASS COMMUNICATION
MSW (MASTER OF SOCIAL WORK) MBA
M.Com
M.Sc. APPLIED PSYCHOLOGY
M.Sc. CHEMISTRY
M.Sc. COMPUTER SCIENCE
M.Sc. EPIDEMIOLOGY & PUBLIC HEALTH M.Sc. GEOGRAPHY
M.Sc. MICROBIOLOGY
M.Tech. MATERIALS SCIENCE Integrated M.Lib.l.Sc.
M.Phil. Programmes
M.Phil. APPLIED PSYCHOLOGY
M.Phil. CHEMISTRY
M.Phil. COMMERCE
M.Phil. COMPUTER SCIENCE
M.Phil. ENGLISH
M.Phil. GEOGRAPHY
M.Phil. LIB. AND INF. SCIENCE
M.Phil. MANAGEMENT
PhD Programmes
Ph.D APPLIED PSYCHOLOGY PhD CHEMIST RY
Ph.D COMMERCE
Ph.D COMPUTER SCIENCE PhD ECONOMICS
Ph.D EDUCATION
Ph.D ENGLISH
Ph.D EPIDEMIOLOGY & PUBLIC HEALTH
Ph.D GEOGRAPHY
Ph.D HINDI
Ph.D LIB. AND INF. SCIENCE Ph.D LIFE SCIENCES
Ph.D MANAGEMENT
Ph.D MASS COMMUNICATION Ph.D MATERIALS SCIENCE Ph.D MATHEMATICS
Ph.D MICROBIOLOGY
Ph.D MUSIC
Ph.D PHYSICS
Ph.D SOCIAL WORK
Ph.D TAMIL
CUTN Courses Fee & Eligibility
| CUTN Course Name | Central University of Tamil Nadu | CUTN Eligibility |
| --- | --- | --- |
| B.Sc + M.Sc | ₹18,126 | 12th Class |
| MBA | ₹14,891 | Graduation |
| M.Sc | ₹22,552 | Graduation |
| BA + MA | ₹15,784 | 10+2 |
| B.Sc + B.Ed | ₹21,054 | 12th Class |
| M.Tech | ₹31,878 | Graduation |
| MSW | ₹24,886 | Graduation |
Central University (CUTN) Syllabus
Here we are going to provide the syllabus for all departments of Integrated M.SC, MA, M.Phil, PhD Programmes. Here is the Syllabus for all courses offered by the University. Here are the files provided, you can just download the PDF files by the links available by clicking on it. These Syllabus PDF will also be available in the official website of the CUTN University. Candidates who want to prepare for the exams must first know the Syllabus.
Syllabus for PhD Programmes
Syllabus for PG Programmes
Syllabus for M.Phil Programmes
Syllabus for Integrated M.SC and MA Programmes
How to Check out the Syllabus?
Visit the official website of the University.
At the bottom of the homepage, click on the " Admissions" tab.
A new page is opened.
Here on the left side of the page Click on " Downloads" menu.
You will be directed to a new page where you can find the syllabus of all courses.
See More: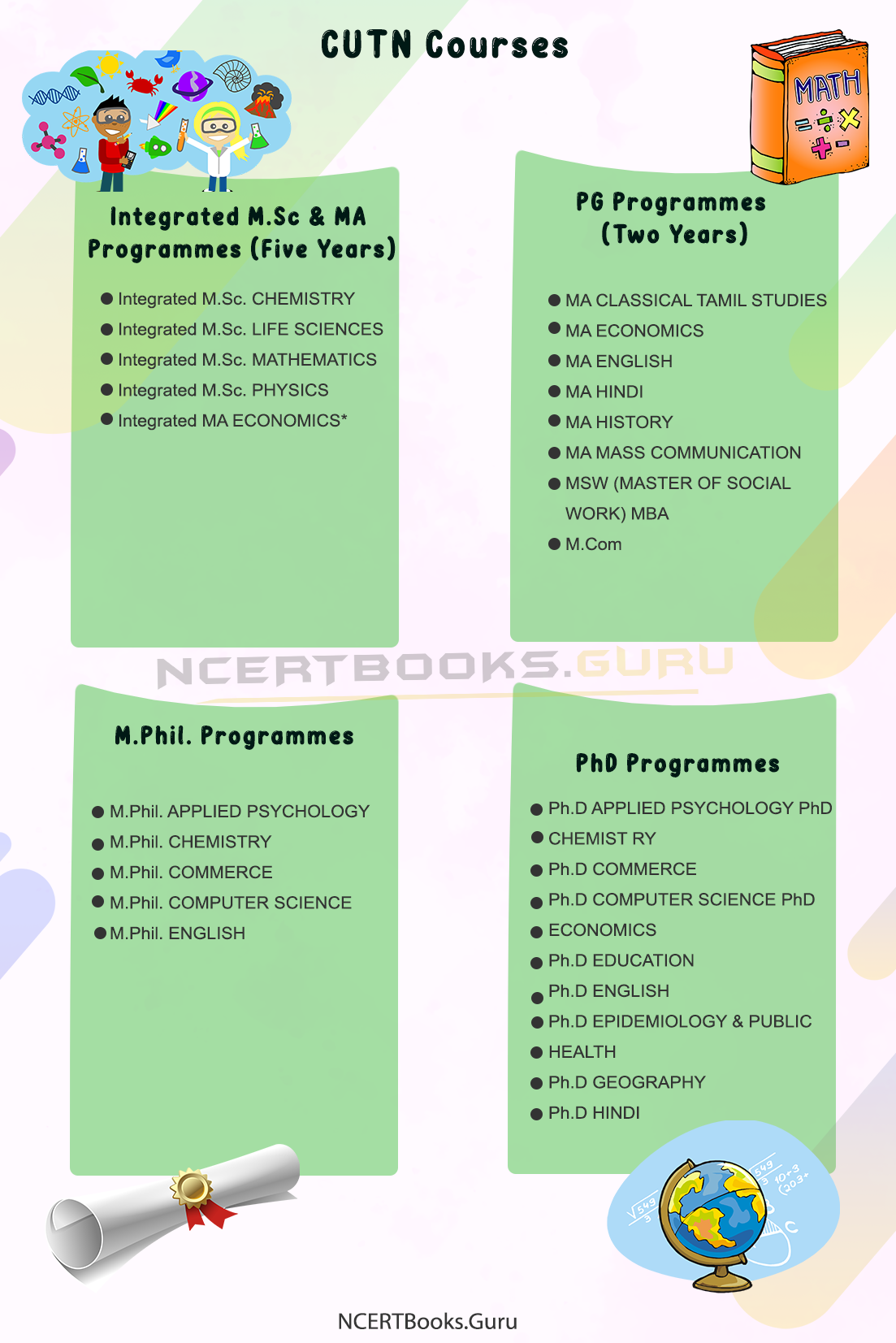 FAQs on CUTN Courses
1. Where do I get CUTN Courses List?
You can get CUTN Courses List on our page.
2. Where do I find the Central University of Tamilnadu Syllabus for various courses?
You can find the Central University of Tamilnadu Syllabus for various courses on our page.
3. How to download CUTN Syllabus PDF?
You can download CUTN Syllabus PDF through the quick links available and use them as reference.
4. What is the entrance exam for CUTN Courses?
Students should attend Central Universities Common Entrance Test (CUCET) to get admissions to Central University of Tamil Nadu Courses.
Final Words
We have provided Central University Courses details & Syllabus 2022 in this article. Students are requested to share this article with their friends. Students who want to know more details about the Central Courses & Syllabus can visit the Official website or keep visiting our website for updates.