If you are wondering on How to write a Cover Letter you have come the right way. The Cover Letter Examples provided exactly do that and gives you an idea of it in detail. No One likes Job Hunting and for many writing, an effective Cover Letter is the most challenging part. The Cover Letter includes an overview of resume along with personal information.
For your comfort, we have listed the Cover Letter Types, Format, Samples attached in the further modules. Cover Letters are not just for Employment Purposes. If a Letter catches the attention of the reader they might get motivated to proceed to interview. Avail Cover Letter Writing Guidelines and Tips to Draft an effective Cover Letter in the later modules.
Refer to Letter Writing Topics to avail Formal and Informal Letter Writing Samples all in one place.
Different Types of Cover Letters
In general, there are three types of cover letters and you can write the one as per your reason. They are as follows
Application Letter
Prospecting Letter
Networking Letter
Cover Letter Structure and Format
Every Cover Letter you are writing needs to follow a certain format or guide. We have listed the Cover Letter Writing Guidelines below so that you will be familiar with what and what not to include in it. Learn How to write a Cover Letter and the basic format to follow while drafting it. Here are the details regarding the same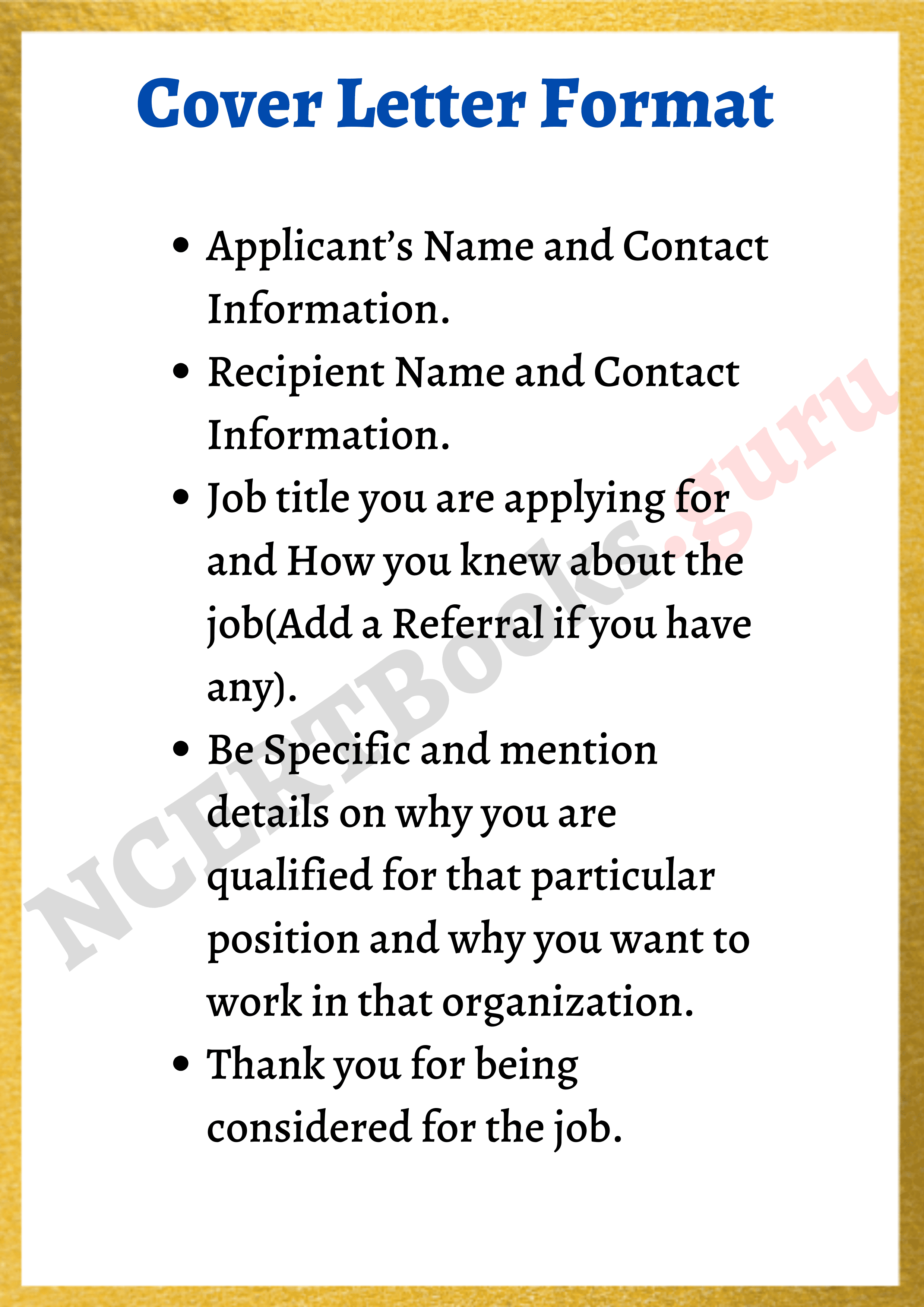 Cover Letter Writing Guidelines | How to Write a Cover Letter?
Below is an outline of elements that should be included in almost every cover letter. Take time to draft your Cover Letter since it is an endorsement of your ability to do the job and why you are qualified for that job. The details are as under
Header: Begin the Cover Letter with your as well as Recipient's Contact Information followed by Date. If it is an email include your contact information at the end and add a signature.
Contact Information should include details on
First and Last Name
Street Address
City, State Zip
Phone
Email
Salutation: Begin your Cover Letter with Mr./Ms. Last Name. If you are unsure of the name of the employer you can imply write Dear Hiring Manager rather than going with a generic one " To Whom It May Concern".
Introduction: Start your Introduction by explaining what job you are applying for and where you came across that job. Briefly explain why you are qualified for that position stating your skills and experience.
Body: In a paragraph or two explain why are interested in the particular position and what makes you the best person. Provide examples that demonstrate your abilities rather than simply positing your CV or Resume.
Closing: In the closing section discuss why you are a perfect fit for that company. Thank the Employee for his/her consideration.
Signature: Use a Complementary Close and Sign the Letter with a Signature at the end handwritten followed by a typed name.
Tips for Cover Letter Writing
Follow the simple hacks listed to draft the Best Cover Letter that grabs the attention of the Employer.
Write the Cover Letter as a Professional Business Letter.
Use a similar font in your resume and remember it should be simple and easy to read.
Add Space between Header, Salutation, Body, Closing, Signature. If you want to end the Cover Letter on a single page you can reduce your margin sizes and font. However, do leave enough space so that it's easy to read.
Edit and Proof Read your Cover Letter for any errors or Grammatical Mistakes.
Cover Letter Samples
Sample Cover Letter for Job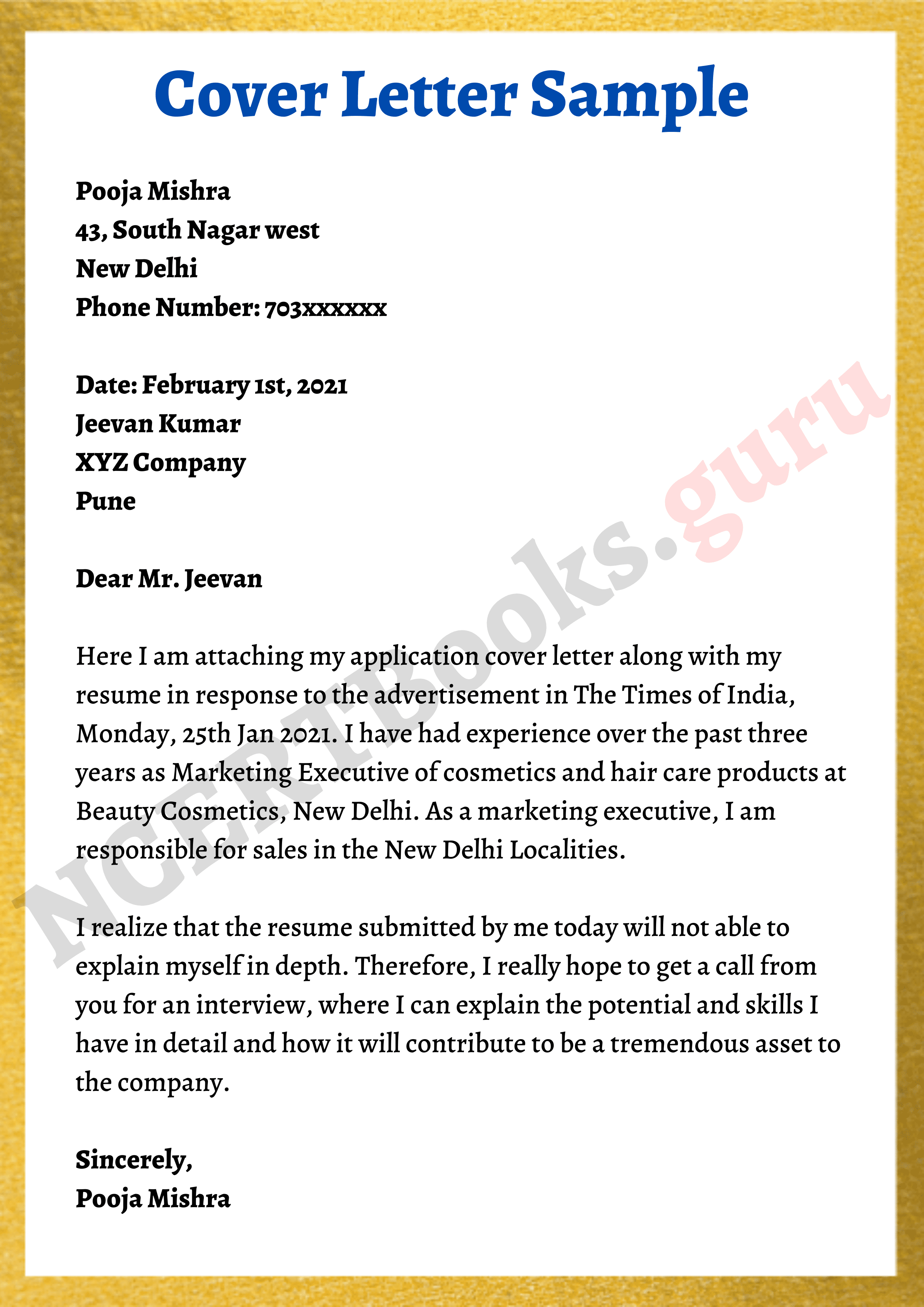 Cover Letter for Tourist Visa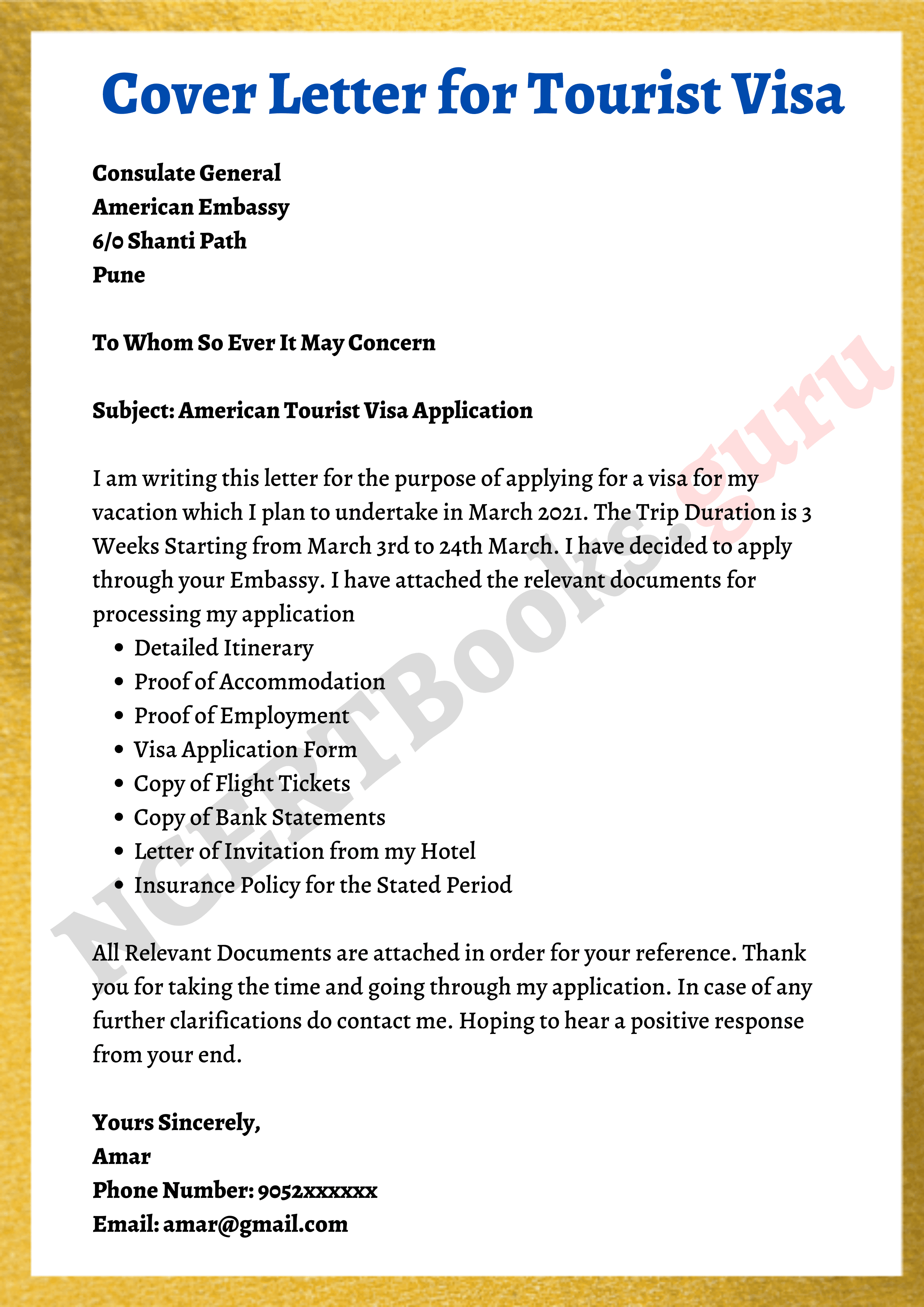 FAQs on Cover Letter
1. What do I write in a Cover Letter?
The Details to be entailed in a Cover Letter is as under
Introduce yourself
Mention the job you are applying for
Showcase your Skills and Experience needed to do the job.
Encourage the reader to Read your Resume or CV
Finish with a Call to Action Statement.
2. How long is a Cover Letter?
Keep it Short and Precise. Try to Summarize the Cover Letter on One page and not more than that.
3. What are the six parts of a cover letter?
Six Parts of a Cover Letter are as under. You need to Format the Cover Letter as per the below guidelines
Your contact information and date.
Employer's contact information.
Greeting.
Body paragraphs.
Closing paragraph.
Sign off.