A Confirmation Letter is an official letter given to the employee when he/she is moved from a probation period to a confirmed position in an organization. It should be in a congratulating tone so that it boosts and motivates the employee. We have attached a Confirmation Letter Format for your convenience so that you can know the details on what to include, etc. You can use the Letter of Confirmation Samples available to draft one on your own.
The majority of the Confirmation Letters are formal. However, there can be some informal letters depending on the familiarity between sender and receiver. This is possible when it;'s between peers, friends, professional acquaintances, etc.
Refer Letter Writing Topics for all kinds be it formal or informal and know how to write different letters on your own.
Roles of Confirmation Letter
A Letter of Confirmation plays the following roles and they are outlined for your knowledge.
Enables Review of an Agreement.
Adds Value to an Oral Agreement.
It indicates the individual regarding their responsibilities towards a certain arrangement.
Rectifies Misunderstanding on Part of both Recipient and Sender thereby enabling trust between them.
Reminds Both the Parties Involved regarding the legal bindings that they share with each other.
Letter of Confirmation enables the full benefits from a correspondence, event, or product owing to the correctness of the information.
Enables smooth functioning of any enterprise through clarity of information.
Informs the individual about his/her achievements and status in an establishment.
How to write a Letter of Confirmation?
Keep the following points in mind before drafting a Confirmation Letter. They are along the lines
Offer a polite, appreciative response that helps clarify their doubts and to avoid any misunderstandings in the future.
Repeat the details of the agreement so as to clear any doubts that are arisen.
Clarify or Change the Terms of Agreement if any needed.
Be accurate and cross-check your facts before sending the letter.
Choose your tone carefully as they are formal letters and maintain them briefly.
Send the letter as early as possible after receiving the original letter.
Notify all of them after receiving the confirmation letter so they can be up to date.
Sample Confirmation Letters
Employment Confirmation Letter Sample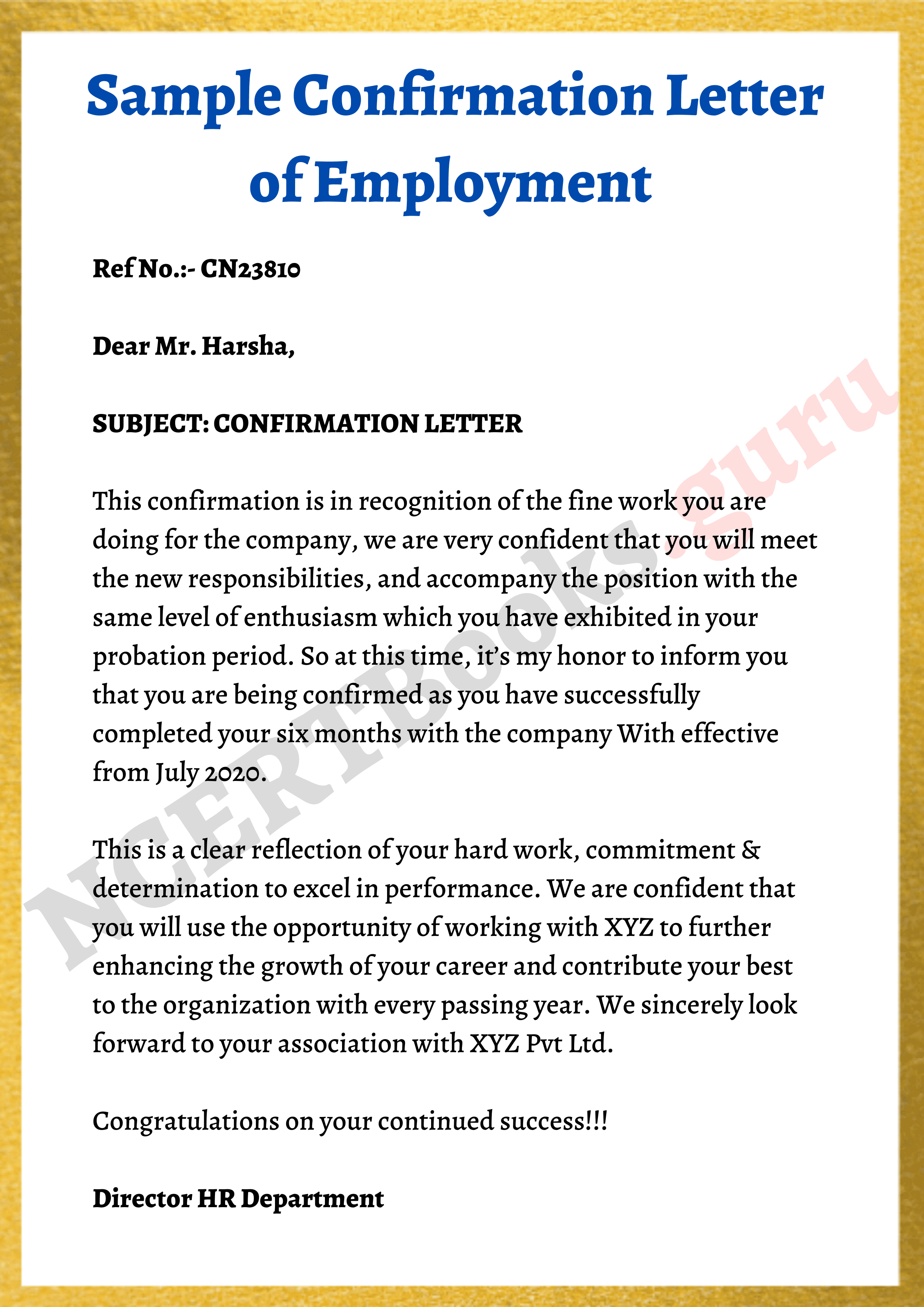 Letter of Confirmation on Marital Status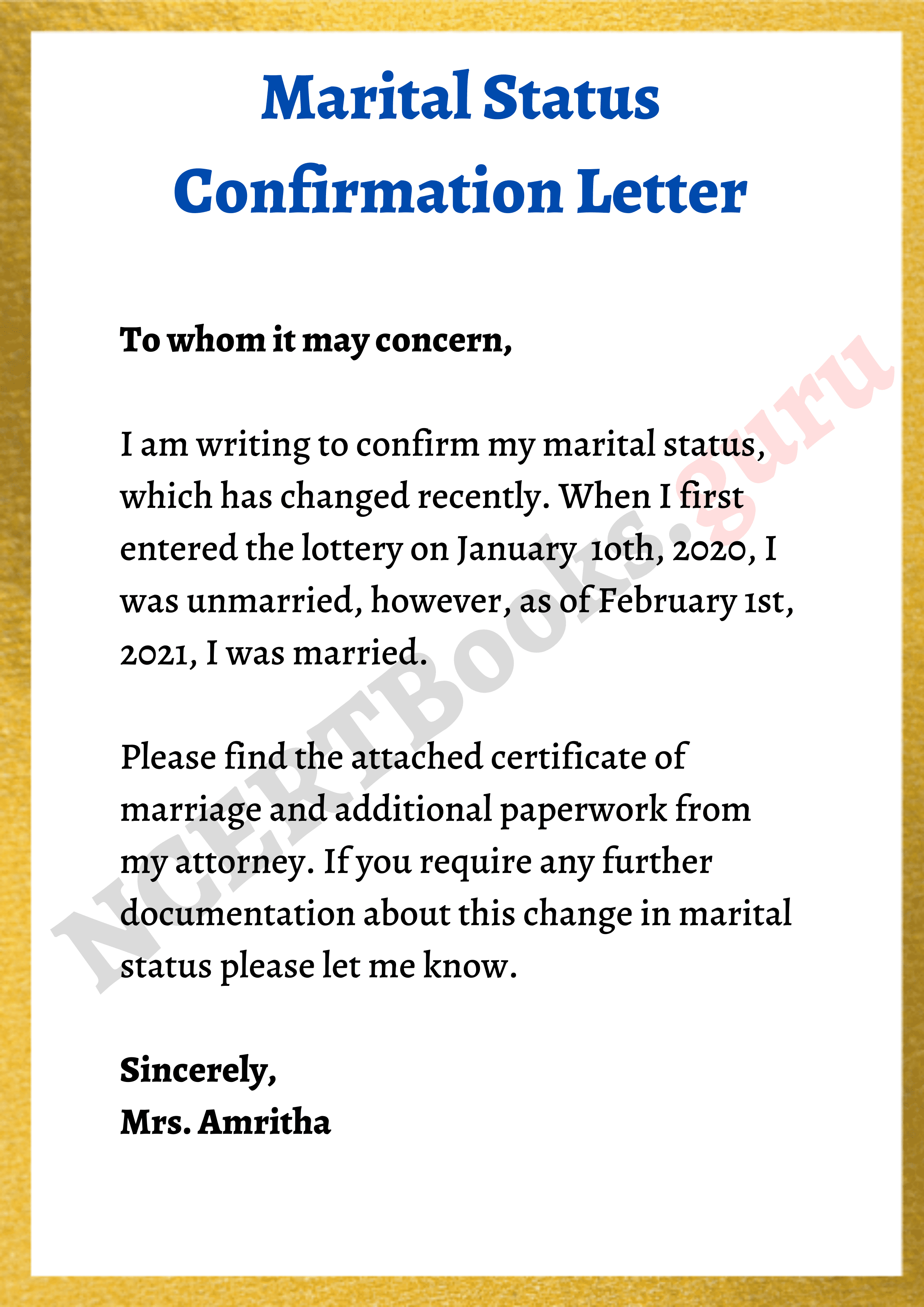 Letter of Confirmation for Residence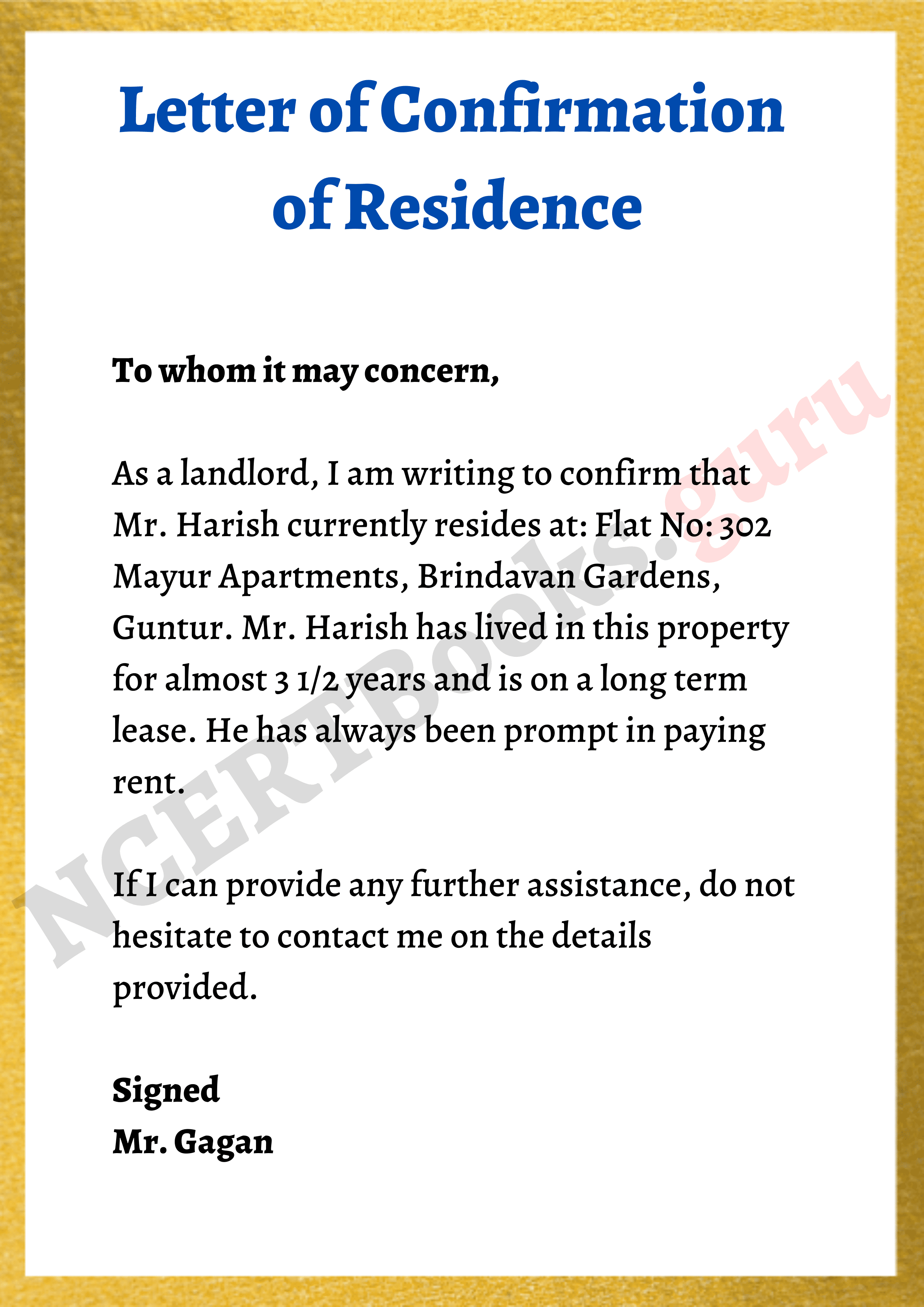 FAQs on Confirmation Letter
1. What is a Confirmation Letter?
A confirmation letter is an official letter handed to the employee confirming his/her employment at the organization once the probation period is completed.
2. What are Tips for Letter of Confirmation Writing?
Be Brief and remember you are just writing to confirm the information and not for sharing information.
If you are verifying something be formal and try to add a signature in the letter to reflect the same.
Be Clear on what is being confirmed and make a note of dates, time, places and official titles, etc.
Remember a Confirmation Letter is not an agreement or contract. In fact, it is a confirmation of the previous agreement or contract made.
3. Why is a Confirmation Letter Important?
A Confirmation Letter is important to tell the employee that their position is confirmed and needs no probation period extension. It even highlights the change n designation, role, salary increment, etc.