Computer Hardware Engineer Courses: These days computer has become the most important part of life. And it is the backbone of our civilization. The software that makes calculations, operations, and storage of data simple and easy. run on hardware that needs to be properly configured for any system to run at less efficiency. This is where the role of hardware engineers comes into play.
The main focus of computer hardware engineers is on research, designing, development, analytics, and testing of components. An average day in the working life of a hardware engineer can include analysis of system requirements, assigning appropriate hardware to meet analysis, requirements, models and computer-generated situations, and supporting system designers.
And moreover, we have many other course details streamwise and category-wise. Just jump into the below modules of computer hardware engineer degree courses in India and fulfill your dreams.
About Computer Hardware Courses
Computer hardware is an intriguing field of computer science and candidates who seek application careers in this field will have to pursue software and hardworking courses.
We have many short-term and long-term computer hardware engineer courses that candidates can pursue after passing class 12. These courses comprise various topics related to computer organization and electrical and electronic circuits.
Free Online Computer Hardware Courses with Certificates
Here we have given some of the best online computer hardware courses with certificates. Listed some of them below.
| | |
| --- | --- |
|     Name of the Course |        Duration |
| Certificate in Hardware and Networking |   80 hours |
| Certificate in Hardware Technology |   6 months |
| Certificate in Hardware and Network Engineering |   1 year |
| Certificate in computer hardware maintenance |   6 months |
Related Articles:
Computer Hardware Courses After 12th
Look into the courses that are given below after completion of 12th grade.
| | |
| --- | --- |
|     Name of the Course |        Duration |
| B.Sc in Hardware and Networking |  3 years |
| B.Sc in Networking, Hardware, and Electronic Appliances |  3 years |
| M.Sc in Hardware Networking |   2 years |
Do Refer:
Eligibility Criteria for Computer Hardware Course PDF
Go through the basic eligibility criteria to study computer hardware courses based on the level of study. Below are the criteria to meet the requirements.
Candidates should pass their 12th standard in a well-recognized college to study for diploma, undergraduate, and certification courses.
Admission will be done directly to certificate and diploma programs, some institutes ask for a basic test to access technical skills.
You should pass the undergraduate level in a well-recognized college then you will be able to apply for postgraduate advanced diploma courses.
To apply for M.Sc courses candidates should get at least 50% marks at the undergraduate level.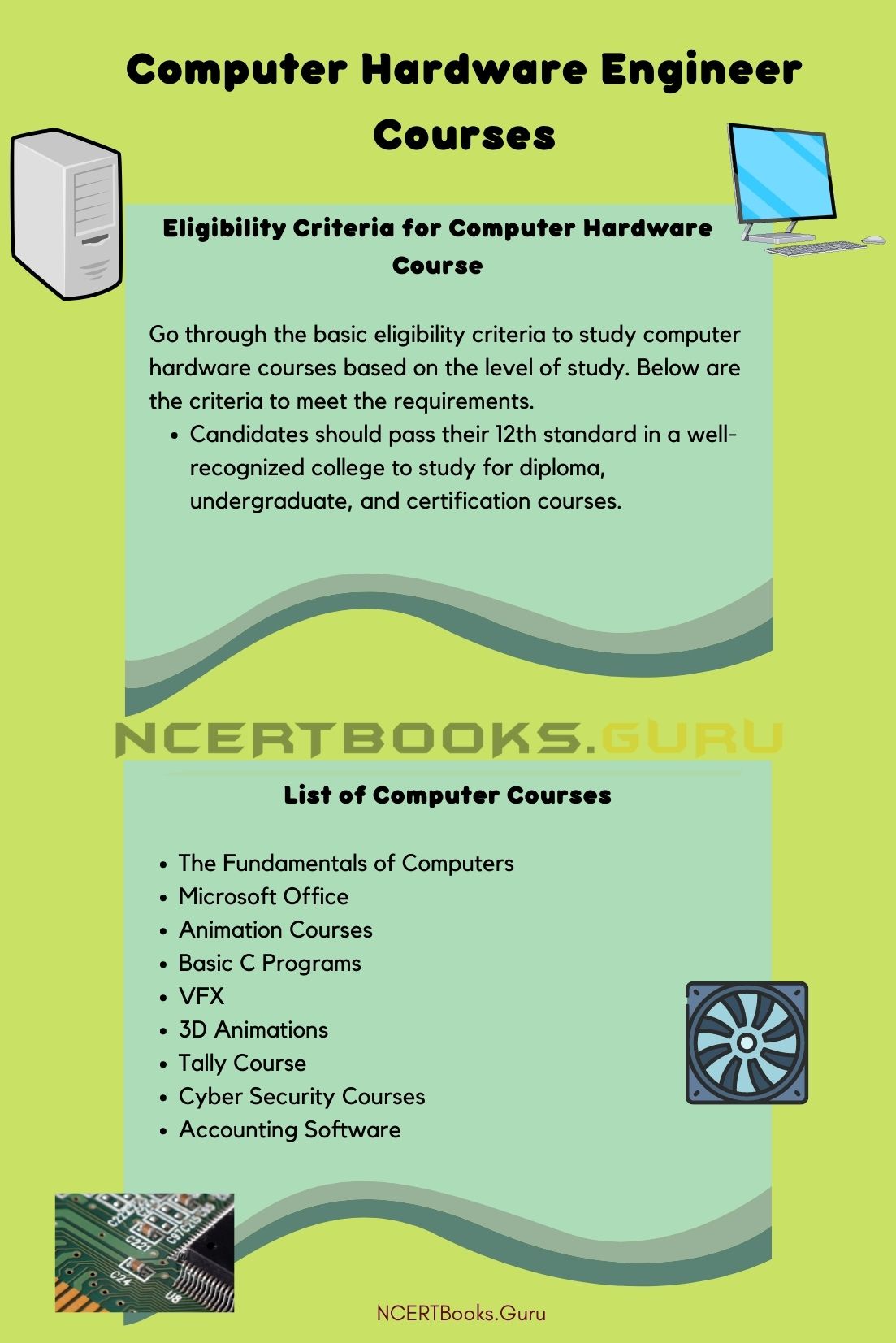 Also, Refer:
Career Options for Computer Hardware Engineer Courses in India
Candidates who have completed computer hardware and networking courses can take up jobs in different companies ranging from MNCs as all companies require skilled individuals. Listed below are some of the career options for the computer hardware courses.
Technical Support Executive
Hardware Consultant
Storage specialist
Network Engineer
System Engineer
Network Designer
Cabling Designer
Backup operator
Router Operator
FAQs on Computer Hardware Course Free
1. Which course is best for computer hardware engineering?
Computer science or electrical engineering in B.E and B.Tech is the best suitable courses.

2. What subjects are needed to become a hardware engineer?
Minimum you should complete your bachelor's degree in computer engineering.
3. Is computer hardware engineering hard?
Yes, computer hardware engineering is quite stressful.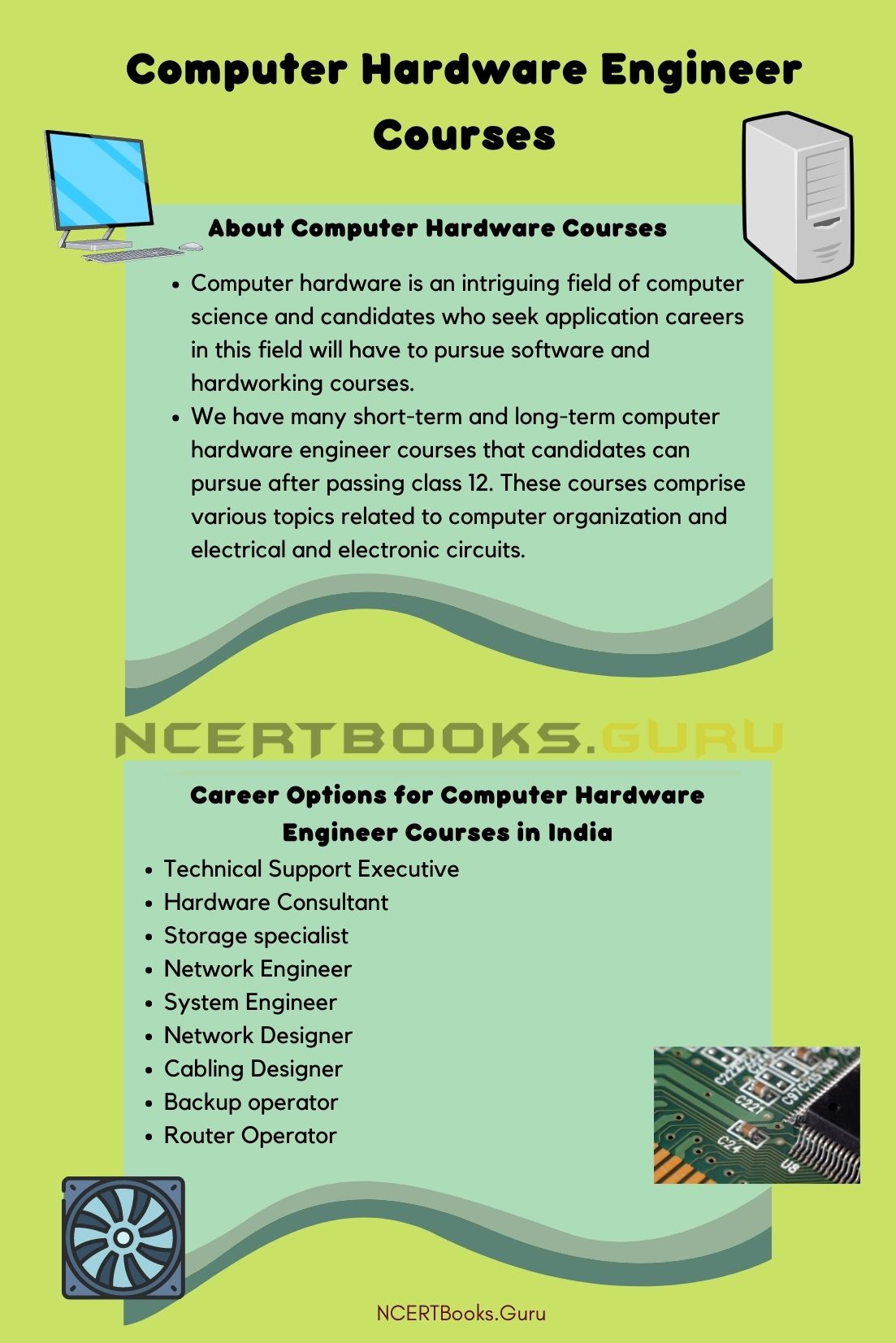 Wrapping Up
Hope the information that we have given on computer hardware engineer courses is useful and got some knowledge. Still, if you are having any doubts you can comment to us in the comment section. To avail of the latest updates, you can go through the website NCERTBooks.Guru.