Format, Samples, Tips for Complaint Letter: Have you filled any complaint letter previously? Do you see writing a letter of complaint towards unfair things like unsatisfied with government works, roads, disaffected orders, public & services, etc.? If yes, then you would know that these complaint letters are usually formal in nature. Hence, proper action will be taken by the concerned department for the complaint raised by you. So, every citizen of the country had a right to raise the complaint against the problems happening to them and get a productive result.
For more information about Complaint Letter, you have to check out this page thoroughly without leaving any of the modules. Here, students can find the samples of complaint letters, 10th class complaint letter marking scheme, Format of the complaint letter, Topics to raise the complaints. Also, Go ahead and refer to the mentioned mistakes to avoid while writing a complaint letter and address your concerns fairly and quickly by the authorized members.
What is the Complaint Letter?
A Complaint Letter is a subtype of formal letters concerned with addressing the problems, issues, mistakes done with you during an online purchase or public transport or government issues, etc. Type of issues that can be addressed via complaint letters are wrong-doing, offense, grievance, resentment arising out of a product, service, etc.
If you are troubling with any one of these problems then raise your complaint about unfair things and seek a productive outcome by sending or emailing the complaint letter. Raising complaints against unfair issues comes under every citizen's duty, so filing a Complaint is absolutely right.
When you speak and take a stand on the unfair things then your fight will inspire so many troubled consumers, influences the concerned authorities to take proper action, and makes the defaulters more liable, responsible, and responsive. Complaint Letter can be of the following types-
Professional Complaint letter: It is the type of complaint letter that is written towards an organization

relating

to issues that are affecting the entire employees of the organization.
Personal Complaint letter: The type of complaint letter you compose on your own individual level pertaining to your individual grievances is considered as a personal complaint letter.
Complaint Letter Format
A complaint letter can be written formally in nature. The format of the complaint letter is provided here for helping you guys to write any of your problems/dispute/mistakes/misbehavior or any kind of complaint to the authorized person & get the work done from their end. So, check out the format of the complaint letter from here & score well in your exams or solve your issues easily.
Sender's Address

Date:

Receiver's Address

Subject: (Mention the reason for complaint)

Salutations (Dear/Mr./Ms.)

Body of the letter:
Introduction
Main Reason to write the letter
Conclusion
Closing of Letter (Yours sincerely/faithfully)
Signature
Marking Scheme for Class 10 Complaint Letter
Students who are looking for the Complaint Letter Class 10 Marking Scheme can refer to this table. Here, we have mentioned the detailed marking scheme of the 10th Std Complaint Letter Writing. Verify it thoroughly and learn the techniques to score full marks in writing the complaint letter in 10th class examinations.
| | |
| --- | --- |
| FORMAT (Sender's address, date, Receiver's address, subject/heading, salutation, complimentary close) | 1 mark |
| CONTENT | 4 marks |
| ACCURACY | 1.5 marks |
| FLUENCY | 1.5 marks |
What are the Topics for Complaint Letter Writing?
People who are searching for various topics on writing a complaint letter can check this module. Here, we have listed out some of the major letter writing topics on Complaints for your assistance.
Poor Condition of Roads and Canals
Rash driving of the DTC drivers.
Incomplete or defective order
Abnormal delay in sending the consignment
Defective packing of goods
The goods arrive in a damaged condition
Receiving of different orders
Quantity of goods is not what was ordered
Goods are delivered at the wrong address
Misbehaviour of staff or salesman
The mistake in preparing the invoice
Mistakes in a bill or reminders for payment after the bill has been paid, etc
Work undertaken is done unsatisfactorily
Wrong-doing in public.
Poor treatment of street dogs, etc.
A Few Samples of Complaint Letters on Various Topics | Image Download
You have seen some of the major reasons for raising a complaint letter from the above module. Here, you will see some of the Complaint Letter Writing Samples on the basis of various cases. Hence, you will get clarity in writing the complaint letter.
Complaint Letter to Employer about Salary Sample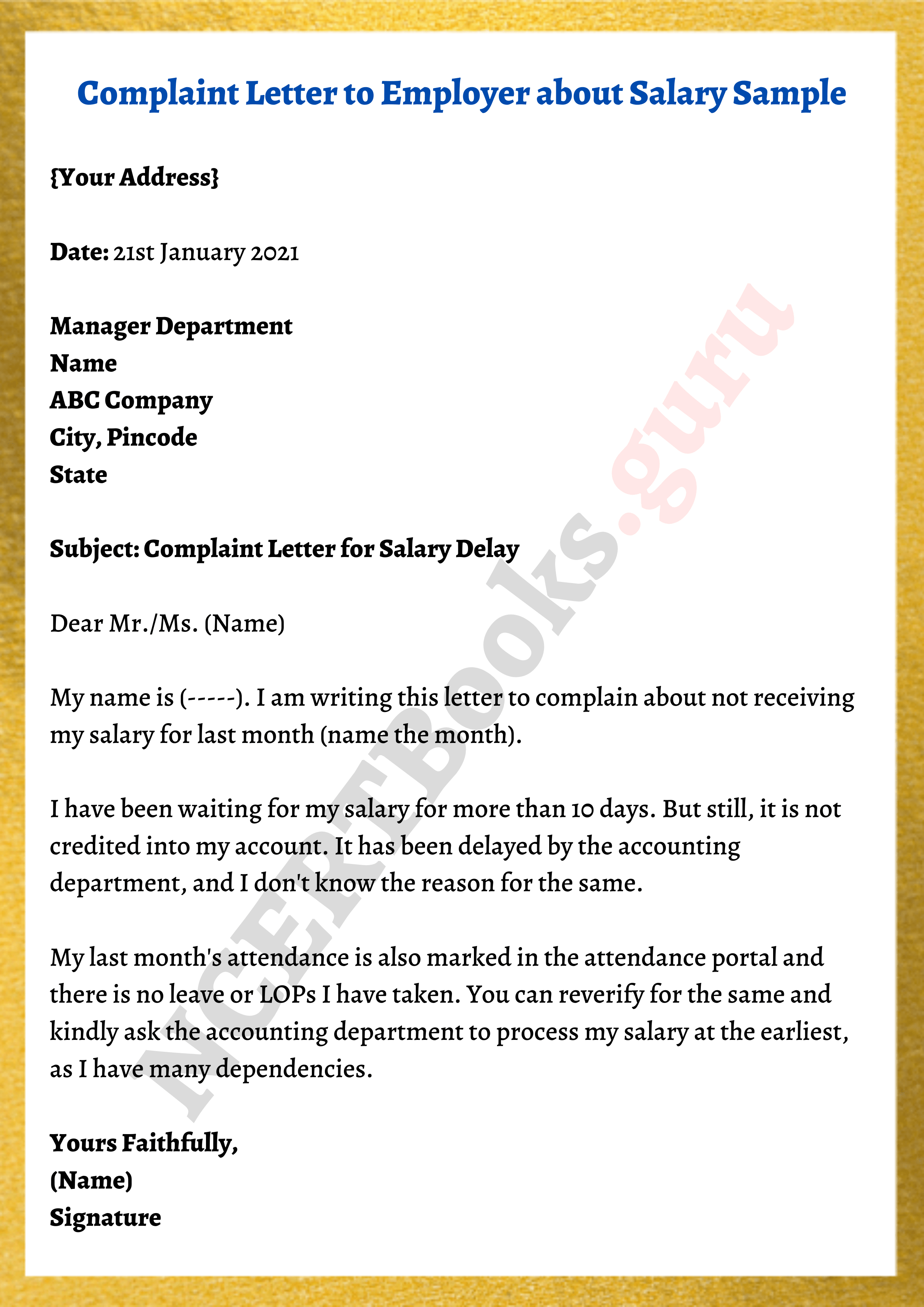 Sample Complaint Letter To Landlord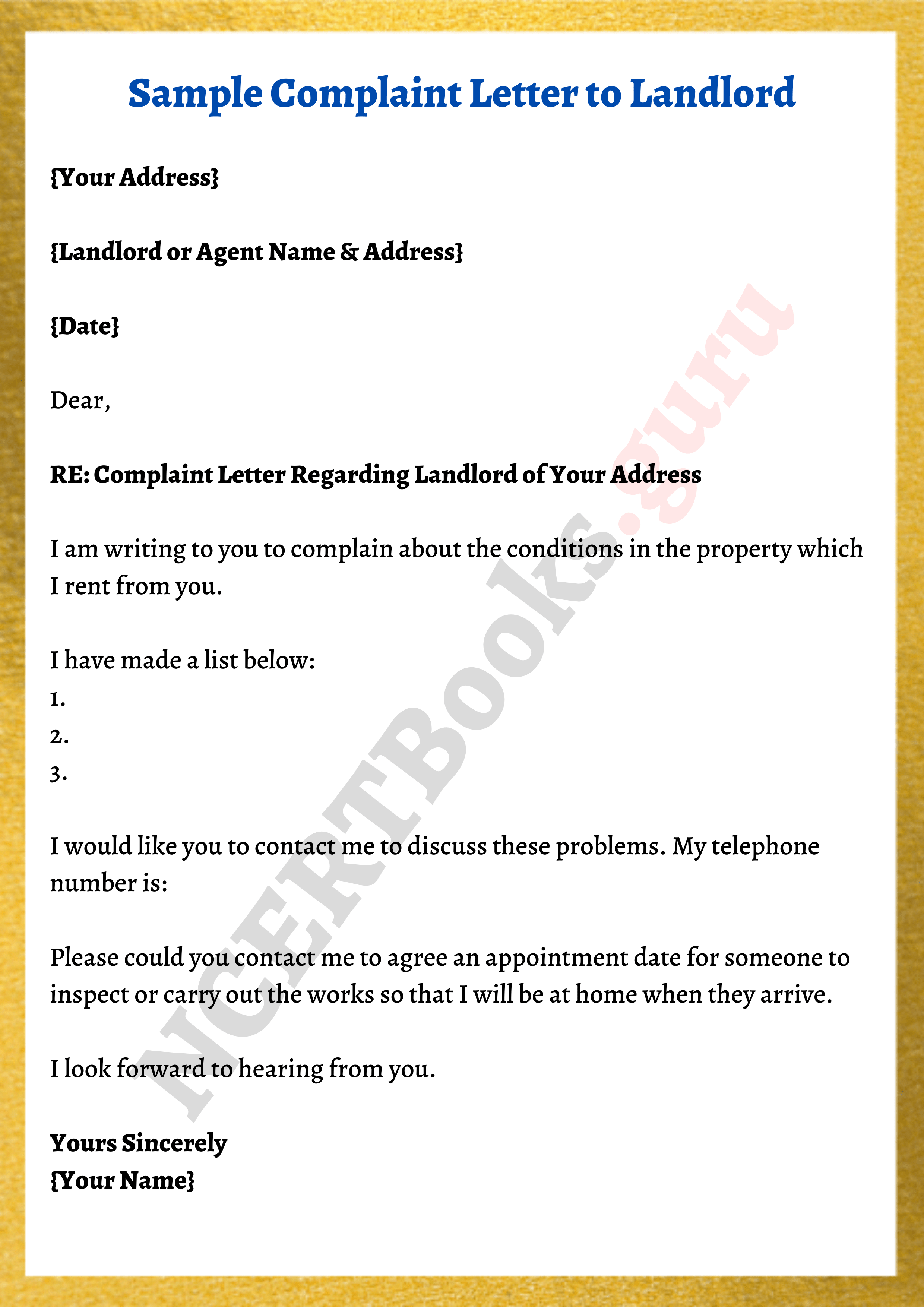 Complaint Letter Tips & Tricks
Here are the tips to be followed while writing a perfect compliant letter and receive proper & fair things within less time. They are as follows:
Read a lot of letters to get an idea.
The presentation is very important.
Ensure that you introduce yourself properly.
The purpose of writing should be loud and clear.
Do not deviate from the topic and write to-the-point.
Try to be formal and avoid writing offensive and disrespectful words.
Make sure you adhere to the format as it carries marks.
Leave an adequate number of lines between paragraphs to make it look clean.
Make sure you double-check for grammatical accuracy and spellings. They carry marks.
Some Mistakes to Avoid While Writing a Letter of Complaint
If you want to process/consider your complaint letter quickly then these are some of the major mistakes that you should avoid while composing your complaint letter.
Don't be vague or leave out details.
Not to make unreasonable demands.
Don't assume the reader is responsible.
Shouldn't write words that are angry, sarcastic, or threatening.
Don't leave out proof.
Don't forget to include copies of all relevant documents.
No at all leave out your name and contact information.
Don't just stamp it and mail it—send it by certified mail.
Don't have grammar mistakes or typos.
FAQs on Complaint Letter Writing
1. What is the layout of the complaint letter?
Adhere to the following three-step sequence for knowing the complaint letter layout:
Step 1: Simply state the facts of your case/causes for your complaint.
Step 2: Outline/discuss why you are so troubled/upset.
Step 3: In some cases, it can be relevant to set out your ideas on a remedy/or others; Well in some other situations, it is best to leave the solution in the hands of the perpetrator.
2. People need to Write A letter of complaint formally or informally?
A complaint letter writing falls into the formal letters category. So, people should check the compliant letter format above and compose it in a formal way to consider your problem quickly.
3. How to close the Complaint letter?
After completion of your body text regarding your complaint, you should always close your letter with a closing salutation. To close the complaint letter, you need to write the closing salutation such as "Yours sincerely" or "Sincerely" and to leave sufficient space (usually three lines) for your signature.