It's quite often that you get to write a Character Reference Letter and if you don't know how to begin you can have a look at the samples provided here. A Character Reference Letter is a letter written by someone who knows the job candidate at a personal level and can speak about his personality traits and qualities. However, the person writing the reference is not an employer.
After going through the entire article you will learn What to Include in a Character Reference Letter, How to write one, Samples, Tips for Character or Personal Reference Letter Writing, etc. Check out the Examples Provided and learn How to Create a Sample on your own.
Avail different Letter Writing Topics belonging to formal and informal categories all under one roof and become familiar with different letter writing styles.
What must be Included in Character Reference Letter?
A Character Reference Letter should include the below-listed details in it. They are in the following fashion
Overview of how the writer knows you
List out the Positive Traits of the Person with examples
A general recommendation
Contact details
How to Write a Character Reference Letter? | Format for Character Reference Letter
Character Reference Letter should be simple and needs to be around 1 page. While drafting a Character Reference Letter you need to follow a standard format and they are as such
Introduction: Usually, in the Introduction, you need to mention who you are and how you have known the individual and what made you write this letter of recommendation.
Body Paragraphs: In the Body, you need to make a major argument stating how the recommended individual is a personal fit for the role/position. In fact, state two or more personality traits that make them unique and suitable for the respective position. Try to provide examples supporting the qualities.
Conclusion: At Last, Provide your Contact Information if you are comfortable so that employer can contact you for further queries.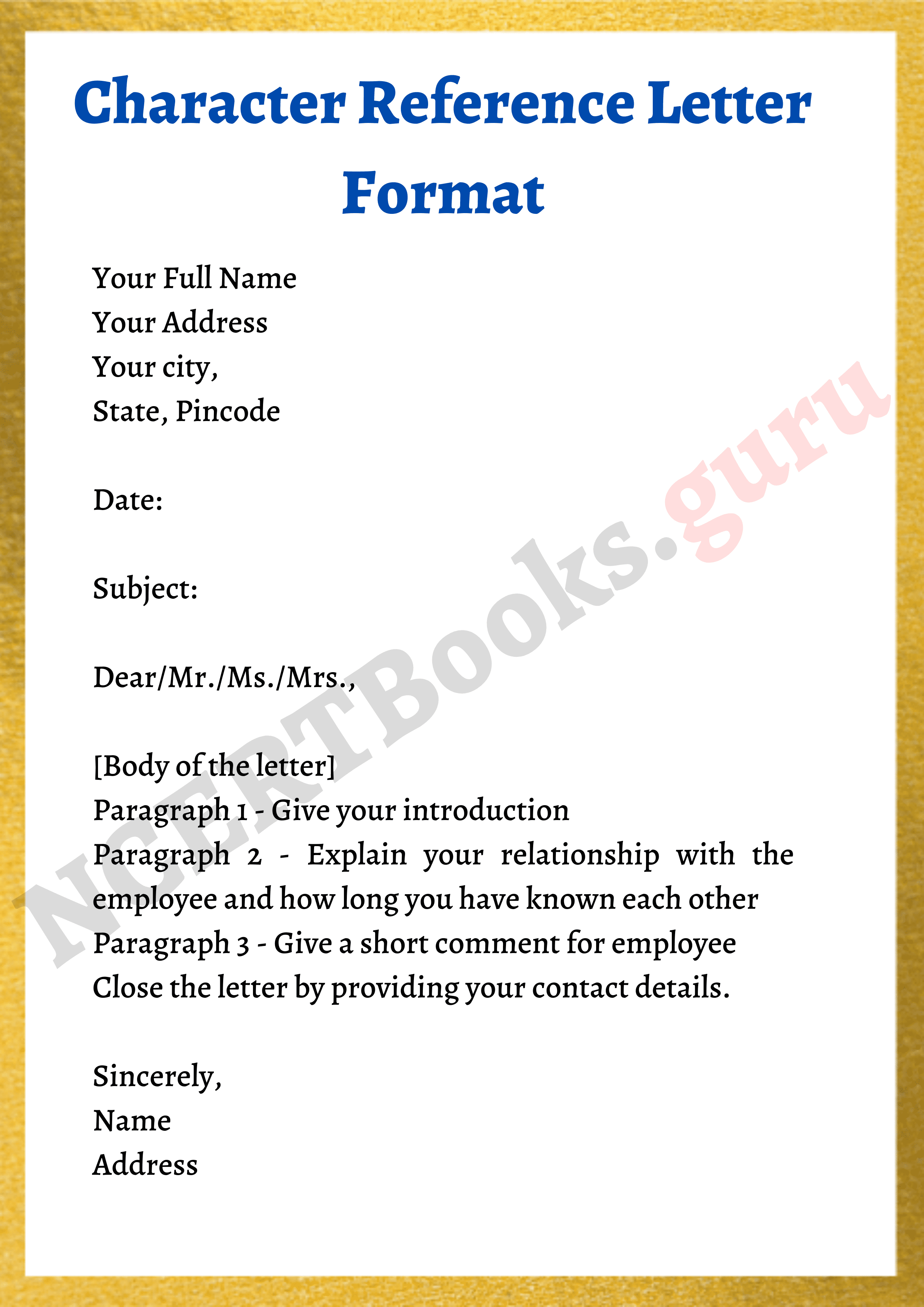 Tips for Writing a Character Reference Letter
Keep the general instructions in mind while writing a Character Reference Letter Sample on your own. They are along the lines
Think before you say yes: Be Sure Whether you can write a positive letter or not about the person. If not so, graciously say no so that the person can request others so that they can write a stronger letter
Request Information: Make sure to collect all the information you need if you decide to choose one. Also, have an idea of what the letter is for.
State your relationship with the person and explain how come you know the person and also how long you have known them.
Be Specific and try to explain the traits that they have and that you feel makes them fit for the position.
Make that recommendation and keep the letter short and concise.
If you are comfortable try to mention the contact information so that employer can contact you if you have any further queries.
Before you send the letter proofread and edit so as to avoid any grammatical and spelling mistakes.
Sample Character Reference Letters
Character Reference Letter Example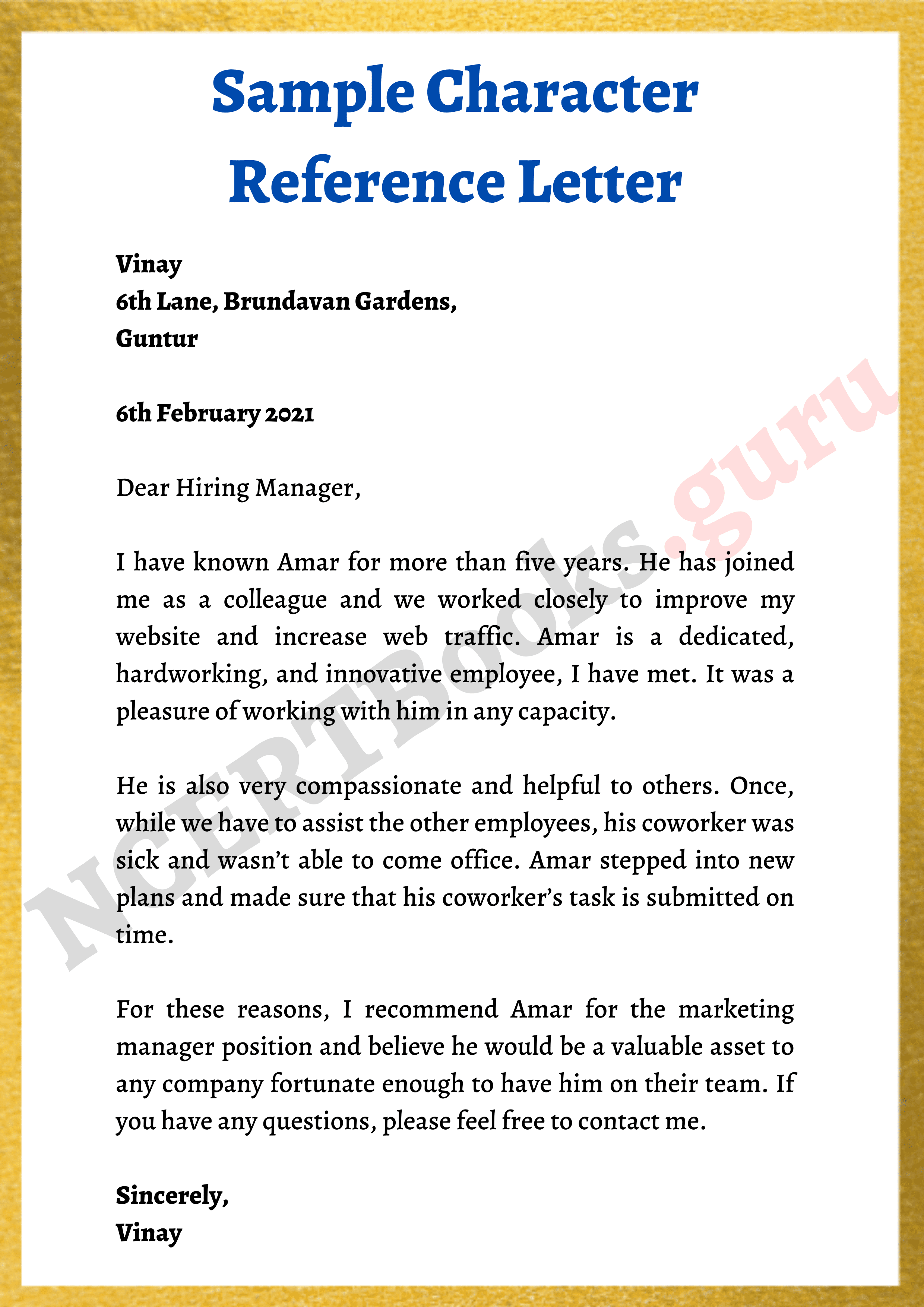 Personal Reference Letter Sample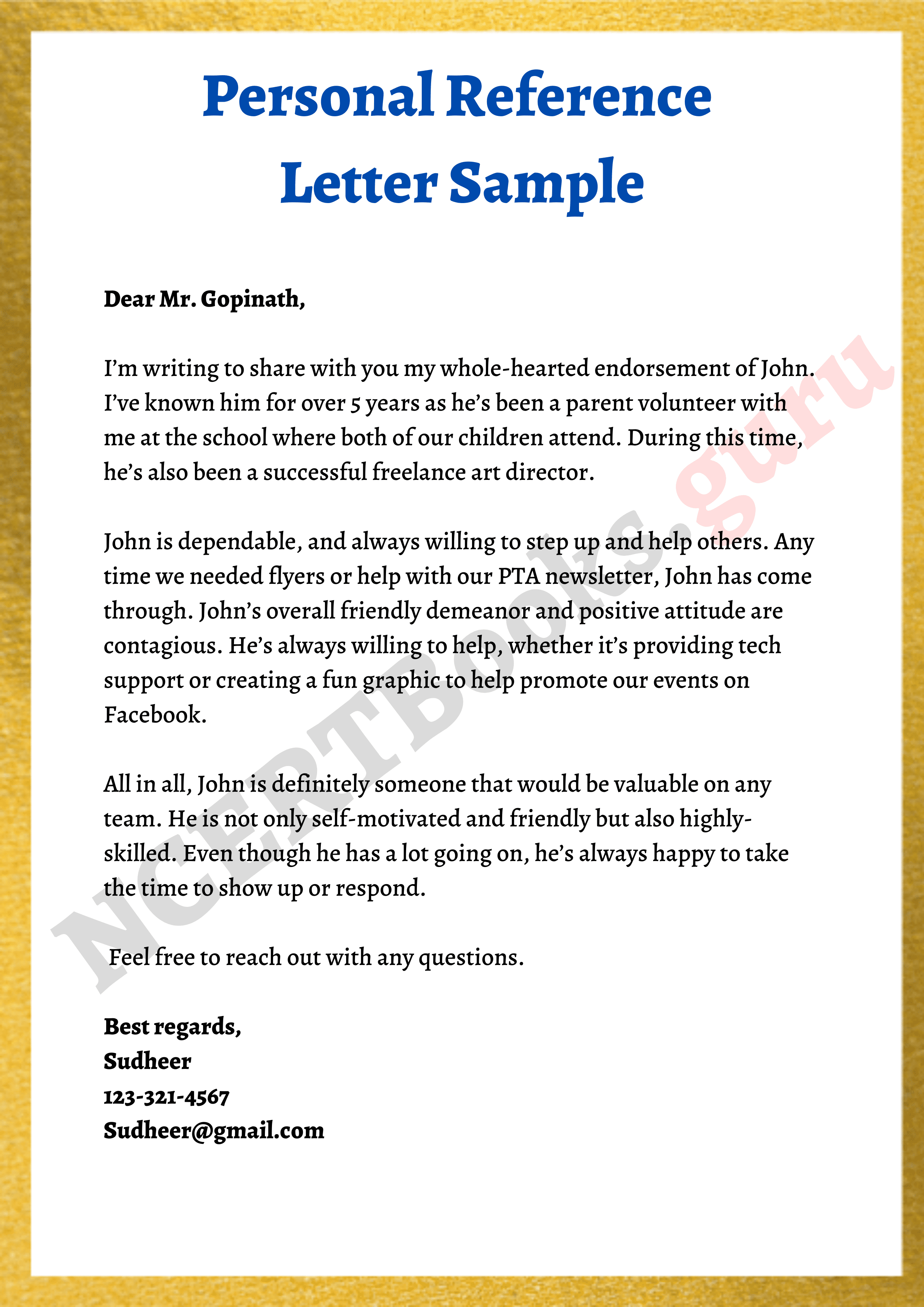 FAQs on Character Reference Letter
1. What is a Character Reference Letter?
A Character Reference or Personal Reference Letter is a letter written by Someone who knows the candidate explaining his/her character and his abilities.
2. What Should be Included in a Character Reference Letter?
Below are basic details that a Personal Reference Letter should include in it. They are as follows
Start by explaining your relationship to the candidate.
Include long you've known the candidate.
Add positive personal qualities with specific examples.
Close with a statement of recommendation.
Offer your contact information.
3. What is the Format for a Character Reference Letter?
A Character Reference Letter Format should include the following details
Introduction
Body Paragraphs
Conclusion