Bhai Dooj Essay: Out of the many social relationships that human beings share, there are some that always stand out. The relationship between a brother and a sister is one such bond that knows no definitions, boundaries, or descriptions. Be it between people related by blood or people related by emotion, this feeling between a brother and sister is one to be cherished and rejoiced. No matter how old you grow or how far the journey of life takes you, you are still connected with blood and heart.
To commemorate and celebrate this beautiful bond, Bhai Dooj is the festival that comes once every year and marks a day of love and laughter. There are many customs and rituals linked too which are believed to further strengthen the protection that brothers and sisters add to each other's lives.
You can read more Essay Writing about articles, events, people, sports, technology many more.
Long and Short Essays on Bhai Dooj for Students and Kids in English
A long essay of 450-500 words has been provided it is useful for students in classes 7, 8, 9, and 10. For the reference of students in Classes 1, 2, 3, 4, 5, and 6, a short essay of 100-150 words has been provided.

Long Essay on Bhai Dooj 500 Words in English
Every festival that we celebrate has a lot of meaning and emotions linked to it. India is a land of celebrations of relationships and faith in one another, therefore the relationships celebrated here to add a lot of meaning to our lives and help us grow our relations. In the list of different festivals that make us feel loved and cared for, Bhai Dooj is the one festival that carries an immense amount of emotions linked to it. It celebrates the relationship of siblings, specifically a brother, and sister.
As per the Hindu calendar, this festival is celebrated a day after Diwali, mostly in the month of October or November. The festival at large is prominent all over the country and in many cases also celebrated all over the world between brothers and sisters. The main essence of this festival remains in the idea and essence to share love, blessings, joy, and respect.
The ritual usually takes place in the morning which essentially involves parts to be played by brothers and sisters. The sisters apply "tika" on the brother's forehead and pray for their long life and hope for protection against all odds. Brothers in return promise to always protect their sisters against all odds. Gifts, blessings, and pleasantries are exchanged and the whole family enjoys delicious snacks and sweets. There is also a lot of fun, teasing, and laughter between the brothers and sisters.
Read More: Diwali Essay In English 150 Words

The day ends with wholesome food, sweets, outings, and everything else that brothers and sisters enjoy doing together. Even if it was originally circled around the customs and traditions, it has been more modernized over the years. There has been a lot of modification in the way rituals are perceived and performed. But the central idea around the festival of Bhai Dooj still remains the same. It is a festival of relishing the relationship which in theory and in practice is one of the most emotional bonds ever felt between two individuals as siblings are the family members who also share a strong sense of friendship.
The festival bears a close resemblance to Rakshabandhan which shares a similar spirit. The only difference is in the customs that are to be followed. While during Bhai Dooj, sisters apply "tika," Rakshabandhan involves sisters tying rakhis on their brother's wrists. This festival too has undergone many modifications but the important part is to continue being a support system for their siblings.
The relationship between brothers and sisters is no longer restricted to blood relations but has expanded between friends and the likes. So the important part is to keep the spirit alive no matter whether or not people are related by birth, Bhai Dooj can be celebrated by anyone and at any part of the world as it is all about spreading love and positivity.
Short Essay on Bhai Dooj 150 words in English
Bhai Dooj is a festival celebrated all over India between brothers and sisters. The festival is now celebrated all across the world to cherish the spirit of love and oneness. People take part in a lot of customs and traditions on the day of Bhai Dooj. It is celebrated in the month of Kartika, one or two days after Diwali in accordance with the Hindu calendar.
The rituals include applying tika on the brother's forehead and praying for his well-being and protection. While the brothers pray for the happiness, well-being, and protection of their sisters. Gifts are exchanged, blessings are given and there are a lot of sweets, chocolates, and good food on the table to be enjoyed by brothers, sisters, and the entire family. Even if many changes have been undergone in the manner in which the festival is now celebrated, the spirit persists. Bhai Dooj is and will always remain a celebration of love, smiles, and delight.
10 Lines on Bhai Dooj Essay in English
Bhai Dooj symbolizes the love between a brother and a sister.
It is celebrated in the same month as Diwali.
Schools and colleges officially announce it as a public holiday.
The festival is celebrated with gifts and sweets.
The customs include sisters applying 'tika' on their brother's forehead.
The brothers promise a lifetime of protection for their sisters.
Both the siblings exchange gifts and show love and respect to each other.
As per the Hindu calendar, the festival is celebrated in the month of Kartika.
In 2021, the festival will be celebrated on 6th November, which is a Saturday.
The festival is also known as 'Bhai Phota,' 'Bhai Beej,' and 'Bhai Tihar.'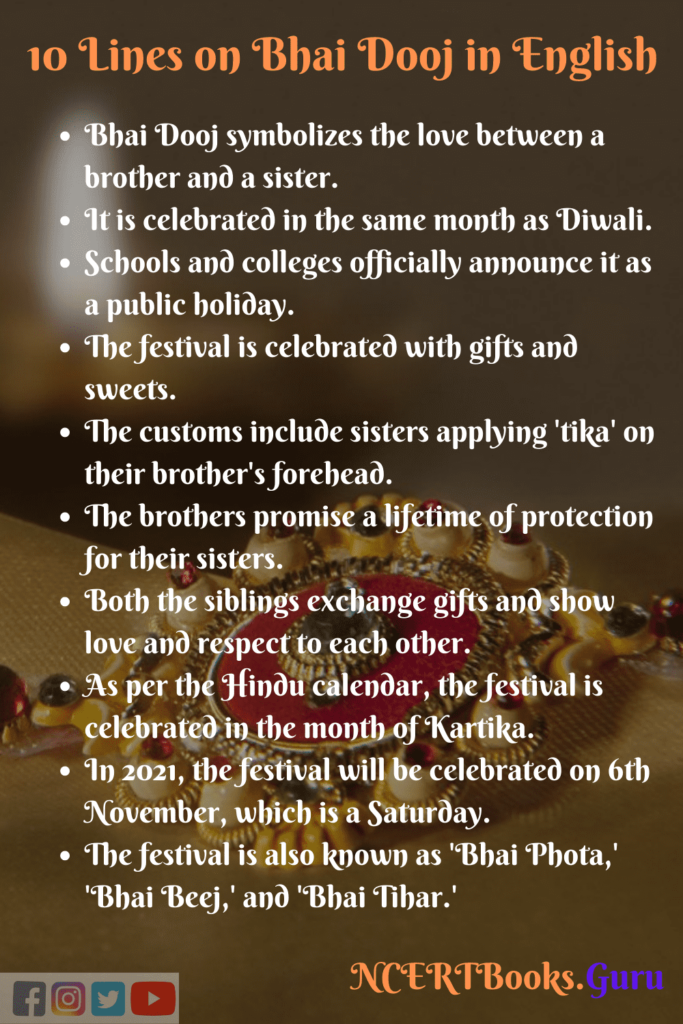 FAQ's on Bhai Dooj Essay
Question 1.
Answer: Bhai Dooj is celebrated to honor the love and bond between a brother and a sister.
Question 2.
How is Bhai Dooj celebrated?
Answer: The celebration involves delicious meals, sweets, and many gifts.
Question 3.
What customs are followed for Bhai Dooj?
Answer: On this auspicious day, a brother vows to protect his sister while the sister applies 'tika' on his forehead.