Authority Letter: A Letter of Authority is a legal document that can be written in a formal language that authorises a third party, usually known as the 'agent', to communicate with services on behalf of your or your business – known as the 'principal'. The letter will define the tasks the third party can manage for the principal. In other words, it is a formal official letter that authenticates a person's authority or ability to accomplish specific functions on behalf of another person.
Generally, this authority letter can be used by the business sectors where the client gives business authorization to perform a particular duty. Learn more about the letter of authority from this page and avoid errors when writing the Authority Letter. Here, we can find the reasons to use this letter and writing tips. Apart from the general guidelines, you may also take help from the Authority Letter Format, Template, and Samples. View formal and Informal Letter Writing Topics for various categories all in one place and be aware of many letter-writing styles.
Few Reasons to Make Use of Authority Letter
A person can draft an authority letter for the reasons followed as such:
To handle his/her financial transactions efficiently by another person.
Parents or guardians can write it for the medical emergency decisions of their children to the child caretakers.
If minors are traveling alone; not with their parents/guardians then this letter is needed. Because of this, children can be protected from child trafficking.
One can release all his/her personal information such as medical history, etc. by submitting this letter.
It can be addressed to give publishing rights also.
If someone's money is secured at the regional bank but not able to access it then he/she may write it delegating authority to another person to tackle the issue.
Parents may write it to acknowledge someone for their child to pick up from the school if their unavailability.
A person may write it to allow someone else to pick up his/her packages from the post office.
It can be drafted by parents to permit their children for field trips.
Letter Of Authority Format
Refer to the below available Letter of Authorization Format or Template to create one on your own. You can simply download it or view it online to draft one on your own easily. Mention the required details and draft an Authority Letter easily and quickly.
Ref. No:                                                                                                                                                          Dated:To

The General Manager,
Marketing/Disposal
M/s XYZ Corpn. Limited,
Disposal Wing, Card Complex,
Neyveli

Dear Sir,

Sub: Letter of Authority
Ref: 1) E-auction No. …………………………………………………………….
2) Sale Order No. & Date …………………………………………………

We hereby authorize Shri. ————————————————————————————- (Name) (Designation) _________________________________________________________________ (Firm's Name & Address) for taking delivery of the materials covered under the Sale Order referred above.

We confirm that we are taking delivery of materials through our authorized Representative at our risk and sole responsibility and no claim shall lie Against M/s XYZ Corporation Limited, Neyveli on any account Whatsoever if it is found at a later date that the delivery has been effected to the wrong person.

We further confirm that we are liable and bound by all acts committed And obligations incurred by the above said authorized representative While operating this Sale Order/taking delivery of materials from XYZ Limited. All acts committed by the above authorized representatives Shall be treated as if these acts were committed by us.

The Specimen signature of Shri. —————————————————– is attested below:

Specimen Signature of

Yours faithfully.
Shri ——————————————-
(Signature)

1)
2)
Attested ———————————————————————————————————-

(Signature Name & Seal)

Signature of the tenderer
Date
Seal
Signature of the Notary Public with Seal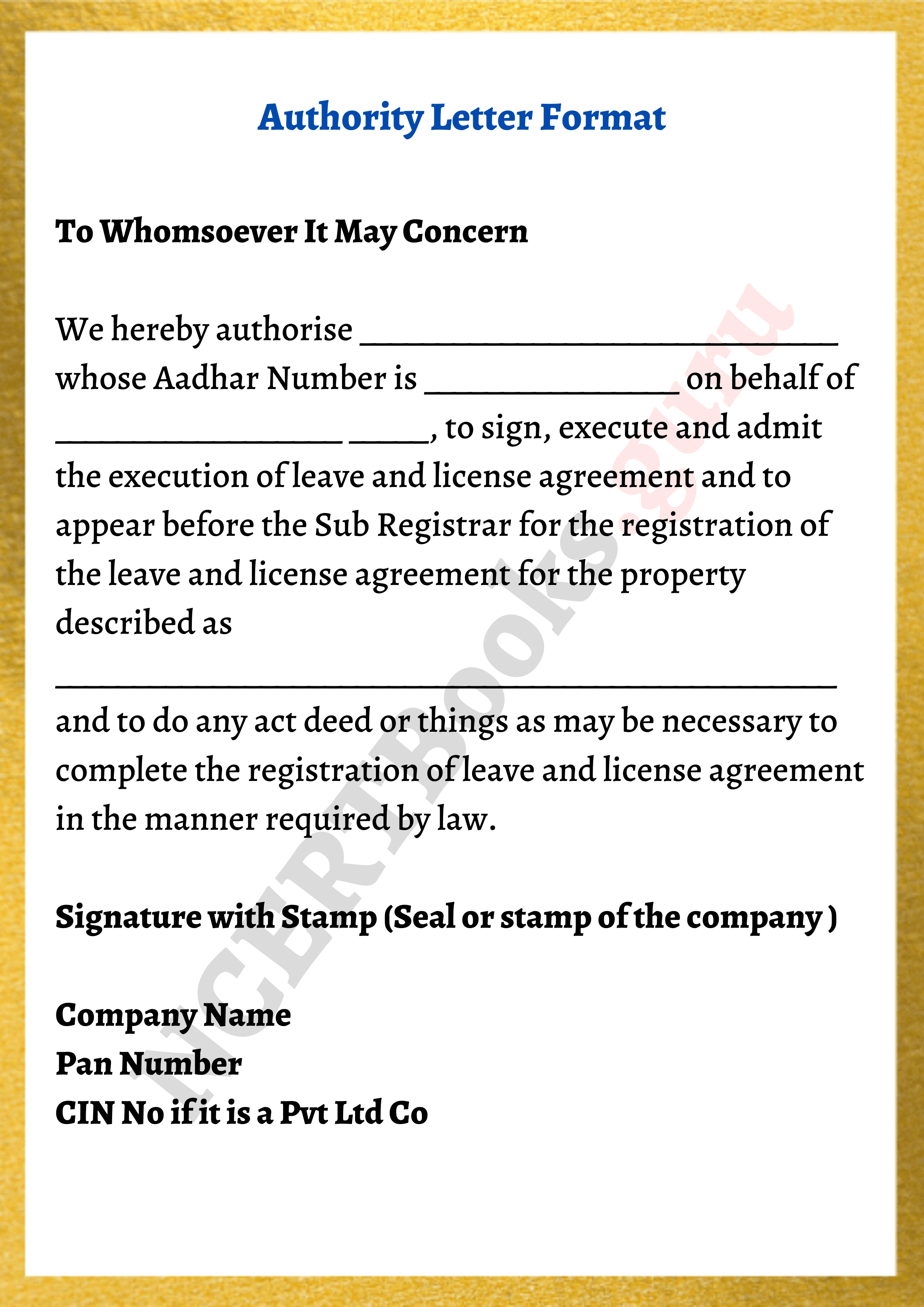 Authority Letter Template
The following box style & image of the Authority Letter Template will help you all in drafting the perfect letter of Authority on your own:
To
The Registering & Licensing Authority,
U.T., ChandigarhI, ……………………………………………………………………………………., owner of the said vehicle, hereby authorize Mr./ Ms. ……………………………………………………………………………. for my file submission. Relation/ Association of authorized person with the owner: ………………………………………………………………….Reason for the absence of owner: …………………………………………………………………………………………………………….PARTICULARS OF THE OWNER:Full Name: …………………………………………………….. Father's Name: ………………………………………………………..
Full Address: ……………………………………………………………………………………………………………………………………..
……………………………………………………………………….. Mobile No.: ……………………………………………………………..
Vehicle No./ Temp. No.: ……………………… Engine No.: …………………………  Chassis No. ………………………..
Photo Id Proof enclosed: Voter Card/Aadhar Card/Driving License/PAN Card/Id-Card

PARTICULARS OF THE AUTHORIZED PERSON:

Full Name: …………………………………………………….. Father's Name: ………………………………………………………..
Full Address: ……………………………………………………………………………………………………………………………………..
……………………………………………………………………….. Mobile No.: ……………………………………………………………..
Photo Id Proof enclosed: Voter Card/Aadhar Card/Driving License/PAN Card/Id-Card

(Specimen Signatures of the authorized person)
1. ………………………………………………
2. …………………………………………….
3. ……………………………………………..

Owner (Signature/ Stamp)
Letter of Authority Samples
An Authority Letter is important to draft for valid reasons like a passport collection, etc. So, writing a Letter of Authority by referring to these below-given Samples are helpful. Utilize them as a part of your writing and get better ideas on your own to create one. They are as such
Sample of Authority Letter for Passport Collection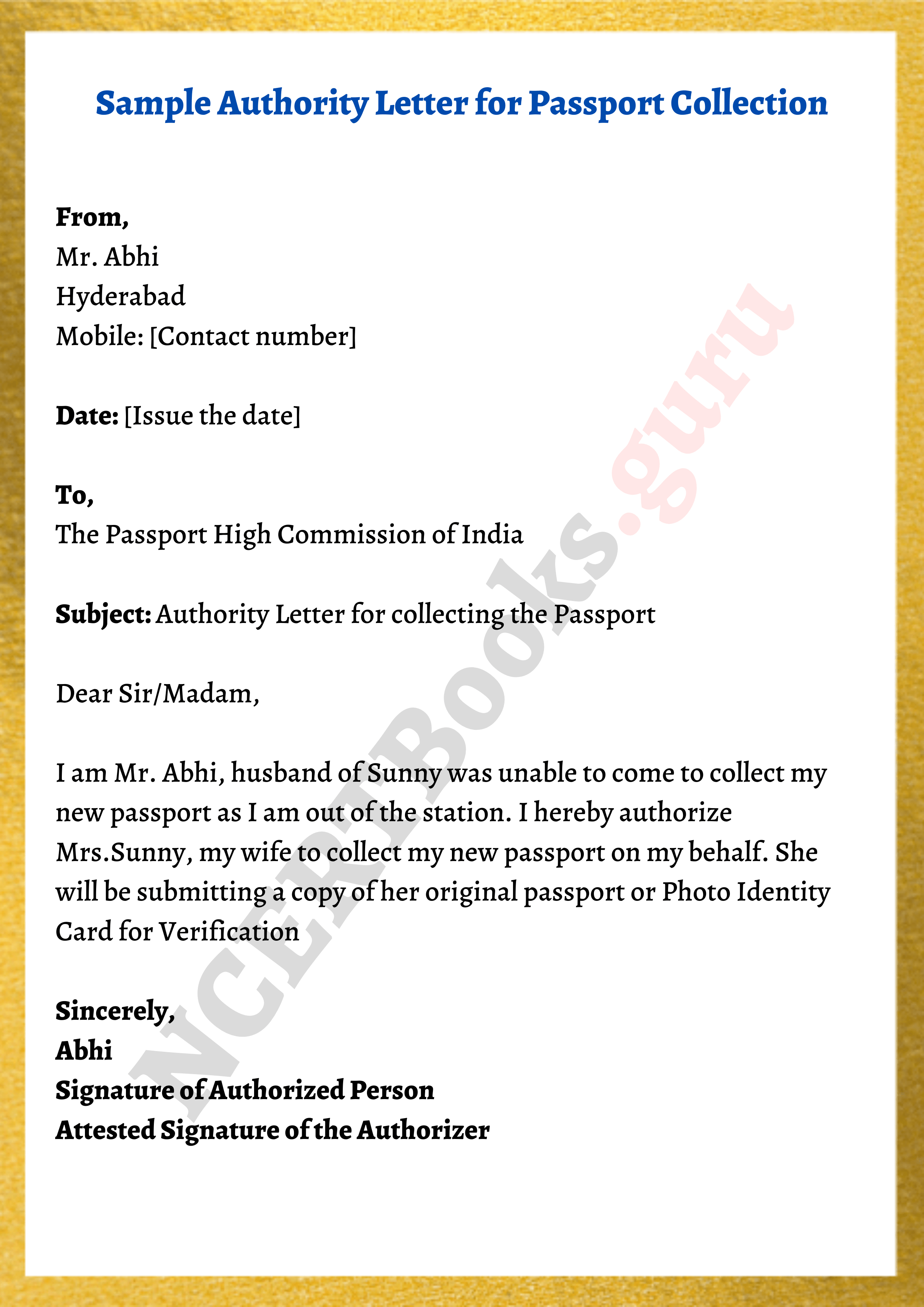 FAQs on Writing a Letter of Authority
1. Does a Letter of Authority expire?
There is no "expiration date" for Letter of Authority but if there is a decedent's estate.
2. What are the Writing Tips for Authority Letter?
The following points are the better tips to write an authority letter on your own:
An authority letter must be drafted in a formal official letter with a clear signature. It should include the sender's name and address on the left side and the date on which the letter has addressed. Next, specify the recipient's name and address.
Instead of the recipient's name, you may also use the generic term "To Whom It May Concern" for avoiding confusion.
Ensure to add a salutation at the start and your signature at the end of the letter.
The letter should be written concisely and grammatically correct.
Assure to mention the details about the authorization you are granting on your behalf.
State the reason and starting and ending dates for the authorization.
Notice if any restrictions on the authorization.
3. Why is an authority letter important?
A letter of authority is important because it permits permission to the addressee to carry out specific procedures, take responsibilities, and make decisions.