Archaeology Courses After 12th: Generally, students after 12th choose Archaeology Courses as they like to work on the historical sites and work for the restoration of the monuments. These students like to visit different historic sites and explore new facts regarding them. However, a person who works in this field is known as Archeologist. We refer a person moving as an archaeologist as practicing some interdisciplinary activities. However, the main motive is to explore different factors about the previous research done by archaeologists. Whatever it could be, some of you usually think about how an archaeologist secures his future with the best job and how he could step into this practice. Here is complete detail on the details of the course on archaeology concerning its duration, fees, syllabus, eligibility, salary, and job.
Get to Know More about other types of Course Details in Stream wise, and Category wise
About Archaeology Courses After 12th
Archaeology Course is all about learning about the practice of Indian history and how to explore different facts about it. The main motive behind Archaeology's study is a complete investigation of the historical monuments, place, and to identify all of them. It is like a comprehensive survey of India's history regarding its culture and traditions followed in a particular area. It has always been the best course with a vast and in-depth study, which further leads to excellent employment opportunities with the creative mind. However, how much you are perfect in a particular course depends upon the college or Institute you take course practice. In the below, read about the complete detail on the Archaeology Course practice after 12th in India.
Archaeology Courses After 12th Details
| | |
| --- | --- |
| Course | Archaeology Course After 12th |
| Full-form | Archaeology Course After 12th |
| Eligibility | The student must be 12th pass |
| Duration | Three years course at a university or college |
| Fee Paid | 50-150K in a year depending upon the Institute |
| Starting Salary offered | An average salary of 30-40K INR in a month |
| Employment Opportunities | Instructor, Archaeologist, Manager, Officer, and R & D Professional |
Subjects and Concepts in Archaeology course
If you plan to pursue an Archaeology course, you need to take Arts in the 12th standard. Further, the major subjects that you need to work upon in B.A. are Ancient History, Prehistory, Application of Science in Archaeology, Early Iron Age, Before Christ, Classical Antiquity, Middle to Late Bronze Age, Early ancient History, History, and Post-classical History, Greek and Roman Civilizations, Late Ancient History, Timeline of Ancient History, History and Post-classical History, Chemical Preservation of Monuments and Antiquities, and many more. You need to clear your concepts in all these subjects. However, the entire process is related to the history of India. The main objective of the study is to conserve ancient monuments.
Best Archaeology Colleges in India After 12th Class
Course in Archaeology is particularly a B.A. course available in various universities and colleges of India. A student must be eligible to take up the under graduation course after he has passed the 12th. The colleges offering Archaeology courses could be either Government based or self-financed colleges. If you are planning to take up the course under Government College, it is run by Central Government. You can find B.A. colleges anywhere across India. It is a low charging fee cost. Some of the famous Online Archaeology courses in India include:
MSU
Gujarat University
Ahmedabad University
VNSGU
DU
RKU
MGU
Eligibility Criteria for Entering into Archaeology Course
A student who has passed 12th can take admitted to any college or university for making a career in Archaeology. It is an under-graduation post, like other graduation courses. Students can take admission in the respective university and college as they prefer according to the marks they have obtained in the 12th standard.
Archaeology Courses After 12th Fee Structure
Fees for the Archaeology course are generally low. However, there is a difference in Government and private colleges fees. The rest all depend upon the college and the facilities or syllabus they offer. Thus the prices vary from one college to another. Mainly there is a difference in tuition fees which is decided upon by various factors like
Type of the College either Government or Private
Scholarship Status of the students
Ratings and the Status of the college as given by other students
Mode of Learning if it is distance learning or regular based
Thus it depends upon the teachings and the tuition fees. However, it will lie between 50-150K INR in between for a year. Government colleges charge a low cost as compared to others.
Archaeology Courses After 12th Admission Process
Usually, Institutes consider the merit-based admission procedure. Hence the institutes will allow the seats to the candidates who deserve it. It depends upon the marks that they have scored in the 12th standard. However, many other institutes even conduct their entrance test. They will allot seats to the serving ones according to the marks scored by them. But other institutes also prefer for donation-based admissions to the college.
Archaeology Courses After 12th Duration
Like other under graduation courses, this the basic B.A. course that usually students like. Students showing their interest in Archaeology and who love to explore Indian history deeply can go for three years of B.A. course in Archaeology. However, there are some certification courses under Archaeology that students prefer to take up. Those courses are for one year. These can even be Diploma courses. Furthermore, if someone wants to study ahead, they can go for Post Graduation in Archaeology. They can go for M.A. in history or Archaeology.
Archaeology Courses After 12th Syllabus and Subjects
If you have finally planned to undergo a B.A. course, you can plan to go for the important subjects that you need to study in B.A. The curriculum includes:
History
Methods in Archaeology
Archaeology
Science in Archaeology
Iconography
Cultural Heritage Management
Earth Science
Field Archaeology
Practical Work
Paleography and Epigraphy
Archaeological Theory and Research Methodology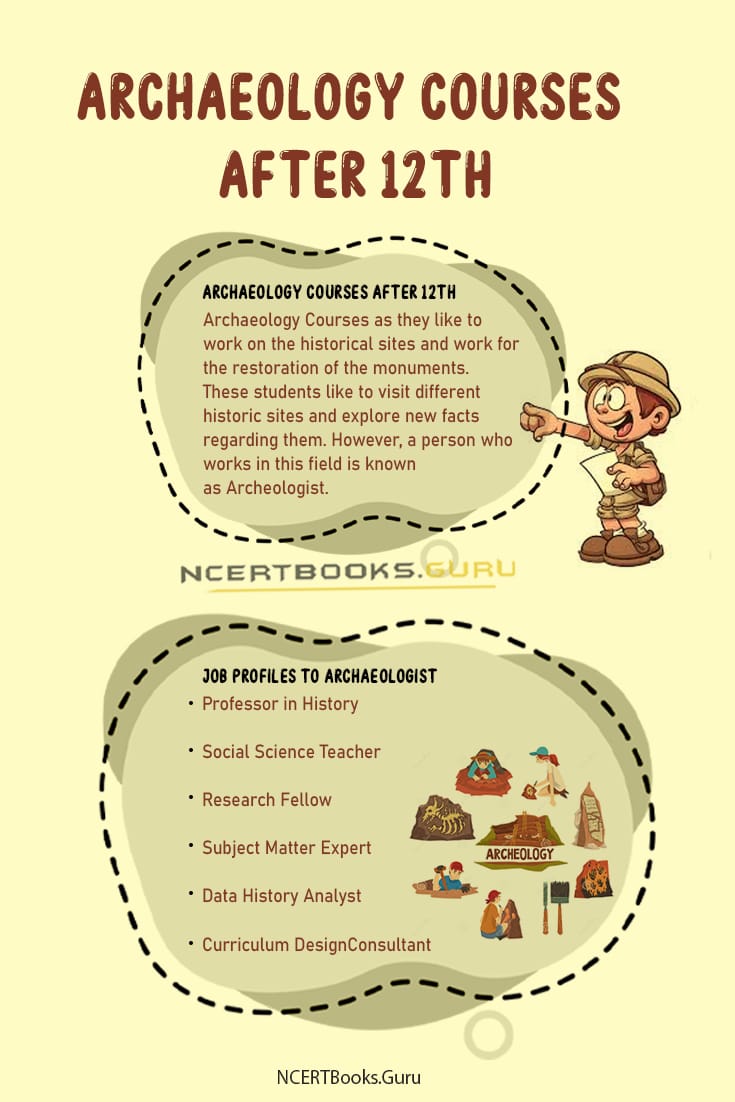 Job Profiles to Archaeologist
Once you step into the Archaeology course, you are eligible for various job profiles under it. You have a bright future in museums and other heritage agencies. You will get a chance to work with other professionals. However, the field in which you will get a job depends upon the skillset you have developed. Different Graduates can secure their job with this. Also, many say that the demand for Archaeologists will increase from time to time. Hence an Archaeologist will have various options for the job to cater. However, famous job positions for an Archaeologist include:
Professor in History
Social Science Teacher
Research Fellow
Subject Matter Expert
Data History Analyst
Curriculum DesignConsultant
Salary Offered to an Archaeologist
It could be hard to predict the starting salary for an Archaeologist as it depends upon your skills. However, it depends upon several factors, including your Job Location, Profile of the employer, Institute from you have studied, Academic Qualification you have (UG/PG).
However, on average, the salary offered to employers new in this field is 30-40K INR. If you have a government job, then it depends upon the grade and pays scale.
FAQ's on Archaeology Courses After 12th
Question 1.
How can one become an Archaeologist in India?
Answer:
Students who want to go for a Master's Degree should have completed their Bachelor's degree. If you want to go for a Postgraduate Diploma, you must be well prepared with Ancient Indian History.
Question 2.
What classes should you join to become an Archaeologist?
Answer:
You must pursue your study in archaeology, cultural anthropology, linguistics, and biological anthropology.
Question 3.
Is it worth studying Archaeology?
Answer:
If you are pursuing your career in archaeology, then go for postgraduate. A student must be well prepared with this field and study.
Summary of Archaeology Courses After 12th
We hope the detailed procedure listed above for the Archaeology courses in India after 12th would have helped you gain enough knowledge.