Appreciation Letter Format & Samples: Appreciation is a kind of valuable gift which makes an individual feel happy after doing hard work and good performance in any situation. So, everyone does their work with more passion and wait for appreciation from the higher authorities like Boss, Teacher, Team Manager, etc.
A great way to appreciate any individual is by Writing or Emailing an Appreciation Letter and expressing the Thank You or Gratitude for the end result. You may observe different types of appreciation letters in various fields. So, go ahead and learn all about Letter of Gratitude/Appreciation.
Check out the Tips on How to write an Appreciation Letter in the below sections and make one perfect letter on your own. Apart from that, you may even aware of few ideas on writing a Letter of Appreciation by referring to the prevailing Format, Template, and Samples. Also, discover more Letter Writing Topics for formal and informal topics from this site and get familiar with different letter writing styles all in one place.
Appreciation Letter Format | How to Write a Letter to Appreciate?
The best way to appreciate anyone's work is by writing an appreciation letter in a well-structured format. Appreciation letter writing comes under formal letter writing so there is a proper format to write it. Here, we are going to explain you guys what will be the format to write an appreciation letter and how to write it. Follow the appreciation letter format and draft one on your own. The format of the letter seems to be as such,
Address: The Sender's and Receiver's Address should be written at the top left corner. Complete address with the proper city name, state, and pin code must be included. Also, the space between address lines needs to give properly. Moreover, recipient designation should mention along with the address.
Date: Always, the date of writing the letter needs to be mentioned.
Subject: The subject should be written mentioning the reason for writing the letter in brief.
Salutation: Start the letter with a proper salutation. If you know the name of the person, mention the salutation as 'Dear [followed by name of the person]'. If you don't know the name of the recipient use Dear Sir/ Madam.
Body: Next to the salutation leave one line and begin the body of the letter and you should write the body of the letter in three paragraphs.

Paragraph 1: Introduce yourself and mention the reason to write the letter
Paragraph 2: Appreciate the person for his work
Paragraph 3: Conclusion

Gratitude: Express the gratitude with thank you
Closure: The letter should be closed with "Yours Sincerely or Faithfully", name and designation.
Appreciation Letter Template
Following is a template of an employee appreciation letter, which can help an employer or team manager in drafting one perfect letter of appreciation to thank an employee.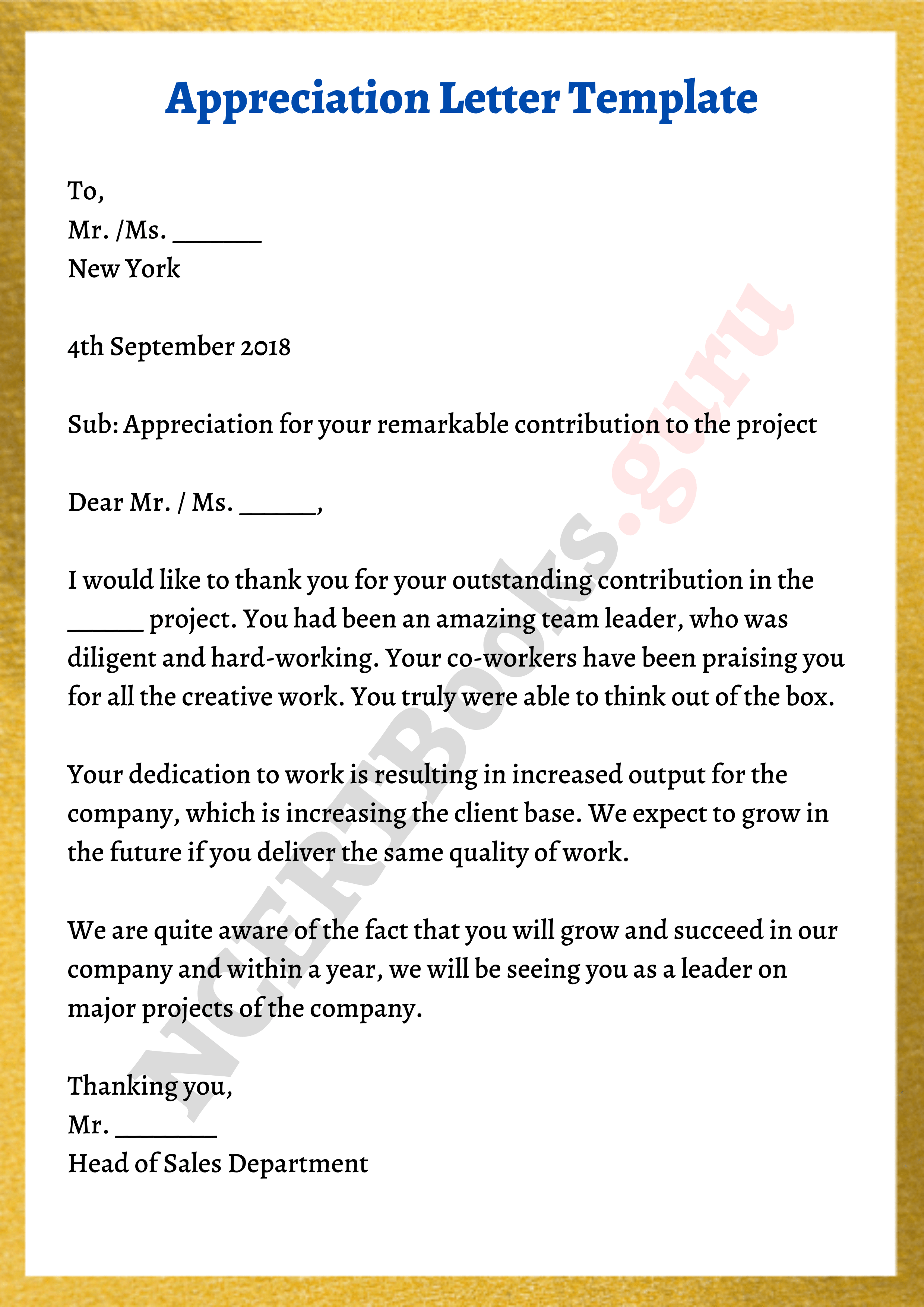 Types of Appreciation letter
There can be various reasons to write appreciation letters. Such as;
To appreciate an employee for his good job
To appreciate an employee for his promotion
To appreciate an employee for his contribution in the team and company
To appreciate a student for achieving success in a competitive exam
To appreciate a student for his good performance in an exam
Good Samples for Letter of Appreciation
Below are a few written and email sample letters for appreciation for various scenarios that can be fitted for your reference and make one perfect letter on your own.
Sample Appreciation Letter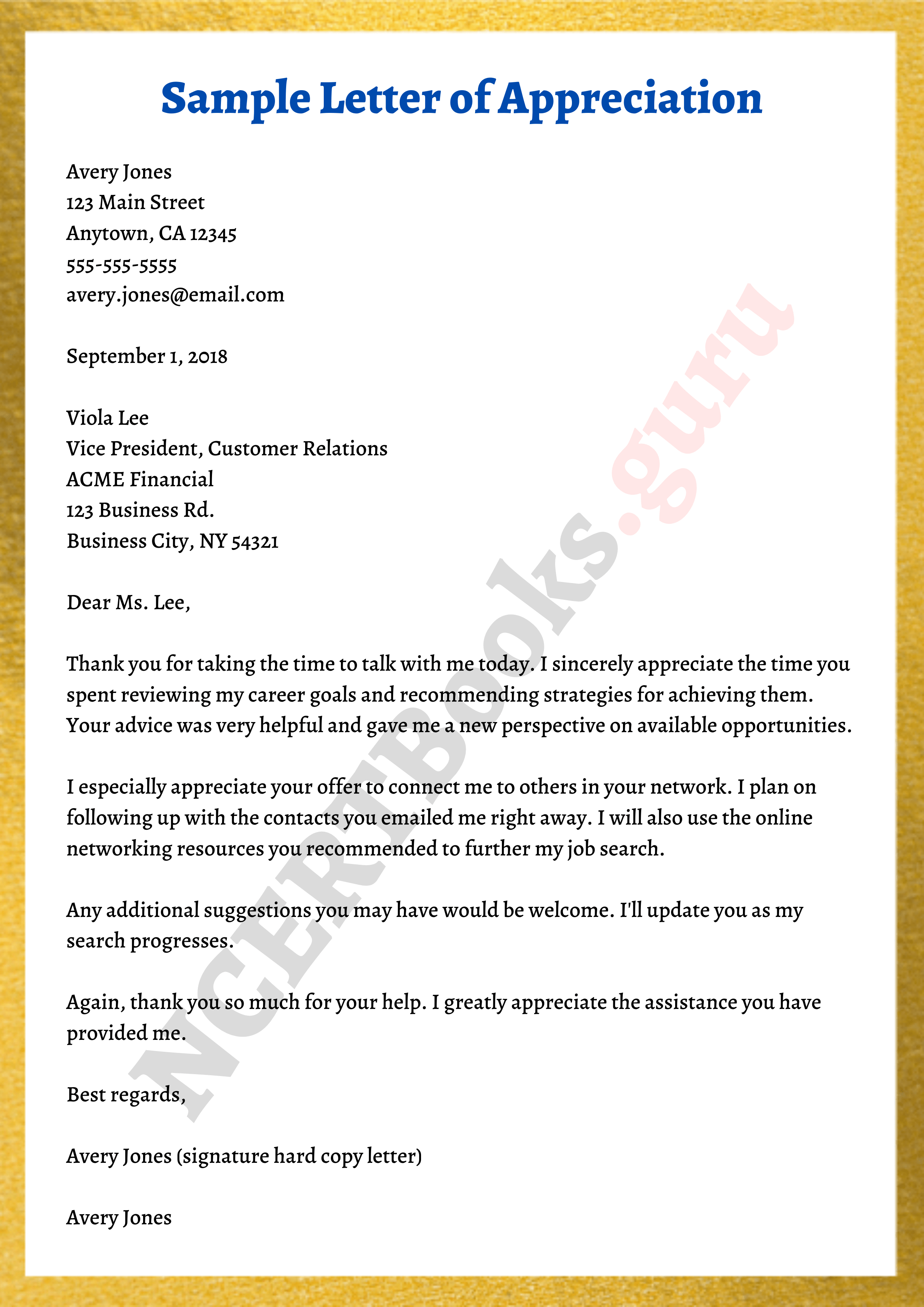 Employee Appreciation Letter for Hard Work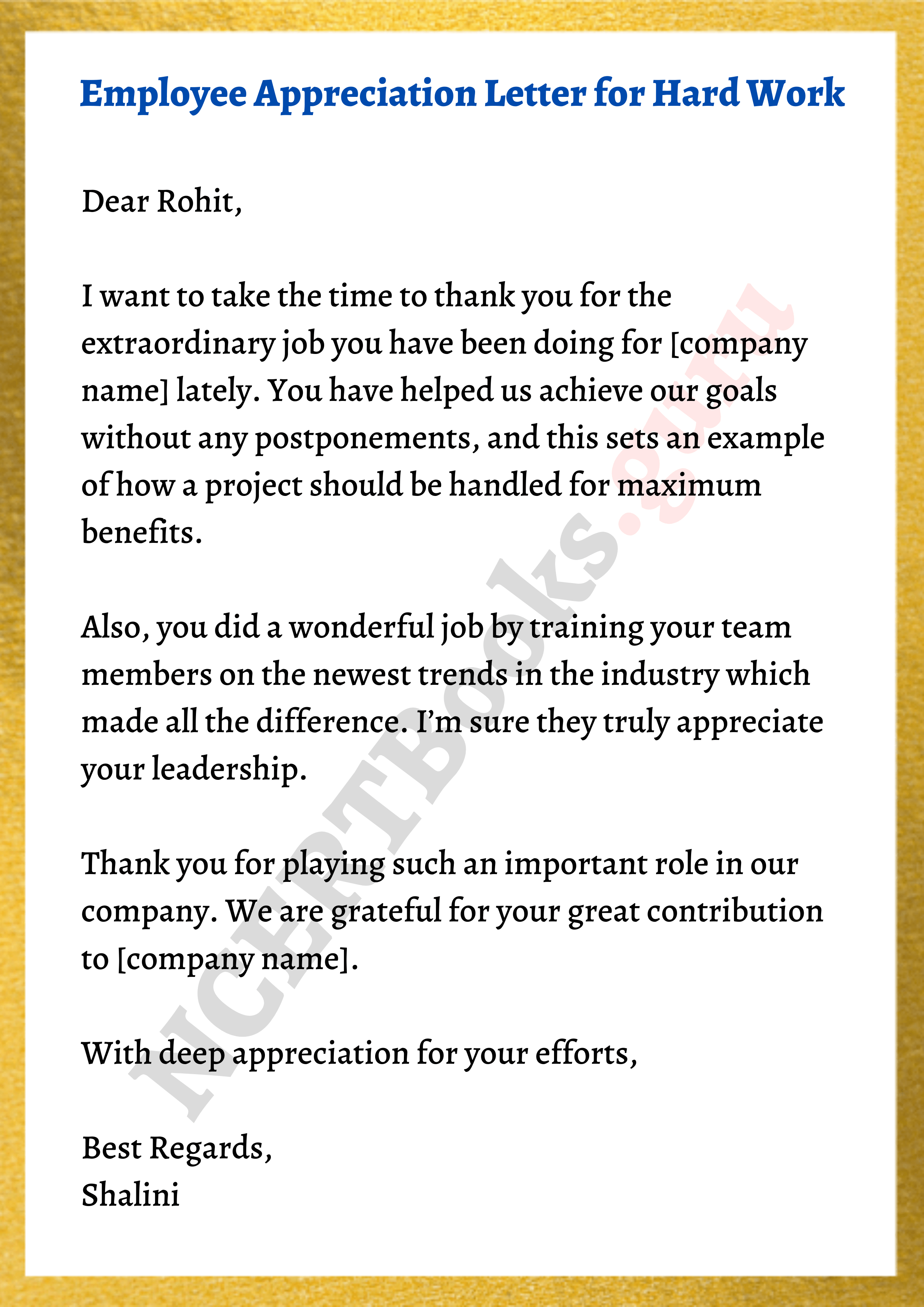 Sample Appreciation Letter to Team in Email Format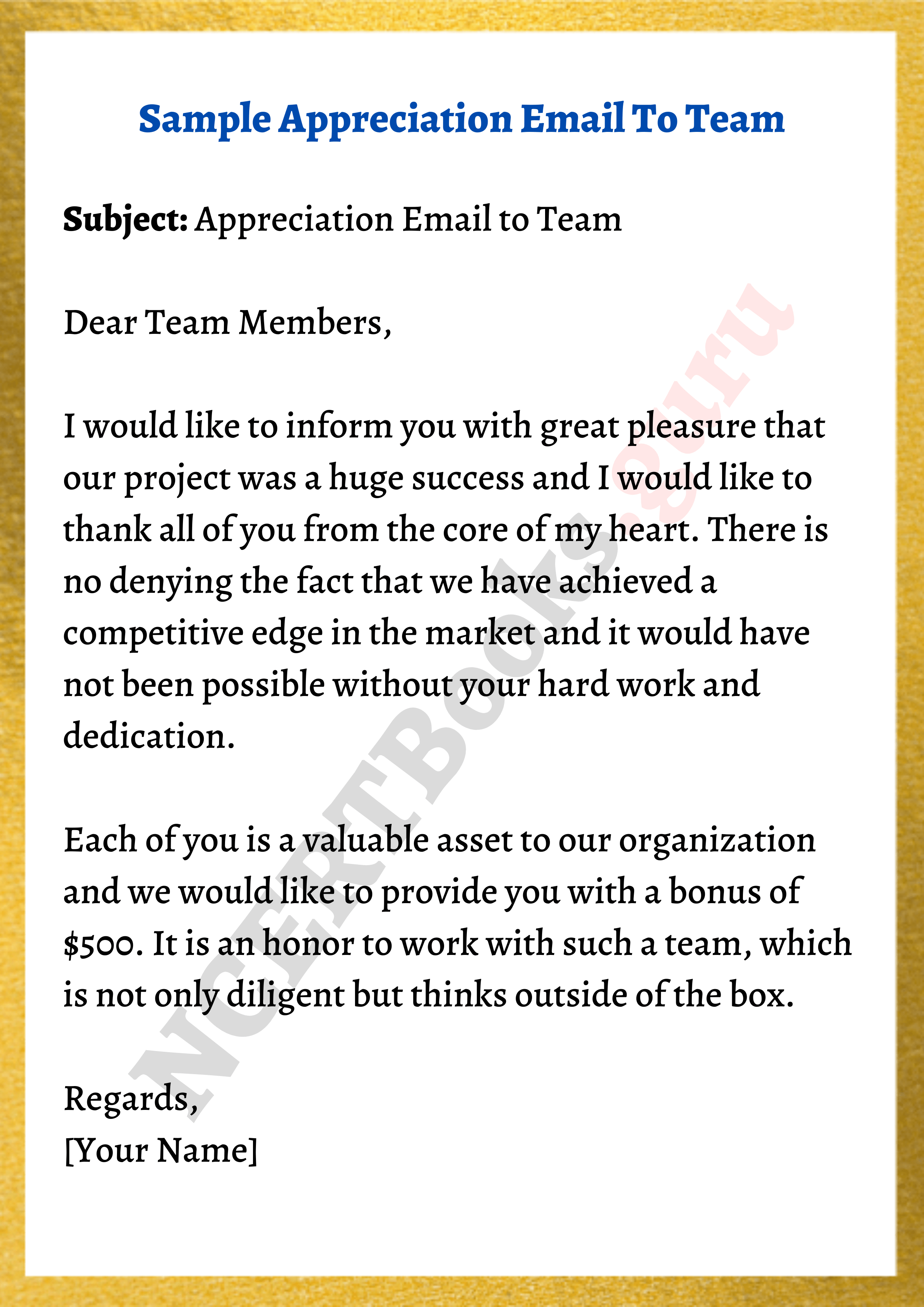 Appreciation Letter for Teacher Sample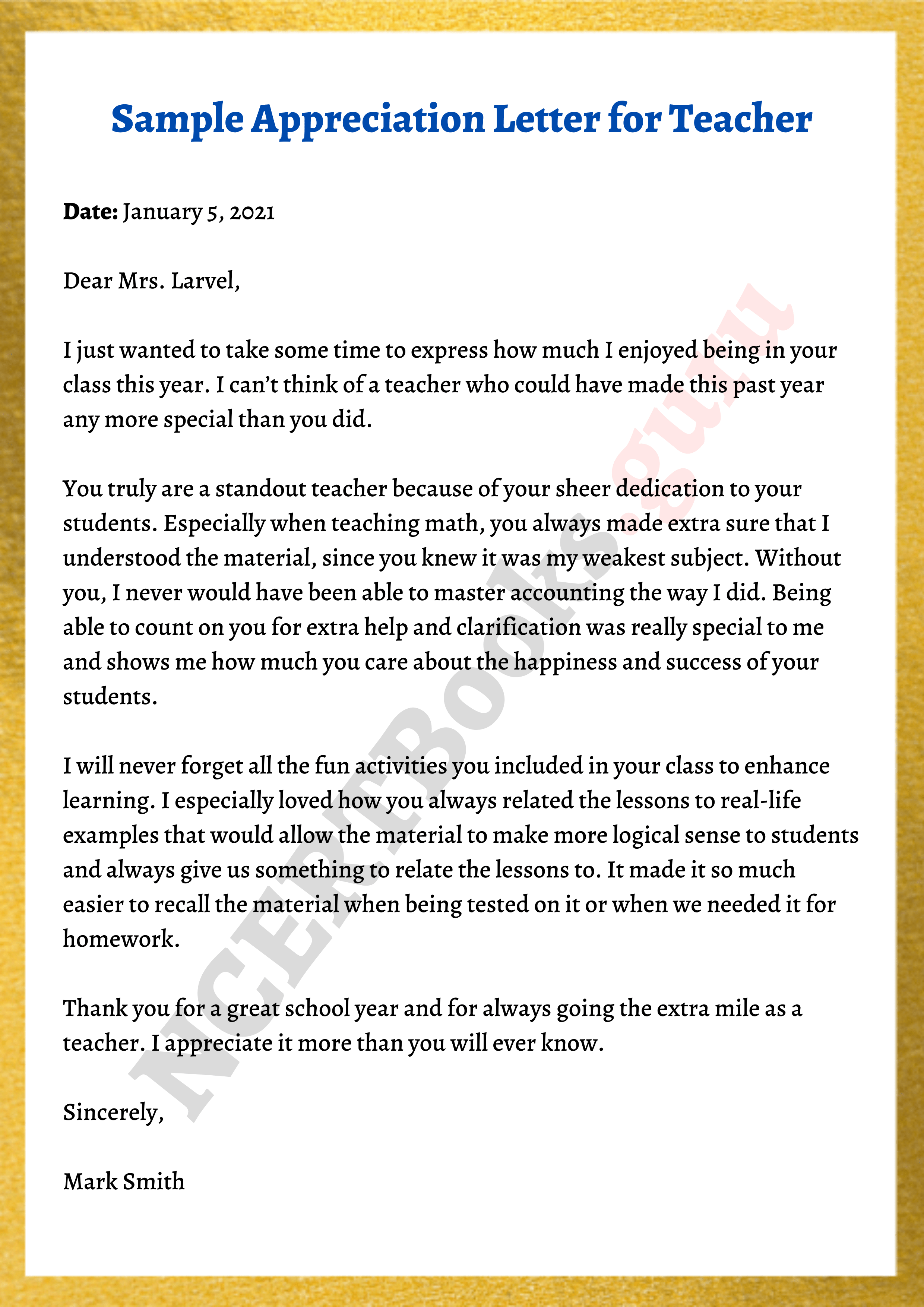 FAQs on Letter of Appreciation
1. What is an employee appreciation letter?
An employee appreciation letter also known as Recognition or Thank you Letter. It can be a formal, semi-formal or casual letter where the higher authority of the company gives to an employee to show gratitude for their hard work. Writing an appreciation letter when an employee works beyond your expectations is a good gesture in working areas.
2. What to include in an employee Appreciation letter?
Dear [employee name]
Express how thankful you are for his/her contribution to the company
Address a line to look ahead for his/her bright future and work with him/her.
Thank you for being a good team member.
Keep up the good work!
Make use of formal & professional words while appreciating.
Regards
3. What can I write in a letter of appreciation to a teacher?
Use the formal letter of appreciation format
Explain why you're writing a Thank You letter
Use some lines like Your positivity and encouragement brightened my days, etc.
Add specific details.
Look ahead.
Restate your thanks.
End with your regards.