An Appointment Letter is an official letter handed over to the candidate after finishing the interview and got selected for the particular position. It is a formal letter given by the organization to the candidate who has been employed. By going through the further modules check out the Letter of Appointment Format, Samples for your reference. Know Guidelines on How to Write an Appointment Letter in the further modules.
Check out Letter Writing Topics for various categories be them formal or informal all in one place and get acquainted with letter writing styles.
Appointment Letter Format
A Well Crafted Letter of Appointment will disclose all the clauses of employment along with terms and conditions. An Ideal Appointment Letter Format will include the following details. Include any of them as per requirement. They are as follows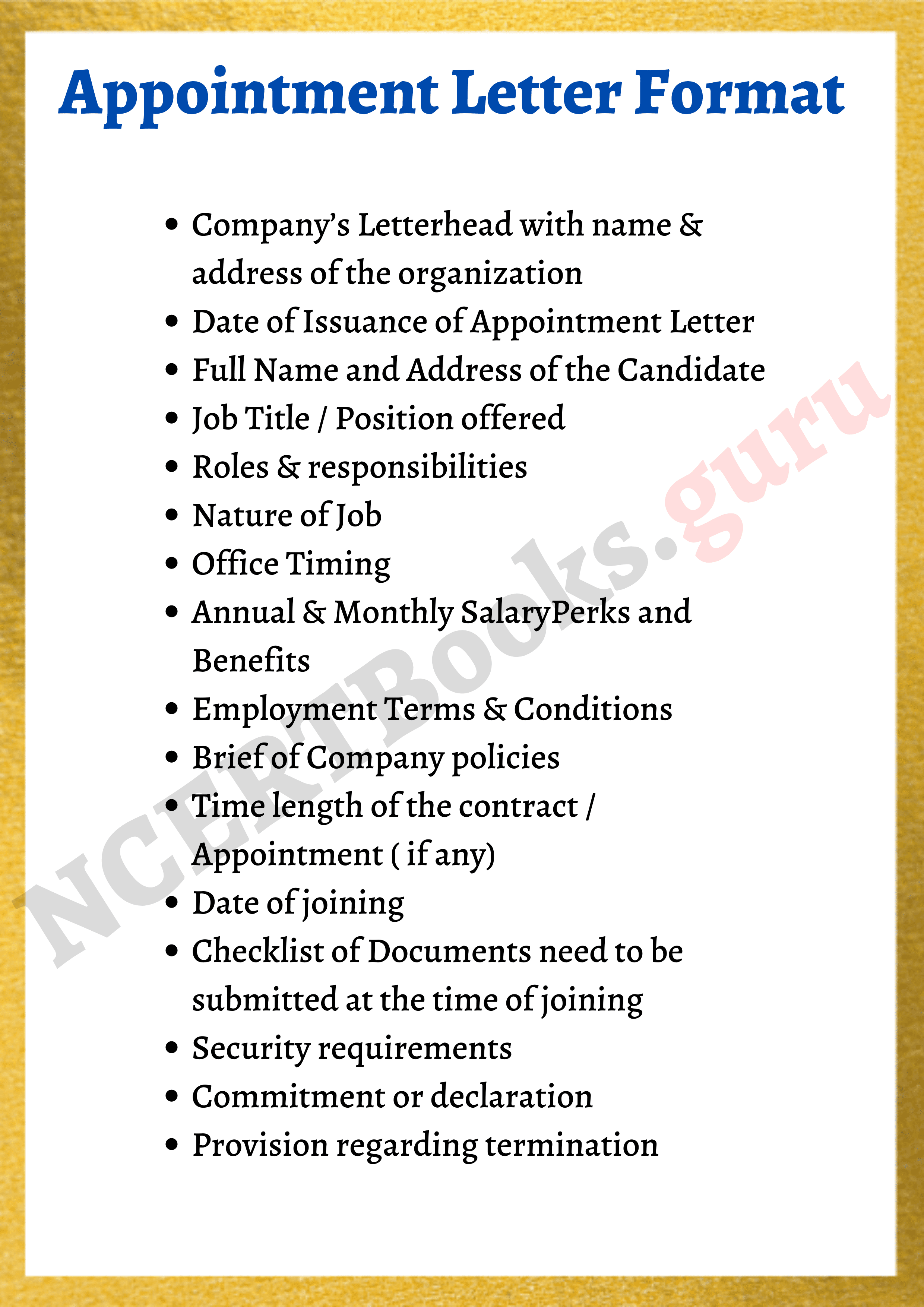 How to Write an Appointment Letter?
Some Essential Points to be Considered while Drafting an Appointment Letter is as follows. They are as under
Start your letter by confirming to the recipient of the appointment of position alongside mentioning the reporting date. In case you need them to visit the office on an early date in person for signing a bond or anything let them know so as to avoid miscommunication.
In the Appointment Letter mention the subject line so that receiver will know what the letter is all about.
At the Starting of the Appointment Letter write details signifying name, title, address, company name. Add Date of Writing the Letter just below the Address
If at all your company has any trial period make a note of it to let the receiver know about it. Also, list out the period of trial and other details that might be exaggerated like salary during that tenure and all.
Do mention the Tax Deductions and Bonuses in the Appointment Letter.
Also, make a note of the name of the receiver and address in your letter. Use a Suitable Salutation as you already know them.
Before closing your appointment letter, mention the receiver's responsibilities and obligations concerning the job position.
Also, list out details like transfers, the incidence of travels in the letter of appointment.
Sign off the letter formally with signature, full names, associated stamp, and sticker.
Appointment Letter Samples
An Appointment Letter is crucial and holds important employment-related information. If you want to write a Letter of Appointment refer to the Samples available below. Use them as a part of your writing and develop ideas on your own to create one. They are as such
Sample Appointment Letter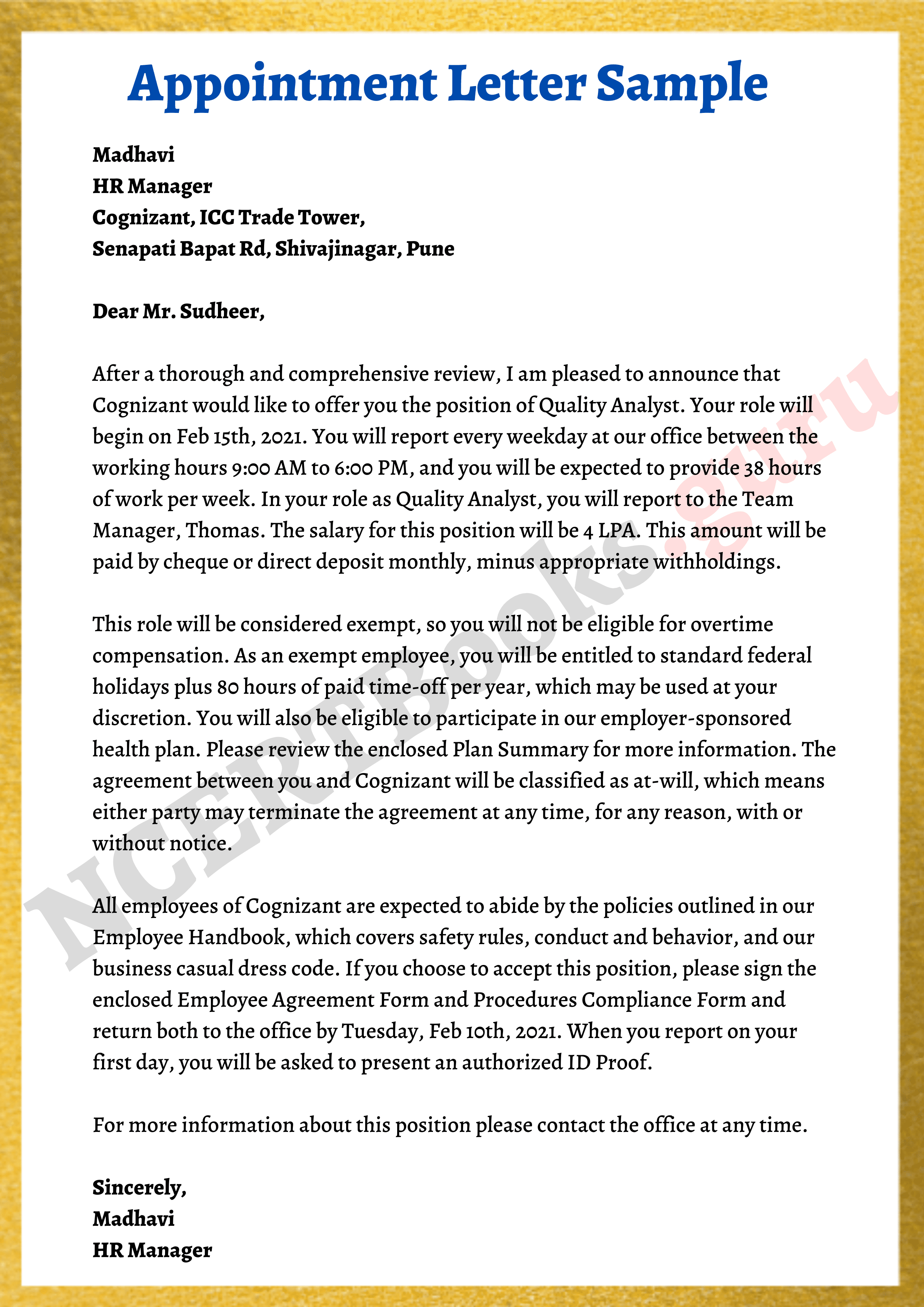 Letter of Appointment Example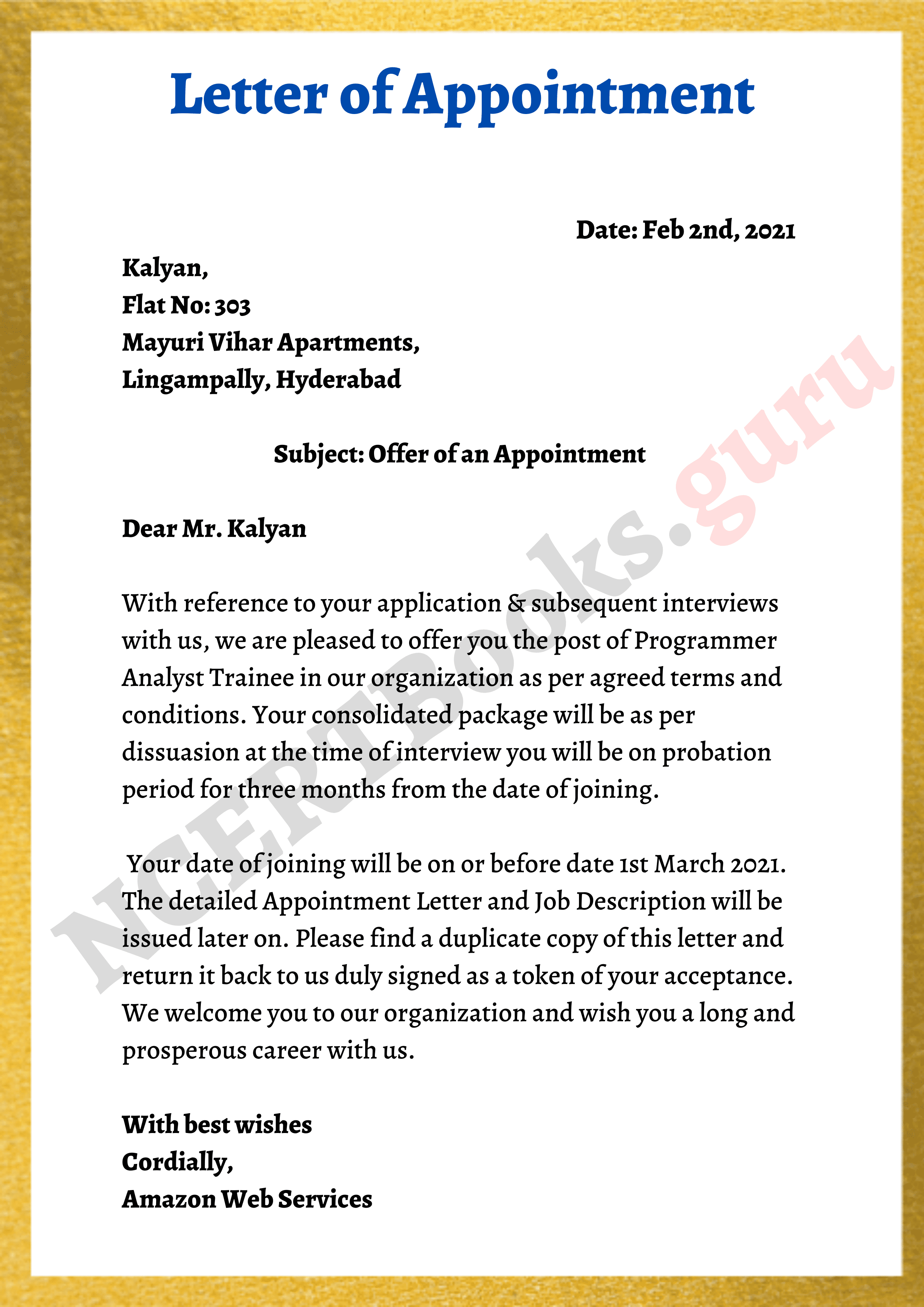 FAQs on Appointment Letter
1. What is an Appointment Letter?
A Letter of Appointment is an official letter that tells someone that they are placed with a company or organization.
2. How do I write an Appointment Letter?
In an Appointment Letter, you need to include all the details. They are along the lines
Date of Joining
Designation
Job Location
Salary and Benefits
Hours of working
Leave Policy
Terms and conditions
3. What is the Use of Appointment Letter?
An Appointment Letter is a crucial letter for both Employer and Employee. It is the next step of interaction between the Company and the Employee.
4. Is the Appointment Letter Necessary?
There is no law stating that Appointment Letter is mandatory. However, it provides some sort of documentary evidence of employment to an employee.