Advertisements Essay: We turn the pages of a newspaper, turn the pages of a magazine or switch on the T.V. and there are advertisements after advertisements that we come across. We move on the roads and there are big posters and large hoardings that are found put up to advertise products.
Long and Short Essays on Advertisements Kids and Students in English
Given below are two essays in English for students and children about the topic of 'Advertisements' in both long and short form. The first essay is a long essay on the Advertisements of 400-500 words. This long essay about Advertisements is suitable for students of class 7, 8, 9 and 10, and also for competitive exam aspirants. The second essay is a short essay on Advertisements of 150-200 words. These are suitable for students and children in class 6 and below.

Long Essay on Advertisements 500 Words in English
Below we have given a long essay on Advertisements of 500 words that are helpful for classes 7, 8, 9, and 10 and Competitive Exam Aspirants. This long essay on the topic is suitable for students of class 7 to class 10, and also for competitive exam aspirants.
There are noted film stars — Amitabh Bachchan, Shah Rukh Khan, Amir Khan, Govinda and so many actresses on the top of the ladder who are found advertising cars, tires, soft drinks, beauty creams, and whatnot. Iodized salt — Dandinamak or Pan Parag — pan masala, soaps, oils, and ointments — all find advertisements appearing on pages of magazines and on the T.V. screens. The producers of these products spend thousands, lacs, even crores on these advertisements. The film stars receive more money for appearing in these advertisements than what they might be receiving for their acting roles. Even Sachin Tendulkar — the cricket maestro has advertising assignments for which he is paid heavily.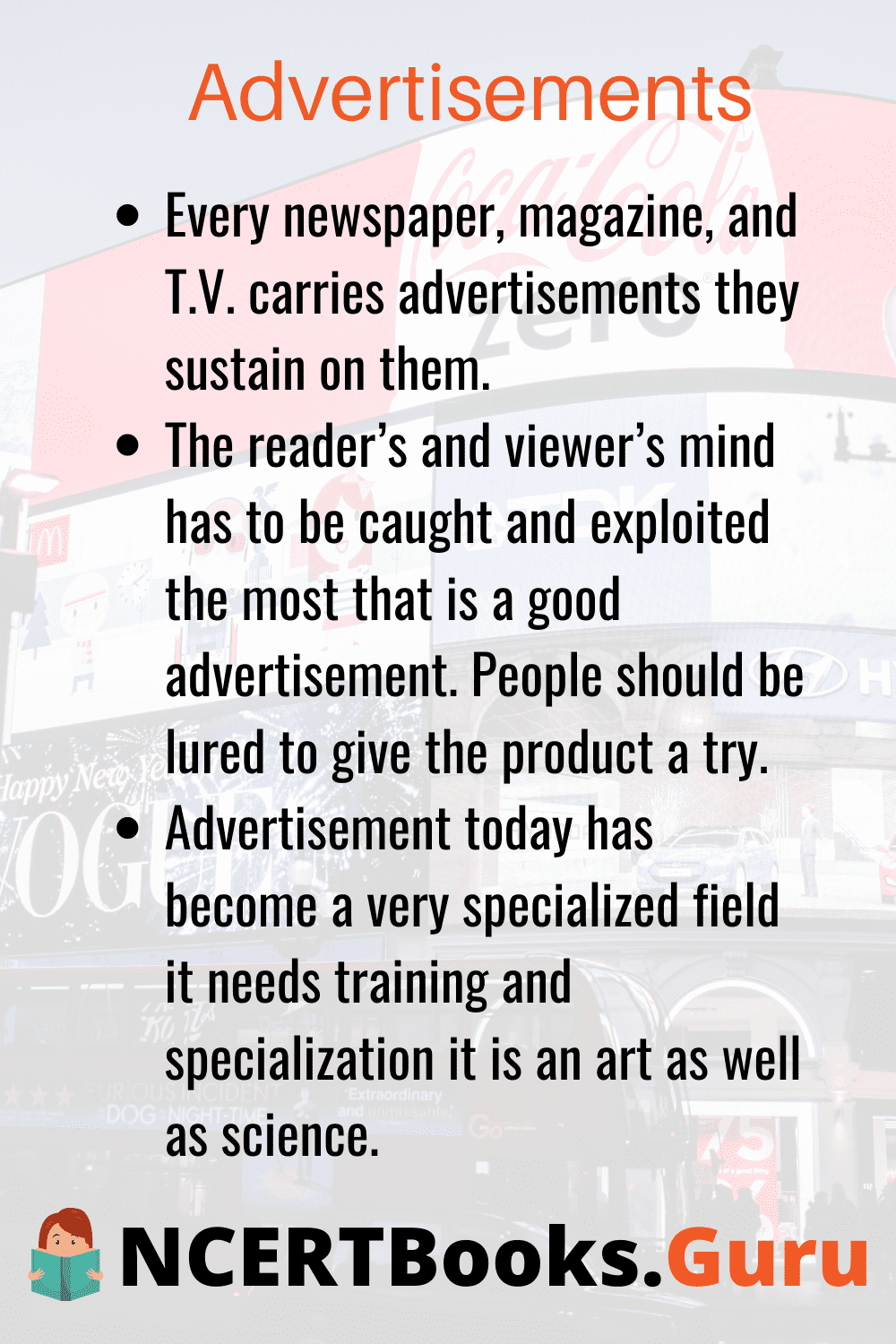 So what we find is that in the industrial world of today advertisements play a great part. The same thing coming up again and again with its contents and qualities repeated does influence the viewer's or the reader's mind and he feels for a moment — 'why not give a try to it, so much is being said about it; there must be something special about it'.
It is this pressure on the mind of the reader or the viewer that is attempted at and it is this psychological influencing and exploitation which is the basis of advertisements. So much is said about a product, about its contents and repeated on and on, and again and again that the mind gets turned to give it a trial.
There was a time when as a toothpaste it was only Colgate which was popularly used but now in so many homes 'close-up' or 'Pepsodent' has been adopted. So many detergents are kept on being advertised — 'Nirma' used to be the popular brand used in most homes; now 'Surf', 'Ujala', 'Robin' are being found. So much in use.  The VIP vests and Rupa frontline Govinda's 'aram ka mamla hai' has influenced so many minds in favor of what he advertises. 'Apollo' or M.R.F. tires — people feel like getting convinced of their toughness. The 'Cola' and 'Pepsi' — soft drink war is on and on and both are roping in big names to give their products a boost.
Short Essay on Advertisements 300 Words in English
Below we have given a short essay on Advertisements is for Classes 1, 2, 3, 4, 5, and 6. This short essay on the topic is suitable for students of class 6 and below.
This is an age of propaganda and advertisement. The more one spends on it the more is the return. The public mind is ready to be caught by constant and repeated pressure and it is this how much one can do it the more successful is the businessman. Even medicines, pain- balms, tonics which doctors need to prescribed are advertised as in India a doctor's prescription is not always necessary for obtaining medicine from the chemists' shop. One is suffering from cough and can himself go and ask for Glycodine Syrup as there is so much advertisement about it; get a pain in any part of the body and go in for 'Moove' pain balm and it does relieve the pain too. The user feels convinced of its efficacy would tell about to friends and so goes up the popular use.
Houses, flats, colonies — it appears from the advertisements that it is heaven being offered for no price and the prospective purchaser is lured by the details advertised.
And if things and products are not advertised about how is one to get to know about it. Therefore, advertisements are necessary for the seller as well as necessary for the buyer. At least the basic knowledge about the item should be pre-known. This is for what advertisements become necessary.
Big and renowned people are saying 'good' about something; it is not for nothing that they would be saying so. That psychology also works with the prospective purchaser. If Amitabh Bachchan is liking a particular 'Soft drink' there must be something good about it. This is how the general trend of mind works and it is this that the advertisers exploit.
An advertisement has today become a great art and great science. There are special training and courses in advertisements and it is a specialized field now. 'Catch the mind' how that is what a good advertiser should learn and know.
Students can find more English Essay Writing Topics, Ideas, Easy Tips to Write Essay Writing, and many more.
10 Lines on Advertisements
We are living in the age of Advertisements.
Wherever we cast a glance we see advertisements around us.
They play a vital role in the modern world of business and trade.
Right from smaller units to bigger units traders follow these techniques to advertise their goods and commodities.
Every newspaper, magazine, and T.V. carries advertisements they sustain on them.
Big people, big money paid to them, that is the way of advertisement these days.
The reader's and viewer's mind has to be caught and exploited the most that is a good advertisement. People should be lured to give the product a try.
Even medicines which are a specialized field for doctors and physicians also get advertised and people use the products and find them useful. So the trade in them gets a boost.
If products or items are not advertised about how are people to know about them so the advertisement is necessary for the buyer as much as to the seller.
Advertisement today has become a very specialized field it needs training and specialization it is an art as well as science.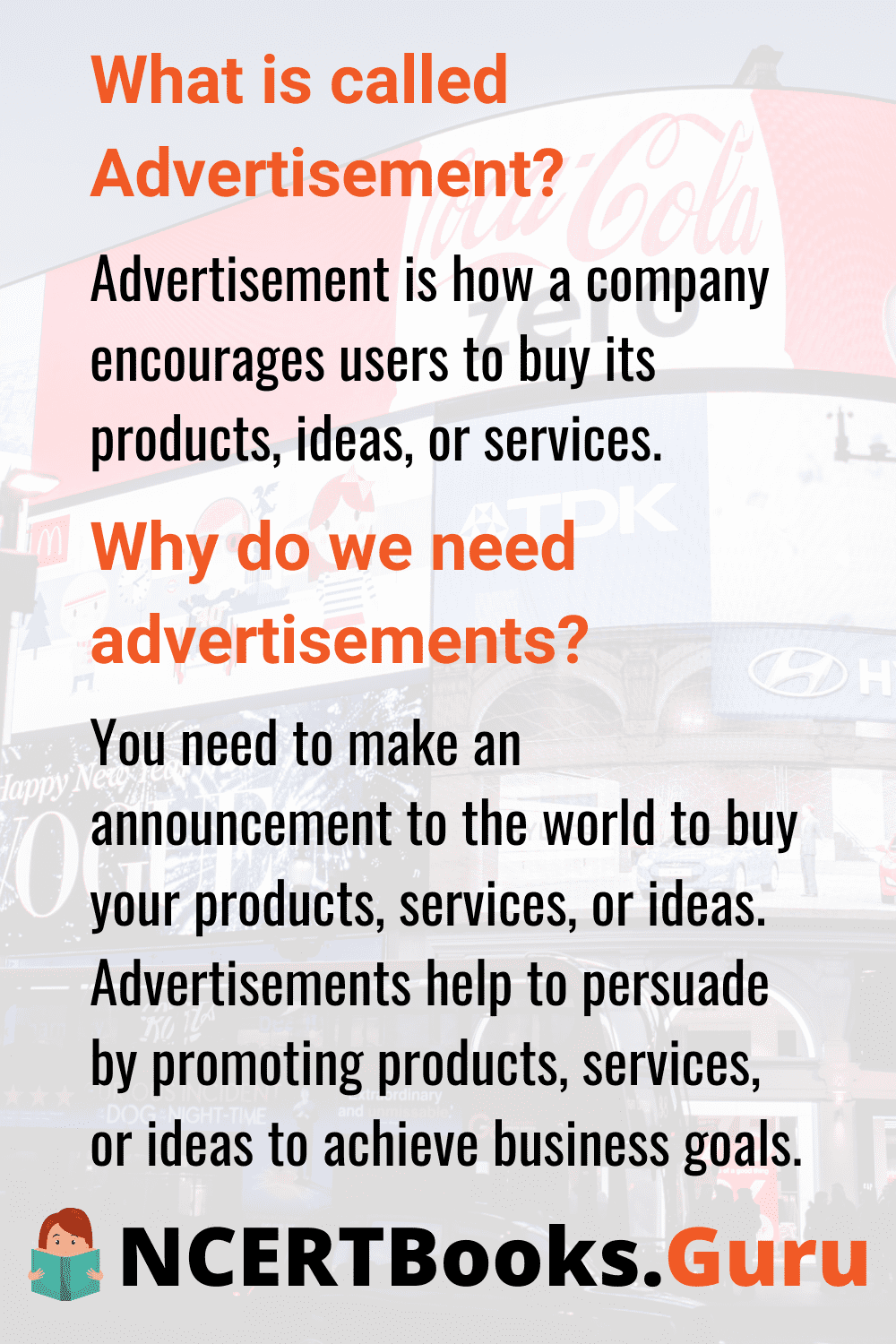 FAQs on Advertisements Essay
1.  Why are advertisements important?
Advertisements are a guaranteed method of reaching the audience. By creating an engaging ad and spending enough to reach as many users, it can have a huge impact on business.
2. What is called Advertisement?
Advertisement is how a company encourages users to buy its products, ideas, or services.
3. Why do we need advertisements?
You need to make an announcement to the world to buy your products, services, or ideas. Advertisements help to persuade by promoting products, services, or ideas to achieve business goals.