UPSC Topper Anu Kumari Notes PDF Download: Firstly, you all should know the importance of study notes followed by the UPSC Toppers. Topper's strategy and its Notes are very crucial in everyone's preparation plan. So, search for all India IAS Toppers Study Materials and Notes and kickstart your preparation. Today, we have provided All India Second Rank UPSC Topper Anu Kumari Notes for GS 1, 2, 3, 4 in PDF format.
To help all the candidates in their preparation, we even included Anu Kumari UPSC 2017 Topper Book List, Tips, and Some Facts on this page. Go through this article thoroughly and access the links to download Anu Kumari UPSC Topper Notes PDF for better preparation. Get inspired by her and learn more & more until you succeed.
Also Check: List of NCERT Books for IAS UPSC Exams
Download UPSC 2017 Second Ranker Anu Kumari Study Notes Free PDF for General Studies 1, 2, 3, 4
Preparing regularly with these provided Pdf formatted UPSC Topper Anu Kumari Notes will enrich your answers in the prelims and mains exam. By considering the Union Public Service Commission CSE Rank 2 Anu Kunari Study Notes PDFs, you can get a good grip on the subjects covered in the IAS Prelims and Mains and also estimate how to approach the exam actually. Here are the links that you are looking for. So, download the UPSC IAS Topper Anu Kumari Notes of GS 1, 2, 3, 4 in Pdf format and learn at any time & anywhere.
General Study Notes 1
General Study Notes 2
General Study Notes 3
General Study Notes 4
Book List That Topper of UPSC Anu Kumari Followed While Preparation
By following this list of UPSC Books, you can learn the topics so easily and understand the concepts covered in the syllabus of UPSC prelims and mains. So, take a look at the below image before you start your preparation for the IAS exam.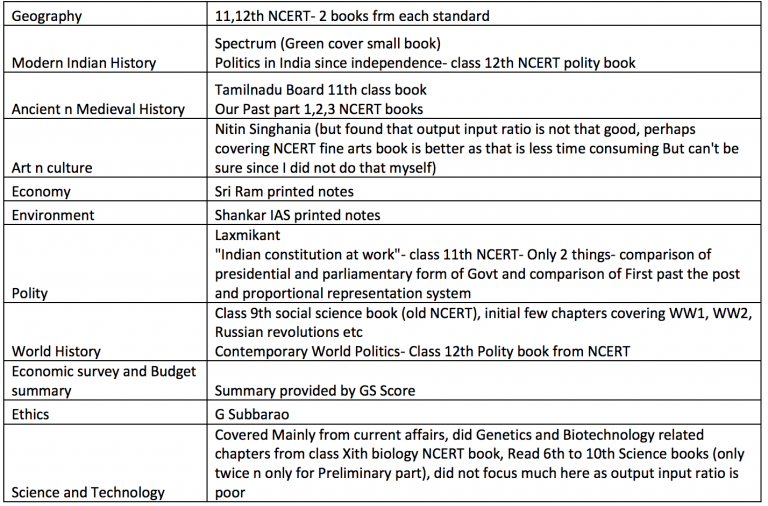 Tips to Enhance Your Answers in Mains by Anu Kumari
Some of the tips to be considered by the candidates who apply for UPSC Exams are as follows:
Complete with statistics and current affairs
Use names of expert committees to suggest solutions
Do Highlight the important matter by underlining
Use diagrams to the extent possible
Answer on multiple dimensions (social, political, economic, cultural, etc)
Use quotes (to the extent possible, even in GS 1,2,3 papers)
Do Refer Some Other UPSC Toppers Study Notes:
Facts of UPSC Topper Anu Kumari
Age while clearing the IAS: 31
AIR: 2
CSE: 2017
Attempt: Second
Optional Subject: Sociology
Education: B.Sc, MBA (DU, IMT)
Work Experience: 9 years in the private sector
Home State: Haryana
FAQs on UPSC Civil Services Exam Topper Anu Kumari Study Notes PDF Download
1. How many hours did Anu Kumari study?
UPSC 2017 Exam Second Ranker Anu Kumari used to study for 10-12 hours daily.
2. Did Anu Kumari took coaching?
No, she didn't. She feels that Coaching is not much needed for getting success in the exam. Anu Kumari had relied on self-preparation. So, coaching is not so important every time but from person to person it may change but the only tip you should follow is to have faith in your preparation & knowledge.
3. At what age Anu Kumari became IAS?
Anu Kumari became IAS at the age of 31 by securing the 2nd rank in the Union Public Services Commission (UPSC) Civil Services exam 2017. She is from Haryana's Sonepat district.
Final Words
We hope the data shared here on UPSC Topper Anu Kumari Notes PDF will help you more during your preparation & planning strategies. Also, you can refer to the Anu Kumari 2nd Rank Topper followed Tips, strategies, and some facts on this page. So, check out this article completely and follow her advice & prepare with the UPSC Topper Study Notes to gain good marks in the Exams.