Thank You Speech On Farewell: A farewell is an important day in our lives. It's a day where we bid adieu to one part of our life and greet the next. Additionally, after spending so many years in a particular place, making friends and colleagues there, thanking everyone becomes a very tough procedure. In such a circumstance, saying a simple "thank you" is not enough. And, today, the last time I will be addressing my bonafide institution. So, it should not be just a thank you for this memorable event.
Long And Short Thank You Speeches On Farewell for Kids And Students in English
We provide a long speech and a short Thank You Speech On Farewell of 500 and 150 words along with ten lines on the same topic, respectively, for the readers.
These speeches will help children and students who might be required to give a speech on the same topic or as an assignment.
A Long Thank You Speech On Farewell is helpful to students for classes 7, 8, 9, 10, 11 and 12. A Short Thank You Speech On Farewell is helpful to students of classes 1, 2, 3, 4, 5 and 6.
Long Thank You Speech On Farewell 500 Words In English
First of all, I want to acknowledge our teachers, and I want to speak to my classmates when I acknowledge our teachers.
You all have been the chief source of our education and have enlightened us with knowledge and wisdom these last few years. Most noticeable, teachers not only educate us but also teach us about the lessons of life.
Our teachers, over the years, have made us skilled enough to compete with this progressive world. Moreover, they have supported us like pillars to strengthen our bases.
Our teachers have sometimes been rude to us but that too in the form of strict parents. But we should not forget this; they were rude only to make us educated and good human beings. So, I hope none of you will think any bad about our teachers even for a moment. I must say, their strictness will turn out to be a blessing for us in the future.
Teachers also show their kindness when they are not angry. Teachers can be as generous as our parents. Moreover, even when they are angry, they never think anything wrong for us even for a moment. They always think about the best of us.
This day, and for the upcoming days of our lives, we should always be grateful to our teachers. I thank all the teachers of our school for their hard work for our betterment. Nothing is enough to describe the contribution you all have made for us. We all love you, unconditionally. I hope you all will continue making students better human beings just like you did to us. Thank you so much, dear teachers.
I am thankful to all the caretakers, gardeners, gatekeepers of my school as well. I truly appreciate your efforts to keep our school clean and beautiful.
And now it's time to say a few words about those, without whom I could not spend all these years in this school. Not mentioning my friends and my classmates on this memorable occasion will be a sin. You all have made my experience of how school life can be so memorable. The unity among the students of this school is beyond perfect. I always feel like there is something special about the unity of this school's students.
Dear friends and classmates, you have gifted me a wonderful and delightful experience in school life. I am certainly going to miss the times we spent in our school together, after today.
Elders say that childhood friendships last longer and are the strongest. With this belief in mind, I hope that our friendship will always remain like this. I am thanking you all for making me experience the best years of my life so far.
A farewell is undoubtedly one of the most important days in anyone's life. Moreover thanking all the essential individuals makes this day extra special. I will always remain grateful for everything I experienced in my school life.
Short Thank You Speech On Farewell 150 Words In English
Good evening everyone! I will try to keep it short here as I don't want to make you all feel bored. Today, on this memorable occasion, I am leaving this place with a treasure of knowledge.
Learning various things, making friends, playing, and reading with them has been a fantastic journey throughout the last several years. I want to genuinely thank our teachers for working so hard to make our future bright and make us well-rounded persons. You have contributed a lot to us, which I can never express in words. You have taught us to be open-minded and value other people's opinions, to end up with a great outcome.
I also thank all the janitors, security guards, and gardeners who try to keep our school a beautiful place, instead I would say "second home."
Thanks a lot for making this evening a memorable one and for allowing me to thank you. I am looking forward to hearing about your successful future.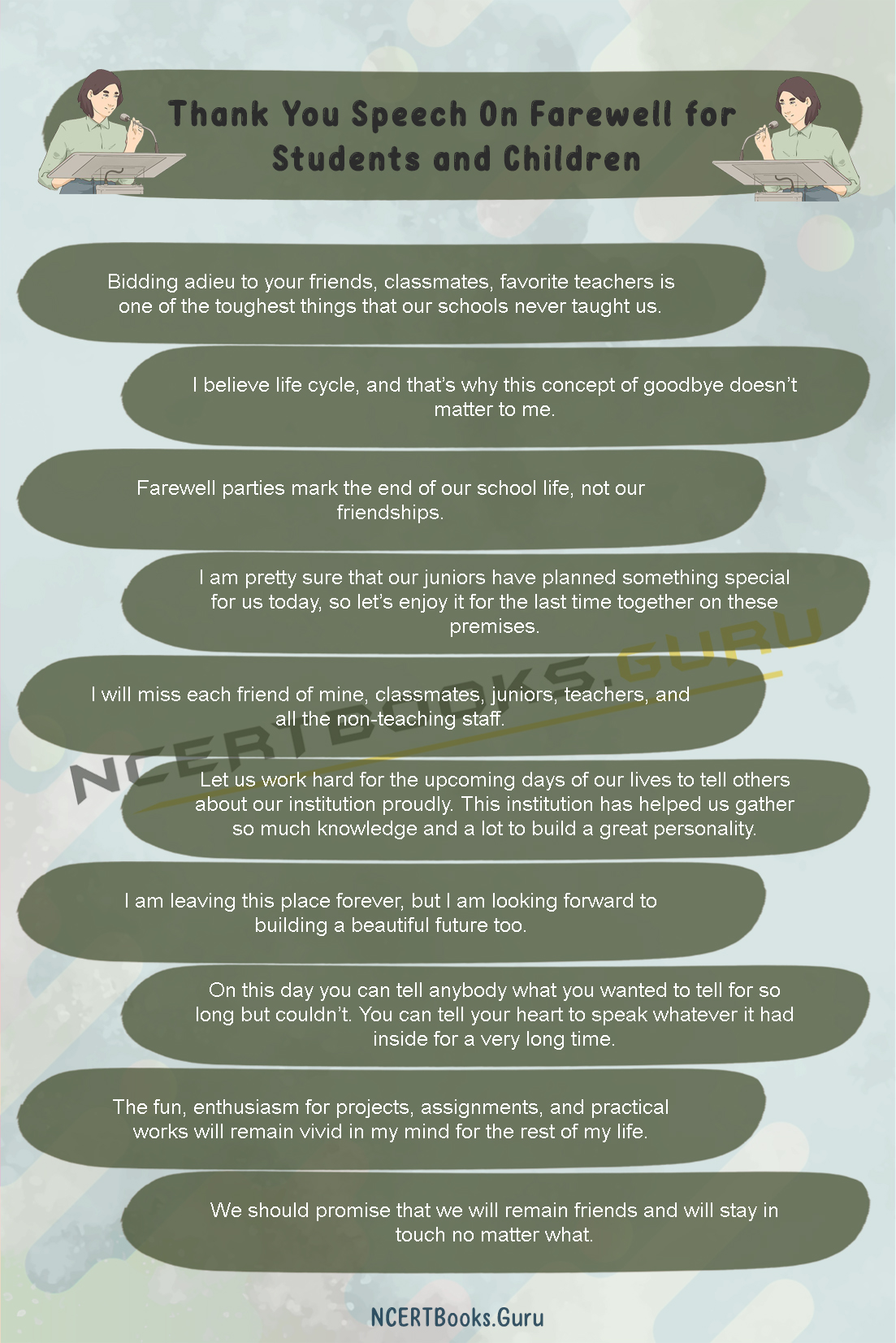 10 Lines On Thank You Speech for Farewell In English
Bidding adieu to your friends, classmates, favorite teachers is one of the toughest things that our schools never taught us.
I believe life cycle, and that's why this concept of goodbye doesn't matter to me.
Farewell parties mark the end of our school life, not our friendships.
I am pretty sure that our juniors have planned something special for us today, so let's enjoy it for the last time together on these premises.
I will miss each friend of mine, classmates, juniors, teachers, and all the non-teaching staff.
Let us work hard for the upcoming days of our lives to tell others about our institution proudly. This institution has helped us gather so much knowledge and a lot to build a great personality.
I am leaving this place forever, but I am looking forward to building a beautiful future too.
On this day you can tell anybody what you wanted to tell for so long but couldn't. You can tell your heart to speak whatever it had inside for a very long time.
The fun, enthusiasm for projects, assignments, and practical works will remain vivid in my mind for the rest of my life.
We should promise that we will remain friends and will stay in touch no matter what.
FAQ's On Thank You Speech for Farewell
Question 1.
What is a farewell party?
Answer:
A farewell party is a party that is usually organized by the juniors for the seniors before they leave their school or graduate in the final year in college.
Question 2.
What should be the components of my farewell speech?
Answer:
As a senior student, my farewell speech should contain all the memories I had with my classmates and friends, and how eagerly I am looking forward to the upcoming days of my life.
Question 3.
Are thank-you speech and farewell speech the same?
Answer:
Farewell speech consist of the memories you have in your school or college in the last several years, but in a thank you speech, you show gratitude to all the essential individuals of your institution. Both are different. But you can thank the individuals after you finish sharing your memories with others.
Question 4.
How long my farewell speech can be?
Answer:
It depends on the people listening to your speech. If you don't bore others with your talks, you can take 5-6 minutes, even 10 minutes. Else, it will be better to keep it short, like 2-3 minutes.