TEFL Course in India Online: TEFL is the course one needs to take to become a qualified teacher of English as a foreign language. TEFL is an acronym for Teaching English as a Foreign Language. Completing a TEFL course enables one to teach English formally anywhere in the world.
A TEFL course online comprises guidelines for the teacher to excel and grow in this particular profession. The course is designed to maximize the performance of a TEFL teacher in the global classroom. Today, we will learn more about the course.
Before opting for the course, one must be aware of the course details, salary offered, fees required and eligibility of the course.
Get to Know More about other types of Course Details in Stream wise, and Category wise.
About TEFL Course Details
The TEFL course will train you to properly plan and deliver well structured and informative English lessons in any part of the world. TEFL courses are well designed and efficient programs formulated to train teachers to deliver effective and informative lessons of English language to students learning English as a foreign language.
TEFL Course Eligibility Criteria
The good thing about this course is that it is open for all and there are not any eligibility criteria that one has to fulfill to be able to do this course. Anybody with minimum eligibility criteria met can do this course.
TEFL Course Duration
The TEFL course work is usually divided into hours rather than months or weeks. There are usually 120 hours that a student needs to devote to the TEFL course work. These 120 hours are usually spread over a period of 10-12 weeks depending on the student. A period of six months is provided to the students to complete the 120-hour course work, but the student can ask for a personal extension if he or she is unable to complete the 120-hour course work due to any reason.
TEFL Course Fee Structure
TEFL Course Fees ranges from anywhere between 15,000-60,000 rupees. The cost varies on the medium of taking the course and the level of the course. You can take a TEFL course both online and in class. There are also different levels of the course that one can choose. In India, there is a bachelor's degree offered in TEFL, a master's degree and also diploma courses.
One can choose from any of the offered degrees depending on their education qualification. The minimum education qualification required for TEFL is a high school graduation certificate with a minimum of passing marks. After completing this course the student will obtain a certificate declaring him or her fit to teach the English language in any other country as a foreign language.
Also, Check
TEFL Course Syllabus
The best TEFL Course in India is divided into different modules. A student has to study and complete all of these modules in the given 120 hour period over six months. These modules are divided into six different sections, each section aiming at a particular topic about the learning of the English language. Majorly, the six sections are as follows:
Section 1 – The principles of teaching and learning
Section 2 – Teaching skills and classroom management
Section 3 – English language basics
Section 4 – Course and classwork planning
Section 5 – Speaking, writing, reading, listening, grammar, pronunciation and vocabulary
Section 6 – Assessing students and reflection
After you complete the six-section module and course work, you will have to take an end assessment to finally obtain your certification.
Job Profile And Salary Offered After TEFL Course
After you complete a course in TEFL, you are open to working as an English teacher in almost any part of the world. Additionally, you can also become a senior teacher of the English language or an academic coordinator in an institution. You can also venture into the field of director of studies. Alternatively, you could also start your own language school. The salaries for someone with a TEFL degree in India start from 50k a month and can go up to as much as 3L per month.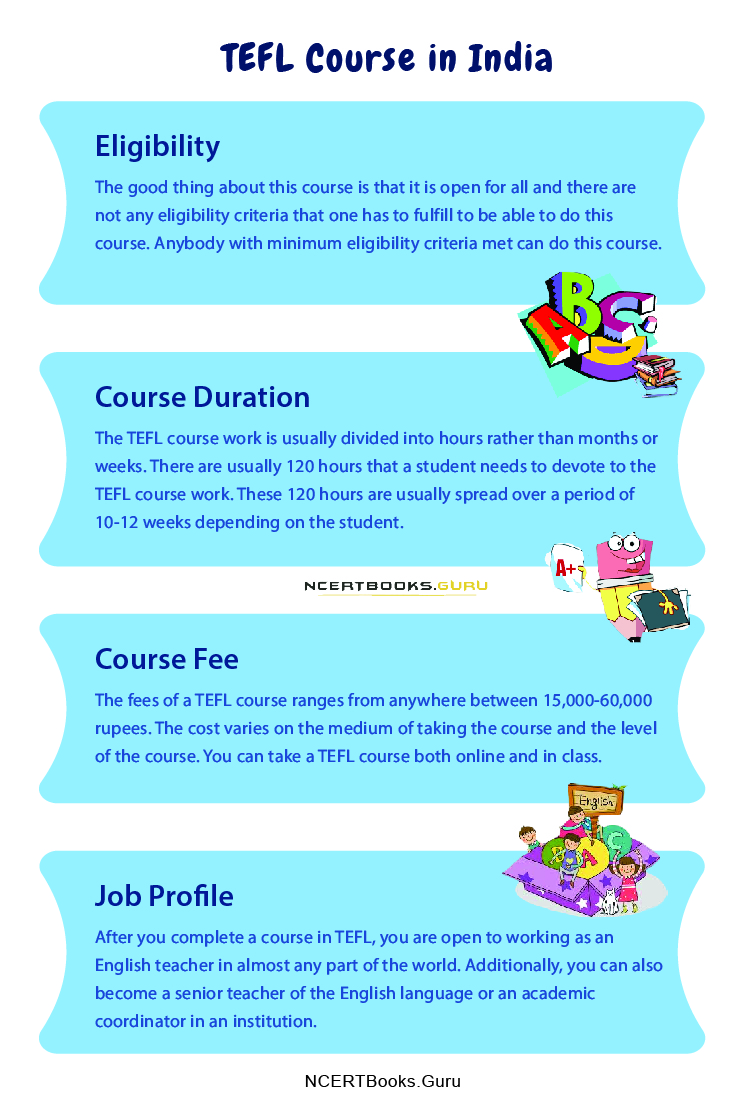 Question 1.
What does TEFL stand for?
Answer:
TEFL full form is Teaching English as a Foreign Language.
Question 2.
When can I opt for a TEFL degree?
Answer:
You can opt for a TEFL degree at any point of time in your career butyou need to have a minimum qualification of a high school degree to pursue this course.
Question 3.
What are the benefits of a TEFL degree?
Answer:
After getting a degree in TEFL you can not only teach the English language in any country but can also secure a good position working in Indian schools and educational institutions.
Question 4.
How long will it take me to get a TEFL degree?
Answer:
Getting a TEFL degree requires you to study all the provided material and modules by attending virtual or offline classes. You can easily finish the coursework is prescribed 120 hours over a period of six months.