Software Engineering Courses After 12th: 'What after class 12?' This is the common question students asked to the twelfth-standard students. Well, needless to mention, engineering is the most common answer for science students and recently, software engineering has become the most sought-after course for graduation.
Software engineering is in high demand nowadays. Everyone wants a software engineer, and the scenario will definitely not change soon. Dear students, we understand your need for proper guidance and help. Today, we will look at the list of Software Engineering Courses after the 12th standard.
Why Pursue Software Engineering Courses After 12th?
The world has shifted towards digitization. Technology has become ubiquitous. There is an increasing business demand for big data and analytics, cloud computing, artificial intelligence, etc.
A degree in software engineering equips the students with IT skills that they can apply in various fields. Software engineers use their vast knowledge to create and maintain computer software. Additionally, it also opens up various pathways like app development, website development, etc. Thus, it can be very well understood that a software engineer will always have high demand. A company might employ candidates specializing in a particular field of computer engineering or a generalized field.
List of Software Engineering Courses After 12th
Software Engineering Courses to Pursue after the 12th are as under
B.Tech in Computer Science
B.Tech in Information Technology
B.Tech in Software Engineering
BCA
Diploma in Information Technology
Bachelor of Technology in Computer Science
BTech CSE or IT is a 4-year undergraduate program in India. This course teaches about both software and hardware, namely software development, software engineering, computer networking, etc. If you want to explore the programming field, opt for computer science engineering.
Eligibility: Students need to pass class 12 with physics and mathematics as the core subjects and three extra subjects to be eligible for most of the engineering examinations, including JEE Mains and JEE Advanced.
Admission: Lakhs of students compete for the seats of IITs and NITs every year. Apart from these, there are a plethora of engineering colleges in India accepting JEE scores or conducting their own entrance examination scores.
Careers: The primary focus of this immensely versatile degree guarantees a brilliant future where one can either opt for jobs or pursue higher education to gain expertise in the domain. Demand for computer science engineers is very high. As a result, a course in B.Tech CSE offers various job profiles like software developer, software engineer, data analyst, and game developer, to name a few.
See More: How to Become a Software Developer in India
B.Tech in Information Technology
Though Computer Science and Information Technology are almost similar, they have minor differences in the curriculum. While computer science engineering focuses on creating various computer programs using hardware and software skills, information technology engineering focuses on the selection and applications of those software programs for the tasks in the industry.
Eligibility: Aspirants should have passed the class 12 examinations from a recognized institute to be eligible to sit for the various entrance examinations.
Admission: Entrance to Information Technology engineering is done similarly. Besides clearing the basic eligibility criteria after passing the twelfth standard, students need to clear entrance examinations like JEE Mains and JEE Advanced to get admission to various engineering colleges.
Careers: IT specialists are needed in all sectors. Thus, job openings for IT students are very high.
Study about various course details all in one place and make the most out of them to decide on the right course.
B.Tech in Software Engineering
As with most engineering degrees, BTech software engineering is a four-year UG course. This program solely focuses on computer software. It trains students to develop, integrate and modify computer software.
Software engineering is a branch of computer science engineering. The number of colleges offering software engineering as an undergraduate degree is less in number comparatively although many colleges offer the same in master's degree. Top colleges include Delhi Technological University, SRM Institute of Science and Technology, Vellore Institute of Technology, etc.
Eligibility: Students need to pass their class 12 examinations in the science stream from a recognized institute. It is recommended to keep the minimum percentage above 75 since many colleges keep that as a requirement.
Admission: Most of the colleges admit students based on their performance in common engineering entrances like JEE Mains, WBJEE, VITEEE, MHTCET, etc.
Careers: Digitization has created a huge demand for software engineers. Top recruiting companies are Google, Microsoft, Oracle, Adobe, and IBM India, to name a few. The average package for IIT students ranges from 15 to 20 lakhs per annum, whereas for students of other AICTE-approved colleges, the average package ranges from 3 to 5 lakhs per annum.
BCA(Bachelor of Computer Applications)
BCA is a full-time three-year undergraduate course. This course focuses on software development, computer applications, computer programming, and networking, to name a few.
Eligibility: Students from any stream can apply for BCA. Candidates need to pass their class 12 examinations with a minimum of 50%.
Admission: Admission for the BCA course is done in two ways: merit-based and entrance-based. Top BCA colleges include Christ University – Bangalore, VIT Vellore, SRM Institute of Science and Technology, and Birla Institute of Technology [BIT Mesra], Ranchi.
Careers: After completing BCA, students can either opt for jobs in professions like software developer, data scientist, data analyst or pursue higher education. Both the public sector and the private sector recruit BCA graduates. Thus, if you want to make a career in the computer applications field, BCA will be the most appropriate course for you.
You can even refer to our article on BCA Syllabus to know more about the subjects to study.
Diploma in Information Technology
A diploma in Information Technology is one of the best short-term courses in software engineering. It is a one-year course. Students must have a knack for technology to excel in this field.
Eligibility: A candidate must pass his/her class 12 examination. Different colleges demand different minimum percentages.
Admission: Admission to various colleges is done both on merit and entrance-based. Top entrance examinations are AP Polycet, HP PAT, APJEE, etc.
Career: Depending on the choice of students, there are various roles, such as software developer, web developer, IT programmer, IT specialist, etc.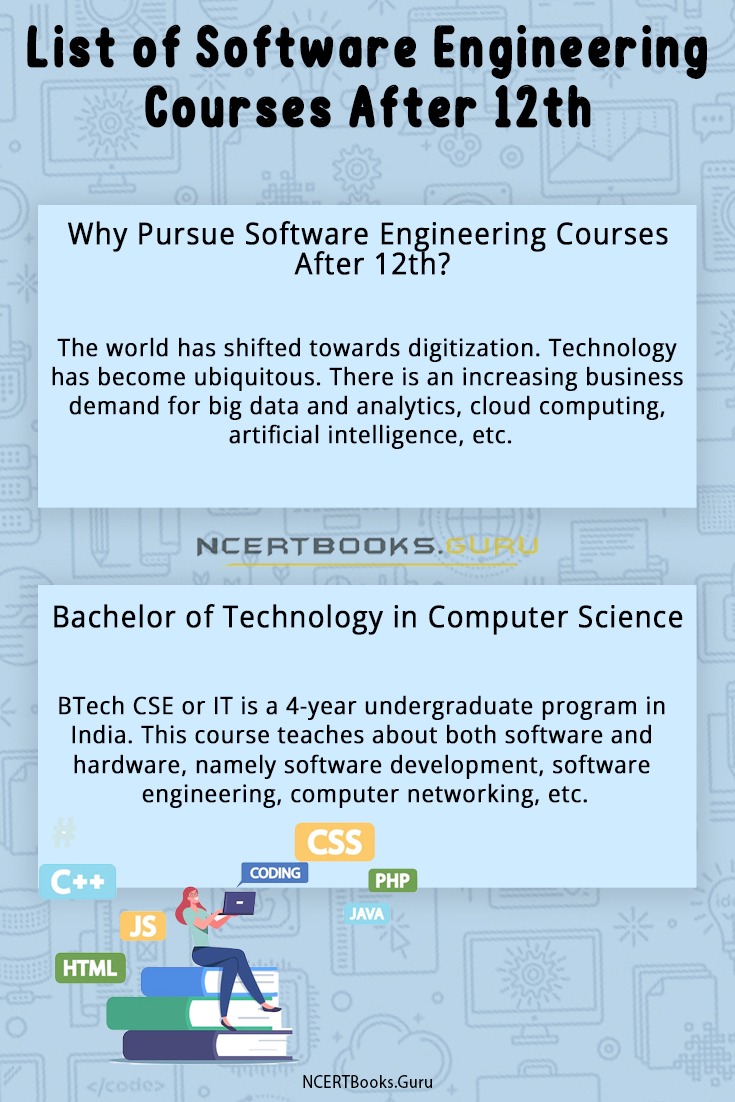 FAQs on Software Engineering Courses after 12th
1. Which course is the best after the 12th for software engineering?
There are various software engineering courses like BTech Software Engineering, BTech Computer Science Engineering, and BTech Information Technology engineering, all of which have bright future scopes.
2. Can I become a software engineer after 12?
You need to pursue an undergraduate degree after your 12th standard on software engineering to become a certified software engineer. For example, courses like BTech in Computer Science or BTech in Information Technology train students in software engineering.
3. Is JEE required for software engineering?
JEE is required to get admission in most of the engineering colleges in India, but one can also pursue software engineering without appearing for JEE. In that case, they either need to get admitted to colleges that don't require JEE marks or opt for a BCA degree.
Conclusion
Once you complete your twelfth standard, take your time and decide the right course for you. All the above courses are equally rewarding in their own ways. Think wisely and choose the best software engineering course for you!