NCERT Solutions for Class 7 Geography are created to help students develop their fundamentals on the concepts. The use of 7th Std Geography NCERT Book Solutions is that they ensure a smooth and easy learning experience for advanced topics too. The comprehensive view of the prescribed CBSE syllabus of Geography can be seen by referring to the Grade 7 NCERT Solutions of Geography.
Test your knowledge of concepts by practicing from NCERT Solutions for 7th SST Geography & other resources like MCQ Questions for Class 7 Social Science Geography with Answers, CBSE Lecture Notes, etc. You can download these chapterwise NCERT textbook questions and answers in PDF format from this page so score well in the exams.
NCERT Solutions for Class 7 Geography PDF Download
Geography is a very interesting subject that uncovers the mysteries of our mother earth. Class VII works as the foundation block for a higher level of geography. National Council of Education Training and Research (NCERT) designs and publishes geography books to students. CBSE schools across nationwide follow the NCERT Books.
While exam preparation, central and state board students choose the best study resources. Here, NCERT Solutions for Class 7 Geography is the perfect material to learn and understand the concepts covered in each and every chapter. Download the CBSE Class 7 Geography NCERT Textbook Solutions in PDF from the quick links available & ace up the preparation.
NCERT Class 7 Social Science Our Environment Chapterwise Solutions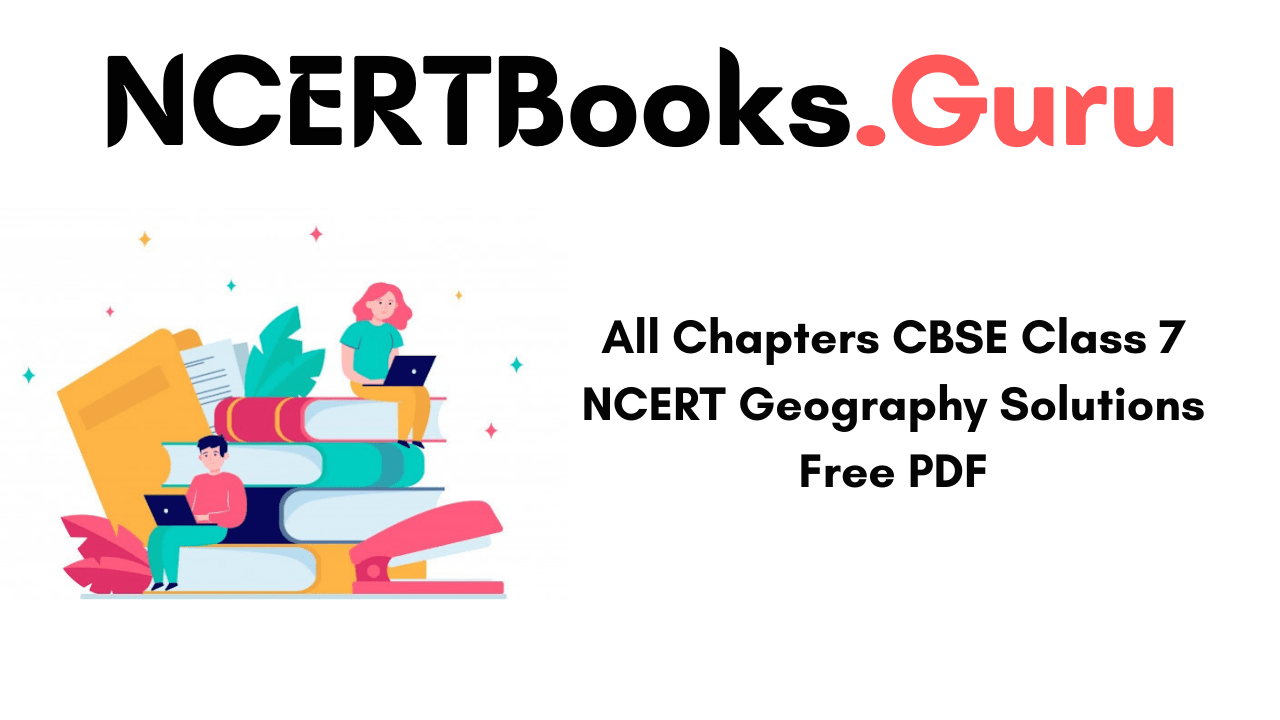 Why refer our NCERT Solutions for CBSE 7th Class Geography?
A few important reasons behind why trying our NCERT Solutions of Class 7th Geography are listed out below. Have a look at them and know why?
The answers in the NCERT 7th solution book of Geography are explained properly with examples and illustrations for a better understanding of the concepts to students.
It also helps teachers to understand the examiner's point of view and provide a better perspective to their students.
After doing ample research on students, we understand their dilemma in terms of answering questions. So, we have tried to explain every answer in the most accurate way.
NCERT 7th Class Social Science Solutions Geography all 10 chapters are presented aptly and as per the latest & updated CBSE examination trend and pattern.
FAQs on CBSE Class 7 Geography NCERT Book Solutions PDF
1. Why Ncertbooks.Guru offered NCERT Solutions Books are important for preparation?
NCERTbooks.guru aims at delivering quality education to all students. You can download the NCERT solutions for class VII geography without any signup or login. Also, explore more about the hassle-free NCERT Solutions Guide.
2. Why it is necessary to prepare from NCERT Solutions for Class 7 Geography?
Preparing the questions and answers from NCERT Solutions for class 7 geography PDF is very essential to make learnings of the geography concepts easy and quick.
3. How to download NCERT Class VII Geography Solutions PDF?
All you need to do is tap the quick links available on our page and download the NCERT Class 7 Geography Solutions in PDF for free.
Final Words
Choosing the above downloadable links of NCERT Solutions for Class 7 Geography PDF will be the best choice for the students to cover the entire syllabus while preparation and revision. So, without any further delay let's download the CBSE 7th Geography NCERT textbook solutions and kickstart your preparation.
For more study resources reach out to NCERTbooks.Guru & avail all the latest NCERT Books, NCERT Solutions for all other classes, MCQs, etc.