NCERT Books and NCERT Solutions are excellent choices for the CBSE students for their preparation and gaining subject knowledge and also it comes very handy for them during revision. Well, if you are finding ways to attain NCERT Solutions for Class 11 English Woven Words Essay PDF then you are on the right page.
Today we have come up with our subject experts prepared NCERT 11th English textbook solutions for woven words essay in pdf format. So, students who are willing to practice all the questions covered in the NCERT Textbooks can rely on these PDF formatted chapterwise CBSE class 11 English woven words essay solutions of NCERT.
NCERT Solutions For Class 11 English Woven Words Essay – Free PDF Download Chapter wise
Here are the links to download all chapter's comprehensive NCERT Solutions Class 11 English Woven Words Essay PDF. All of these solutions are designed strictly by following the latest CBSE pattern and NCERT Guidelines. So, students are advised to trust these solutions and ace up their preparation by downloading them via quick links available.
All the woven word essays available in the NCERT solutions were drafted after doing ample research on the topics prescribed in the updated 2021-22 CBSE Syllabus. Students can quickly refer to this NCERT Class 11 English Woven Words Essay Solutions Book for any type of content and do prepare for the exams thoroughly and score top.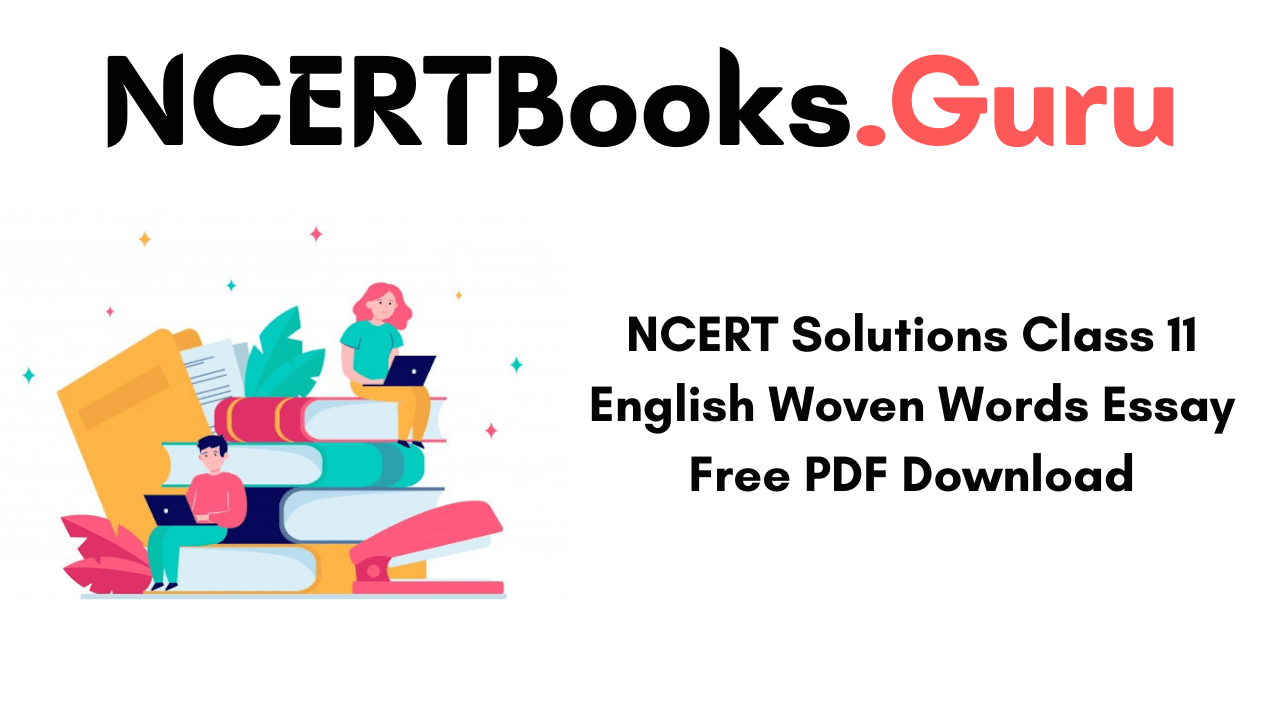 FAQs on Class 11 NCERT Solutions for English Woven Words Essay
1. Where can I find the reliable NCERT Solutions for class 11th English woven words essay? 
You can easily find reliable and trusted NCERT Solutions for class 11th English woven words essay chapter-wise pdfs on our website page @Ncertbooks.Guru
2. Is NCERT 11th Class English Textbook Solutions for Woven Words Essay help to score high? 
CBSE Class 11 English NCERT Solutions are designed by our experienced in-house subject experts as per the CBSE standards so it makes students prepare well and score high in the exams.
3. What are the Key Features of NCERT Books Class 11 English Woven Words Essay PDF? 
Students get a clear knowledge about the concepts covered in the chapters of English Woven Words Essay by NCERT Class 11 Solutions.
Also, with the help of these 11th English NCERT Solution Woven words essay books pdf kids can easily assess their knowledge gap and work on it accordingly.
NCERT Solutions for 11th English and MCQ Questions for class 11 English with Answers are two main study materials for achieving the academic year 2021-22 goals.
Conclusion
We hope the knowledge shared above regarding Chapterwise NCERT Solutions for Class 11 English Woven Words Essay PDF Download benefitted you to the fullest. If you need to clear any other queries or want to give any suggestions for us do drop your comments so that our team can guide you. However, get in touch with NCERTBooks.Guru and avail the latest updates on NCERT Books, MCQs with Answers, NCERT Solutions of other Classes.