India has a number of national highways. National Highways link far parts of the country. NH's plays a vital role in advancing the country's infrastructure and these Indian National Highways are the main road systems as they connect the northern, southern, eastern, and western parts of India with each other. National Highways Authority of India (NHAI) or Central Public Works Department (CPWD) is the one who took care of these road systems right from construction to maintenance.
Plenty of important National Highways works in North-South and East-West directions. The historical & old Sher-Shah Suri Marg is known as No.1 National Highway, between Delhi and Amritsar. In recent times, NH 44 is the longest highway in India, starting from Kanyakumari in Tamil Nadu to Srinagar of Jammu and Kashmir. According to the old records, the name of this national highway is NH 7, whose northern end was Varanasi of Uttar Pradesh. If you want to study in-depth knowledge about the longest national highway in India, go through this article completely by using the quick links given below.
This Blog Includes:
About Longest Highway in India
As of April 2019, India has 142,126 km (88,313 mi) of National Highways which are constructed and managed by the National Highway Authority of India (NHAI), the National Highways and Infrastructure Development Corporation (NHIDCL), and the public works departments (PWD) of state governments. Students & learners who are reading about the longest highway in India should retain that Indian NH's join every major city of India from north to south to east to west.
Once you learn the basic information about the Indian national highway then it can be very easy to understand the Longest Highway in India. As per the records, NH 44 is the longest National Highway in India. The old name of National Highway 44 (NH 44) was National Highway 7 (NH 7).
The distance of NH 44 is 3,745 km long and it includes the North-South Corridor of NHDP. It begins from Srinagar in the north and ends in Kanyakumari in the south. The NH 44 highway has come into existence by fusing seven major national highways of old numbers that cover NH 1A, NH 1, NH 2, NH 3, NH 75, NH 26, and NH 7. Check out the Top Ten longest national highways in India from the below table.
Also Refer: Largest and Smallest States of India
Top 10 Longest National Highways In India – Full List
| S. No | National Highway | Distance (in km) | Route |
| --- | --- | --- | --- |
| 1 | NH 44 (old NH 7) | 3,745 | Srinagar to Kanyakumari |
| 2 | NH 27 | 3,507 | Porbandar in Gujarat to Silchar in Assam |
| 3 | NH 48 (old NH 8) | 2,807 | Delhi to Chennai |
| 4 | NH 52 | 2,317 | Sangrur, Punjab to Ankola, Karnataka |
| 5 | NH 30 (Old NH 221) | 2,040 | Sitarganj in Uttarakhand to Ibrahimpatnam in Andhra Pradesh. |
| 6 | NH 6 | 1,873 | Jorabat in Meghalaya and terminates at Selling in Mizoram |
| 7 | NH 53 | 1,781 | Hajira in Gujarat and Pradip port in Odisha. |
| 8 | NH 16 (Old NH 5) | 1,711 | East coast of West Bengal to Chennai in Tamil Nadu. |
| 9 | NH 66 (Old NH 17) | 1,622 | Panvel and terminates at Kanyakumari |
| 10 | NH 19 (Old NH 20) | 1,435 | Delhi to Kolkata |
| 11 | NH 34 | 1,426 | Gangotri Dham in Uttarakhand to Lakhnadon in Madhya Pradesh |
Map of NH 44 – Longest National Highway in India
This longest highway covers the range from Srinagar to Kanyakumari(North-South Corridor) with a length of 3700km. Check out the map from the below image and remember the highlighted points about the Indian longest highway.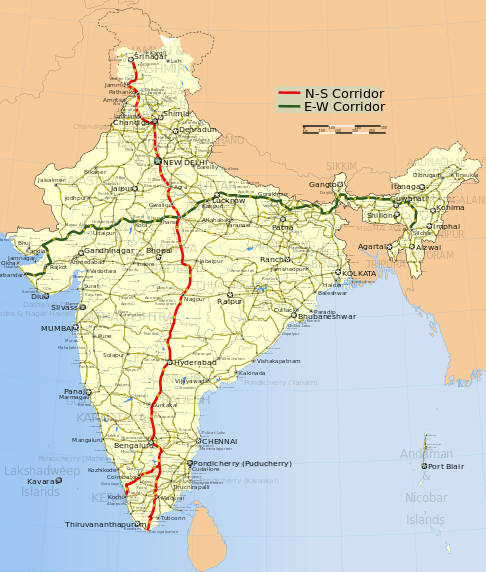 List of Cities That Covered By NH 44
The main cities through which the highway NH 44 passes beginning from the north are enlisted here:
Srinagar
Anantnag
Domel
Jammu
Pathankot
Jalandhar
Ludhiana
Ambala
Kurukshetra
Panipat
Sonipat
Delhi
Faridabad
Mathura
Agra
Gwalior
Jhansi
Sagar
Lakhnadon
Seoni
Nagpur
Adilabad
Nizamabad
Kamareddy
Hyderabad
Kurnool
Anantapur
Bengaluru
Salem
Namakkal
Karur
Dindigul
Madurai
Tirunelveli
Kanyakumari
Important Facts About Longest & Shortest Highways in India
Here are some facts regarding the Indian longest highways. These points are very important & helpful for students to answer General Knowledge Questions in the appearing various competitive exams & govt exams. So, take a look at these facts and get a good grip on the details of the longest highway in India.
India has the second-largest road network in the world.
Nearly 200 national highways and their cumulative length add up to 101,011 km. The total length of state highways in India adds up to 1,31,899 km.
The main highway is of a 2-digit number and all the highways that are enumerated in three digits are technically branches to the main highway.
For instance, 144 number highway is a secondary branch of highway number 44. These are further divided into sub-divisions and noted with a suffixed alphabet, like 144A, 244A, etc.
The national highways consume only 1.8% of all Indian roads. Yet they control 40% of road traffic in the country.
The longest highway in India is NH 44 and it connects the cities from Srinagar to Kanyakumari.
Leh-Manali Highway is the world's second highest-altitude motor highway that connects Shimla in Himachal Pradesh to Leh in Jammu and Kashmir.
Facts about National Highways Colors:

Yellow and white color is for national highways.
Green and white for state highways
Black and white is for city highway

The smallest national highway is NH 118 along with NH 548. NH 118 connects the cities from Asanbani to Jamshedpur in the state of Jharkhand, running for a distance of only about 5 km. The NH 548 crosses the state of Maharashtra for about 5 km in length.
FAQs on Longest National Highways of India
1. Is NH 44 same as NH 7?
National Highway 44 (NH 44) is the longest highway in India and prior it was known as NH 7 with 3,745 km long and covers the North-South Corridor of NHDP. So, NH 44 and NH 7 are the same.
2. Which cities does the National Highway 44 connect?
NH 44 connects the cities right from Srinagar in the north to Kanyakumari in the south.
3. What is the new name of NH 8?
Even after 7 years also old highway names were changed. So, NHAI mentions the Delhi-Mumbai stretch as NH-8 previously and now its new name is NH 48.
4. Which is the smallest highway in India?
The smallest national highway in India is NH 118 as well as NH 548.