How to become an IAS Officer: In this article, we are going to be talking about, what is known as the most coveted job in the country and one that every middle-class Indian dream to be, Indian Administrative services
Indian administrative services or the IAS is the administrative arm of the All India services, which comes under one of the three pillars of Indian constitution, the Executive. It is undoubtedly the premier most service in India, only next to the other two arms of All India services, Indian Police service and Indian Forest Service.
Let us briefly discuss the History of IAS
What is the history of IAS in India?
The Civil Services, or its Civil Servants, is derived from the administrative principals of ancient India, mostly from the books of Kautilya's Arthashatra. But ever since the end of Mughal rule and the British entered India, the East India Company introduced a system of covenanted (Higher Civil Services) and the uncovenanted (Lower Civil Services) officers, who were selected on patronage rather than merit.
As Indian progressed under the British regime, civil services also gt updates and mostly got influenced by the British system of civil services. Patronage system was abolished and a competitive examination was introduced for the first time. This was the first time an ordinary Indian got into the power corridors of India. And ever since this introduction, there has been no looking back for the Indian Civil Services.
After independence, several administrative reforms were bought and the civil services constantly got updates. From Right to Information to women participation to reservation systems, changes were brought in gradually and systematically into the system, according to the needs and demands of the country.
Now that we know the brief history of how IAS evolved over time, let us understand what an IAS officer does. The role and powers of an IAS are important to know, especially for students who want to sit for the examination, so that they are well informed about what lies ahead of them.
Roles and responsibilities of an IAS officer
Policy implementation

An IAS main function is to be the ear-piece and an eye-piece to the leaders or ministers. They are responsible for the proper implementation of policies. They are involved in the framing of policies since they are the actual foot-soldiers for the government and have enough knowledge of the ground realities.

Supervision

An IAS officer doles many hats within his region and state-cadre if required outside his state cadre as well. From working for election commission during election time to working with the defence during an emergency time, an IAS officer supervises every aspect of the administration given to him, at any time of the year.

Disbursement of funds

IAS officers are responsible for the timely and proper distribution of government funds in their districts to the required authorities and organizations.

At the beginning of their career, IAS officers join the state administration at the sub-divisional level, as a sub-divisional magistrate, and look after law and order, general administration and development work in the area under their charge.
Who is eligible to become an IAS Officer?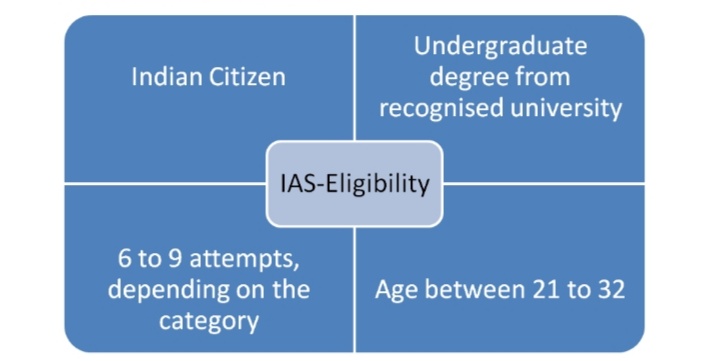 What are the various IAS roles you get once you clear the exam?
The following are the titles you will get once you become an IAS officer. Of course, each of them varies according to your experience in service and competency
Under Secretary
Deputy Secretary
Director Joint Secretary
Additional Secretary
Cabinet Secretary
Additional District Magistrate
Joint Secretary District Magistrate
Deputy Commissioner
Special Secretary Head of Departments Secretary
Principal Secretary,
Financial Commissioner
Chief Secretary Constitutional Authority
Now let us come to the crux of this article,
How to become an IAS officer?
There is an examination known as Civil Services Examinations which is conducted every year by Union Public Service Commission. One needs to clear this exam to become an IAS officer. And it is not just about clearing the exam, one needs to to get the top rank, at least in the top 100, to become an IAS officer. Every year at least 1500 students get ranking, in about 10,00,000 students who give the examination and out of these, only the top 100 or top 150 get to become an IAS officer.
It is the toughest exam in the world, for a reason!
It does not just take hard work and dedication, but an ounce of luck is important as well!
What is the UPSC Exam Pattern?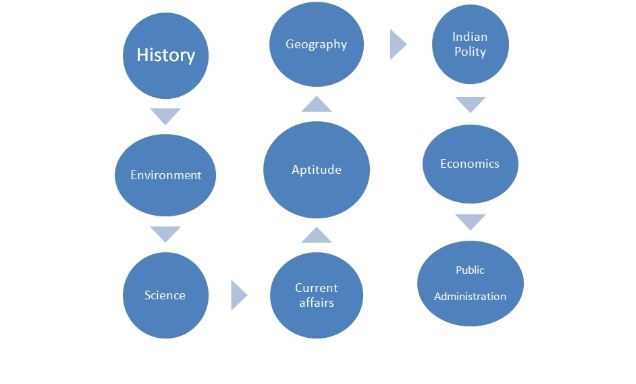 The IAS Exam or more often called the Civil Services Examination is conducted in 3 stages. The entire process takes almost a year:
Stage I– Preliminary Examination (usually conducted in May/June, results by August)
Stage II– Main Examination (usually conducted around November, results by February/March)
Stage III– Interview (usually conducted over March/April, final results announced a few days before the next preliminary exam.

What is the preliminary examination?
Prelims, as it is popularly known as among students, is conducted with the objective of weeding out non-serious students. It is just a screening test, but the difficulty of this stage of the exam is still up to the mark!
The following are the features of this exam:
It contains multiple-choice questions
The total marks of the exam are 400
Each paper has 200 marks
2 hours is the time allotted for each paper
Blind and differently-abled candidates are allotted 20 minutes extra for each paper
the marks obtained in this test are not counted for determining the final order of merit of a candidate if he qualifies for the main exam as well.
One-third negative marks for wrong answers marked by a candidate in the objective type question paper
The medium of the question paper in both English and Hindi.
CSAT or Civil Services Aptitude Test as it is officially known underwent major syllabi changes since 2011.
This exam contains two papers
General Studies paper 1
General Studies paper 2
Let us discuss each of the paper in a brief
General studies paper 1:
The syllabus for this paper is:
Current events of national and international importance
History of India and Indian National Movement
Indian and World Geography – Physical, Social, Economic Geography of India and the World
Indian Polity and Governance – Constitution, Political System, Panchayati Raj, Public Policy, Rights Issues, etc.
Economic and Social Development Sustainable Development, Poverty, Inclusion, Demographics, Social Sector initiatives, etc.
General issues on Environmental Ecology, Bio-diversity and Climate Change – subject specialization not required.
General Science
General studies paper 1:
The syllabus for this paper is:
Comprehension
Interpersonal skills including communication skills
Logical reasoning and analytical ability
Decision-making and problem-solving
General mental ability
Basic numeracy (numbers and their relations, orders of magnitude, etc.) (Class X level), Data interpretation (charts, graphs, tables, data sufficiency etc. – Class X level)
Candidates should score a minimum of 33% in this paper to qualify for the mains examination
How to prepare for prelims?
Well, different students have different styles and methods for preparing this exam. Preparing for prelims is different from preparing for mains. Prelims require more of memory power and mains require more of analytical power to clear.
Stage 2- Civil Services – Main Examination – Exam Pattern
This exam contains 9 papers. The main examination will have
·         2 qualifying papers
·         7 papers to be counted for merit.
·         All the 9 papers will have essay-type questions.
Let us discuss each of the papers
Paper A
(300 marks)
 – One of the Indian Language to be selected by the candidate from the languages included in the 8th Schedule to the Constitution
Paper B
(300 marks) – English
The papers on Indian Languages and English (Paper A and Paper B) will be of matriculation or equivalent standard and will be of qualifying nature. The marks obtained in these papers will not be counted for ranking.
However, paper A on Indian Language will not be compulsory for candidates hailing from the states of Arunachal Pradesh, Manipur, Meghalaya, Mizoram, Nagaland and Sikkim.
The following are the papers that are counted for merit and ranking
Paper 1- Essay for 250 marks
Paper 2- for 250 marks
General Studies – I
(Indian Heritage and Culture, History and Geography of the World & Society)
Paper 3- for 250 marks
General Studies – II
(Governance, Constitution, Polity, Social Justice and International relations)
Paper 4- for 250 marks
General Studies – III
(Technology, Economic Development, Bio-diversity, Environment, Security & Disaster Management)
Paper 5- for 250 marks
General Studies – IV
(Ethics, Integrity and Aptitude)
Paper 6 and paper 7- for 250 marks each
Optional subjects, which are:
Agriculture
Animal Husbandry and Veterinary Science
Anthropology
Botany
Chemistry
Civil Engineering
Commerce and Accountancy
Economics
Electrical Engineering
Geography
Geology
History
Law
Management
Mathematics
Mechanical Engineering
Medical Science
Philosophy
Physics
Political Science and International Relations
Psychology
Public Administration
Sociology
Statistics
Zoology
Stage 3- Interview
Qualifying candidates are shortlisted for a Personality Interview for 275 marks.
Basic tips to prepare for IAS Examination:
Start your preparation at least 8 months before the commencement of the first stage of the exam
6 hours of dedicated studies are important. Rember the objective of the test is to weed out candidates who are not serious about the examination
Start with reading basics, like NCERT or ICSE school textbooks, for all the subjects
Revise, revise and revise
Make notes and keep revising them. Revision is the key
Refer only one good book for each subject. Studying one book thoroughly is better than studying 10 books
Make a Time Table
To become an IAS, it is necessary to be like an officer with a well-organized daily routine.
You should set a comfortable timetable before your preparation and stick to it.
Making a timetable will ease your preparation and make it more streamlined. With deadlines, you would work better and complete the syllabus faster.
Maintain a healthy lifestyle and eating habits. This helps you stay focused throughout the preparation of the course
Qualities you need to have to become an IAS officer:
It is true than an IAS officer should be a jack of all as well as a master of all. It is also true that he/she should know everything on this planet. But there are certain must-have qualities to crack the exam and become an IAS officer to run the country efficiently
Leadership
Administration skills
Knowledgeable
A strong and robust approach
Good Communication Skills
Honest and ethical
Creative and innovative
A true patriot
Here is a list of a complete set of textbooks you need so that you can crack each and every paper well
History: NCERT Class VI – Our Past
History: NCERT Class IX – India and the Contemporary World – I, II
History: NCERT Class X – Themes In World History
History: NCERT Class XII – Themes In Indian History – I, II, III
Indian Polity

1. Indian Polity by laxmikant
2. AN introduction to the constitution by D D Basu
3. NCERT Books
Indian Society: NCERT Class VI – Social Science: Social & Political Life I, II, III
Indian Society: NCERT Class XI – Sociology: Understanding Society
Indian Society: NCERT Class XII – Indian Society
Indian Society: NCERT Class XII – Social Change and Development in India
IAS aspirants can also refer the class 12 book for Sociology.

Art and Culture

Art & Culture: NCERT Class XI – An Introduction to Indian Art
Art & Culture: NCERT Class XI – Living Craft Traditions of India (Chapters 9 & 10)

Geography
Old NCERT books
Physical Geography
OLd Atlas
General Studies Paper-II:
Polity: NCERT Class IX – Political Science: Democratic Politics Part – I
Polity: NCERT Class X – Political Science: Democratic Politics Part – II
Polity: NCERT Class XI – Political Science: Indian Constitution at Work
Polity: NCERT Class XI – Political Science: Political Theory
Polity: NCERT Class XII – Political Science I: Contemporary World Politics
Polity: NCERT Class XII – Political Science II: Politics in India since Independence
For Polity: Class 9 to 12 NCERT books should be read in detail, with a focus on 11th and 12th (of which World Politics, only if time permits).
Read on for information on which books to read for UPSC GS Paper III
UPSC Books from NCERT for General Studies Paper III:
Economy: NCERT Class IX – Economics
Economy: NCERT Class X – Understanding Economic Development
Economy: NCERT Class XI – Indian Economic Development
Economy: NCERT Class XII – Introductory Microeconomics
Economy: NCERT Class XII – Introductory Macroeconomics
Indian Economy by Ramesh Singh
Indian Economy by Mishra and Puri

Science & Technology

Science: NCERT Class VI
Science: NCERT Class VII
ISRO website
Other online sources

Environment & Ecology

Science: Class XII – Biology: last four Chapters (13 to 16)
For Science: Refer textbooks of class IX and X that would be good enough for your IAS exam preparation.
The next list covers IAS Books from NCERT for Civil Services GS IV.
NCERT IAS Books for General Studies Paper IV
Ethics

NCERT Class XII – Psychology: Not too important from the exam perspective, however good for some basics. Read selectively.
Preparing for the IAS exam is in itself a life-changing experience for students. IT brings out some of the best qualities in you. We hope you enjoy the journey of preparation and reach where you want to be. We hope you crack the exam and become an IAS officer and serve the country well.
All the best!