With Online Videos and Work from Home Opportunities turning around everywhere Video Editing Career is booming. If Video Editing is your Hobby then you would be glad to know that you can make it a Full Time Opportunity or Join Freelancing and Make Money. There are plenty of opportunities out there that gives you money editing videos. Keeping this in mind, we have covered this entire guide on how to become a Video Editor & Different Ways of Making Money Editing Videos.
Let us talk in the further sections about the skills one needs to have in order to become the best Video Editor. Train yourself in Video Editing and start earning money from multiple sources.
What does a Video Editor do?
The job of a Video Editor is to put moving pictures together to tell a story. Since video pervades all aspects of life video editing is a vast and diverse field. Video Editing Process is a part of
Film production
Every online video and social platform
Corporate training
TV production
Industrial and safety training
Day to day role of a Video Editor includes working closely with the client/team to meet the creative vision of the project. They work using video editing software such as Adobe Premiere or Final Cut Pro.  They can work with a company or even work on a freelancer basis with a variety of clients.
Skills Needed to Become a Video Editor
One needs to have the following skillset in order to become a Video Editor. They are as under
Patience
Eye for Detail
Ability to understand Client Requirements
Creativity and Passionate Interest in Video Editing
High Level of Commitment, Dedication, Self-Motivation
Organizational and Time Management Skills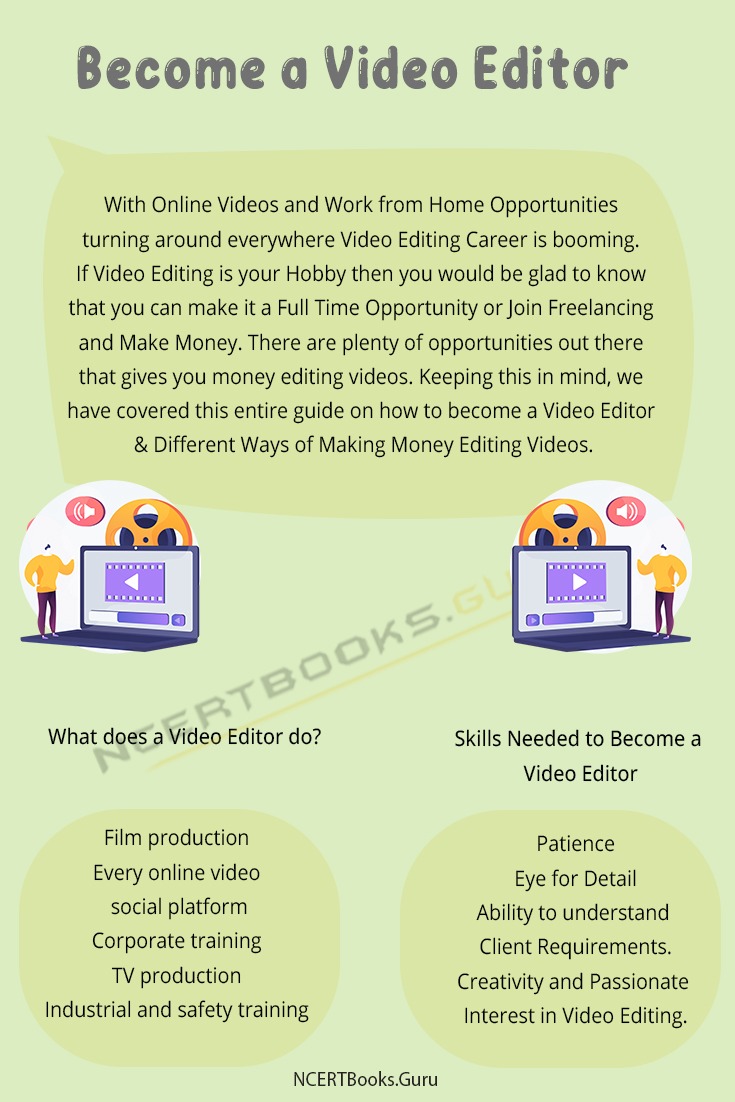 What Qualifications do I need to become a Video Editor
In order to become a Video Editor, one needs to have the following qualification and they are as
Bachelor's degree in film editing or a related degree.
Professional mastery of video and audio editing software programs.
Creative experience in filmmaking and videography.
Ability to multitask and work toward several milestones on various projects simultaneously.
How to Become a Professional Video Editor?
If you are dreaming about a career in Video Editing then go through the below listed step-by-step guidelines. They are as under
Firstly, you need to attend a professional course on video editing be it paid or free.
You can register for some Paid Courses on Udemy, Skillshare, Coursera, Inside the Edit, Larry Jordan,  and many more.
If you are looking out for some free tutorials you can always refer to Youtube Videos that tell you the basics of Video Editing.
Invest your time and efforts in learning the Video Editing Course.
Technical Specifications for a Video Editing Course
To do Video Editing you need to employ these points in mind and choose a device that meets the following specifications. They are along the lines
16GB RAM or more
Good width of the screen, at least 19 inches
Memory card with 2GB space
Multi-core Intel processors, four or more cores
Minimum 256 GB hard drive
Firewire inbuilt port or Thunderbolt Port, built-in or external
The operating system could be Windows 10 and above, Mac or Linux
Ways to Make Money Editing Videos
In this guide, we will discuss some of the best ways how to make money Editing Videos.
Freelance on Sites Like Fiverr, Upwork
In today's world, there are plenty of places online that promote freelance video editing work. Fiverr and Upwork act as a marketing place for people looking out for video editing, graphic designing, writing kind of work. Begin advertising your services and set your price to get work. Thus, make sure you keep the processing fees in mind before setting the price.
Initially, set your price lower than normal and once you get enough reputation you can increase your pricing.
Edit Videos for Local Businesses
Local Businesses usually need to develop video content but don't have enough resources. Projects of them include advertisements, training videos, investor presentations, etc. Seek work from local business owners if they need any help. If don't find any work they might know other businesses.
Do look for non-profit or government organizations like charities, trusts, churches as they might need to promote their services. Initially, build your portfolio and develop a solid reputation.
Edit Wedding Videos Footage
Marriages can be a great business in Videography. Try reaching out to local wedding videographers and offer your services and help them edit footage.
Edit Real Estate Videos
In general, Real Estate Owners need videos to showcase properties they are selling. You can help buyers see the property without actually visiting the property in person. You can even partner with a construction firm and produce videos that highlight a commercial project.
Create or Sell Video Editing Course
Share your knowledge with others if you are an experienced videographer. Help people who are looking for ways to learn the craft and don't know where to begin with. You can teach the course in person or create an online course with instructional videos.
Edit Youtube Videos
Youtube is a fantastic platform to share videos and entertain people. However, not everyone knows video editing and is a professional video editor. You can charge a certain amount to edit these Youtube Videos and make money. Reach out to some Youtubers and provide your services to them.
Educational or Explanatory Videos
Make an explainer video to help the customers better understand the product. Seek such work by creating a series of explainer videos and help clients better understand the video shooting or video editing aspects.
Product or Service Promotional Videos
These days majority of companies are relying on interactive videos to highlight the company's product or services. Companies are creating powerful videos as a part of their pitch and you can create them to earn money.
Tips to increase your earnings from Video Editing
Once you get assignments it's time you increase your earnings. Have a glance at some of the tips to make more money and they are as follows
Practice as much as you can to learn more and become a pro.
Specialize in a niche and build reputation. Do everything needed to become a master in what you do.
Build a strong portfolio so that your clients can see your work before appointing you as editor. You can even do videos on Youtube to draw the attention of clients and place all the best ideas in one place.
 Be fast and prompt so that you don't miss out on opportunities and lose your earnings.
Keep an eye on every minute detail and cross-check once before sending it to the client and make sure your client gets the best work.
FAQs on Editing Videos and Making Money
1. Do I need a degree to become a Video Editor?
No you don't need a degree to become a Video Editor.
2. Is Video Editing hard?
Editing Videos can be simple or complicated as you want to make it.
3. Are Video Editors in demand?
Yes, in the coming years the Video Editors Jobs are about to grow at a faster pace than the average compared to all other occupations.
4. Is Video Editing a good career?
Yes, Video Editing can be a great career and gives you plenty of opportunities your way.