How To Become a PCS Officer In India: India is a country that contains the highest number of people in the world. In such a case, it becomes the responsibility of the citizens of the country to choose a career path that benefits the nation and brings about the changes that help in creating a better tomorrow.
Becoming a PCS officer is a dream that is inculcated in many young minds through day-to-day affairs, social media, or even the silver screen. It is an extremely prestigious and rewarding job. But to get to the epitome of excellence there is a series of dedicated preparation, focus, and time invested altogether that yields positive results.
With extensive preparation hard work and smart work, any aspirant can crack this toughest PCS exam in the country. For acquiring complete course details about the Provisional Civil Service(PCS) Exam, take a look at the further modules where you will find exam qualifications, age limit, exam pattern, syllabus, subjects, exam preparation tips & strategies, job positions, Career options, salary, etc.
What is PCS?
PCS is also known as Provisional Civil Service is one of the most prestigious services that we have in our country. This is an exam conducted by state services and is held every year throughout our country in all the states. Every year people from all over the country prepare diligently and attempt the exam. Much like Union Public Service Commission(UPSC), the PCS exam also helps in recruiting the best possible minds and personnel who are capable of attaining academic success and possess skills for administrative excellence.
PCS Exam Eligibility 2022
To appear for the exam, it is essential to complete the required graduation degree or an equivalent degree. A Government degree stating that the candidate has completed his/her graduation degree is needed to be eligible for this exam. The percentage criteria state a 55% mark in graduation and other equivalent degrees.
Other than the educational qualification, other eligibility criteria are necessary to be adhered to by every candidate willing to appear for the exam. Starting with the age criteria, the mandatory age of every aspirant should be anywhere between 21 years to 40 years. It is ideal to possess a basic qualification in the basic subjects. Hence, it is advisable to get acquainted with NCERT books from the 6th standard to the 12th standard. Doing this can provide you with an extra edge.
Syllabus for PCS
The syllabus for PCS Examination is extremely extensive and it demands the aspirant to be completely well-versed with all the subjects. Making an informed decision helps the students to indulge in strong and balanced preparations. The syllabus is strikingly similar to the syllabus of the civil service examination. Hence, it is advisable to take down every minute detail of the syllabus:
Prelims (Paper 1):
General Science
Current events of National & International importance
Environmental Ecology, Climate Change, and Biodiversity – general issues that do not require subject specialization
Indian History and National Movement
Indian Governance and Polity – Political System, Constitution, Public Policy, Panchayati Raj, Rights issues, etc.
Indian and World Geography – Socio-economic, Physical geography
Social and Economic Development – Demographics, Sustainable Development, Poverty Inclusion, Social Sector initiatives, etc.
SUBJECT
SUB -DIVISION
History
Ancient History Notes

Modern History Notes

Medieval History Notes

National Movement
Modern History Notes
Indian & World Geography
Geography Notes
Indian Polity
Indian Polity Notes
Social & Economic Development
Indian Economy Notes
Environment, Ecology & Climate Change
Environment Notes
Paper 2:
Comprehension
Problem Solving & Decision Making
Interpersonal skills (including communication skills)
Analytical Ability & Logical Reasoning
General Hindi (class X level)
General Mental Ability
Elementary Mathematics (class X level – Algebra, Statistics, Geometry, and Arithmetic)
General English (class X level)
Mains:
Name of exam
State PCS Exam
Number of Papers
Eight:

General Hindi
Essay
General Studies I
General Studies II
General Studies III
General Studies IV
Optional Subject – Paper 1
Optional Subject – Paper 2

Date of the exam
To be notified
Duration of the exam
3 hours each;

Papers will be conducted over a week's duration;
Morning Session – 9.30 AM – 12.30 AM
Afternoon Session – 2 PM – 5 PM

Maximum Marks

General Hindi – 150 marks
Essay – 150 marks
All General Studies papers and Optional subject papers will be of 200 marks each
Total – 1500 marks

Type of Exam

Offline (Pen-paper)

Nature of Questions
Essay/descriptive type
Optional Subjects
Depends on the preference of the states.
Provisional Civil Service Exam Procedure
The exam procedure is similar to the UPSC examination, which means it contains a three-step process. It includes:
Preliminary exam,
Mains exam, and
The final stage is also called an interview round.
The exam procedure is detailed and dedicated to procuring the best minds for the service. Hence, it almost runs for an entire year. At this time, aspirants are expected to attain the best of preparations and attempt the examinations.
Exam Pattern of PCS Examination
The preliminary exam is a Multiple Choice Questions( MCQ) type paper. It involves negative marking, and this is the step where the maximum number of people lose their marks.
The Mains examination on the other hand is a detailed analysis that is done and the marks then are combined with the interview marks that finalize the rank of the candidate. This procedure makes sure that only the students who are extremely serious about the exam as well as their careers in administration attempt for this.
PCS Officer Exam Tips and Tricks
Like any other exam, this examination preparation needs smart work along with hard work. Smart work is what distinguishes you from this race and ensures the positive results of the aspirant.
Here are a few steps necessary for the smart work and are believed to help in a positive result:
Thoroughly going through the syllabus: This exam contains an extensive syllabus. If an aspirant is not aware of the vastness of it, he/she is bound to miss the details. Hence, ensuring the syllabus is well covered is the first step to success.
Extensively studying the basic concepts: The basic concepts are easily skipped by most of the students. Hence, it is essential to complete them initially and then go on with the newer concepts. These help in creating a solid foundation on which to base your preparation.
Detailed NCERT book study: NCERT books specifically from class 6th to class 12th is a must-read for any aspirant, as it helps in the holistic approach and development.
Making smart notes: It is essential to not fall prey to the ready-made material in the markets, rather make your own notes after reading the resources first hand.
Recurring revision of the available resources: Simply making notes cannot be fruitful, it is essential to have repetitive revisions and having a strong grasp of the concepts.
PCS Exam Preparation Strategy
To appear for the PCS examinations, it is essential to have a smart preparation strategy. The competition for this examination is intense and therefore it becomes even more important to understand that there have to be smart ways to complete the same syllabus multiple times and gain perfection over it.
Here are some pointers that help you get through your preparation without any issues:
Keeping your study material minimal and authentic helps to minimize the clutter in your brain.
With crisp notes, it's easy to revise stuff multiple times and be clear with the concepts.
Clarity over the syllabus and notes help bridge the widest gap between failure and success.
The prelims preparation strategy differs from the mains and interview strategy due to the nature of the exam hence, needs a different kind of attention to them
Creating a framework and organized approach towards the entire studying process makes the duration of exams easier for everyone.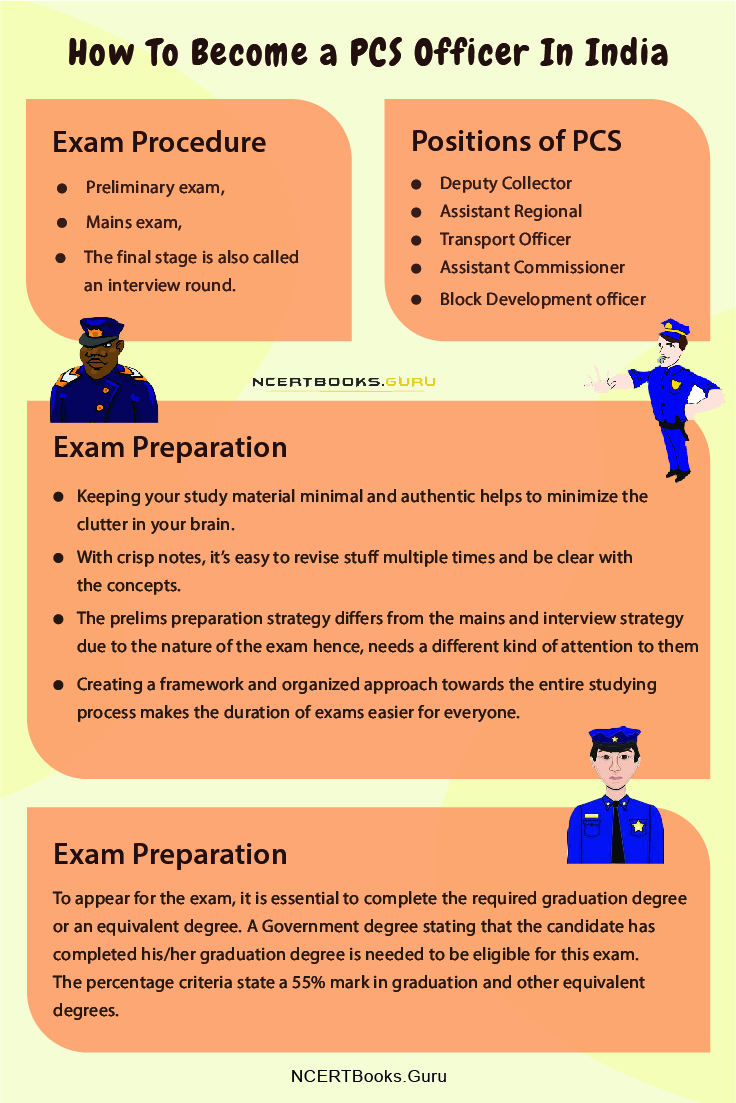 Salary of PCS Officer in India
Salary may differ for every state but a general idea of the salary structure is given below.
| | |
| --- | --- |
| Category | PCS Monthly In-hand Salary |
| Junior Scale | Rs. 38,000 – Rs. 44,000/- |
| Senior Scale | Rs.55,000 – Rs. 60,000/- |
PCS Officer Salary Structure
Salary structure may differ based on state, but it provides a basic understanding of the benefits provided by the state services. Other than the basic salary, a PCS officer in India enjoys the following perks:
65% Dearness Allowance dependent on inflation.
Travel Allowance.
Medical Facilities.
Accommodation.
Electricity and Water Bill.
Study Leave.
Household Helpers and Security.
Free Phone Services
Importance of PCS Previous year question papers
Along with preparation and strategizing about the examination, it is essential to keep a key point in mind. Any success in any of the steps in this examination highly depends on the frequency of the previous year's question paper solved for each exam.
Simply solving it would not make a difference, rather analyzing each paper and creating a strategy and approach for the next set of peppers is necessary. It provides that extra grip and creates a strong grasp of concepts over the topics for the students.
Read More: 
Other Positions of PCS
There are numerous options present in the state category of PCS examinations. Ranging from
Deputy Collector,
Deputy Superintendent of Police,
Block Development officer,
Assistant Regional
Transport Officer,
Assistant Commissioner,
District Commandant Homeguards,
Treasury officers and many more.
Depending on your score you can be suitable for any of the roles when you appear for the State PCS examination.
FAQs on How to Become a PCS Officer in India
1. Why should we opt to prepare for PCS exams?
PCS examinations are a very prestigious examination held by the state service commission of every state in our country. Serving for our country should be the topmost priority for the youth of our country. Hence, it is extremely essential to think about career prospects here.
2. What is the salary of a PCS officer in India?
The pay scale or average pcs salary for recruits in 2022 is completely based on the post and it ranges from Rs. 63000-72000 per month to Rs. 78000-88000 per month.
3. Can a UPSC aspirant attempt the PCS exams?
The syllabus for the PCS examination is quite similar to the CSE exam preparations. Hence students preparing for CSE can easily prepare and attempt the state PCS exam as the students are already familiar with the examination type.
4. Which degree is best for a pcs officer?
Select the graduation degree in your interested field and which helps for the preparation of government exams like UPSC, PCS, etc. In our point of view, the best degrees for pcs officer that you can opt for are BA in History, Geography or Political Science, BSc/BA in economics.