Full-Form of MBBS, MCA, MS /M.Sc, BBA, MBA: One of the most desired subjects in India is MBBS, MCA, MS/M.Sc, BBA, MBA. Almost every student wishes to study one of these subjects mentioned above as they are incredibly essential subjects. Here we will mention some details which will help you to know the details about the topics.
This article talks about the full forms of different courses and their eligibility criteria. These courses include MBA, BBA, Msc., MS, and MBBS. You will get all the necessary details that you need to know about these courses such as top colleges, entrance exams, salary, and eligibility criteria.
Get to Know More about other types of Course Details in Stream wise, and Category wise.
Full-Form of MBBS, MCA, MS /M.Sc, BBA, MBA Highlights
Details about the course
Eligibility to get admission in the course
Skills required for the course
Syllabus of the course
Entrance Examinations for admissions
Fee Structure of the course
Internship options during the course
Career options after completing the course
Expected salary
Full-Form of MBBS
The full-form of MBBS is a bachelor of medicine and bachelor of surgery. This course is mainly for applicants who aim to become a doctor. A person must have academic as well as practical knowledge about the subject. The total duration of this course is 5. years. They also include one year of mandatory internship.
Eligibility Criteria for MBBS
Most medical colleges in the country have their own separate set of eligibility criteria that have to be fulfilled by the candidates. Here are the essential criteria for the course :
Students seeking for medical studies should complete their 10+2 from the science stream.
They should know the fundamentals of Mathematics and also study Physics, Chemistry, and Biology.
Applicants should score a minimum of 50% in 10+2 classes.
OBC or the SC/ST category students need an aggregate of 40% marks.
The student should be above the age of 17 years.
Entrance Exams for MBBS
There are various entrance exams held for medical studies in India. The exams are held at both the national and state level. Some universities have their private set of entrance exams. Students can start planning and study for the entrance exams from class 10 itself. Here are some of the entrance exams held for medical programs in India are:
NEET is the National Eligibility Entrance Test held by the Central Board of Secondary Education.
AIIMS MBBS is the entrance exam taken for admissions into the All India Institute for Medical Sciences.
JIPMER MBBS is the entrance test held for the Jawaharlal Institute of Postgraduate Medical Education and Research.
Full-Form of MCA
The full form of MCA is "Master of Computer Application". It is a postgraduate course in the domain of information technology. It is helpful for applicants who want a career in the IT sector without pursuing engineering. The program is created for the IT field professionals who deal with a lot of technical features of computers.
Eligibility Criteria for MCA
Students who completed a bachelor's degree from any recognized university are qualified for the course.
Students who have completed engineering or BCA are eligible for the MCA program.
General category students can apply if they score a minimum of 55% in their previous exams,
 OBC or SC/ST category students should hold a minimum aggregate of 45%.
Skills Required for MCA Courses
Good command on programming languages such as Java, ASP.NET, Net, C, and C++.
PHP, JavaScript, CSS, HTML, JavaScript, are important for the course
SQL and LINUX will assist in the area of networking.
Get certificate courses in Cisco Certified Network Associate(CCNA), Cisco Certified Internetwork Expert (CCIE) and Cisco Certified Network Professional (CCNP) to become more advanced in the course.
Entrance Exams for MCA
National Institute of Technology Common Entrance Test (NIMCET)
Indian Institute of Space Science and Technology (IIST)
Maharashtra Common Entrance Test (MAH MCA CET)
Odisha Joint Entrance Exam (OJEE)
Vellore Institute of Technology Entrance Exam (VITMEE )
Andhra Pradesh Integrated Common Entrance Test (AP ICET)
Indraprastha University Common Entrance Test (IPU CET)
Telangana State Integrated Common Entrance Test (TS ICET)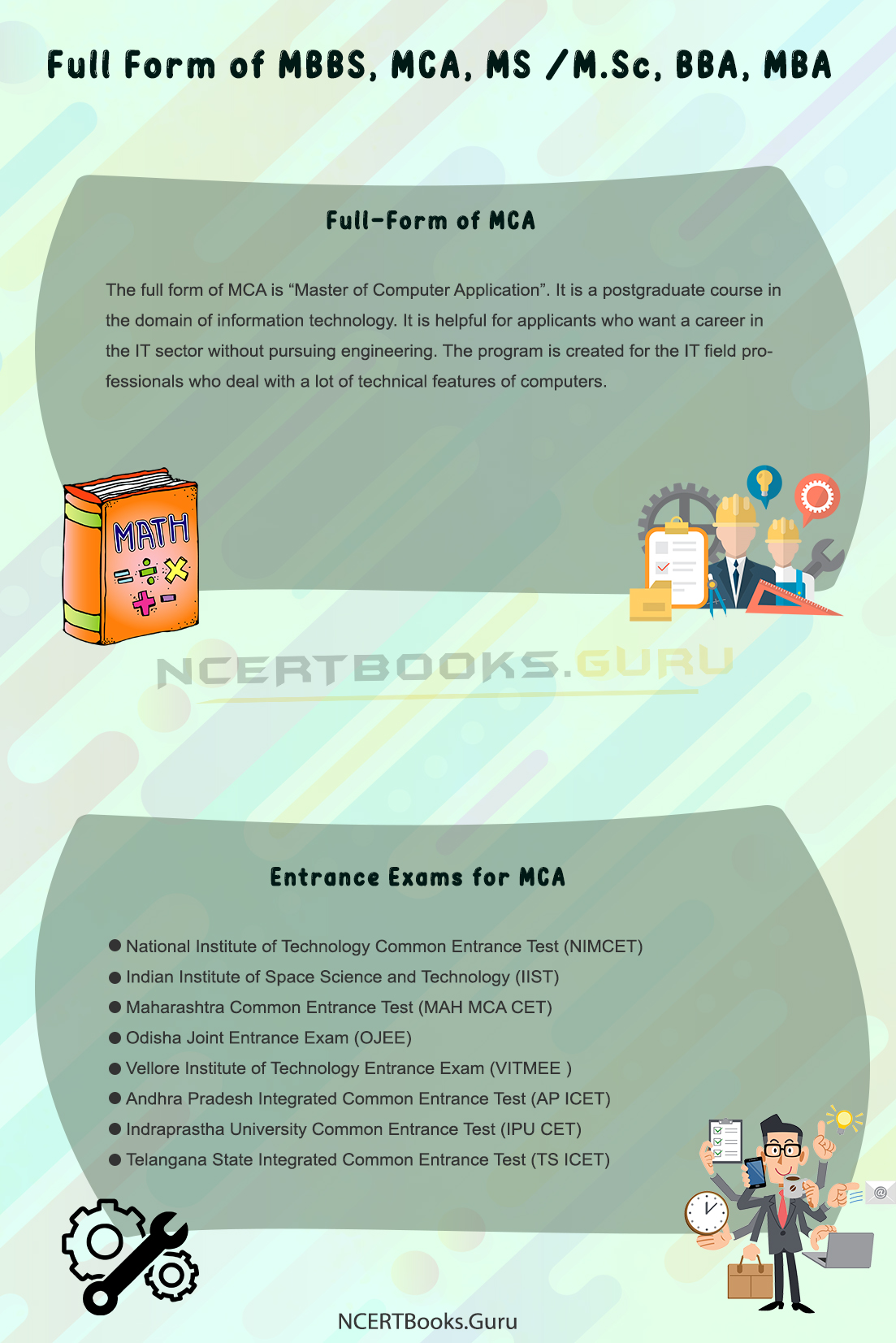 MCA Curriculum
Semester
Theory
Practical 
1st Semester

Paradigms of Programming
UNIX and Shell Programming
Mathematical Foundation of Computer Science
Computer and 'C' Programming
Computer Organization

General Proficiency
Programming lab
Unix/ Linux and Shell Programming Lab
 Organization Lab

2nd Semester

Computer Architecture and Microprocessor
Combinatorial and graph theory
Computer-Based numerical and statistical techniques
Data and file structuring using 'C.'
Organisational Structure and personnel management
Object-oriented systems in C++

C++ Lab
Data Structure Lab
Microprocessor Lab
General proficiency

3rd Semester

Computer Networks
Database Management System
Design and Analysis of algorithm
Internet and JAVA programming
Operating System

DAA Lab
DBMS Lab
JAVA Lab
General proficiency

4th Semester

Elective 1
Computer Graphics and Animation
Foundation of e-commerce Modelling and simulation Software Engineering
Visual Basic

Computer Graphics Lab
General proficiency
Software Engineering Lab
Visual Basic Lab

5th Semester

Elective 2
Elective 3
ERP System
Net Framework and C
Management Information System
WEB Technology

Colloquium
Net Framework & C
WEB Technology Lab
General Proficiency

6th Semester
Job Prospects for MCA
The IT sector has seen a growth in the modern decade and has been expanding. MCA graduates can get jobs in both the private and public sectors. The primary responsibility of an IT professional is developing, testing, and managing the software. Here are a few of the job profiles consigned to MCA graduates :
Computer system analyst
Software Developer
Database administrator
Software Engineer or Programmer
Hardware Engineer
Software Publisher
Project Manager
Senior Technical Consultant
Software Application Architect
Web Developer or Web Designer
Software Consultant
Full-Form of MS/M.Sc
The full form of MS/M.Sc is the same "Master of Science", but the courses are different. MS is a professional program, whereas M.Sc. covers a broad field of knowledge and skills. Applicants who have pursued M.Sc can pursue an MS degree. The duration of the MS course is two years, and M.Sc terms end in 3 years.
Eligibility Criteria  
The eligibility criteria for MS is a bachelor's degree in any field from a recognized university. One should complete 16 years of primary education to pursue an MS degree.
The eligibility criteria for M.Sc is to pass the B.Sc program with a minimum of 60% marks.
The eligibility criteria may differ from one college to another.
Entrance exams for MS/M.Sc
AIIMS PG
IIST
IIT JAM
DUET
IPU CET
NEST
G SAT
IELTS
GRE
TOEFL
Job Prospects for MS/M.Sc
The MS/M.Sc graduates can get jobs in both the private and public sectors. Some of the companies they can be recruited are :
Nuclear Science Centre New Delhi
Saha Institute of Nuclear Physics Kolkata
Bhabha Atomic Research Centre (BARC)
Indian Space Research Organization (ISRO)
Public or private hospitals and healthcare settings
Domestic violence, emergency, and homeless shelters
Residential treatment centres
Correctional facilities
Child and family service agencies
Full-Form of BBA
The full form of BBA is "Bachelor of Business Administration". It is an undergraduate program that focuses on enhancing the management and administrative skills of a student. This course focuses on improving the entrepreneurial skills of the students. The duration of the course is three years. The program can be done as full-time or as a correspondence course depending upon the preference of the student.
Eligibility Criteria
Students from any stream can apply for the course.
Applicants should score a minimum of 50% in 10+2 classes.
OBC or SC/ST category students should hold a minimum aggregate of 45%.
The entrance exams may vary from one institute to another.
BBA Curriculum 
First Semester   
Financial Accounting
Quantitative Methods 1
Human Resource Management 1
Principles of Management 1
Computer Applications
Second Semester   
Business Law 1
Effective Communication 1
Managerial Economics 1
Management Accounting 1
Principles of Management 2
Third Semester   
Business Law 2
Business Environment
Family Business Management
Management Accounting 2
Project Work
Fourth Semester  
Effective Communication 2
Human Resource Management 2
Financial management 1
Managerial Economics 2
Quantitative Methods in Business 2
Fifth Semester   
Direct taxes
Indirect Taxes
Operations Management
Marketing Management
Research Methodology in Management
Sixth Semester   
 International Marketing
Environment Management
Export/ Import Management
Public Relations Management
Project Management
Seventh Semester     
Management Services
Management of Co-operatives and NGO
Retail Management
Rural Marketing
Supply Chain/ Logistics Management
Eighth Semester     
Business Decision making
Business Strategy for Entrepreneurship
Market Research
Financial Management 2
Management of Small Scale Industries
Ninth Semester   
Brand Management
Global Business management
Productive Quality Management
Project Work
Top Colleges for BBA 
IBS Hyderabad
Symbiosis Institute of International Business, Pune
GIBS Business School, Bangalore
NDIM, New Delhi
Christ University, Bangalore
NMIMS Mumbai
Madras Christian College, Chennai
Nirma Institute of Management, Ahmedabad
AIMS Institutes, Bangalore
Career Prospects 
The jobs for a BBA professional is significant in every organization. After completing BBA, most students opt to do higher studies like MBA, which will extend more job possibilities for them.
Some of the job profile for BBA graduate 
Export Companies
Marketing Organizations
Multinational Companies
Banks
Financial Organizations
Educational Institutes
Business Consultancies
Full-Form of MBA
"Master of Business Administration" is the full form MBA. a postgraduate course that focuses on establishing the academic as well as applied knowledge in the field of management and administration. It teaches the students about different methods to manage various aspects of a business.
Eligibility Criteria 
Students can complete their undergraduate from any stream.
A minimum aggregate of 50% is needed for the course.
Most universities select students based on their merit performance along with group discussions and personal interviews.
Entrance Exams
The entrance exams will test the applicants in fields of logic, reasoning, English, and general aptitude. Top leading schools like IIMs instruct students to write an essay as well. Some of the entrance exams are :
CAT (Common Aptitude Test)
XAT
GMAT
JMET
MAT
MBA Curriculum
First Year
First Semester
Financial Accounting
Marketing Management
Human Resource Management
Business Communication
Information Technology Management
Quantitative Methods
Organizational Behaviour
Managerial Economics
Second Semester
Management Science
Management Accounting
Marketing Research
Management of Information System
Productions and Operations Management
Financial Management
Economic Environment of Business
Organization Effectiveness and Change
Second-year
First Semester
 Legal Environment of Business
Strategic Analysis
Business Ethics and Corporate Social Responsibility
Second Semester 
Strategic Management
International Business Environment
Project Study
Top Colleges for MBA
IIM Ahmedabad
Indian School of Business (ISB), Hyderabad
Indian Institute of Management, Lucknow
Indian Institute of Management (IIM-C), Kolkata
IIM Bangalore
IIM Ranchi
MDI Murshidabad
Xavier Labour Relation Institute (XLRI), Jamshedpur
FMS Delhi
Indian Institute of Management (IIM-K), Kozhikode
Jamnalal Bajaj Institute of Business Studies (JBIMS), Mumbai
ISB Mohali
Career Prospects
The economy is producing a lot of interest in the administrative field, and this constitutes an exceptional opportunity for MBA grads. The initial salary for an MBA Graduate is pretty high, and they also have excellent possibilities of getting a promotion in their career. Here are a few of the areas and the roles MBA grads are assigned:
Business Consultancies
Management Consultant
Human Resource Manager
Educational Institutes
Trainer
Administrative Officer
Banks
Marketing Managers
Human Resource Managers
Administrative Officer
Vice President- Investment Banking
Card Payments Operation Head
Account Manager
Public Works
Labour-management Relations Specialist
Research and Development Managers
Industrial Houses
Project Manager
Administrative Officer
Finance Manager
HR Generalist
Zonal Business Manager
Business Partner
Marketing Manager
FAQ's on Full Form of MBBS, MCA, MS /M.Sc, BBA, MBA
Question 1.
What are the eligibility criteria for MBBS?
Answer:
The eligibility criteria for MBBS students is they should complete their 10+2 from science stream and know the fundamentals of Mathematics and study Physics, Chemistry, and Biology. Applicants should score a minimum of 50% in 10+2 classes.
Question 2.
What skills are required for MCA?
Answer:
Skills required for MCA graduates are having good command on programming languages such as Java, ASP.NET, Net, C, and C++.
Question 3.
What are the differences between MS and M.Sc?
Answer:
The difference is MS is a professional program, whereas M.Sc. covers a broad field of knowledge and skills.