Diploma in Horticulture: Are you fond of plants production? If yes, then you can choose a horticulture course after the 10th standard. Here we have given the complete guide on horticulture diploma course details in India. As we know that India is an Agrarian country, therefore the scope of job opportunities in the horticulture field is on a large scale.
It is important to understand that horticulture gives more returns than field crops. Horticultural crops are essential as it has high nutrition and vitamins. The crops are sustainable for small and marginal farmers. Horticulture is a specific field of agriculture that has plantation and management of plants and so on. It shows that horticulture is more than farming, the crop gives a huge number of fruits and vegetables.
On this page, we are giving the complete details about Diploma in Horticulture course. Know what are the skills required to get admission, eligibility conditions, top colleges, course fee, job profiles, salary, etc. Check more useful details about other types of Course Details category wise and streamwise.
What is Diploma in Horticulture Course?
Diploma in Horticulture is a course that is pursued by students who have finished Class X. Horticulture deals with the study of techniques and methodologies involved in the cultivation of plants, and crops. A horticulturist can use skills and specialized knowledge in the production of various crops and plantations.
The main aim of offering a Diploma in Horticulture course is to make professionals who would be involved in sustainable plantation and inspection of diseased plants and crops. The professionals also suggest solutions to get resistance against insects and plant pets.
Details of Diploma Course in Horticulture
Horticulture Diploma course may have an average duration of two years. This course is equivalent to the graduate degree in agriculture dealing with the study of plantation, crops, and flower farming. To apply for admission, candidates must have passed class 10th with a minimum of 35% marks. The students who are interested in pomology, gardening, and farming can choose this course.
Candidates can apply for Diploma Horticulture colleges/universities via online. It teaches about flowers, cultivation, gardening, trees, and different insects and worms that affect the plants. The average course fee is Rs. 15,000/- and it prepares students to handle their jobs as professionals. Candidates can get a salary from 2 lakhs to 4 lakhs on average.
Why Study Diploma in Horticulture?
Diploma in Horticulture is an undergraduate diploma course with a short duration from one year to two years at different universities. The advantages of the horticulture diploma course are mentioned below:
Students who have successfully completed this diploma course can easily jump into different career opportunities in horticulture.
The demand for horticulturists has caught the momentum as the government has been taking more steps to control the rising pollution level in the cities.
In India, major people don't have knowledge on how to increase the production of crops by following scientific horticulture methods. So, there are lots of opportunities in India to fulfil the needs of horticulturists.
Candidates having a horticulture diploma certificate are given a special reservation during the B.Sc course admission.
Diploma in Horticulture Overview
| | |
| --- | --- |
| Course Name | Diploma in Horticulture |
| Course Duration | 2 years |
| Eligibility Conditions | Class X |
| Selection Process | Merit List |
| Course Fee | Rs. 20,000 to 80,000 |
| Job Roles | Horticulturist, Floriculturist, Pest controller, Pomologist, Marketing professional, Sales executives |
| Basic Salary | Rs. 2 lakhs to 8 lakhs |
Diploma in Horticulture Course Eligibility Details
The minimum eligibility conditions to get admission in diploma in horticulture is given below:
Candidate must have passed Class X board examination with at least 35%.
In a few states, preference in admission is given to the wards of farmers. A certain amount of seats is reserved in that category.
Candidates must be between the age of 15 years to 22 years.
Candidates below the minimum age can also apply for the course after submitting an age relaxation certificate.
Horticulture Diploma Course Admission Procedure
Various colleges/universities have different criteria for taking admissions into the Diploma Horticulture course. Eligible candidates can get admission based on merit, entrance exam performance and direct admission. Look at them below.
Merit Basis Admission:
To join the horticulture diploma course on a merit basis the colleges will announce the cut-off marks.
Eligible candidates can apply online for the colleges.
Colleges will announce the specific date for the certificate verification.
Document verification includes mark sheets, passport size photos, provisional certificates and any reservation related documents.
Direct Admission:
Few colleges consider the overall academic performance of the colleges.
So, all eligible candidates can apply online for the universities/colleges.
The selected applicants have to submit documents at the time of certificate verification.
Entrance Exam Based Admission:
Students have to register for the entrance examinations.
Fill out the online applications released by the universities.
Pay the examination fee.
The examination board will release the admit cards.
After completing the exam, the board will announce the results.
The qualified candidates should go through a document verification process.
Documents Needed for Horticulture Diploma Admission
Below mentioned is the list of documents that must be produced at the time of certificate verification to get admission for a diploma in horticulture course in colleges.
Proof of Date of Birth.
Mark sheets of 10th grade.
Transfer Certificate.
Character Certificate.
School leaving Certificate.
Residential Certificate.
Caste Certificate (Optional).
Migration Certificate.
Farming Family Certificate (Optional)
List of Diploma Horticulture Colleges in India
Agro-Polytechnic Centere
Anand Agricultural University – AAU
Himalayan University
Annamalai University
Eklavya University
Dr. YSR Horticultural University
Guru Nanak Girls College
JSS College of Arts, Science and Commerce (Autonomous)
Madhav University
Mansarovar Global University
Smt. Narayanamma Horticulture Polytechnic
Nanasaheb Yashvantrao Narayanrao Chavan Arts, Science and Commerce College
RIMT University
Thanthai Roever Institute of Agriculture and Rural Development – TRIARD
Navsari Agricultural University
Sher-e-Kashmir University of Agricultural Sciences and Technology of Jammu
Sri Konda Laxman Telangana State Horticultural University
Tamil Nadu Agricultural University – TNAU
Yashwantrao Chavan Maharashtra Open University
Singhania University
The Glocal University
Vanavarayar Institute of Agriculture
Also, Check:
Horticulture Diploma Course Fee
The fee details we are giving is just for reference. It might differ from college to college and we are offering the maximum and minimum course fee details for private as well as government institutions.
Minimum Fee: INR 6,000
Maximum Fee: INR 51,667
Average Fee: INR 30,000 – INR 75,000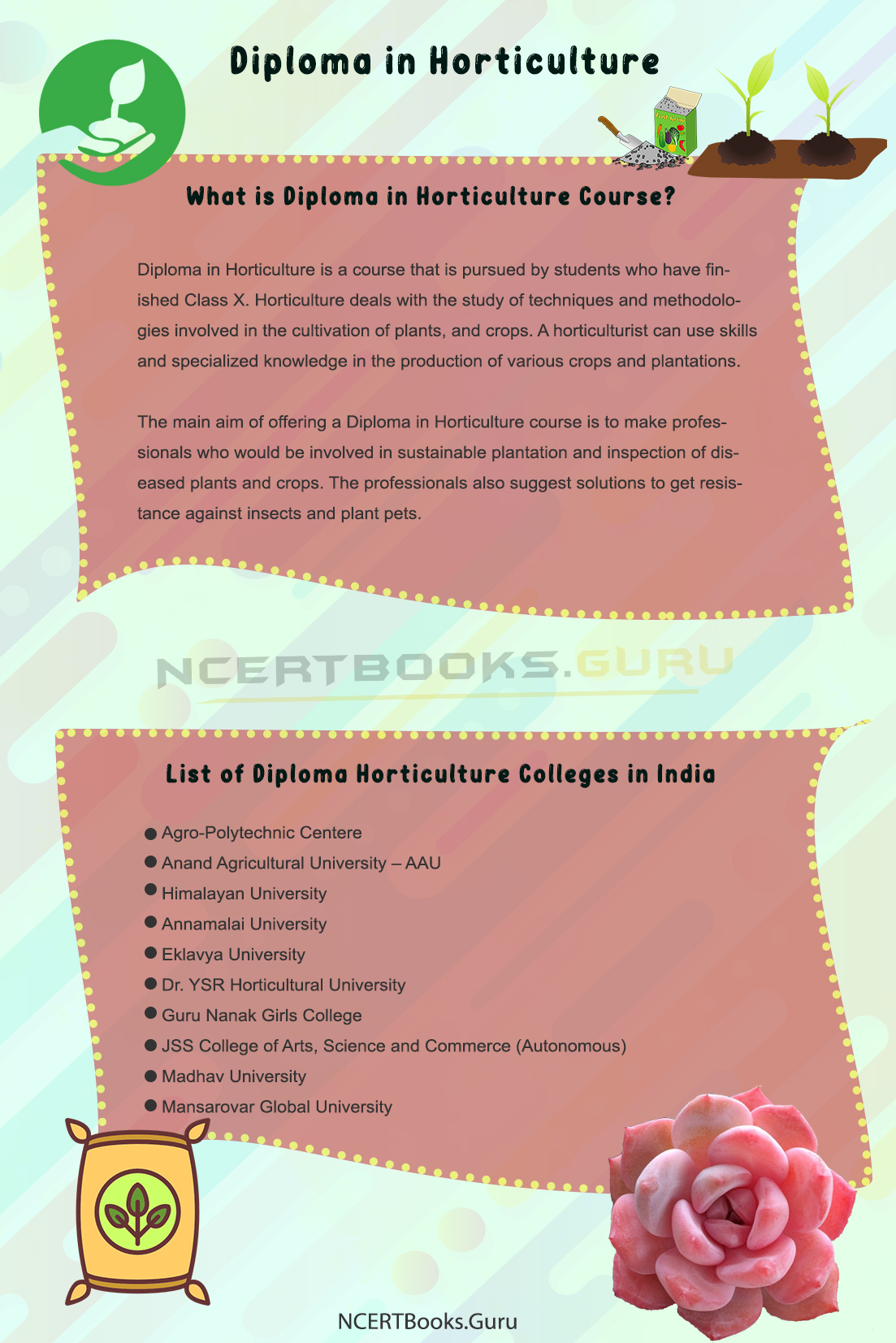 Diploma in Horticulture Syllabus
The subject wise syllabus for the horticulture diploma course is given here. Students who choose horticulture course in diploma should pass all these subjects to finish their course.
Semester I:
Basics in Horticulture
Communication Skills
Farm Machinery
Livestock Management and Poultry Production
Soil and Fertility Management
Plant propagation practices
Fundamentals of Agronomy
Physical Education
Semester II:
Irrigation
Weed management
Fruit crops Production Technology
Ornamental gardening and Landscaping
Silvi Horticulture
Medicinal and Aromatic crops production technology
Dry Land Horticulture
Agroforestry
Semester III:
Spice crops
Crop Diseases and its management
Flower crops Production Technology
Commercial Agriculture
Crop Pests Management
Vegetable crops Production Technology
Semester IV:
Production Technology
Protected cultivation
Plantation crops Production Technology
Farm Management and Marketing
Seed production Technology of Horticultural crops
Post Harvest Handling
Practical training
Diploma in Horticulture Course Books
Students have to get all kinds of knowledge about the Horticulture practices. The books and study materials of the Diploma in Horticulture course that helps to achieve goals are given here.
| | |
| --- | --- |
| The Fundamentals of Horticulture | Chris Bird |
| Handbook of Horticulture | K.L. Chadha |
| Control of Crop Diseases | W.R. Carlile |
| Seed Storage of Horticulture Crops | S.D. Doijode |
| Introductory Horticulture | H. Edward Reiley, Carroll L. Shry, JR. |
Horticulture Diploma Career Options and Job Profile
After completing a Diploma in Horticulture 2 years course, candidates can choose to work in different sectors like agriculture, pharmaceutical industry, perfumes, cosmetics production industry. Interested candidates can also set up their businesses.
Planting crops like vegetables, fruits, and flowers using horticultural techniques is the best business opportunity for the candidates. They can also research and develop agriculture landscape management in future.
Companies that are hiring horticulturists are Green Decor, government organizations, IFFCO, real estate, and Sun Valley Landscaping. The govt is majorly focusing on urban gardens where they can use horticulture skills. The diploma horticulture completed candidates can make their career in the following fields with the good salary packages.
| | | |
| --- | --- | --- |
| Horticulturist | Use scientific knowledge to propagate and cultivate the plants. Share knowledge with farmers and professionals in the field. | INR 2 lacs |
| Horticultural Technician | Work with urban parks or recreation centres, golf courses, nurseries, greenhouses. Also, employed by lawn service, gardening and landscape services. | INR 1.5 – 2.5 lacs |
| Tree Expert | A tree expert is a member of the larger field of grounds maintenance. A tree expert has the job responsibility of pruning and trimming trees. | INR 2.25 – 3.5 lacs |
Diploma Horticulture Future Scope
The horticulture field is growing rapidly as it is explaining about plants and their management.
Today, everything we are eating is not pure, and people are searching for organic foods. So, horticulturists have huge demand, not only in India but also in other countries. People love organic food, vegetables, and fruits that are grown with organic farming techniques.
Pollution has become the major issue in urban areas due to the smoke released by vehicles, industries. The only way to control it is by growing more and more plants in these areas. The government should develop parks/gardens to fulfil these projects, so they have o hire horticulturists.
Floriculture, pomology is fields of horticulture where candidates can find job opportunities.
FAQ's on Diploma in Horticulture
1. How can students pursue the Diploma in Horticulture through distance?
The students who want to pursue a diploma horticulture through distance must have to complete the required credit points. For practical knowledge, they have to go for field research.
2. Which course is best in Horticulture?
If you are interested in studying the techniques of cultivating fruits, vegetables, flowers, and tea, then Diploma in Horticulture after 10th is the best course. This course is equivalent to agriculture in terms of career aspects.
3. What can we do after a diploma in horticulture?
After completing diploma horticulture, students can apply for pomologist, sales executive, floriculturist, horticulturist, pet controller, marketing professional jobs or do a business by growing organic food. In addition to this, you can also apply for technical officers in agricultural universities.