Right from the birth of a child, parents start planning to choose the right education system for their children. They dream to make them competent, qualified, and confident to qualify all the levels of life.
In India, while thinking about education, the dilemma of selecting the board of education has always been like a challenge for parents. Basically, the Indian education system has the two most popular education systems which are CBSE (Central Board of Secondary Education) and ICSE (Indian Certificate of Secondary Education). While selecting the education, most of the time, parents got confused to decide which one is better. The following article has been assembled to let you know the difference between CBSE and ICSE courses
ICSE vs CBSE Board
Be it any board, every student regrets their choice of board preference, owing to the perception built by them for their respective boards. However, all these thoughts are mere thoughts and you don't have to really bother much about this. If you are still confused then this article will bring you out of it. So here we have given a detailed comparison between both the boards.
Syllabus – If you look at the syllabus, you will find that the syllabus of the CBSE board will be really helpful if you are preparing for competitive exams like JEE or NEET, etc. Because CBSE Syllabus is much better when it comes to theoretical knowledge. But when it comes to practical knowledge ICSE syllabus has the upper hand.
Easability – CBSE Syllabus is found to be much easier, well structured, and compact as compared to ICSE Syllabus. While ICSE follows a higher level of English language than the rest of the boards, CBSE does not have a special preference for the English Language. A higher level of English language in ICSE assists the students to perform better in exams like TOEFL.
Acceptability – CBSE Board marks are widely accepted nearly all over the universities irrespective of the course you are opting for. For foreign schools and universities, ICSE Certification is much preferred.
Level of Explanation – ICSE Syllabus is considered to be more extensive which can be an advantage for some but a disadvantage for others. CBSE syllabus is found to be more precise and to the point.
Difficulty Level – ICSE Syllabus is considered to be more difficult than CBSE. That is because the ICSE syllabus has more internal assessments and concepts that can be applied to practicals as well.
Transferability – When it's come to traveling frequently. It is better if you choose CBSE because you won't find more ICSE schools in the country.
Range of Subjects – The range of the subjects that ICSE covers is huge. ICSE offers a variety of languages like English, Hindi, Kanada, Tamil, Telugu, and others. ICSE even has subjects for Fashion Design, Agriculture, Home Science, and Cookery for creative minds. ICSE syllabus can be your best option if you are aspiring to become an athlete, visual artist, scientist, or an all-rounder.
Grading System – The Grading System for CBSE is Alphabetical based. While for ICSE, the marks are shown in numbers which gives a clear idea to students as to how much he/she has actually scored.
Regular and Private Candidates – Students who do not belong to CBSE affiliated schools or non-regular candidates are eligible to appear for CBSE Exams. But the same is not true for ICSE. Students have to be from ICSE affiliated schools in order to appear for ICSE exams.
Medium of Instructions – CBSE gives instructions in English as well as in Hindi but ICSE follows only English.
Merits of ICSE courses
ICSE offers a vast syllabus as it gives significance to all subjects. The parents want to make their students proficient in all subjects, ICSE will be the better option for them.
ICSE syllabus is thorough, well-known structured, and competent to turn the students more practical. Moreover, the ICSE students are flexible to choose specific subjects.
ICSE offers a balanced syllabus that helps the students to gain knowledge of all areas. In this, the students need to put equal emphasis on all subjects.
ICSE syllabus is well-recommended for students who want to choose Management as a career.
ICSE or CISCE is recognized by the international education systems. The students passed out with ICSE courses are accepted worldwide. In Brief, ICSE courses are beneficial for parents thinking to move to foreign countries for some time.
ICSE (Central Board of Secondary Education) exams consider internal assessments more as well as these are relevant for hiking up overall courses. Thereby, parents who prefer that their children should get equal theoretical as well as practical knowledge, ICSE courses are designed for them.
ICSE students can achieve scholarships easily as they have a sound base in English. Moreover, they can start their career as English literature or as a writer.
Merits of CBSE courses
CBSE is a popular board of education in India as 70% of schools offer CBSE courses. This option is perfect for parents to have transferable jobs as they can get admitted their children to CBSE schools, thereby, students can start studying the same pattern of their syllabus.
CBSE syllabus has designed in a way that puts more emphasis on mathematics and science subjects.
Both English and Hindi language as a medium of instruction are used in CBSE courses. It means the students have lack English skills can join this course.
CBSE is a board-approved by the Indian government. It has affiliated by prominent schools comprising central schools in India.
CBSE is recognized by National Council of Educational Research and Training (NCERT)
CBSE approves private as well as regular candidates.
CBSE is recommended for students who will like to give competitive exams such as AIEEE (All Indian Engineering Entrance Exam), JEE (Indian Institute of Technology Joint Entrance Exam), AIPMT (All India Pre Medical Test). In brief, this board is recommended if students want to continue their career in Engineering and Science Sections.
CBSE syllabus is less than ICSE (Indian Certificate of Secondary Education). Thus, as parents, if you think your child can't learn a massive syllabus, then admit him/her in the school that offers a CBSE course.
ICSE vs CBSE | Major Differences between two boards
Teaching Style – Both the boards have very well understood the importance of learning in an active manner. CBSE and ICSE follow their approach to teach the next generation in a manner that they think is right. Over the past few years, both boards have changed their style of teaching. Both of them are trying to implement a teaching methodology where students learn through experience and experimentation instead of following rote learning.
In India, many parents feel that the CBSE Standard of Education is not up to the level of what ICSE offers. CBSE board needs to improve its overall teaching technique when compared to the ICSE board. ICSE prefers detailed study and focuses more on English Literature and English Language. ICSE board is considered to be more flexible in nature. However, both the boards are recognized by most of the colleges and universities. Still, the CBSE curriculum has failed to provide students with the academic freedom that their students need.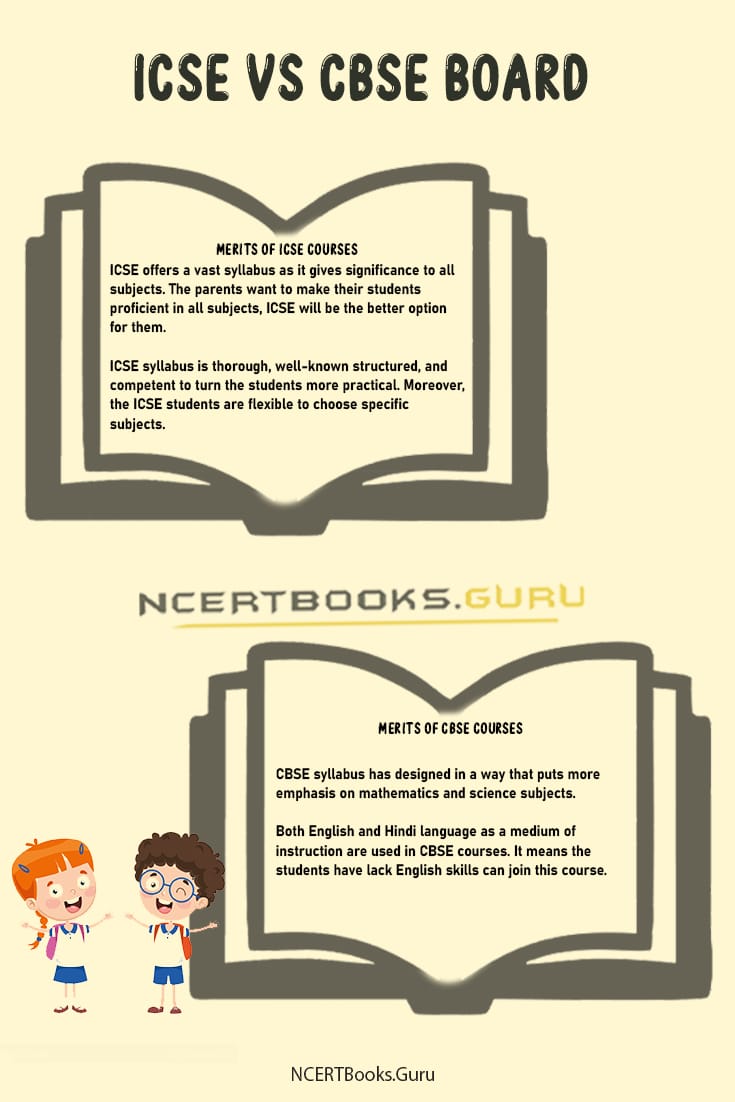 ICSE vs CBSE | Pros, and Cons of CBSE
Pros
Most of the competitive exams like JEE Main, NEET are based on the syllabus of the CBSE Board.
The syllabus of the CBSE Board is much easier when compared to ICSE. Because the syllabus comprises of a more compact structure and a fewer subject. Secondary subjects are not mandatory. Subjects like Physics, Chemistry, and Biology are categorized under Science and History, Geography and Civics are categorized under Social Science.
CBSE schools are more in the country. So if your parents have to transfer from one city to another then CBSE is the right choice for you.
CBSE syllabus lays more importance on subjects like science and mathematics.
Cons
Even though there are practical subjects, the focus is not more on practical knowledge. Core English Language has not been the major focus of this board when compared to other boards.
In CBSE, all the subjects are handled only in a manner that is theory-based and there is less importance laid upon real-life concepts. Despite application playing a major role in CBSE Syllabus, it pays less emphasis on in-depth understanding.
Also, Read:
ICSE vs CBSE | Pros, and Cons of ICSE
Pros
A more comprehensive and complete syllabus is followed by ICSE Board covering all subjects with equal importance.
Those students who would like to pursue a career in the field of management and humanities will find ICSE more interesting and worthwhile.
ICSE certificates are recognized and followed across the globe especially by foreign schools and universities in comparison to CBSE certificates.
Since more importance is given to English, students have an upper hand when it comes to exams like TOEFL.
Students get more flexibility when it comes to selecting specific subjects.
Cons
Students might feel that the subjects are more extensive and can be a burden for some.
Although the syllabus is extensive which can be helpful for future education. But when it comes to ISC Exam, the checking is more strict and hence it affects the marks.
In brief, both Indian boards are well-recommend ed. It depends upon the competencies of your children to whom they will score well. With the day by day activities, you can know the interest of your children.
If they are showing more interest in environmental conditions or natural science, it will be appreciated if you admit them to CBSE schools.
If you want your children will be efficient in all streams, make sure to choose the ICSE board for them.
Moreover, both Indian education systems are worthwhile. Choosing anyone for your children will be the best.
FAQs on CBSE Vs ICSE
1. Which board is better ICSE or CBSE?
If you want your child to be efficient in all streams ICSE Board would be better.
Yes, ICSE Syllabus is difficult but with enough practice, you won't feel the difficulty and you can have strong practical knowledge through it.
3. Which board is best for Education in India?
CBSE is considered to be the most common and accepted board in India.
4. Which website offers the merits and demerits of ICSE and CBSE in detail?
NCERTBooks.Guru Offers the merits and demerits of ICSE and CBSE in detail.
CBSE full form is the Central Board of Secondary Education.
ICSE full form is the Indian Certificate of Secondary Education.