CIMA Course Details: If candidates want to make a good career as a management accountant and have recognition throughout the world, they should prefer to go for the CIMA course. If aspiring candidates want to check the CIMA course's necessary information, they can take a detailed view of the course. Over 281000 students are aspiring to this course under this accounting body today. This course aims explicitly to clear all the complicated concepts that you need to deal with while accounting or solving some financial issues. Through this overview, you will get to know about the duration of the course with its fee structure, syllabus, career opportunities in the future, and much more information on it.
A Brief About CIMA Course Details
CIMA is an accounting course with established head offices in London, UK. It stands for Chartered Institute of Management Accountants with its branch offices available in various countries. CIMA has proved to be the most significant accounting body throughout the world. It has established offices in more than 173 countries. CIMA prepares a candidate to have a successful future ahead in the audit firms, banks, finance departments, setups, preparing budgets, and investment appraisal. Many multinational companies are fond of hiring a CIMA certified candidate.
CIMA Course Details
| | |
| --- | --- |
| Course | CIMA |
| CIMA Course Full-Form | Chartered Institute of Management Accountants |
| Eligibility | 12th pass or above |
| Duration | Two Years for four levels |
| Fee Paid | One lakh for each level |
| Type of Course | Management Accountants |
| Starting Salary | INR Four to Twelve lakhs |
| Employment Opportunities | Accountant, Management Accountant, Accounts Assistance, Business Analyst, Finance Data Analyst, and many more. |
Subjects, Concepts in CIMA Course
CIMA Course concepts focus on
For Certification Level
Fundamentals of Business Economics
Fundamentals of Management Accounting
Fundamentals of Ethics, Business Law, and Corporate Governance.
Fundamentals of Financial Accounting
For Operational Level
Organizational Management
Management Accounting
Financial Reporting and Taxation
For Managerial Level
Project And Relationship Management
Advanced Management Accounting
Advanced Financial Reporting
For Strategic Level
Strategic Management
Risk Management
Financial Strategy
Institutes Offering CIMA Course Coaching
All over India, different institutes are providing CIMA coaching to you.
In Northern India, GD Goenka University is a famous University in Gurgaon, Chandigarh University, in Chandigarh.
In Southern India, Hi-Educare Academy is famous for CIMA coaching in Banglore.
In Eastern India, it is Saraf Academy famous for CIMA coaching in Kolkata.
In Western India, it is the Kaivalya School of Learning in Ahemdabad.
CIMA Course Eligibility Criteria
If you want to be a CIMA aspirant, don't worry because it has flexible eligibility criteria. The eligibility criteria suit every student according to the given terms.
Matriculation or O-level
Intermediate or A-Level
Under Graduation or Graduate in any degree
MBA Degree for fast eligibility to enter CIMA course
Or any other professional qualification and hence enrolling you at a strategic level of CIMA.
For an aspirant who is graduate with some degree, he can quickly get all four CIMA levels in two years.
CIMA Course Fee Structure
There is a total of 12 exams conducted under the CIMA course. For each exam, students have to face the cost of one lakh. These 12 exams are conducted at four different levels. For each level, it will cost you around one lakh. Thus the tuition cost for four different levels in CIMA is around four lakhs. However, you have a flexible option to work along with the course of CIMA.
Also, Check
CIMA Course Admission Procedure
If you want to pursue a CIMA course in India, there are no particular criteria for the admission procedure. However, candidates need to go to different institutes and fill their application form to get admitted to the CIMA course. If you have been through a successful registration, then teachers will guide you. However, carry all essential documents like your passport-sized photograph and Adhaar Card along with you during registration.
CIMA Course Duration
The candidates appearing for all 16 papers can complete the CIMA course nearly in 2.5 years. Moreover, it is recommendable that students should take up one paper at a time. It will utilize 365 days to appear for the papers.
CIMA Course Syllabus
Certificate Level
| | |
| --- | --- |
| BA1 | Fundamentals of Business Economics |
| BA2 | Fundamentals of Management Accounting |
| BA3 | Fundamentals of Financial Accounting |
| BA4 | Fundamentals of Ethics, Business Law, and Corporate Governance |
Operational Level
| | |
| --- | --- |
| E1 | Organizational Management |
| P1 | Management Accounting |
| F1 | Financial Reporting and Taxation |
Managerial Level
| | |
| --- | --- |
| E2 | Project and Relationship Management |
| P2 | Advanced Management Accounting |
| F2 | Advanced Financial Reporting |
Strategic Level
| | |
| --- | --- |
| E3 | Strategic Management |
| P3 | Risk Management |
| F3 | Financial Strategy |
CIMA Course Job Profile
The aspirants who have a CIMA qualification are considered experts in financial accounting, management, accounting, and various other fields. The candidates have a diverse range of options to choose for their career, and they can opt for any of the following mentioned job profiles:
Management consultant
Business analyst
Management accountant
Financial controller
Forensic Accountant
Project manager
Apart from it, many IT companies hire qualified accountants holding CIMA qualification. Thus, the opportunities for CIMA qualifiers are endless, and the aspirants can find jobs from manufacturing to logistics industries.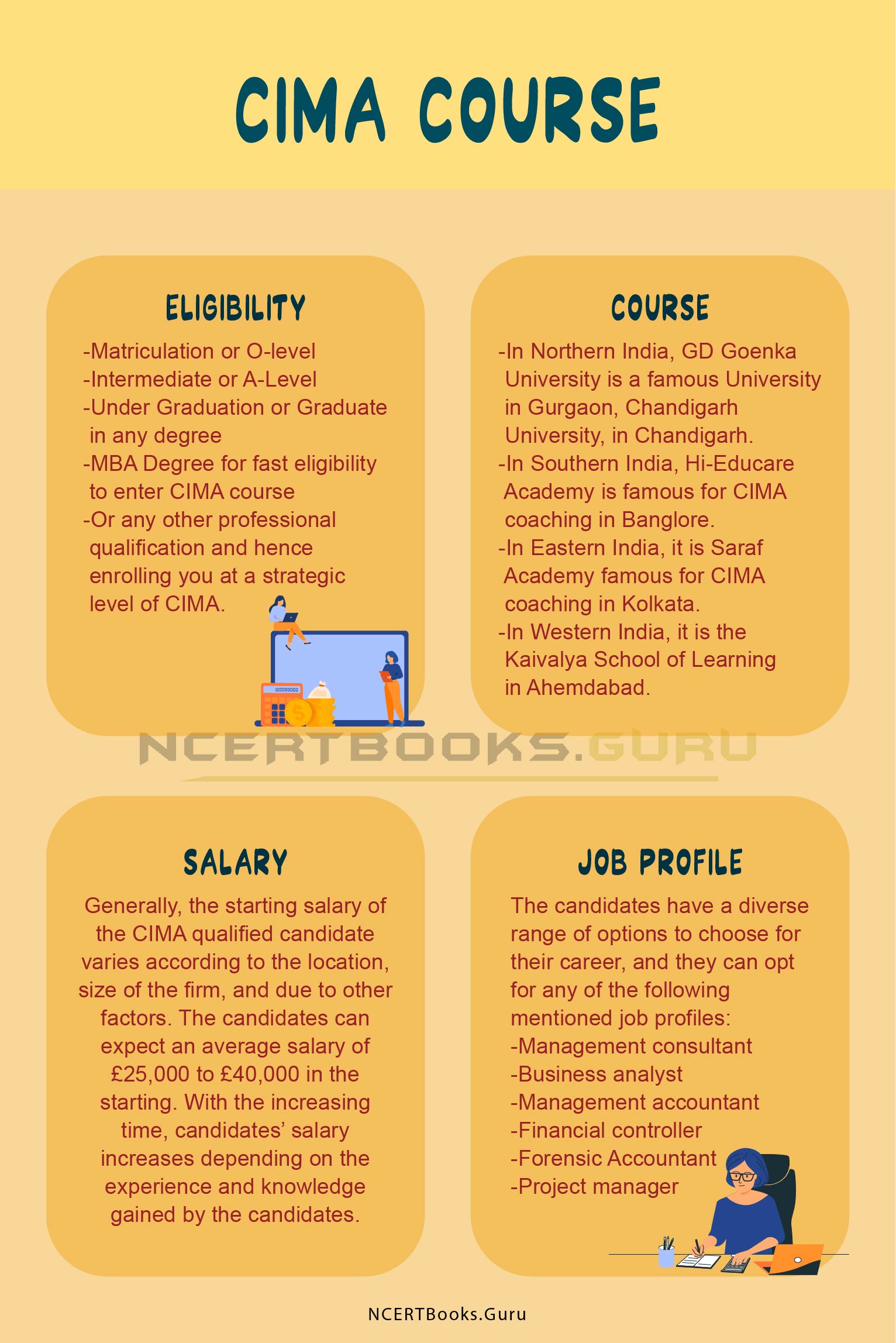 CIMA Course Salary Offered
The candidates with CIMA qualifications can get a job in different industries like banking and IT sectors. Generally, the starting salary of the CIMA qualified candidate varies according to the location, size of the firm, and due to other factors. The candidates can expect an average salary of £25,000 to £40,000 in the starting. With the increasing time, candidates' salary increases depending on the experience and knowledge gained by the candidates.
FAQ's on CIMA Course Details
Question 1.
What is the CIMA course up to?
Answer:
The CIMA course is well-designed to combine financial business, accounting, and management accounting. It helps candidates gain practical skills and become capable of seeking a job for finance, senior management, IT, and other companies.
Question 2.
Why should an individual do the CIMA course?
Answer:
CIMA is a combination of CA and MBA. Thus, it provides thorough business knowledge of MBA, and an understanding of Financial Accounting carried out by a CA. It helps job seekers plus entrepreneurs to find the right job with the best salary.
Question 3.
Is passing CIMA difficult?
Answer:
Many candidates think CIMA is challenging to qualify. However, once the candidates go through with all the concepts, then they can easily pass it. Moreover, the passing score required is 100/150 to qualify CIMA. Once the candidates pass the exam, they can get a much higher paying job, which means that the exam's difficulty level is worth it.
Questions 4.
Which test is most challenging in the CIMA course?
Answer:
The CIMA syllabus of the Financial Reporting exam is broad, and it makes the paper quite tricky for many candidates. However, talking from the perspective of passing marks, one can find the P1- Management Accounting as well as P2- Advanced Management Accounting toughest for clearing the CIMA exam.
Summary of CIMA Course Details
We hope that the information that we shared about the CIMA course details is helpful to you. CIMA is a renowned course, and thus, if you any query related to its syllabus, fee structure, concepts, or any other doubt, you can clear by mentioning it in the comment section. We will try our best to resolve all your queries satisfactorily and as early as we can.