5 Best Geography Books for IAS Prelims and Mains Exam
Geography subject plays an important role in the preparation of Civil Services Exam. In General Studies preparation and in Prelims Paper 1 we can't ignore it. Aspirants also keep Geography as an optional subject in IAS Mains Exam. Let us find out best IAS books for Geography for prelims as well as for mains exam.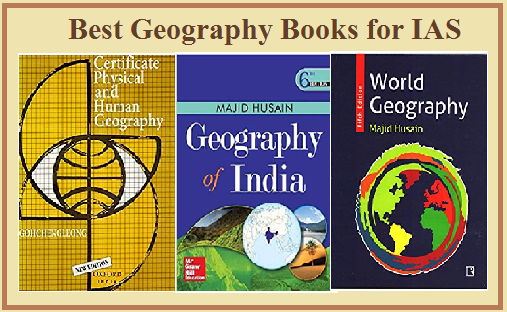 Geography subject is divided into two parts namely Indian Geography and World Geography. Topics mostly asked in the prelims exam are from physical, social, economic Geography of India and the World.
5 Best Geography Books for IAS Prelims and Mains Exam
1.Certificate Physical and Human Geography by Goh Cheng Leong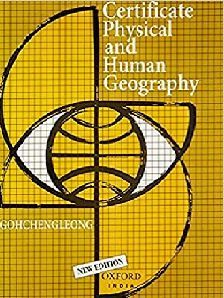 This book covers most of the topics in detail about physical and human geography. It is divided into two main sections namely physical geography and Global Climatic Zones of Savanna, Steppe, Mediterranean, Equatorial and Tropical Monsoon Climate. in the book pictorial representation and illustrations make understanding easy. It also consists of several maps with detailed explanation wherever required. It is helpful for mains as well as for prelims exam preparation.
Following topics are covered:
– Climate Change
– Types of Natural Vegetation
– Mountain Chains
– Desserts
– Climatic patterns
– Glaciers
– Rainfall
– Minerals or other natural phenomenon.
– The types of agriculture practiced
– The urban centers and the developed industrial belts etc.
Key features of the book
Language used in the book is average not much tough not easy.
Page quality is good.
Printing is good.
Provides basic understanding of the Geography
Paperback: 200 pages
2.Geography of India by Majid Husain
It is a comprehensive book in which all the topics of Indian Geography are mostly covered. It will help in the preparation of IAS prelims and mains examination.
Following topics are covered:
– Drainage System
– Seasons
– Wildlife and parks
– Resources of India
– Different types of irrigation
– Cropping patterns of India
– Transportation,
– Public distribution system and food security etc.
Key features of the book
Language of the book is simple.
Easy to understand
Elaborate and informative book
Quality of pages is fine
Paperback: 888 pages
3.World Geography by Majid Hussain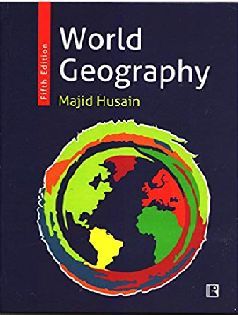 It provides detail explanation and knowledge about various countries of the world. It also provides information related to the distribution of people over the earth and also focus on the various geographical regions of the world. Several maps, data and illustrations are also provided. It is helpful in prelims and mains IAS exam.
Following topics are covered:
– Africa
– North Africa
– Northeastern Africa
– West Africa
– West central Africa
– Southern Africa
– Asia
– Southwest Asia
– South Asia
– Southeast Asia
– East Asia
– Central Asia
– Europe
– North America
– Middle America
– South America
– Oceania
– Antarctica etc.
Key features of the book
this book is like a theoretical Atlas.
Language is simple and easy to understand.
Printing of the book is good.
Quality of pages is average.
Paperback: 452 pages
4.Geography of Population: Concepts, Determinants and Patterns by RC Chandna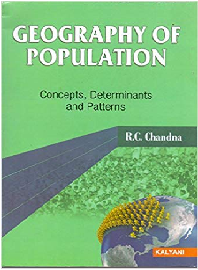 This book will be helpful for those IAS aspirants who have Geography subject as an optional. As the title of the book suggests it focuses on the aspects of population.
Following topics are covered:
– Migration
– Demographic attributes
– Patterns of Settlements
– Types, sources and Problems of Population Data
– Distribution and density of population
– International Labour Movements
– Growth of Population- Birth and Death Rates etc.
Key features of the book
Well described and subjective book
Quality of Pages is good.
Printing of the book is good.
Tables, charts and maps are clear.
Paperback: 666 pages
5.Physical, Human and Economic Geography for Civil Services Examination by D R Khullar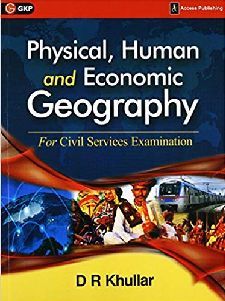 For preparing UPSC Civil Services Exam this book is one of the great books on the subject. It will help in Prelims and also build concept. This book is divided into two parts: first is Physical Geography and second is Human and Economic Geography. It also consists of several maps, diagrams and charts.
Following topics are covered:
-The Universe, the Solar System and the Earth
– Lithosphere
– The Atmosphere
– Hydrosphere
– Population
– Settlements
– Migrations
– Natural Resources
– Economic Activities
– Minerals and Energy Resources
– Manufacturing Industries
– Transport and Communications
Key features of the book
Language used is lucid.
Presentation style is user-friendly.
Printing of the book is good.
Quality of pages is also good.
Paperback: 246 pages
  5 Best Geography Books for IAS Prelims and Mains Exam
S. No.
Book Name
Author/Publisher Name
1.

 

Certificate Physical and Human Geography 
Goh Cheng Leong
2.
Geography of India 
Majid Husain
3.
World Geography 
Majid Husain
4.
Geography of Population: Concepts, Determinants and Patterns 
R.C. Chandna
5.
Physical, Human and Economic Geography for Civil Services Examination 
D.R. Khullar