5 Best CSAT Books for IAS Prelims Exam
Civil Service Aptitude Test (CSAT) was introduced in 2011 in UPSC Preliminary Exam (paper 2) to test the IAS aspirant's analytical skills, reasoning ability and aptitude. Let us find out 5 best books for CSAT which will help in the preparation of Civil Services Exam.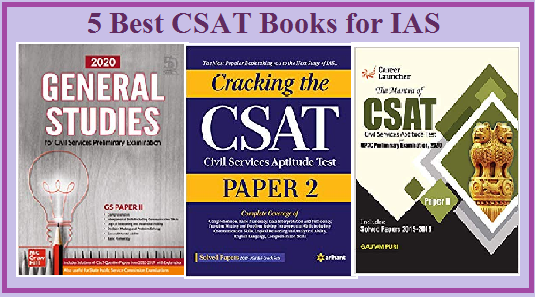 UPSC or IAS Exam consists of three stages prelims, mains and interview. Preliminary is the first stage of the Union Public Service Commission Civil Services Examination (CSE). Two papers are asked in UPSC prelims namely General Studies Paper-1 and General Studies Paper- 2 or CSAT.
Before discussing about the best books let us have a look about the syllabus of CSAT or General Studies paper 2.
– Comprehension
– Interpersonal skills including communication skills
– Logical reasoning and analytical ability
– Decision-making and problem-solving
– General mental ability
– Basic numeracy (numbers and their relations, orders of magnitude, etc.) (Class X level), Data interpretation (charts, graphs, tables, data sufficiency etc. of Class X level)
– English Language Comprehension skills (Class X level).
5 Best CSAT books for IAS Prelims Exam
1.General Studies Paper II 2020 for Civil Services Preliminary Examination by McGraw-Hill
This is the revised study material with complete coverage of the syllabus as prescribed by UPSC for Prelim Exam. It consists of fresh comprehension passages with updated facts, questions based on previous year's analysis and according to the changed examination pattern.
Key features of the Book
– It will be helpful for aspirants preparing for UPSC and State PSC.
– 20 new short comprehensions are also included in the book.
– Deeply analysis of previous year papers and emerging trends to prepare model question papers.
– From 2011 to 2019 analysis and solutions of the paper is given.
– Accuracy of content and information
– Content is developed by renowned academicians.
– Print quality of the book is good.
– Paperback: 904 pages
2.Analytical Reasoning – M. K. Pandey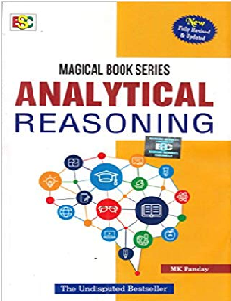 This book is focussed on the topics logic and reasoning skills. For clearing concept it is divided into two segments namely Reasoning based on Logic and Reasoning based on Rules. It plays a crucial role in UPSC CSAT paper. It provides ample of practice required for the preparation. It provides ample knowledge and sheds light on all crucial aspects of Analytical Reasoning.
Key features of the Book
– Language used in the book is clear.
– Data Sufficiency, Strengthening and Weakening Arguments are given with proper explanations.
– Coded relationships, Analytical Decision-Making and Evaluation Inferences are explained effectively.
– This book makes your concept clear.
– Several tricks are given to solve the logical and analytical reasoning problems.
– Complete details of topics are covered.
– At the end, various questions are given for practice.
– Book consists of separate chapters of CR questions asked in exams.
– Topics are well explained with lots of examples.
– Quality of the book page is fine.
– Printing is good.
– Paperback: 710 pages
3.Cracking the CSAT Paper-2 – Civil Services Aptitude Test by Arihant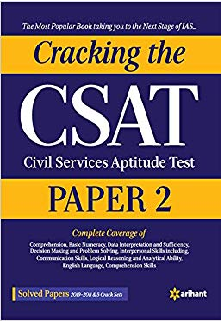 Mostly this book covers UPSC syllabus of General Studies Paper 2. Gives ample of practice and also develop the understanding of the questions as per asked in the examination. Also, develop concept.
Key features of the Book
– Book covers topics like General Mental Ability, Data Interpretation, Interpersonal Skills and Communication, Decision Making, Problem Solving Skills and Analytical Ability etc.
– Book covers all the sections of CSAT with solved examples.
– Complete solutions with charts, tables etc. are also given.
– This book also provides solutions of previously asked papers from 2011 to 2019.
– 5 Sample set for more practice with detailed explanations are also provided.
– Book helps in gaining good grades in CSAT Paper-2.
– Quality of the pages is average.
– Printing of the book is fine.
– Paperback: 981 pages
4.The Mantra of CSAT Paper II – 2020 by Gautam Puri
This book is an ideal companion in the preparation of CSAt for UPSC. The entire syllabus of CSAT is covered with examples and solutions. It gives ample of revision and practice of questions.
Key features of the Book
– Questions given in the book are based on exam pattern of UPSC prelims exam.
– Solved papers from 2015 to 2019 are given.
– Plethora of working exercises is given which enhance practice.
– This Book also provides conceptual clarity of the topics.
– It consists of some tricks to solve the questions on time which add more to it.
– Language used is simple and easy to understand.
– It gives brief idea about General Studies Paper-2 or CSAT for UPSC.
– Page quality of the book is good.
– Printing is also good.
– Paperback: 544 pages
5.A Modern Approach to Verbal and Non-Verbal Reasoning by Dr. R.S.Aggarwal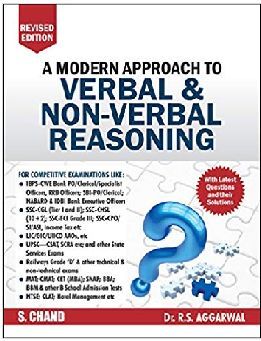 In UPSC Exam preparation, CSAT plays an important role. We can't ignore it in the course of preparation. Verbal and Non Verbal Reasoning is also important to prepare for CSAT. This book covers all the topics related to Verbal and Non-Verbal Reasoning with explanations and practice questions.
Key features of the Book
– Topics explained in the book are basic analogy, directions and non-verbal reasoning, analytical reasoning etc.
– It provides additional questions with solutions.
– It helps in clearing concept for solving questions.
– Questions are covered as per the latest trend of the examination.
– Solved examples of every topic are given.
– It is good not for CSAT but also for various competitive examinations.
– Quality of the pages of the book is good.
– Printing is good.
– Paperback: 1216 pages
So, these are some best books for CSAT exam. Hope these books will help you in the journey of preparation for UPSC Exam.
5 Best CSAT Books for IAS Prelims Exam
S. No.
Book Name
Author/ Publication Name
1.
General Studies Paper 2 2020 for Civil Services Preliminary Examination
McGraw-Hill
2.
Analytical Reasoning
M. K. Pandey
3.
Cracking the CSAT Paper-2 – Civil Services Aptitude Test
Arihant
4.
The Mantra of CSAT Paper II
Gautam Puri
5.
A Modern Approach to Verbal and Non-Verbal Reasoning
Dr. R. S. Aggarwal