Best 5 books of Public Administration for UGC/NET Exam
Public Administration; has very similar syllabus to Political science. But these subjects are different a bit in some aspects. There are 3173 students qualified in the UGC-NET from Public Administration subject while 15330 students qualified in Political Science in the June 2019 UGC-NET exam. In this article, we have published best books of Public Administration for UGC NET Exam.
It' s very clear that good books are like the good teachers. If a students reads good books then he/has more chances to clear the NET exam. Let's know the name of some best books of Public Administration for the UGC/NET Exam.
1. Public Administration by M Laxmikanth
This book starts with basic concept of Public Administration in an easy to understand language. This book is also helpful in providing insight of the State and District Administration and the Local Government.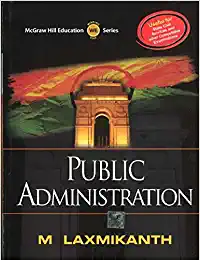 A good feature of this book is that it provided study materials along with question bank in the end of each chapter so that aspirants can practice for the real exam.
The book has been divided into 12 chapters which provide great information on each topic like Theories of Administration, Financial Administration and Administrative Development in the country.
This book is not only useful for UGC-NET but also for Civil Services and other competitive exams.
2.Trueman's UGC NET Public Administration by Sajit Kumar 
National Eligibility Test is taken by the University Grant Commission to determine the minimum eligibility criteria for the lectureship and Junior Research Fellowship (JRF). This exam can be qualified easily after the study of few good books.
A book UGC-NET Public Administration written by Sajit Kumar is very helpful for this exam.
This book has been devised for special purpose UGC-NET exam. This book covers the complete new syllabus of the UGC-NET. The entire subject content has been divided into different units and chapters to facilitate the systematic learning.
Other features of this book are;
i. Chapter-wise up to date content
ii. 5000 Chapter wise objective questions for practice
iii. Important facts and information has been highlighted
iv. Previous Year question papers
v. Model Papers of Paper-II
3. UGC Net Public Administration by Deepak Swain (Arihant Publication)
UGC-NET is qualifying exam so number of seats are not fixed in this exam. Hence if any aspirant crosses the minimum cut off then he/she is awarded with NET or JRF certificate by the UGC.
I am publishing the detail of a book written by the Deepak Swain and published by the Arihant Publication. This book is especially designed for the UGC-NET exam aspirants.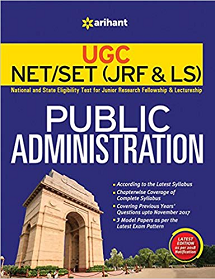 This UGC book covers all the public administrative aspects and concepts in detail. This book covers all 10 units of the UGC- NET syllabus.
Salient features of this book are;
I. There are 4000 Multiple Choice Questions for thorough practice.
II. Previous year question papers
III. Model Papers
IV. Solved question papers of 2018
List of main topics covered in this book are; 
Unit I: Introduction to Public Administration, Unit II: administrative thinkers, Unit III: Indian Administration, Unit IV: state and local administration, Unit V: comparative and development administration, Unit VI: economic and financial administration,Unit VII: social & welfare administration, Unit VIII: public policy, Unit IX: governance and good governance, Unit X: research methodology
4.Public Administration in India by B.L. Fadia & Kuldeep Fadia
This book is basically written for the students of Universities and UGC-NET. Although it is useful for civil services exam also.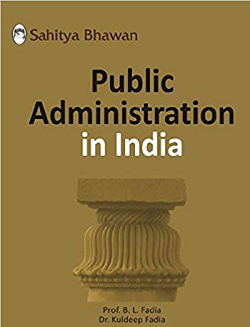 The book covers the up to date syllabus of public Administration for UGC-NET. Here students will find problems of contemporary Indian Administration with their proper historical background. Students will get aware about the evolution of the Indian Administrative system.
UGC- NET aspirants need to study this book thoroughly so that if UGC ask questions from deep theory then students could solve them.
5.Public Administration by Dr. A. Avasthi & S.R. Maheshwari 
Another good book for the preparation of the UGC-NET is written by the Dr. A. Avasthi & S.R. Maheshwari. This book also covers the great extent of UGC -net syllabus. There are around700 pages in this and its price is a bit high i.e. Rs. 640.
Aspirants can purchase this book if they want to develop their writing skill for the other competitive exam in addition to UGC-NET.
| | |
| --- | --- |
| Book name | Writer/Publication |
| 1. Public Administration | M. Laxmikant |
| 2. Trueman's UGC NET Public Administration | Sajit Kumar |
| 3. UGC Net Public Administration | Deepak Swain (Arihant Publication) |
| 4. Public Administration in India |  B.L. Fadia & Kuldeep Fadia |
| 5.Public Administration | Dr. A. Avasthi & S.R. Maheshwari |
UGC NET 2019: Best Books for Teaching & Research Aptitude (Paper-1) Recommended by Experts