The "abroad dream" or "the foreign dream" is one that has been inculcated to students in India for many years now and it has become more impressive now than ever before due to increased globalization and sensationalization of western education and way of life. Every year thousands are in fact lacs of students dream of doing their masters in countries like the United States of America Canada European and Asia Pacific countries. However, not many students are guided well regarding their career aptitude and the kind of future that they want to set themselves for in these foreign lands.
In this particular article on 2 Year PG diploma in Canada, we are going to give a fundamental idea for aspirants on what their life would be in Canada during their academic career as well as after their graduation in the course of diploma. At the end of this article on 2-year diploma postgraduate course in Canada, a student will be able to get answers to the following questions:
1. What is a postgraduate diploma?
2. What are the different two-year PG diploma courses in Canada?
3. Is Canada a good country to pursue a master's in?
In the process of answering the above three fundamental questions that every aspirant will have before applying for foreign universities, we aim to provide a 360-degree overview of life in Canada during education and after so that students can make an informed choice about their career and life.
What is Post Graduate Diploma?
A postgraduate diploma is a course that is subject-specific in nature and these subjects of choice are those that a student would have completed in his or her bachelor's degree. This course can be pursued both in India and outside the borders of the country.
The basic difference between a postgraduate diploma and a master's program is that usually, the post-graduate diploma will be for 2 years while a master's program will last for 3 years. However, there are exceptions to this rule as well. While this is the norm of timeline in India, this can vary depending on country to country and subject to a subject for specialization.
Usually, students pursue graduation in diploma for better career opportunities, lucrative jobs and to gain more subject-specific knowledge. While in bachelor's degree students will be studying general subjects, in postgraduate diploma courses, the students will be studying in-depth of their subject of specialization.
Get complete details about various course details all under one place and clarify all your queries like course duration, fees, admission process, etc.
List of 2 Year PG Diploma Courses in Canada
There are plenty of courses in postgraduate diplomas in Canada that an Indian student can pursue after their 10th or 12th standard. In this particular section of 2 year PG diploma course in Canada we are going to provide 5 such courses depending on the following priorities that most students aspiring to study in Canada will have:
Benefits of doing Postgraduate Diploma Courses in Canada
1. Job opportunities
2. University rankings
3. Syllabus and pedagogy
4. Faculty
5. Alumni
6. Placements
7. Infrastructure
8. Job satisfaction
9. Crowd
10. Future job market trends
Based on the above factors you can find below a few of the most lucrative postgraduate diploma courses in Canada that a student should definitely keep in their bag to have a stable career, both financially and socially.
Postgraduate Diploma in Management or Business Administration
Now that the world is becoming smaller and smaller due to increasing globalization and ever-expanding industrialization and private sector space, the need for good leadership to manage companies and run profitable businesses is at its peak in the 21st century. With regards to this, the lookout for quality business administrators by companies across industries is why a post-graduate diploma in business administration holds a unique value in the recruiters' book. If a student is looking for steady financial growth as well as job satisfaction, then he or she should pursue a course of diploma in business administration or management in Canada.
Business Analytics and Data Analysis
As they say, data is the new oil. With the advent of the smartphone and the increased usage of smart AI-driven devices by people across the world, millions of bytes of data are generated every minute. And without an iota of doubt, this generated data is useful for businesses to take calculated business decisions towards the aim of profitability and sustainability.
A course of postgraduate diploma in data analytics will provide students enough knowledge on how to use raw data and convert it into scalable business decisions which in turn makes him or her extremely valuable for business houses across the world.
It is no doubt that every company is going digital and is adapting to the new age of artificial intelligence and machine learning and the need for quality data analysts has been increasing across the sector. Given the contribution of GDP percentage by service sector manufacturing sector, agriculture sector or even governmental sectors, in India, the importance of data analysis for economic growth is high.
Health Care and Pharmaceutical Sciences
USA and Canada are two of the most lucrative markets around the globe in terms of the healthcare and pharmaceutical industries. The sole reason for this is the healthcare sector benefits (government aided) that their respective governments offer.
There are plenty of pharmaceutical companies in Canada that are looking for competent people for their quality assurance, quality control, business development, production planning, inventory control, scientific researcher, research analyst, and scientists to develop complex molecules and drugs which might be life-saving. As a result of which, a PG diploma course in Canada in healthcare and pharmaceutical sciences is extremely lucrative and can provide a wonderful career for the student.
Advertising and Brand Management
Advertising and branding have changed their course manifold as compared to the ones in the late 19th century. Advertising is not just posters, flashy videography, or punchlines and taglines or slogans. It's about story building and narrative efforts built around the product or service. The advent of social media platforms and the ever-increasing usage of smartphones have changed in totality, the way that advertising and branding have been done in today's world.
Right from targeted advertisements to social media marketing, branded content all across the mediums has become the norm and it is the creative strategies that will survive in this already overcrowded market. As a result of which, content creation has become the core part of advertising and brand management and companies are continuously looking out for talents that can provide the proper strategy to make them stand out from the crowd.
If you believe that you are a creative person who understands the market and knows how to deliver great customer value on the product or services in question, then a course diploma in marketing management, advertising, and brand management is a perfect one for you to have a bright career ahead.
Financial Management
Canada has one of the biggest stock markets and regulated funds around the world. Stock investments, dividend decisions, and financial decisions are extremely important to manage the financial portfolios and there are plenty of large investment banks located in Canada that are looking out for talents who can manage their finances and take proper business decisions.
A 2 year postgraduate diploma course in financial management will provide a gateway for students to get into the world of finance in a highly developed country like Canada and become financial leaders and banking leaders of the world in years to come.
While we have mentioned only five courses that we think are lucrative to a student, one has to make a thorough analysis and come to a conclusion depending on his or her competency, aptitude level, and personal desires and ambitions.
Do Refer:
Is Postgraduate Diploma in Canada Worth it?
There are plenty of reasons for one to pursue a postgraduate diploma in Canada and the following are a few of the reasons that we found that we feel that Canada is a perfect country to pursue a master at:
1. Globally recognized universities
2. Large job market
3. Friendly government policies for education
4. Highly skilled talent pool in areas of specialization
5. One of the most attractive climatic conditions
6. Indian diaspora present in Canada
7. Good work-life balance
8. The most highly developed countries in North America
9. Large industries and the banking sector present in the
10. Geographically and ethnically one of the most beautiful places to live in
Below we have listed some of the top universities in Canada to pursue a 2 year post graduate diploma:
Top Universities to study 2 Year PG Diploma Courses in Canada
1. University of Alberta, Edmonton
2. University of Toronto Toronto
3. University of British Columbia Vancouver
4. University of Montreal Montreal
5. Queen's University Kingston
6. University of Waterloo Waterloo
7. McGill University Montreal
8. York University Toronto
9. University of Ottawa Ottawa
10. Dalhousie University, Nova Scotia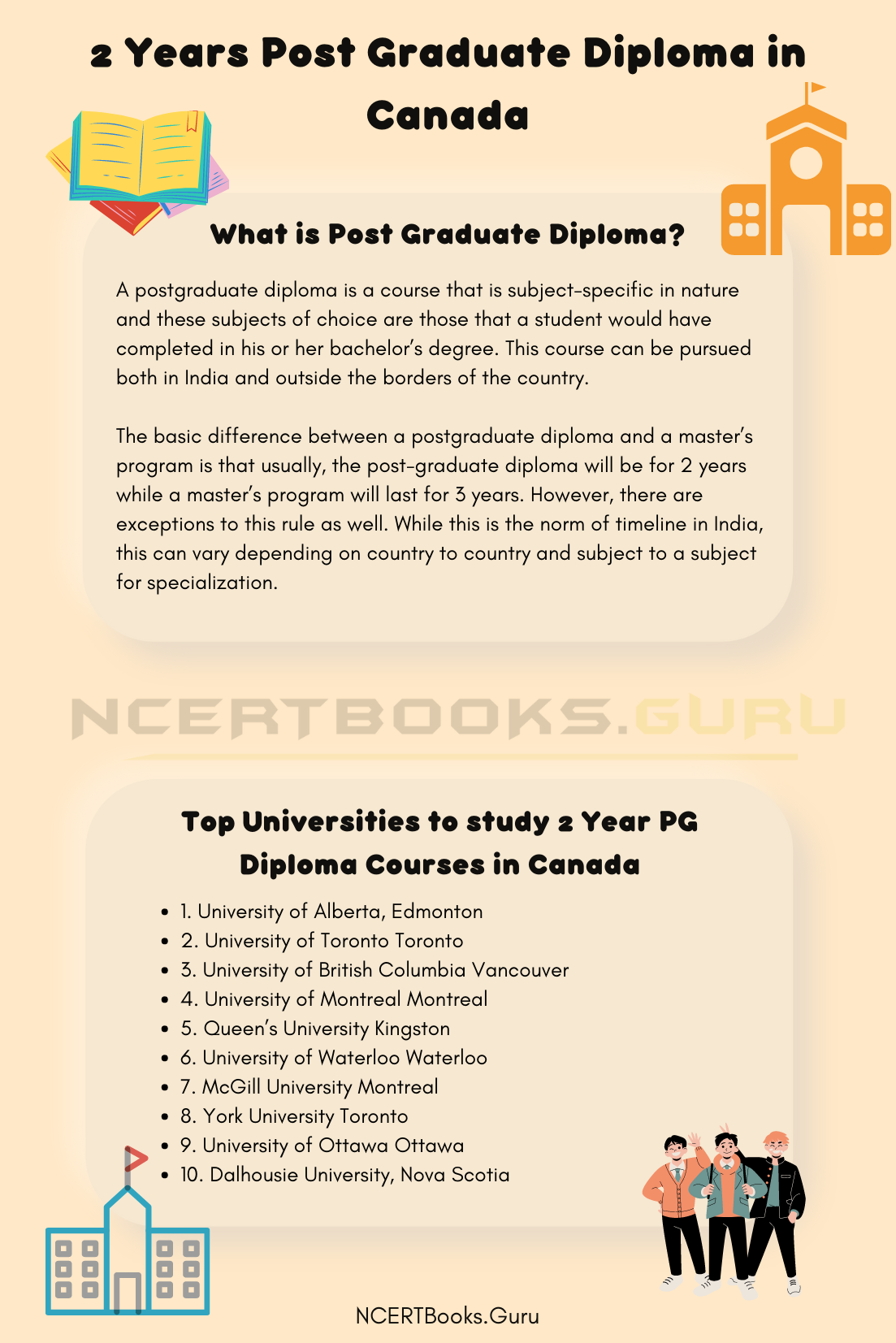 FAQs on 2 year Post Graduate Diploma in Canada
1. How much does it cost to do 2 year PG in Canada?
2 year PG Diploma Courses in Canada Fee varies anywhere between 15 lacs to Rupees 50 lacs depending on the university ranking, geographical location, and course structure
2. Can you do a part time job in Canada during the Diploma course?
Yes, you can do a part-time job in the industry of your choice and earn money while pursuing a 2 year Post Graduate Diploma in any field in Canada
3. Which is better 2 year PG Diploma in, USD or Canada?
It depends on the type of course and the financial condition of an aspirant. If you can ready to cough up hefty amounts on fees and living expenses, the USA would make a great choice since it has plenty of the world's top-rated universities. However, if you want quality as well as affordable education, then Canada it is.
4. Which exams to give to pursue 2 year PG in Canada?
A candidate has to compulsorily give IELTS exam to pursue his or her education in Canada, in addition to other optional exams such as GRE or GMAT, as described by the university that one is applying to.