10 Lines on Swami Vivekananda: Swami Vivekananda was a great leader and philosopher who represented India on the international platform of religion and Conquered the heart of the global audience. His teaching and philosophy guided the Indian youth. Thought to watch always inspired people and will be a source of energy for the future generation.
Enhance your vocabulary and writing skills with 10 Lines Essays available. Spark up the creativity in you and access various Topics on 10 Lines all in one place.
Set 1 – 10 Lines on Swami Vivekananda for kids
Set 1 is helpful for the student of class 1,2,3,4 and 5
Narendra Nath Dutta who later came to be known as Swami Vivekananda was born into a Bengali family of Kolkata, the capital city of British India on 12 January 1863.
His father was an attorney in Kolkata High Court. Although Vivekananda was naughty and the restless, he was greatly influenced by his grandfather and parents to shape his thinking and personality.
From a very young age and he meditated before the image of the deities. He was highly fascinated by wandering Monk and ascetics.
At the age of 8 enrolled at Ishwar Chandra Vidyasagar Metropolitan Institute and after passing the entrance examination, got admitted into the Presidency College and completed graduation from Kolkata University in 1884.
He was an excellent reader of a wide range of subjects including philosophy, religion, social science, history and literature.
He was also interested in India scriptures like Upanishad Purana Mahabharat Bhagwat Geeta. He also studied Western logic and philosophy and European history at the Scottish Church College.
Besides he also started the work of David Hume, Immanuel Kant, Johan Gottlieb Fichte, Baruch Spinoza. William Hastie.
The principal of Christian College Kolkata road said that Narendra is a genius. I have travelled here and wide but never met across little from his talent and possibility even in German university among philosophical students.
Vivekanand had a fantastic memory and ability at speed reading. Once he read a book, remember it forever. Another incident happened when he argued with the Swadeshi National concerning some details of Swadeshi history that the square initially disagreed with and which letter admitted it to be true.
Too many events are there where he proved his memory capacity. He was called Shruti Dhaar by some accounts.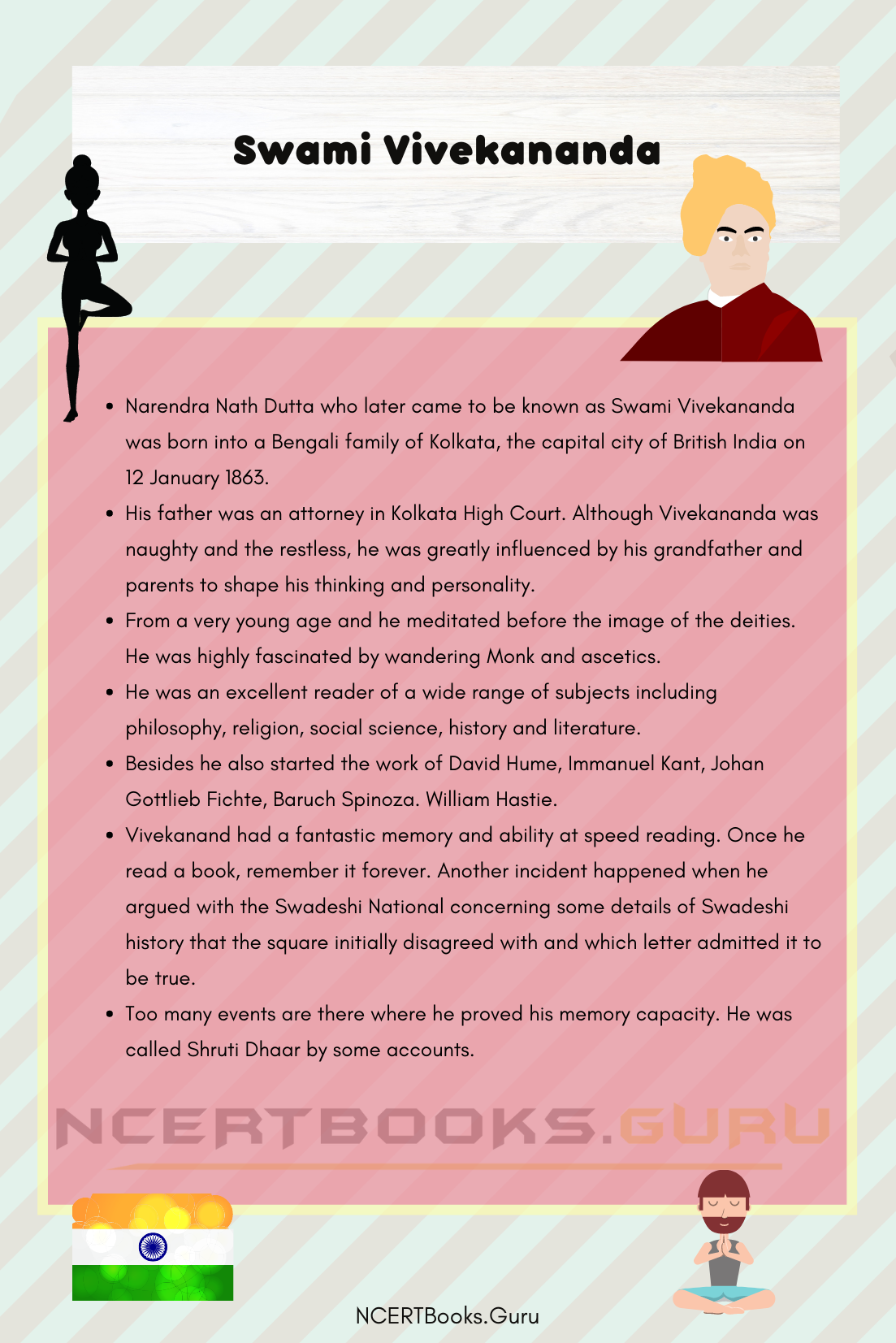 Set 2 – 10 Lines on Swami Vivekananda for School Children
Set 2 is useful for students of class 6,7 and 8
In 1880 he joined Kissa Chandra sen's Nava Vidhan, which was established to convert Christianity to Hinduism before 1884. Keshab Chandra Sen Ravindra Nath Tagore laid Brahmo Samaj from 1881 to 1884. His initial belief was saved by Brahmo concept which beliefs in formulas God
Ram Mohan Roy was the founder of Brahmo Samaj who was strongly influenced by the guitarist's stroke towards Hinduism's universalistic interpretation.
Vivekananda was also impressed by Ravindra Nath Tagore who had a romantic approach to their new doctrines and questioned Central beliefs like reincarnation and Karma.
Tagore brought this new neo-Hinduism closer in line with western esotericism which was enhanced by sen. Sen also introduced a spiritual practice system that is regarded as an auto type of yoga exercise that Vivekananda popularised in the West.
Being dissatisfied with the knowledge of philosophy, he came to the question that marked the real beginning of God's intellectual quest. He asked several people if they had come face to face with God.
But he was not satisfied with the answer. Finally, he made Ramakrishnan who answered his question by saying yes; I see him as I see you.
Nevertheless, Vivekananda was more influenced by Brahmo Samaj and its new ideas Sen had an important role which brought him in contact with western esotericism and Ramakrishnan.
In 1881 Vivekananda the first meet Ramakrishna who has made his spiritual focus after his father's death in 1884 while attending a class of General Assembly to hear the lecture of phosphorus William has the explanation of the word trans made him go to Ramakrishnan to understand the meaning of Trans.
He met Ramakrishnan at Surendra Nath Mitra residents where Ramakrishnan was invited to deliver a lecture. Near Ramakrishnan act Vivekananda the two Singh.
Being influenced by his singing, he invited Vivekananda the 2-4. This meeting proved to be the turning point in his life and begin to visit Ramakrishnan frequently. Vivekananda then tested Ramakrishnan, who faced his argument patiently and replied to see the truth from all angles.
Set 3 – 10 Lines on Swami Vivekananda for Higher Class Students
Set 3 is helpful for students of Classes 9, 10, 11, 12 and Competitive Exams.
After the father's death, he became one of the most impoverished students in his college and tried to find work and question the existence of God.
Ramakrishna and his visit to Dakshineswar increased. Once Ramakrishnan Axed Goddess Kali for his family's financial welfare following the advice he went to the temple but failed to pray any necessity and ultimately prayed for real knowledge.
He was ready to leave everything for the sake of reaching the truth and accepted Ramakrishna as the guru. He was taught that Service to Man was the most effective worship to God, and he became the first disciple.
After Ramakrishnan's death, Vivekanand then converted his Warangal house to Ramakrishnan math. He spent most of the time there in 1887. He compiled a Bengali song anthology named Sangeet Kala Putra but was unable to finish.
3 December 1886 the mother of Baburam invited Vivekanand and the other brother's Monk to Anandpur village where he and the other eight disciples took a formal monastic vow and decided to live as their master here he took the name of Vivekananda.
Vivekananda lived his life the Hindu religious life of A wandering Monk with commandalo and two books the Bhagavad Gita and Christ's imitation. He travelled all over India for five years he realised the suffering of the poor and reserve for their upliftment.
During his travels, he met all types and all groups of people of the society. Some quickly explained that God in one and different religions is different for the tendency, so other religions should not quarrel.his vision was much appreciated, and many Americans became his followers to join the Ramakrishna Mission.
Swamiji clarified the essence of Nationalism in his writing, and boldly said that our motherland India is the nation of philosophy and religion and was the place of spiritual personalities. Chicago successfully established Vedanta countries in the West and adopted Hindu ideas for the understanding of Western recipients. He introduced the working model raja yoga for practical means of realising divine power.
The book was published and became very popular, which significantly impacted the western understanding of yoga. Many followers attracted Swami Vivekananda not only in Europe but also in the United States. He also stated several followers. From the west Vivekanand, spread his work in India he used to make correspondence regularly with the followers and give religious advice and financial support. No good will come from sitting ideal and having a royal dish and saying, Ramakrishnan. The good only they can do to them by working.
In 1895 Vivekananda founded Brahmavadini magazine to teach verdant. Later a translation of his first six chapters of the imitation of Christ was published in brahmavadini in 1889. Vivekananda returned to India on 16 December 1886 from England with his disciples.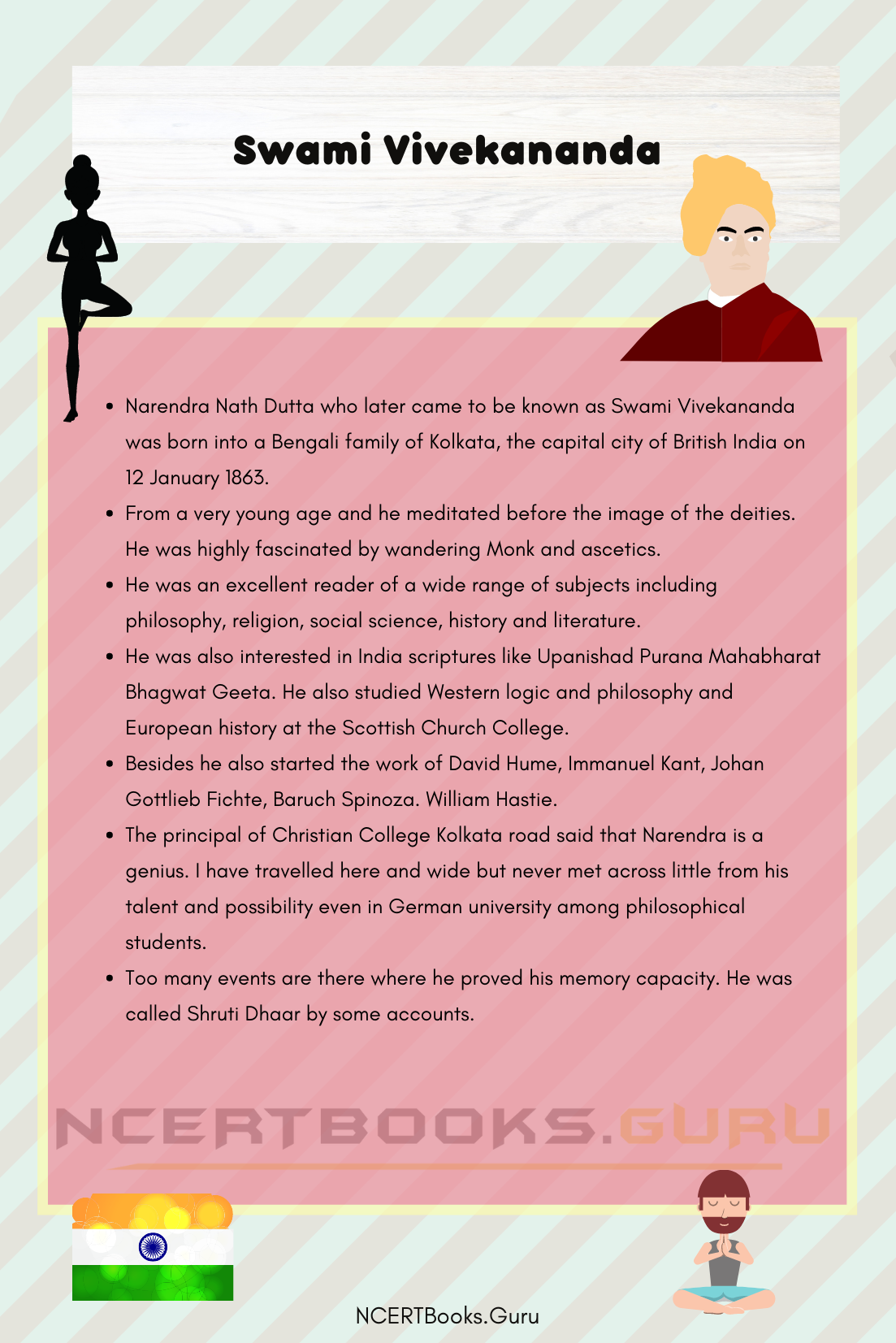 Frequently Asked Questions on Swami Vivekananda
Question 1.
What was Swami Vivekananda's family name?
Answer:
His family name was Narendra Nath Dutta.
Question 2.
Who was the father of Swami Vivekananda?
Answer:
Vishwanath Dutta was the father of Swami Vivekananda.