10 Lines on Punctuality: We all have grown up with an ear to the words and the underlying message of the very commonly used and taught proverb in our daily life, that is, "Time and tide wait for none." In simpler terms, it can be said that we should do all our tasks in a proper time; otherwise, we will face many problems afterwards. Thus, it is rightly said that time is money, or time is very precious. We should invest our time in doing our duties instead of wasting it, killing it. In students' lives, time, no doubt, plays a crucial role in shaping one's character and career.
The one who values time is said to win every battle, no matter how tough it is. It is thus, said one minute could not change your life, but the utilization of every minute will change your life to such an extent that it will lead you to the heights of success and prosperity. Punctuality makes one stand out, and every other person respects him for the discipline he or she has taught in life. But it should be noted that the sooner this quality is instilled in a person, the sooner and better they get the sincerity. On the contrary, if one does not value time, gets spoiled and trapped in the quagmire of life.
Enhance your vocabulary and writing skills with 10 Lines Essays available. Spark up the creativity in you and access various Topics on 10 Lines all in one place.
Set 1 – 10 Lines on Punctuality for kids
Set 1 is helpful for students of Classes 1, 2, 3, 4 and 5.
People who obey the value of time always succeed.
Time is the most valuable one- time investment, which, when used correctly, creates an easy path for success.
Punctuality is how we stand and respect our commitments
Punctuality is the first step towards success
Punctuality is the essential quality which is practised by leaders.
It helps in building self-confidence as well as integrity in our lives.
Lack of punctuality may bring lethargy and laziness, which may harm us in the long term
People who value time get valued by everyone.
Punctuality is always right, while delaying can damage your relationship.
Punctuality should be a part of our daily life in workplaces and the aspect of our health!
Set 2 – 10 Lines on Punctuality for School Children
Set 2 is helpful for students of Classes 6, 7 and 8.
Punctuality enables students to lead a disciplined life in school.
Students can be punctual in their separate ways by completing their tasks and practising their duties.
Like nature reverses the season's card at the right time; we should also know what to do at what time.
the most successful people never rely on excuses. Rather they polish their skills of punctuality.
Punctuality is a sign of professionalism and enhances reputation at the workplace
Punctuality helps in organizing the tasks in an effective manner, which boost productivity in the long run
Eating, sleeping, and exercising at the right time can help us in building a punctual lifestyle, which will simultaneously allow us to be energetic and curious regarding other works.
Discipline and punctuality are directly proto each other.
A punctual person gets the advantage of enjoying every moment of the event.
Punctuality makes us feel free and pushes us to give our best.
Set 3 – 10 Lines on Punctuality for Higher Class Students
Set 3 is helpful for students of Classes 9, 10, 11, 12 and Competitive Exams.
Procrastination is our biggest enemy, and punctuality is our best friend.
People who are not punctual in their lives face problems from various sites.
The whole world works based on punctuality, where the sun rises and sets in time, and many more can add to the list.
Punctuality should be a habit that should be practised every day.
People who are punctual get time to work on themselves and for their peace of mind.
Duty when neglected and delayed results in a never-ending lousy impression.
For this, we must start writing our to-do list every morning and should ensure its completion before we sleep at night.
Nature cooperates with people in terms of health, work, and happy life only when we do things at the right time.
Being punctual shows that you can trust upon responsibilities.
Punctuality should be a priority.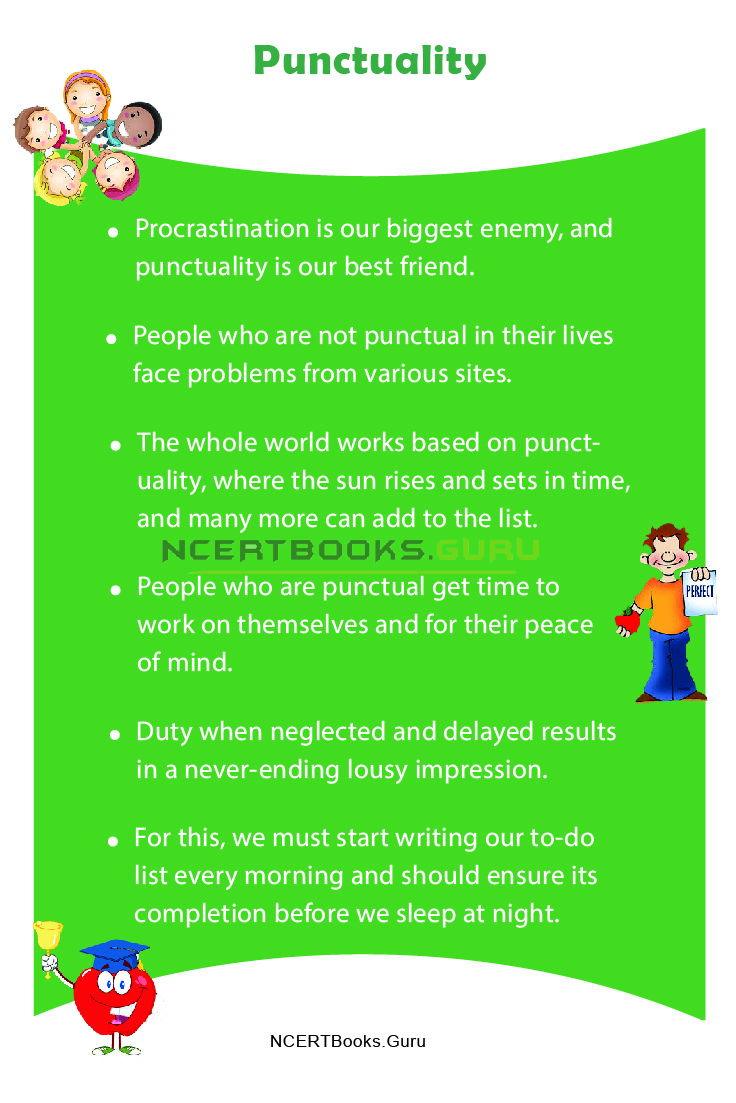 Frequently Asked Questions on Punctuality
Question 1.
Is there a proper age to instil punctuality?
Answer:
No, there is no specific age to imbibe punctuality. However, if these qualities are taught from childhood, they bear better results.
Question 2.
Is punctuality only needed in School life?
Answer:
No, punctuality is a value that should be carried in every part of life, no matter in school, colleges, offices or even at our home.
Read More: Punctuality paragraph