10 Lines on Nature: Nature is also termed as a mother as the mother is the symbol of care, love, and nurture, same as with nature. Anything that our eyes can reach up to is the valuable gifts of nature t us. The tress, plants, the blossoming of a flower, the creamy sweet taste of ripened fruits, and any lovely things are gifts to us from Mother Nature. All these things which are collectively found in the earth are termed as nature. These things are like a blessing to us from Mother Nature, and all these are non-returnable. It is truly a blessing to humankind.
Phenomena like floating of water, the pleasing sound of birds chirping, and the coolness of the breeze, and many more. These are the valuable gifts that we get from Mother Nature. It is very much necessary that nature should be healthy and wealthy at the same time. The universe always follows the rules of giving and take policy. If we want the best from nature, then we should do some good for nature.
Enhance your vocabulary and writing skills with 10 Lines Essays available. Spark up the creativity in you and access various Topics on 10 Lines all in one place.
Set 1 – 10 Lines on Nature for kids
Set 1 is helpful for students of Classes 1, 2, 3, 4 and 5.
Anything that we feel around us is nature.
Nature is regarded as the mother who delivers everything good to us.
Moreover, it is always a pleasure meeting with nature.
Nature that surrounds us is beautiful, and the ad is full of various colours.
nature provides us with clean air to breathe, clean water to drink, give the sol to make our food, and gives us land to stay.
Nature provides us with fruits and vegetables to feed our hunger.
It is our responsibility to balance the privilege that we are getting without disturbing it.
Nature is very precious to us.
Nature is our only best friend with whom we can rely upon.
It is our primary duty to keep our nature wealthy and healthy.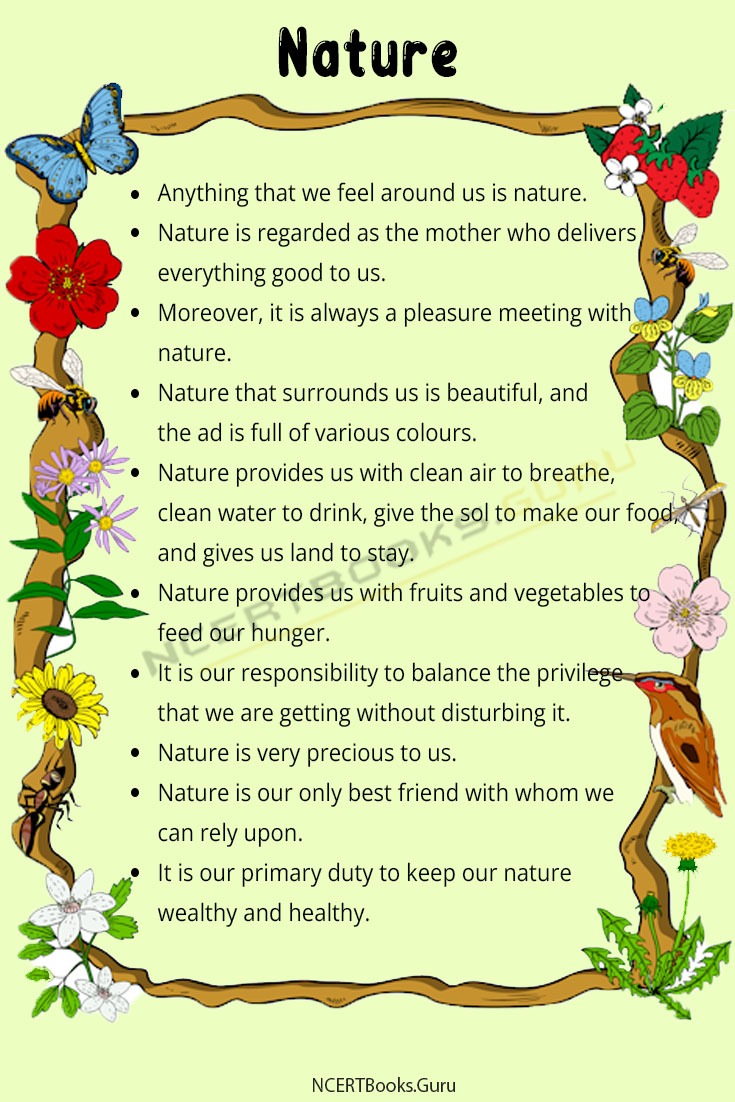 Set 2 – 10 Lines on Nature for School Children
Set 2 is helpful for students of Classes 6, 7 and 8.
Nature is a beautiful thing that keeps our minds at peace.
Therefore, Nature heals us whenever we are in sadness and distress.
However, Nature provides us with many valuable things, and we should not take them for granted.
Moreover, nature is full of surprises; we have to find it out.
Nature relaxes our mood and lift our energy in a very positive way.
Nature is something that we need to deal with care and respect; if we ignore it, it may bother us later.
Nature is the only good thing that we can rely upon for our entire life.
It very much pleasing to look at nature and capture some beautiful and memorable moments from it.
Nature is the place where everything from living to non –living things gets placed.
Nature gives rise to the development of new species.
Set 3 – 10 Lines on Nature for Higher Class Students
Set 3 is helpful for students of Classes 9, 10, 11, 12 and Competitive Exams.
Nature is a bag full of millions of creatures and millions of spices on the globe.
Nature is the source of giving birth to new species and animals.
Nature is full of diversity, and you can find many unique pieces of stuff from it.
There is nothing as worthy as nature.
There are no other alternatives for nature, even if there is no technology that could replace the place of nature.
The working of non-living things also depends widely on the presence of nature.
Nature is the light path for millions of writers to describe their imagination in the papers.
It is our sole duty to keep our nature clean and green and keep its components in place.
We must take the severe initiative to beautify ad safeguard our nature.
If there is nature, there is a chance of the existence of life.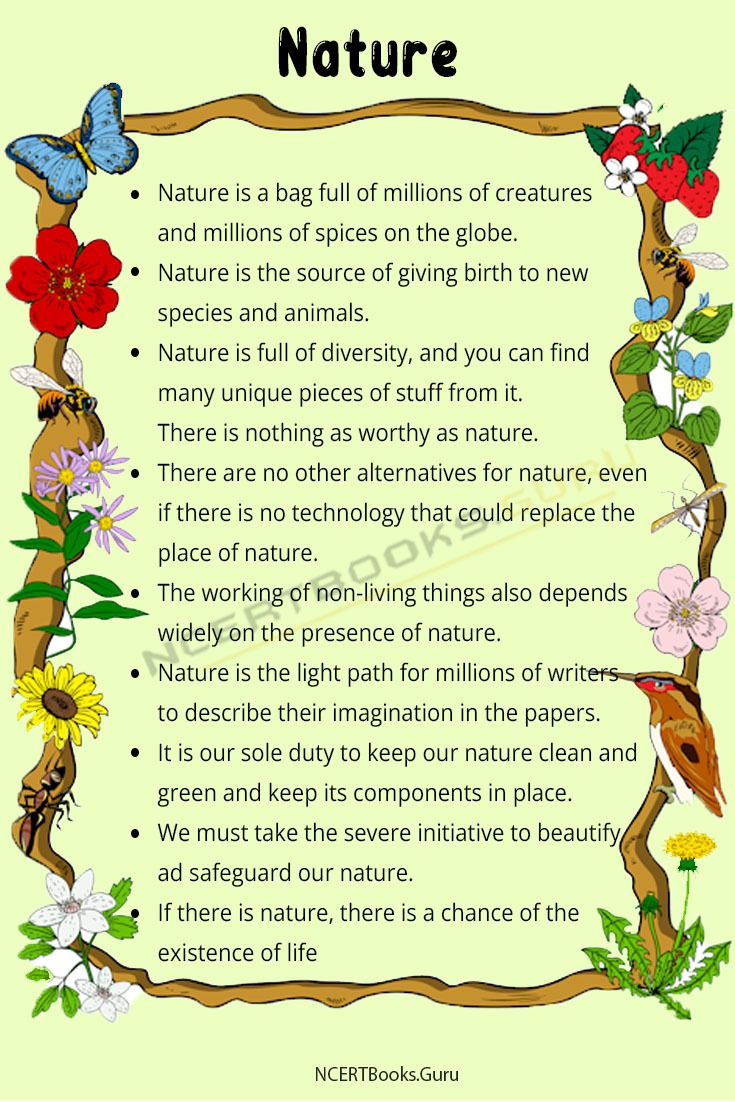 Frequently Asked Questions on Nature
Question 1.
what is nature composed?
Answer:
nature comprises the fresh air we breathe, the clean water we drink, the soil upon which we grow our food, and the land we live. All these are the components that comprise nature. Some features do not directly help us but play a vital role in nature, like hills, flowers, the tastes of fruits, and many more.
Question 2.
How can nature be beneficial to us?
Answer:
nature is the prime source through which all the living creatures survive. Nature gives life to us.