10 Lines on Myself: It is always a dilemma to think and write about yourself. You can write a book for describing others, but when you need to speak a few lines for yourself, you fall short of words.  We all know that being our own is the most necessary thing, but we just forget to pay attention to it with all sort of matter. Getting some time and thinking and writing about ourselves is one of the essential things we all need to do.
The most important thing that you should do is to love yourself. That's what matters at last.  Making friends, a loving family, and enjoying the present are the duties that we need to make ourselves happy. You should always be very proud of yourself.  It is the duty of everyone that they should think themselves beautiful in whatever way they are. Describing oneself is still a complicated thing, as many times we ignore our own needs. We should not do that.
Enhance your vocabulary and writing skills with 10 Lines Essays available. Spark up the creativity in you and access various Topics on 10 Lines all in one place.
Set 1 – 10 lines on Myself for kids
Set 1 is helpful for students of Classes 1, 2, 3, 4 and 5.
I am Shanya Sharma, and I am 9 years old.
I studied in DAV public school, and I am in the fifth standard.
My father name is Mr Shrish Sharma and my mother name id Mrs Radhika Sharma.
My father is an engineer, and my mother is a bank manager.
I have one younger sibling who is two years younger than me.
My younger sibling study in class two and his name is Samir Shamra.
I love to watch cartoon and play with my friends in my free time.
I also like to draw pictures, dance and I also love signing.
I am a very good girl, and I am very sincere towards my work.
I respect my teachers and parents, and I am very punctual in my career.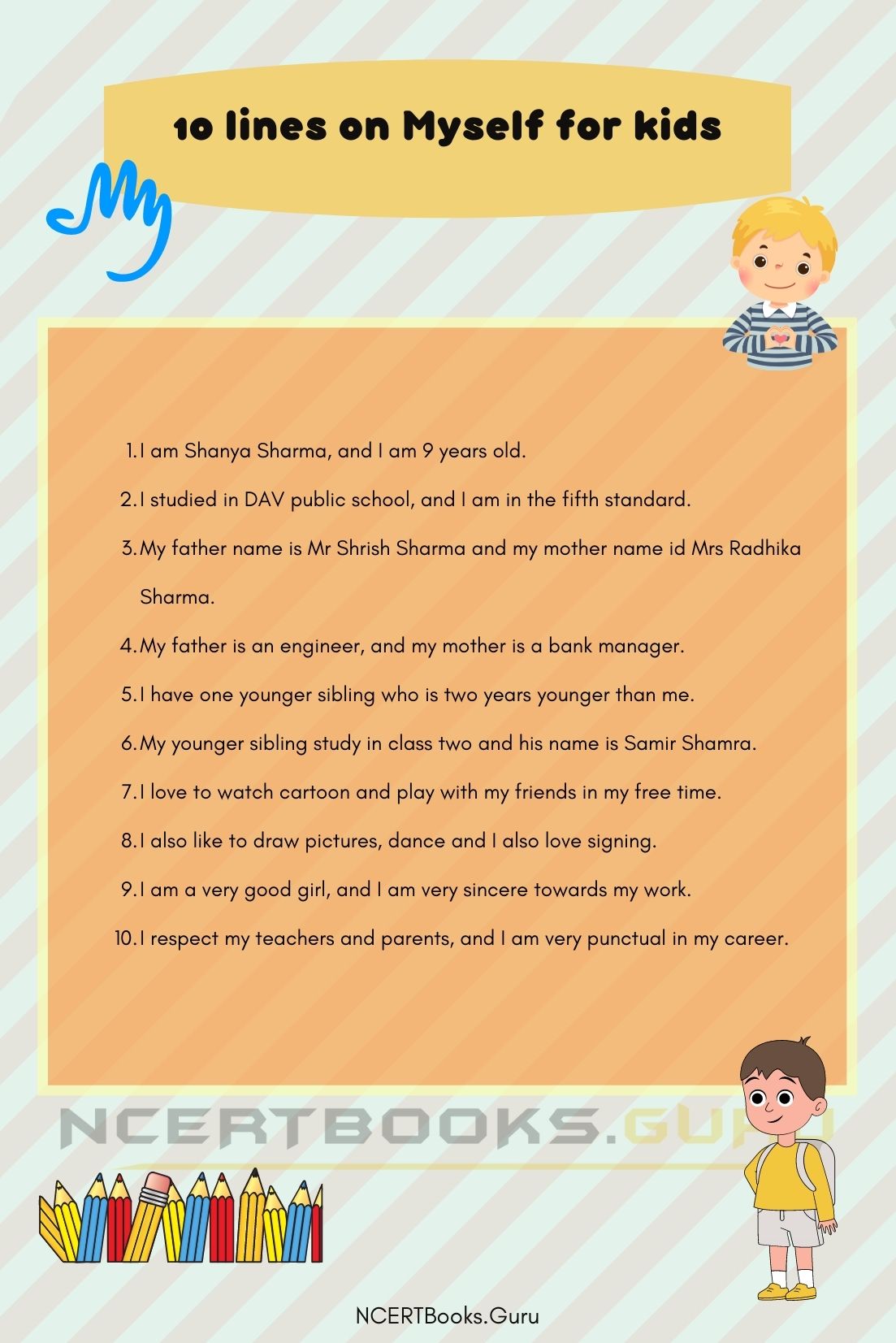 Set 2 – 10 Lines on Myself for School Children
Set 2 is helpful for students of Classes 6, 7 and 8.
My name is Ronit Roy, and I am 11 years old
I am a very bright student, and I am also the one who represent my class.
I am the favourite of my parent and my entire school teacher.
In my free time, I like to go for an outing. I love to play outdoor games, or else I go for reading books.
I have lots of interest in studies and sports, and I was the winner of last year inter-school tennis championship.
I am very descent in academics and secure good marks and good rank in class.
My family includes my father, my mother, my grandmother and my grandfather.
I find myself close to my mother, and share every detail of my daily life with her.
I also like my pets, and I have two puppies in my house.
I love to spend my time with my family, as I love them the most and I also enjoy their company and gets to learn much valuable knowledge from them.
Set 3 – 10 Lines on Myself for Higher Class Students
Set 3 is helpful for students of Classes 9, 10, 11, 12 and Competitive Exams.
My name is Priyanka Singh, and I am 14 years old.
I live in Mumbai, in Kurla division, with my parents and sister.
My father works for a multinational company, and my mother is a homemaker.
On weekends I go on an outing with my parents to parks, and I enjoy it with them.
My hobbies include gardening, painting, cooking small dishes and helping my mother.
I am an early person, and I go to bed early at night and wake up early in the morning.
I am very obedient and punctual with my work, and I am very confident with what I am doing.
I aim for being a good citizen in the society, and make my parent feel proud of whatever I do.
I give respect to my elders and loves to my younger,
I love my country, and I will do good deeds to make my country feel proud of me.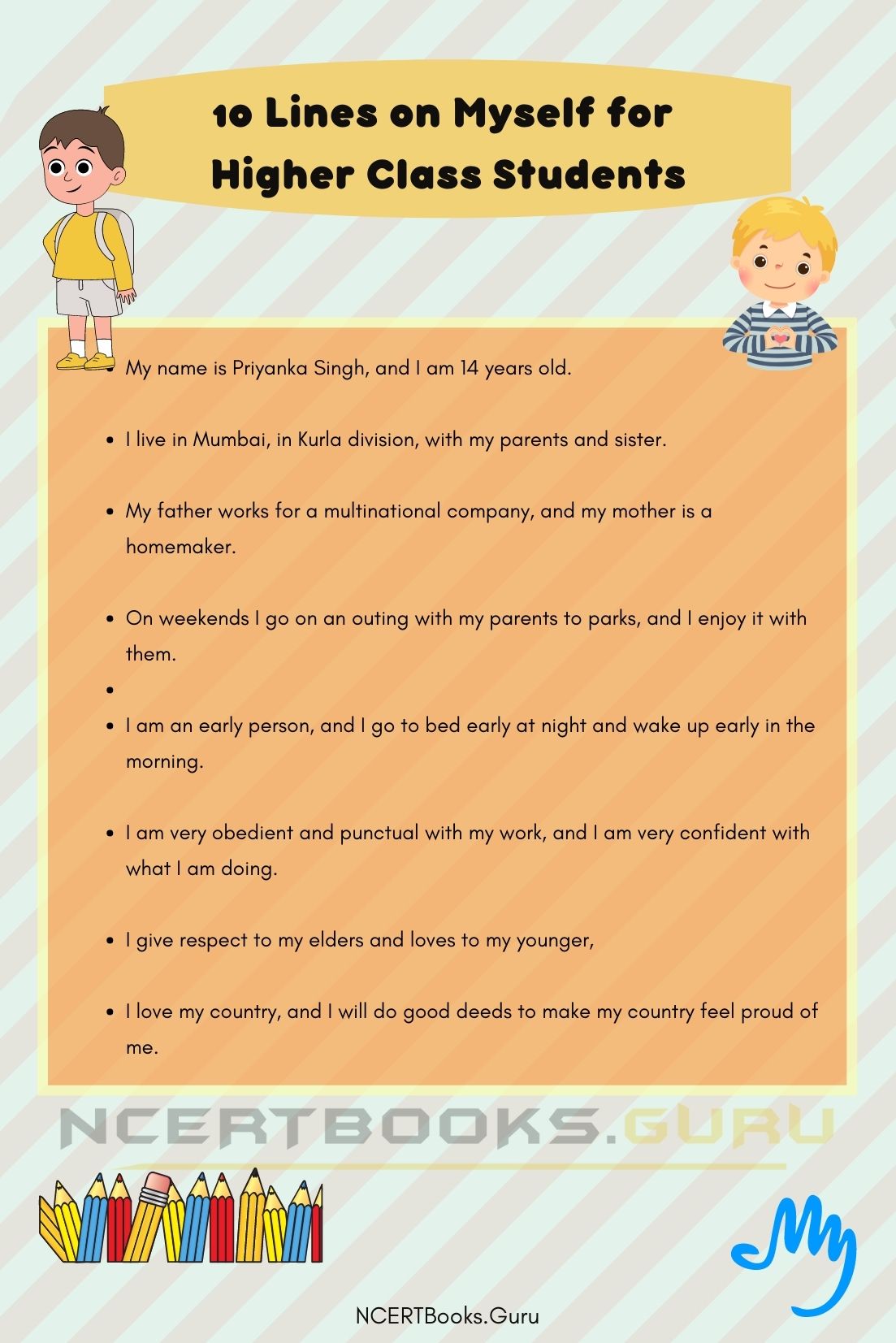 Frequently Asked Questions on Myself
Question 1.
how to make yourself happy?
Answer:
being happy lies in your hand. Keep a smile on your face and do the work with full confidence. This will, at last, will make sure to give you happiness.
Question 2. 
how to be good with people?
Answer:
dealing with different people is an art. You have to deal with various people and situations; all you have to do is greet them with good behaviour and a smile in your face.