10 Lines on My Teacher: Education is one of the important parts of every person's life today. It predicts the future of individual and career aspects. The job an individual can have, their hobbies, lifestyle everything depends on the education they get. Today, the world is filled with temptations and pleasures for students on the path to success. A teacher can help students pass those obstacles and help them be successful in teaching them the important moralities of life.
Teachers play a vital role in every child's life. Every person has a teacher in their life who they thank for what they have become today. Among many teachers, we all had our favourite one to grow better and learn new things. Childhood is special for all of us, and teachers only make it better. Here we have three sets of ten lines on teachers who have made a positive impact on our lives and has been a part of our success.
Enhance your vocabulary and writing skills with 10 Lines Essays available. Spark up the creativity in you and access various Topics on 10 Lines all in one place.
Read More: My Aim In Life Essay 150 Words
Set 1 – 10 lines on My Teacher for kids
The first set is for the students of classes 1, 2, 3, 4, and 5.
My favourite teacher at school is my maths teacher.
She is a very kind and humble person.
She makes maths fun to learn and easy to do.
Her teaching style is unique, which has also helped me improve my arithmetic.
My teacher motivates me to work hard and avoid any other means like cheating to get good grades.
My maths teacher corrects my homework and helps me to use my mathematics in practical life.
My teacher not only teaches me maths but also helps me when I feel down in school.
She gives us chocolates when we do good in our class tests.
My maths teacher is also my class teacher, and she is there for all the students in times of need.
We all love our class teacher for helping us grow and gain knowledge for our better future.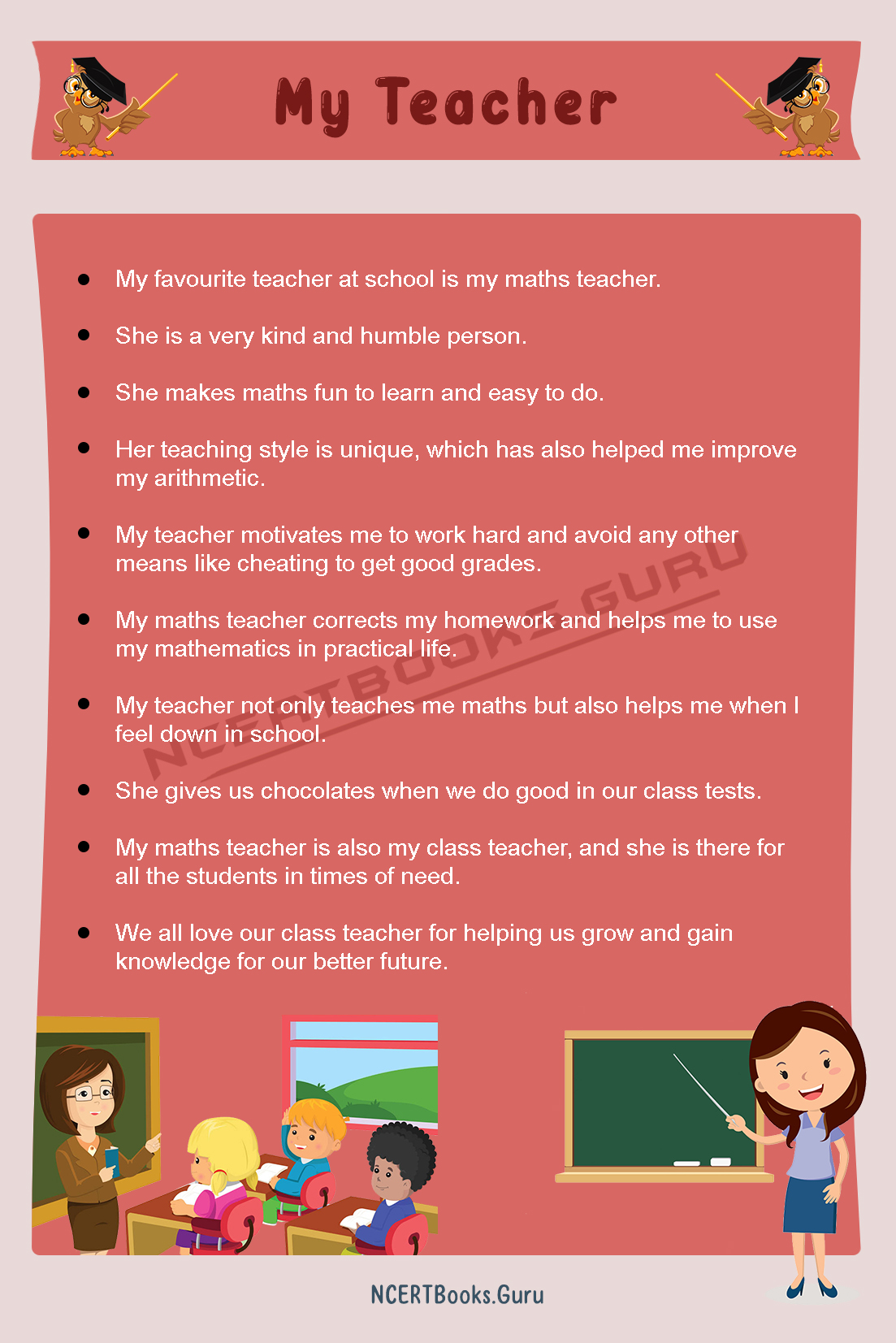 Set 2 – 10 Lines on My Teacher for School Children
The second set will help the students of classes 6, 7, and 8.
When you are in middle school, many changes occur in life, and a teacher can fill the gaps to motivate and inspire you to become a good student.
My favourite teacher in middle school was my science teacher.
My science teacher was enthusiastic, and she filled even the dull classes with life.
A good teacher is not defined by completing the syllabus early, but the one who also teaches us facts outside the book and helps us use the knowledge in real life.
She always stood by her students who lacked confidence and helped them come out of their shells.
The way she teaches us science has made it interesting and love her and the subject more than ever.
Science was like the favourite class of the day for our teacher made us do experiments we all used to perform.
Science has taught us to imagine and to delve into our self-made fantasy world.
Although she was very kind and humble, that didn't save us from punishments for not completing our assignments and homework.
She has always inspired us to aim high and work hard for our future.
Set 3 – 10 Lines on My Teacher for Higher Class Students
The third set is for the students of classes 9, 10, 11, and 12.
Higher classes mean a tough competition among students to reach their goals and be a better idol than a teacher.
Physics was the most hated subject, but my teacher made it the most loved one and helped me score the highest in my finals.
My teacher was determined to make us fall in love with physics and draw experiments to make it interesting.
My teacher was like a godmother when I failed to score better; she supported and helped me make my grades better.
My teacher never compared any of the students; he believed that comparison would only break their confidence.
The entire school loved him for his kind, humble, and down to earth nature.
A good teacher is the one who helps the weak students get better with the subject, and that's what he did in our class
which made him more popular among students.
She was not only a teacher, but he also helped us through our hard times and stood by us hearing our problems.
Our teacher is the best teacher for us and always helps and cares for us like a mother.
A kind-hearted, down to Earth, impartial teacher, who respects students and helps them become better people instead of comparing are the traits of a good teacher. They pay attention to every child and put their effort into the weak students to thrive in academics.