10 Lines on My Favourite Food: If someone asks me what my favourite food is, I never think of anything fancy and oily food. All it appears is a beautiful yellow coloured food studded with lots of vegetables and a bit of ghee prepared with rice, yellow lentil and turmeric.  That is Indian food, a superfood and we call it as "Khichdi". Khichdi can be taken in breakfast, lunch as well as in dinner. Khichdi is a superfood and is made in a super easy and quick way. It is full of all nutrients that a human being requires daily.
The turmeric present in it has anti-inflammatory properties and anti-bacterial properties, which help cure the human body's inner organs and infections. This superoxide is easy to be digested by every age group. Initially, being a child, we all hated to eat Khichdi, but with time we started loving it not only for its excellent health benefits but also for its taste. The Indian mothers no doubt make the tastiest Khichdi. Even infants after they attain six months age are fed Khichdi to help them grow into healthy individuals. Even the sick people are also fed Khichdi in the hospital and homes for a speedy recovery.
Enhance your vocabulary and writing skills with 10 Lines Essays available. Spark up the creativity in you and access various Topics on 10 Lines all in one place.
Set 1 – 10 Lines on My Favourite Food for kids
Set 1 is helpful for students of Classes 1, 2, 3, 4 and 5.
My favourite food is Khichdi.
It is made up of rice, dal and many other vegetables.
The vegetables may include beans, tomatoes, carrots, brinjal,  green peas and many other things.
It is a very healthy dish.
We should eat it regularly to stay healthy.
It contains all the necessary nutrition that is required by the body.
My Mom adds ghee to it st the ad which has a pleasing aroma.
Taking Khichdi in meals during a time when a person is sick, helps us recover soon.
Eating Khichdi keeps us full.
My mother makes the best and most tasty Khichdi in our clean kitchen.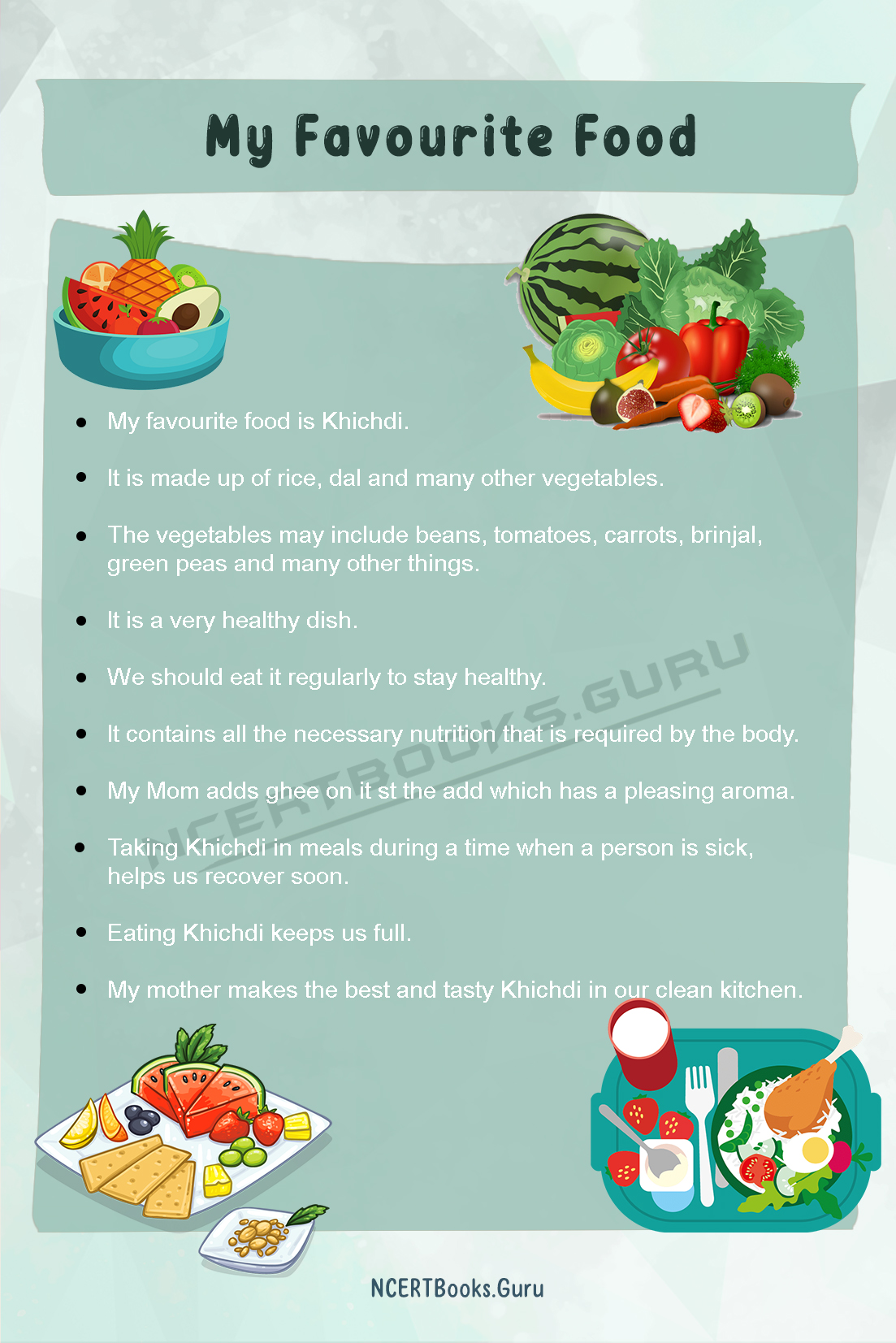 Set 2 – 10 Lines on My Favourite Food for School Children
Set 2 is helpful for students of Classes 6, 7 and 8.
My favourite food is Khichdi which is Indian food.
Many people in India cook and eat Khichdi, especially when they are ill or sick.
It is easy to prepare the dish.
It is made up of boiling all the vegetables, rice and dal in a pressure cooker and sizzling it with cumin seeds and ghee.
The Khichdi has all the necessary nutrients that one should have in a day's meal.
It is a heavy meal and makes us full after eating it.
This dish has now got recognition at the international level because of its very beneficial properties.
It has no or minimum spices in it.
Khichdi is easy to digest by every people.
Eating Khichdi reduces blood sugar level.
Set 3 – 10 Lines on My Favourite Food for Higher Class Students
Set 3 is helpful for students of Classes 9, 10, 11, 12 and Competitive Exams.
Khichdi is my favourite food which is widely made in the kitchens of India.
It is made up of boiled vegetables, yellow dal and rice with a tiny amount of oil or ghee and a pinch of salt and turmeric.
It is seasoned with cumin seeds, which adds to the food item's taste and aroma.
The Khichdi is a very nutritious food item as it contains so many healthy ingredients; hence, it is fed to babies as well when they start eating cooked food.
It is quickly cooked and can be easily digested by all age groups.
Diabetic patients can also eat Khichdi as it helps in lowering blood sugar levels.
Khichdi is an excellent source of macronutrients made from rice, lentil and vegetables.
Eating Khichdi improves the health of the heart as well.
The Khichdi is considered to be an ayurvedic food having all kinds of medicinal properties.
The Khichdi is a perfect detox food.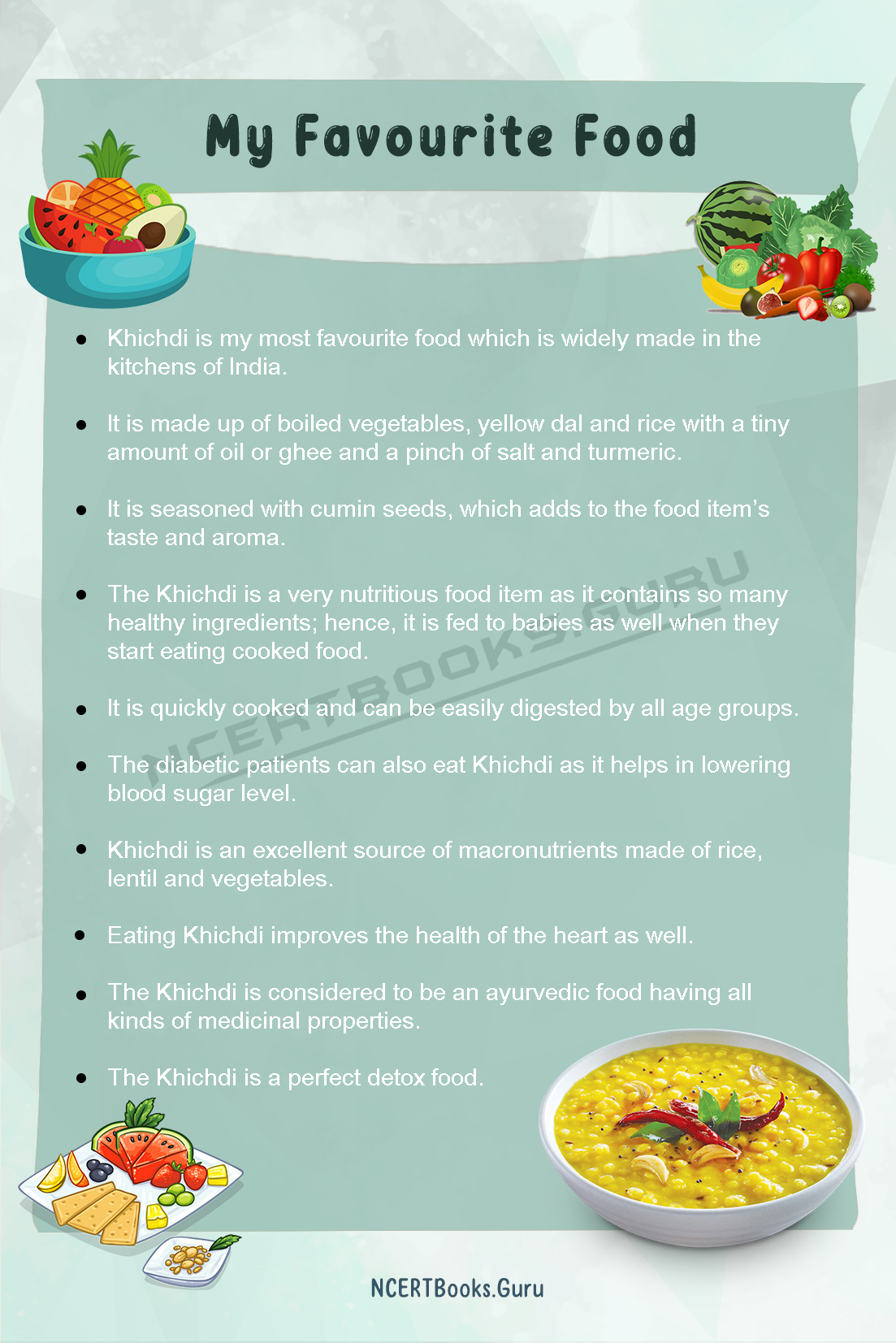 Frequently Asked Questions on My Favourite Food
Question 1.
What is so tasty about Khichdi, as most persons find it boring?
Answer:
The best thing about khichdi is that the raw taste of dal blends your in your mouth to give it a perfect and delicious taste.
Question 2.
Does Khichdi help in weight loss?
Answer:
Yes, Khichdi does help in weight loss if the ghee is eliminated out of it and the major constituents are the boiled vegetables instead of rice. So, in a way, it helps in having proper weight. So, if one is lean and thin or underweight, eating Khichdi adds to your weight; on the contrary, if one is obese, Khichdi helps reduce weight.