10 Lines on My Father: Fathers play a significant role in every children's life. Every father has a different relationship with his son or daughter. They are considered as one of the most important influencers in a child's life, along with his/her mother. For daughters, a father is a figure who secures them from every danger, and for sons, a father is their role model, and they want to become like them in the future. Fathers act as a support system for every child. They teach us different values and cultures that are important to survive in today's society. They always have an impact on every relationship that the student makes during his/her lifetime.
As I said, everyone in this world has a different relationship with their father. Similarly, my relationship with my father is quite different from others. I have a fun relationship with my father. We joke around and make fun of each other most of the times. However, my father always had guided me in different situations throughout my life. I consider him my role model and want to learn all the values and cultures he believes in.
Fathers are strict to their children because they want them to learn how to behave in a society so that no one can point fingers at them. Fathers have always influenced their children on relationship matters. Children tend to maintain their relationships according to what they have witnessed during their lifetime from their father.
Enhance your vocabulary and writing skills with 10 Lines Essays available. Spark up the creativity in you and access various Topics on 10 Lines all in one place.
Set 1 – 10 Lines on My Father for kids
This set is designed specifically keeping in mind the students of 1, 2, 3, 4 and 5
My father is the one who always supports me in all difficult situations. He is like a backbone in my life, without I am nothing. He is the reason for my happiness.
My father is a humorous man and always love to joke. Most of the times he jokes around with me, and I enjoy it because it is fun. He is a man who can just make your day with his endless efforts to make you happy.
My father plays different games with me. He is good in every game, either indoor or outdoor. While playing, he teaches me different techniques and methods to win a particular game and make your opponent lose the game.
My father works at a private company, and he works very hard to earn a living for us. He never shows his stress to us as he leaves all the stress outside, and when he is at home, he is all humourous and fun.
My father loves to help the poor when they are in need. He gives a little fraction of his monthly salary to the poor. This acts of him make me proud that I have a father who is so special.
My father loves to ride two-wheelers, and he always prefers motorcycle over cars. He also has quite a good knowledge of various motorcycles.
My father is a great fan of news channels, so he watches the news whenever he is on TV.
After watching the news, he loves to share it with us. We also get benefitted from this as we get the information without seeing a news channel.
As we belong to an Odia family, my father loves to watch programmes that have been recorded in our regional language.
My father is a good person and always care for everybody around him. He makes sure that everyone is doing fine in their lives, and they are not facing any problems.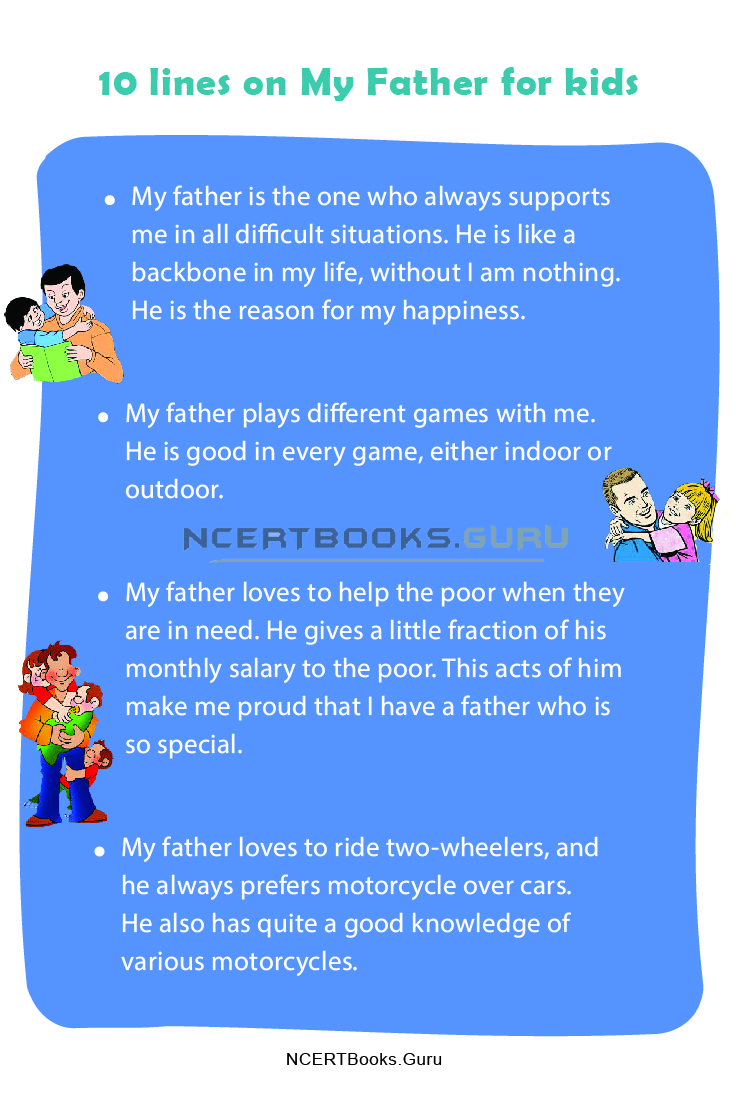 Set 2 – 10 Lines on My Father for School Children
The set is designed specifically keeping in mind the students of classes 6, 7, 8 and 9
My father is a humble and genuine person who has never cheated anybody in his life. I always wish to become like him, which is why I consider my father as my role model.
My father helps me in my studies and explains to me whenever I have doubts. He was a good student in his school times, so he has the capability of teaching me in the right way.
My father is a song lover. He loves to listen to various songs in his free time. He prefers listening to Odia songs over other songs. He also has excellent knowledge in this field.
My father helps me in doing school projects which I am unable to do. He guides me in every step and corrects me when I am doing something wrong.
My father doesn't have traditional thought; he is of modern mind and knows all the new trends that are going in the world recently.
My father helps my mother in cooking and household works to take a little work pressure from her head so that she can relax a little bit.
My father is an employee of a private company. He always works hard to earn a living for us. He is never late to his work and remains punctual every time.
My father fulfils every need and wants of our family. He never hesitates to do that in his whole life.
My father knows how to maintain a relationship with others and how to behave when you are in front of elders.
Everybody loves my father because of his humble and honest attitude. He had never hurt anybody in his lifetime.
Set 3 – 10 Lines on My Father for Higher Class Students
This set was designed specifically for students who are in classes 10, 11 and 12. This set is also for those students who are pursuing some professional courses or a degree.
My father is my support system. He is always there whenever I need his support for any problem. He is there to give me life advice that helps me to overcome all my problems in life.
My father helps me to take important life decisions which I am incapable of taking. He makes the right choice for me.
My father has never forced anything on me. He has just guided me, but the last decision is always taken by me.
My father never said to me what to do in my career. I decided my career, and he supported me in everything without a single excuse.
My father is a great family man and always tries to keep his family happy and ensures that they live a comfortable life without any difficulties.
My father makes us feel secure and safe in every situation; may it be a bigger problem or a smaller one.
My father is of modern belief and helps my mother in everything. He never thinks that men shouldn't do household work.
He thinks that this thought is inappropriate for our society.
My father helps me financially, also. He has never said no for anything. I just have to ask him, and he is ready to provide.
My father is a humorous person and always makes fun. We two share a friendship bond in which we can share anything with each other without any hesitation.
He is a huge fan of music and reality shows. He loves to spend his evening watching these shows or listening to some regional music. He loves classical songs more.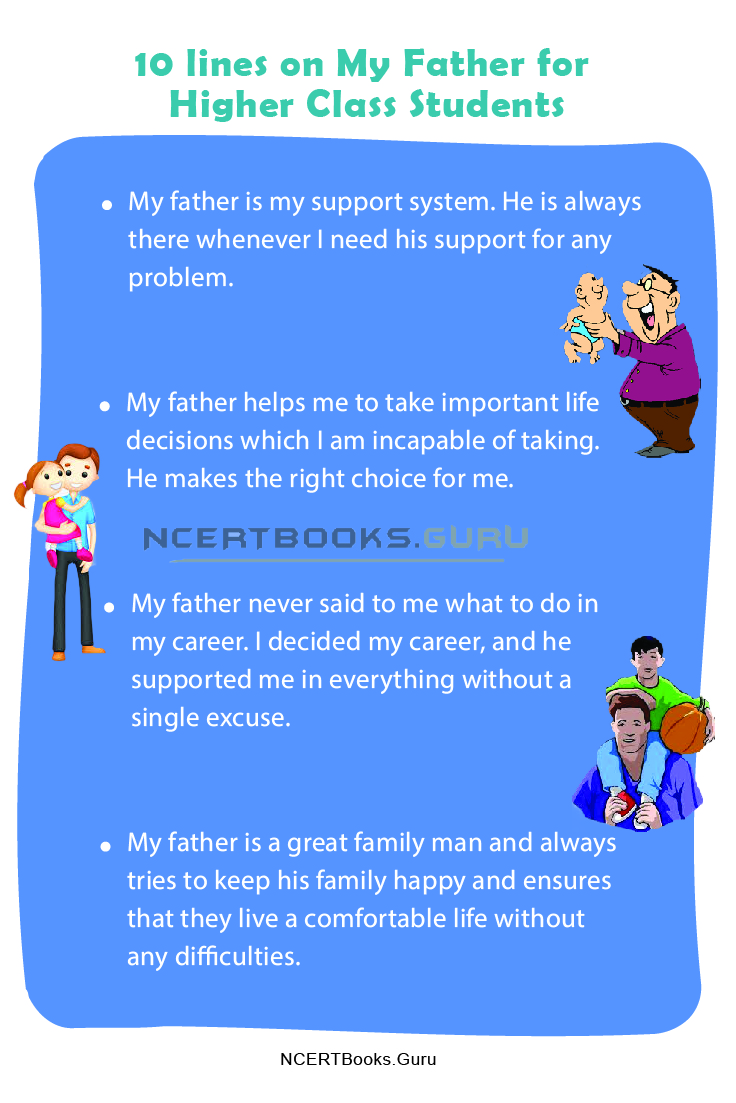 Frequently Asked Questions on My Father
Question 1.
How does a father impact his children live?
Answer:
Daughters get a feeling of security from their father which is why they always search for boys who have a similar personality and character like her father. Sons see their father as their role models and try to copy them in their lives. Thus both of their lives are impacted by their father's personality and character.
Question 2.
What role does the father play at home?
Answer:
Nowadays, fathers are breaking the traditional trends that suggest that mothers can't work outside they are responsible for only doing the household works, but now Fathers are allowing their wives to work and they are also helping her to finish household works. Some father's are also doing all the household works.
Question 3.
Why is Father's Day celebrated?
Answer:
We celebrate the love and support we get from our fathers in the father's day. This day is dedicated to them for all their hard work in order to make our lives simpler and comfortable. This day is meant for them to acknowledge their contributions to our lives.
Question 4.
When is Father's Day celebrated?
Answer:
Father's day is celebrated on the third Sunday of June every year. Last year it was celebrated on 21st June. Every child celebrates this day by buying gifts for their fathers and by showing how much they love them.
Question 5.
Is the father a support system for everybody?
Answer:
Yes, he is a support system for everybody. He guides his children in every path. He is always available whenever his kids require him, and he always tries to bring his children out from any trouble. He acts as a backbone for every child. Thus father is considered as a figure who is there to support everybody in every situation without any hesitation.